U.S. freestyle skier David Wise, who is preparing to compete for the first ever Olympic gold medal in his sport of half-pipe skiing in Sochi, Russia, first met his wife at summer camp.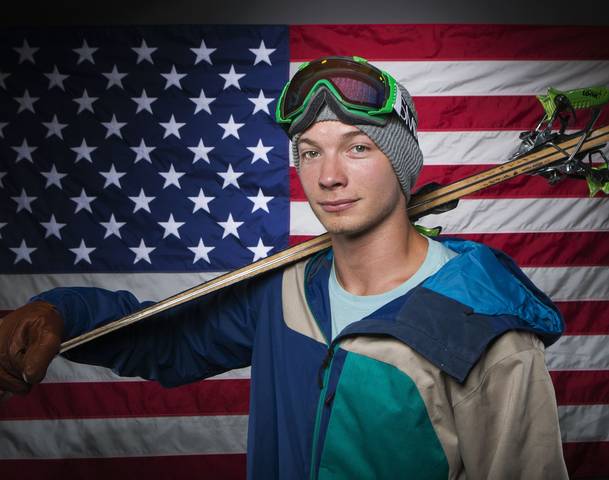 (Article originally published on the Summer Camp Culture Blog)
The 23-year-old from Reno, Nevada, met his wife Alexandra when he was in high school at a Christian leadership camp at Hume Lake in California (source).
According to a New York Times November 2013 profile of the three-time Winter X Games gold medalist:
"They met during one flirtatious summer at church camp. Romance was interrupted for nearly three years by distance and life, including Wise's burgeoning ski career. They reconnected at church, a chance remeeting, then through a deep Facebook chat.

They were engaged within a year, on Alexandra's 19th birthday, in February 2011. Wise took her to nearby Lake Tahoe for snowshoeing under a full moon and presented to her a poem he had written in glow-in-the-dark ink. He dropped to one knee and proposed. "Of course," she said."

Wise was due to leave for the European X Games two days later. The couple called five close friends the next morning and told them to meet at the Arch of Reno Wedding Chapel. They married, went bowling, ate dinner at Johnny Rockets and stayed at the Peppermill hotel and casino. Wise left for Europe before dawn but booked Alexandra a ticket to France, too.

"Life's a grand adventure," Wise said. "I'm all about trying to do the next thing somehow different. And she embraced that."
The men's competition takes place Feb. 18 at the Rosa Khutor Extreme Park.
"We have a pretty cool venue where all freestyle events filter into the same spot and it's really stadium-like," Wise said. "It's really well lit. It's one of the more unique venues we've ever been to, but in a kind of cool Olympic way."
When asked about being a professional athlete and a parent, he joked: "I'm trying to hold down for the rad-dad club."
Turning serious, he said it gives him a broader perspective in life.
"Life isn't just about winning and losing and skiing," he said. "As much as I love those things, I'm passionate about them, but I have my awesome family who is supporting me at the end of the day."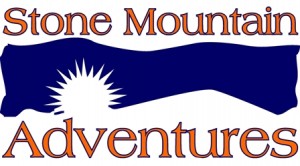 Stone Mountain Adventures (SMA) is a co-ed overnight teen summer camp with 60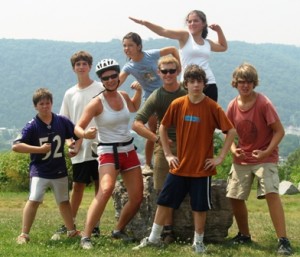 teenagers ages 12-16 located in the mountains of central Pennsylvania. Our adventure activities provide the opportunity for young adults to challenge themselves to step beyond their abilities: to ride with confidence, to rock climb with technique, to control the sail, or to bike one more hill. We create a non-competitive atmosphere where campers have fun, make lasting friendships and feel safe trying new activities.
We are a very active summer community and do a good job of getting campers excited about all aspects of camp from our adventure activities and traditional sport to going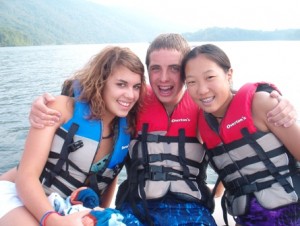 roller skating to going white water rafting together as a group. As with many aspects of teenagers lives, our camp is also a very social place and we work hard to model and encourage positive relationships, create community in an authentic way, stop cliques from developing, and take away many of the traditional pressures that teens feel in school. The result is that campers feel a new found freedom to explore who they truly are while at the same time feeling like they have a new "home away from home" at Stone Mountain Adventures. With only 60 campers per session, SMA co-ed teen teen summer camp is a small, non-competitive adventure camp. With 1 staff member to every 4 campers, camp feels like a great big family, full of good friends. We celebrate our victories, accept our shortcomings, and learn from both. As the days flow by, our philosophy of respect and sharing emerge. We learn respect for animals, the outdoors, and each other. As strong individuals, we come together as a summer family, learning and having fun together. Oh yea… and did we mention that everyday we have FUN!
We find that as a co-ed overnight teen summer camp Stone Mountain Adventures is well suited for:
Young teens, especially those who have outgrown the traditional camp.
Those wanting a family atmosphere.
Those wanting an older staff, mid 20's.
Parents who want to visit camp, visiting day is any day a parent shows up.
Teens who crave independence - we give them as much as we can, but health and safety always come first.
Families that want a safe environment for their child to personally grow during those difficult early teen years.
Those who feel stuck in the woods at a traditional camp, we travel a lot.
.