University Visit Program
Our University Visit Program is open to our 15 – 16 year old campers and is designed to give campers a hands-on look at two unique and different institutions of higher learning. We will take one full day each session to visit Juniata College in the morning and Penn State University in the afternoon.

Juniata College is located in Huntingdon, PA only 8 miles from SMA
Juniata College
Juniata College, located in nearby Huntingdon, is the only college in the nation recognized by all of the following diverse listings of high quality institutions: The 2007 Princeton Review, Loren Pope, Peterson's, Miriam Weinstein's, Barron's, Kaplan's, Leland Miles', ELLEgirl, and Don Asher's.
1,400 students (82% are residential and housing is guaranteed).

Student to faculty ratio is 13:1. Every student has two academic advisors.

96% of those who graduate do so in four years.

100% applying to medical school in two out of the last five years were accepted.

100% applying to law school were accepted in the last two years.

82% of Juniata's graduates completed an internship and 40% studied abroad.
Juniata College was also listed among the "40 Colleges that Change Lives". Click here to learn more.
Juniata has a Nobel Prize winner among its graduates, along with Fulbright Scholars, Udall scholarship recipients, All USA College Academic Honors, and St. Andrew's Society Scholarship recipients.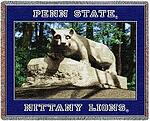 Penn State University located in State College, PA is only 25 miles from SMA!
Penn State University
Penn State University is a state-related, land-grant university in State College. The University has 24 campuses throughout the state, including a virtual World Campus. The enrollment at the Penn State University Park campus is 42,914 with a total enrollment of over 84,000 across its 24 campuses, placing it among the ten largest public universities in the U.S. Penn State offers more than 160 majors and administers a $1.4 billion endowment.
Why do college visits?
The goal of this program is to give our older campers at our small camp exposure to college life and to help them to understand the college application process. Special focus will be placed on the importance of both academic achievement and extra-curricular/leadership experiences in the eyes of the admissions offices. This program will be led by our camp counselors who are college graduates who will help to facilitate discussions with campers about their college experiences.