Although SMA is not a "Sports Camp, we offer team and individual sports activities every day. We focus on participation and fun and many sports activities are accompanied by a swim to cool off afterwards. Whether you are just learning a new sport, have average ability or an experienced, skilled player our staff focus on skill development, participation and fun!

Tennis
This is a popular athletic activity at Stone Mountain Adventures. We provide rackets and balls and you supply the energy that makes tennis so much fun. We do not have courts here at camp, but we utilize the courts at Juniata College which is about eight miles from camp. Please note that we do not offer formal tennis lessons, but offer recreational tennis for everyone!
Soccer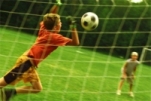 Also known as the "World's Game," futbol is an extremely popular activity at Stone Mountain Adventures. Staff and campers play together and make each game exciting for everyone involved. There's nothing better than a great game of soccer at Stone Mountain Adventures. Our international campers and staff bring a level of energy and passion that make every soccer game at SMA awesome!
Basketball

It really is true that everyone loves a good fun game of basketball. Whether it's a friendly game of "Knockout" (see photo on the right) or a full on game of 5 on 5 (see photo below) basketball is fun for everyone. Please note that we do not offer formal instruction in basketball, however if you need help with your jump shot or lay-up our friendly staff are there to help!
Ultimate Frisbee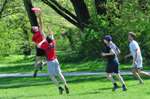 This is probably the most popular athletic activity at camp. The rules state that you cannot run with the Frisbee so once you catch it you must stop immediately and look to toss the Frisbee to the open person in space. There are few things better in life than chasing down a flying Frisbee! Even the dogs at camp try to sneak in a game of Frisbee from time to time.
Flag Football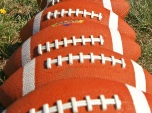 Flag Football is almost as much fun as the real thing! Offered a few times a week, flag football is a thrilling game, especially when we try to teach it to our international campers and staff! We provide the flags and the footballs and you provide the energy and enthusiasm that make this game so fun. We also mix up the rules from time to time so you never know what to expect when you sign up for the Flag Football Activity at Stone Mountain Adventures.
Touch Rugby

While not a traditional American sport, Touch Rugby is an exciting game that combines skill and dexterity. All passes must go backwards while you can only advance the ball by running it. It is similar to soccer in that you are trying to "create space." Our enthusiastic international counselors and staff love to teach the game of rugby almost as much as they love to play it!
Softball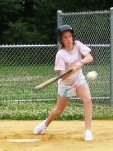 The sport of softball is gaining in popularity at Stone Mountain Adventures. Whether it's the "home run derby" or a full game of softball it's always fun for everyone involved! We will provide softball mitts, bats, helmets and balls. It's also great fun to teach softball to our international campers and staff who have never seen or played the game before.
Disc Golf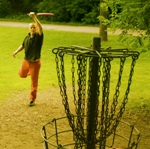 At Stone Mountain Adventures we have our very own nine hole Disc Golf Course! Disc Golf, also known as "folf" or "Frisbee Golf," is played using special discs (which we provide) and, like golf, each hole has a par and each player attempts to get his or her disc in the basket in an allotted number of throws. Just like golf, if you are one under par it's a "birdie" and if you are one over par it's a "bogie" just. Disc Golf is a great way to explore the woods near Stone Mountain Adventures and use your frisbee throwing skills. We also travel to other courses in our area including courses in State College, Altoona and Juniata College!
Volleyball
This is another fun sport that has gotten even more exciting with the addition of "rally scoring." We usually break the activity group up into four teams and have a "round robin tournament" where each team creates a cheer and an official hand shake!
Golf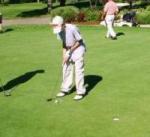 Standing Stone Golf Course is just minutes away and there are many other beautiful golf courses within 30 minutes of camp. Open to anyone, this program seeks to provide campers with the opportunity to improve skills through practice and skill improvement while having fun. Focus will be on solid golf fundamentals, basic rules, etiquette and situational training. There also is opportunity for instruction by the local Golf Pro at an additional charge. This program is open to all campers and is a "pay as you go" program.
Other Activities
Yoga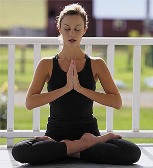 SMA is one of many overnight summer camps in Pennsylvania and twice a week we offer yoga as a morning activity. Yoga is not just a great way to increase strength and flexibility, but it also complements the following camp activities:
Horseback Riding

Rockclimbing

Wakeboarding

Caving

Canoeing

Windsurfing

Sailing