Welcome Future Families!
Thanks for taking the time to learn more about Stone Mountain Adventures (SMA)! This page should give you a better idea of what to expect from a summer experience at our camp.
SMA Teen Camp Profile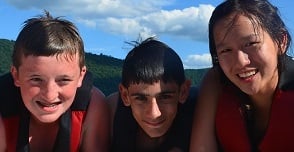 Stone Mountain Adventures (SMA) is a co-ed, overnight summer camp for teens ages 12-16 nestled in the heart of beautiful Central Pennsylvania. Every day we offer tons of awesome activities that campers pick themselves, and because we're a smaller camp, it's easy to be a first-time camper and make friends. SMA has a really positive vibe and because our campers are older, campers have more freedom than they would at larger, more traditional camps.
---
Why Families Choose Stone Mountain Adventures
---
Choosing the right summer camp is critical, especially when the precious few weeks of summer are on the line! Here are a few reasons why our camp is a very special place for your child to spend the summer:
Our Camp Philosophy:
The Mission of SMA

The mission of Stone Mountain Adventures (SMA) is to provide growth experiences for teens
ages 12 to 16 through outdoor adventure activities, water sports, traditional sports, creative arts, community service, and the cooperative process of living together at camp. Every day, we create opportunities for teens to challenge themselves: to ride a horse, to rock climb with good technique, to wakeboard or waterski, and most importantly of all, to develop lasting friendships. Developing self-reliance, trusting in new friendships, and learning to be sensitive to the needs of others in a community are all important parts of the SMA experience. Building confidence and having fun are our goals; freedom to explore, positive reinforcement, and a superstar staff are our tools.
Over the years we have kept our promise of staying a small, family-oriented summer camp for teens. We believe that our camp's small size enhances our programming, as camp quickly becomes a tight-knit community that creates strong, positive social relationships. Campers are challenged on activities every day, which builds confidence. The combination of mutual respect among campers and staff and the increased self-confidence through adventure activities helps teens to begin to discover who they really are and how they fit into this world. Being a young teen can be a challenging time and SMA is a fun, safe place for teens to grow emotionally and physically.
Making Friends and Building Confidence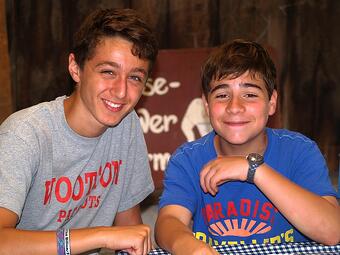 An overnight summer camp experience at SMA is a unique opportunity for teens to gain independence while learning and growing away from home in a safe and supportive environment. At SMA, campers build confidence by challenging themselves in outdoor adventure activities, water sports, and traditional sports. Sharing these experiences with others creates strong bonds of friendship that often last long beyond the summer. This process of building confidence and making friends helps campers at SMA to develop positive self-esteem, independence, and a sense of responsibility and accomplishment.
Slowing Down and "Unplugging"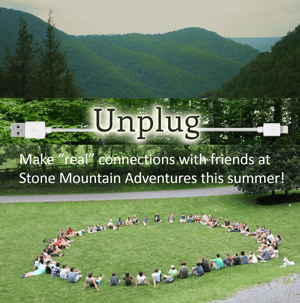 When teens take a break from TV, cell phones, and the Internet, they rediscover their creative powers and engage fully in the real world—real people, real activities, and real emotions. Importantly, they realize that there's plenty to do and always something else to be curious about. Many teen summer camps do not allow cell phones, iPods, or other electronic devices in an effort to create a more interpersonally engaging camp culture. This may sound harsh to you and your teen, but the advantage is that without those plugged-in distractions, your teen will learn to slow down and appreciate other worthy experiences. Living life in the slow lane for a little while makes it easier to find hobbies, rediscover the wonder of reading, appreciate the beauty of nature, and engage with others!
Great Staff, Great Camp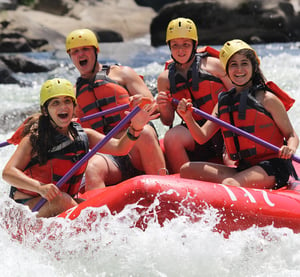 One of our greatest strengths at Stone Mountain Adventures is our amazing staff of camp counselors! They are dynamic, responsible, skillful, funny, and fair. Our staff listens, cares, and treats everyone with respect. Most of all, our counselors put the needs of our campers before their own. They are all over 21 years old, well trained and equipped to lead groups both outdoors and in the cabins, and excited to spend their summer with teen campers. Our awesome counselors specialize in cool things like wakeboarding, rock climbing, mountain biking, music, and horseback riding!
Tradition, Safety, and Excellence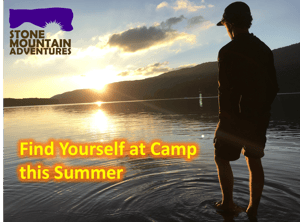 Stone Mountain Adventures was founded in 1983 by Pam and Biff Houldin. Current Camp Director Jud (son of Pam and Biff) grew up at the farm, attending SMA as a camper and later working as a counselor. Jud and his wife Anne bring a combined 40+ years of experience teaching in traditional and non-traditional school settings, coaching youth sports, leading international trips for high school students, and leading wilderness and mountaineering trips.
Year after year, our greatest concern is for the safety of our campers and staff. Constant attention is given to the physical and emotional health of everybody at camp. Precautions are taken and safety is paramount (seat belts, helmets, life jackets, etc. are always non-negotiable). The small size of SMA helps Director Jud keep a finger on the pulse of camp and maintain high health and safety standards.
---
Camp Culture at SMA: Benefits o

f a Small Camp
---
A Tight-Knit Community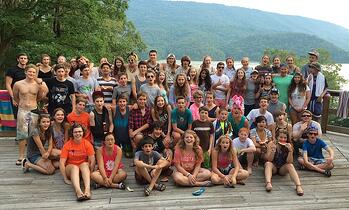 Our small number of campers (never more than 60 or so per session) and familial staff team make each session group at Stone Mountain Adventures feel just like family. This ensures that campers connect with everybody at camp within just a few days! Through activities that are adventurous, team-oriented, sometimes challenging, and always fun, they'll build deeper relationships with their fellow campers and counselors. This is so important because until a camper has felt this acceptance, none of the lofty goals in our mission statement can be achieved. This feeling of connection is very powerful, and a central part of why we make the decision, year after year, to stay a small summer camp.
Director Jud & the Staff Understand Each Camper's Needs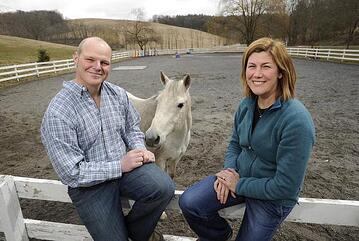 Campers come to SMA in all shapes and sizes, and all have their own unique needs. Our small size certainly helps us meet the needs of our campers, but it's the incredible effort that Director Jud and the staff put into ensuring each camper has their dietary needs met, medication given, and behavioral qualities understood, among lots of other things. Jud and the staff take time to communicate with each family before camp, so each camper starts out with a connection to SMA. Once camp begins, the staff connects with each camper very quickly, learning their likes and dislikes, their strengths and challenges. These connections are important in tailoring the summer experience to each camper with input from the parents. This way, each camper gets the most from their Stone Mountain Adventures experience!
Magical Traditions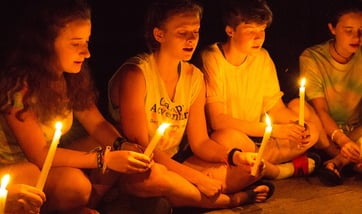 The most powerful moments at SMA, and the greatest opportunities for personal growth, often come during a cherished tradition called "Candle Meetings," which occur in slightly different forms about once per week (twice per session). Without giving too much away, this is a time for campers to share stories and reflect, actions which we find are essential to giving meaning to the overnight summer camp experience. Veteran campers routinely report the lasting impacts of this tradition and can't understate how essential it is to the SMA experience. The combination of having loads of fun each day with being able to reflect on those experiences in a communal and focused way is a huge part of why our campers return summer after summer.
---
Activities at Stone Mountain Adventures
---
Teen-Focused Activities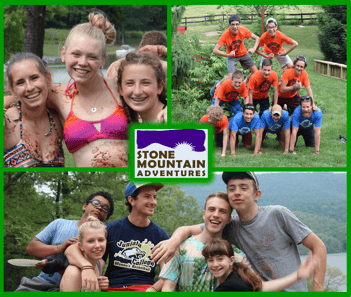 It's important to recognize that teens are physically, intellectually, and emotionally more mature than younger campers, and we believe that many teens prefer camp activities and social engagement with others their own age. Because our enrollment starts at age 12, all activities and events can be specifically teen-focused. From team-building games to white water rafting, all activities and events at Stone Mountain Adventures are designed on a level that is more physically, intellectually, and emotionally engaging for teens. Still, keeping campers safe on the outside AND on the inside is always paramount. While they face their own unique challenges, we think that teens tend to better understand and engage with activities when those experiences are shared with other teens rather than constrained by the limitations of younger campers.
Amazing Activities for Everybody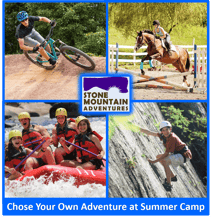 Our camp is a fantastic place for teens who love the water! Water sports available to us at SMA include swimming, wakeboarding, waterskiing, sailing, SUP (stand up paddleboarding), canoeing, kayaking, fishing and white water rafting. Whether you are a beginner or a seasoned veteran at these water sports, our experienced staff members are there to assist you every step of the way. In addition to water sports, SMA also offers a diverse array of challenging outdoor adventure activities that include horseback riding, mountain biking, rock climbing, overnight camping trips, and caving. Our outdoor adventure activities and water sports challenge teens and give them the opportunity to learn new skills and have fun outdoors every day!
Small Camper to Staff Ratio Enhances Instruction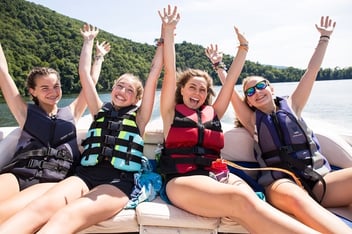 Most summers, the ratio of campers to staff on activities is usually about 4 to 1. Just like small class sizes in school, the tight camper-counselor ratio ensures that campers can more effectively learn skills and retain them. Rivers, cliffs, and forests are our summertime classrooms, and often the instruction is one-on-one! Getting this kind of attention is key to giving campers the confidence to try new activities like horseback riding, rock climbing, and wakeboarding.
Campers Choose Their Own Activities Every Day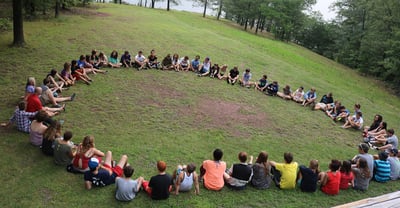 Every day after dinner we have a meeting with all campers and staff to share stories and choose the next day's activities. Sharing "warm fuzzies and cold pricklies" gives everyone the chance to share something good or not-so-good that happened today. The only rule: you have to end by sharing a "warm fuzzy!" It's incredible to see a shy 12 year-old camper share a story for the first time in front of the entire camp! The best part is that for the time the camper is sharing, everyone else is focused only on them. That simply can't happen in larger camp settings.
Once we share warm fuzzies and cold pricklies, you'll get to choose your own activities for the next day! Director Jud carefully plans six activities each for the morning and afternoon activity sessions. There's always a balance of activities, including adventure activities, water sports, traditional sports, and creative arts. Find out more about how we choose activities here.