Camper FAQ's
---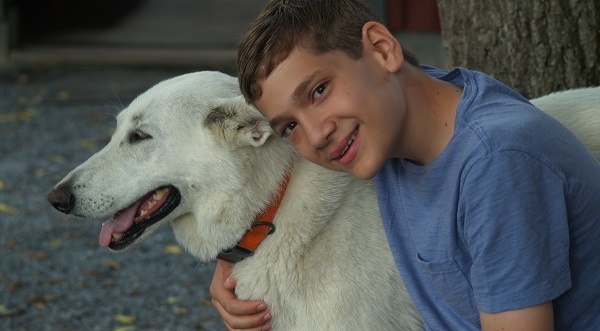 At camp, we have all the sports equipment and supplies you'll need for a great summer experience. Still, if you have a musical instrument, climbing equipment, mountain bike, fishing rod, camera, or other personal gear you'd like to bring, feel free! We'll send you a packing list before camp starts so you'll know which essentials to bring; check out the list here.
Do most campers enroll with friends?
Most campers don't come to SMA with friends, but quickly make many new ones upon arriving at camp. Occasionally friends do come to camp together, but the structure of our group activities still emphasizes making new friends and forging new connections.
Where are meals and what is there to eat?
Mealtimes at SMA are loaded with a variety of tasty food options! Breakfast is usually at 8am and always includes cold and hot cereal along with an option like pancakes, omelets, or "eggs in a hat." Lunch is usually at 12:30 and consists of a salad bar, sandwich bar, and a hot soup or other yummy dish. Dinner is usually served at 6:30pm each evening, always consisting of a wide variety of food options including a salad bar and various side dishes as well as main courses like stir-fry, lasagna, burritos, pizza, and more! Additionally, we always offer vegetarian dishes for breakfast, lunch, and dinner. If there's something else you might want, just ask, because no one leaves the Dining Hall hungry! Click here to learn more about the food at SMA.
What are the cabins like and who will be in my cabin?
The cabins at SMA are typical, rustic camp cabins furnished with enough bunk beds for 8-10 campers and one camp counselor. Each of our six cabins has electricity but no running water, as bathrooms are just a short walk away in the main house. Cabins are divided by gender and age. Click here to learn more about cabins at SMA.
How do campers choose activities at SMA?
Each evening after dinner we gather for an "all-camp" meeting, during which campers get to choose from a variety of activities for the next day's morning and afternoon activity slots. Click here to learn more about choosing activities.
Where do SMA campers come from?
Many of our campers come from cities in the northeastern United States including New York City, Boston, Philadelphia, Washington D.C., and Baltimore, although many other campers call places like Pittsburgh, Chicago, Atlanta, and Florida home. Most summers we also have several international campers, hailing from countries like France, Italy, England, and Vietnam.
Can I call home?
Campers may call home on the SMA landline once per session, and may receive (but not respond to) emails once per week. This ensures a balance between connections to home and engagement at camp.
How old are the camp counselors and where are they from?
Our staff members are all over the age of 21, and most summers there is a good mix of American and International counselors. Our American counselors come from schools and outdoors programs from across the country, and most summers we have a few former veteran campers who return as counselors! This is AMAZING because they get to know SMA from both perspectives and are very passionate about creating the same types of positive experiences for new campers. Each summer we also have several "funny talkers," hailing from countries like England, New Zealand, Australia, Ireland, Mexico, and more. It's wonderful to have them at camp for the summer, as we get to learn about their cultures while they lend us their enthusiasm and expertise! Click here to learn more about our staff!
Do campers get free time?
Every afternoon, campers get an hour of free time we call the "Power Hour of Freedom." During this time you can hang out in the Game Room or Music Studio, play sports on the basketball court or the front lawn, use the Arts & Crafts room, take a shower, or just relax.

What is there to do at night?
Each night after our "all-camp" meeting (when we choose activities), we have a special evening activity we do together as a group. Some of these activities take place in camp, including campfire night, karaoke, the famous Invention Convention, movie nights, the Camp Dance, and, of course, the SMA Talent show! We also go out of camp for activities like roller skating, ice cream, the county fair, and Fourth of July fireworks. Whether in or out of camp, we always have something great in store for you. Click here to learn more about our evening activities.
Do we go on group trips out of camp?
Yes, we do go on trips out of camp! Aside from our daily activities, there are a few special times we pack the vans and go off for awesome adventures like the authentic Amish market in nearby Belleville, PA, and class III whitewater rafting on the Youghiogheny River! Click here to learn more about our special out-of-camp excursions.
What if my birthday is during camp?
Have you ever had 60 people sing happy birthday to you all at the same time? We put on a birthday party like no one else, and yes, you do get a cake.
Can I receive mail and packages?
Absolutely. Make sure that all your friends and family have the address of Stone Mountain Adventures (9803 Old Hawn Rd, Huntingdon, PA 16652) so they can send mail directly to you while you are at camp.
What if it rains?
We have plenty of indoor activities for bad weather, but nothing stops the fun at Stone Mountain Adventures. When it rains, we like to put the word "mud" in front of many of our normal activity choices, and so we enjoy mud hiking, mud mountain biking, mud volleyball, and more!
Do I have to wear a uniform?
No, you do not have to wear a uniform at SMA. You'll receive a special SMA T-shirt at the end of each session with the names of all of the campers on it.
Are there "Camping Overnights" at camp?
A few times each week we offer camping overnights attached to afternoon activities like hiking, canoeing, wakeboarding, mountain biking, and rock climbing. Campers will do their afternoon activity, camp out under the stars on-site, and spend the following morning on the activity as well.
How is SMA different from other summer camps?
Three things really set Stone Mountain Adventures apart from other camps. The first is our age range of 12-16, which necessitates that all of our activities are teen-focused. Second, campers get to choose their own activities every day and have the freedom to explore different interests during their time at SMA. Third, our small size (only around 60 campers per session and often fewer) ensures that each session becomes a very tight-knit group in which everyone feels accepted and connected. Click here to learn more.
What happens if I forget to bring something from home?
If you forget something at home, we can supply many basic items such as towels, tooth brushes, sheets, and more. We can also contact your parents immediately to have the item/s mailed to camp as soon as possible.
Is there a family visiting day at SMA?
We do not have an official visiting day at SMA, but family members are welcome to visit any time! Certain days are better than others, please contact Director Jud Millar to schedule your visit.
What about I-pods and other electronic devices?
While electronic portable games and the like are prohibited at SMA, you may bring an iPod or mp3 player to listen to music only at night in your bunk or in the van on long road trips. It's our goal for you to be as engaged as possible at camp, so our staff will step in if they find that the device has become a distraction.
Can I bring a cell phone to camp?
You can bring your cell phone to use on the trips to and from camp, but we keep all cell phones in the office while you are at camp. We don't get much cell phone service around camp anyway, but that's part of the magic of SMA.