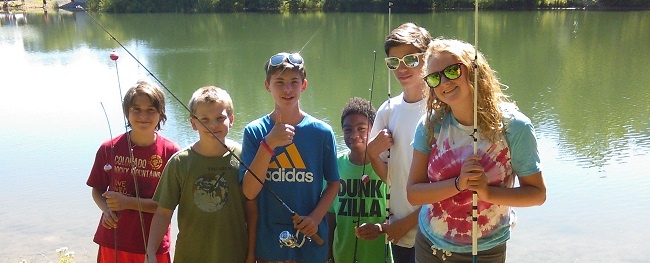 Leaving home to attend a summer camp is an emotion-filled experience for both parent and child. At Stone Mountain Adventures, we recognize the difficulties a camper may experience while attending camp for the first time. Whether it's the first overnight camp experience or a veteran camper attending a new camp, we understand that it's only natural for a child to be apprehensive and uncertain. Stone Mountain Adventures experienced staff addresses these feelings before camp and employs proven methods that help to settle these emotions during the camper's stay.
Food… Yummy Food!

Serving great food to hungry campers has been a cornerstone of our camp since our founding in 1983. Meals are taken in our dining hall located in our Dining Hall called the "Rhino". The food at Stone Mountain Adventures is exceptional. As we are a smaller camp our veteran cook can focus on quality rather than quantity. We have fresh, healthy food at every meal and if you sign up for the cooking activity you can even help prepare dinner! All meals are buffet style; help yourself and eat as much as you want. We offer a real vegetarian option at every meal.
Amazing "Opening Day" Traditions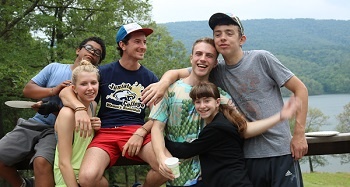 The physical journey to camp can be an emotional roller coaster for everyone in the car. We have a strong opening-day tradition at SMA where as many campers and staff as possible literally run to greet every car that arrives. It may sound overwhelming but it's hard to beat a genuine "warm welcome". Making sure that campers and their families feel welcome on the opening day of camp is a priority for us at SMA.
Great Staff = Great Camp!

Our camp counselors are fun, engaging and easy to talk to. They range in age from 21 to 25 and are genuinely excited to meet your child. All of our staff participate in a "hands-on" 10 day pre-camp training and are passionate about working with kids and spending their summer outdoors.
We have international camp counselors as well as domestic staff. Camp counselors at SMA put the needs of the campers first. They are mature, responsible fun and excited to be spending their summer at camp with teens.
Smaller Camp = Easier to Get t

o

Know

"Everyone" at SMA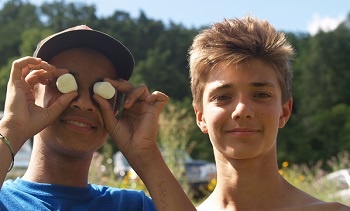 When you arrive at SMA summer camp for teenagers for the first time everything is new and there is a process that every camper goes through of learning about life at SMA. We find that due our smaller size (50 to 60 campers per session) and because of the team building activities and events that we do right away campers quickly feel connected to our SMA summer community. This is important because until a camper has made that transition none of the lofty goals in our mission statement can be achieved.
Teen Activities and Events
Because there are no children at camp, all activities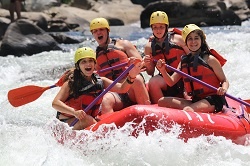 and events can be teen focused. Directors at SMA can focus all of their programming specifically for young teenagers. From exciting evening activities to white water rafting to team build events, all activities and events at Stone Mountain Adventures are designed on a level that is more physically, intellectually, and emotionally challenging for teens. Teens are physically able to do more than elementary age campers and emotionally more mature. Most teens also prefer to do camp activities and interact with others their own age.
"Bunk Captains" in Every Cabin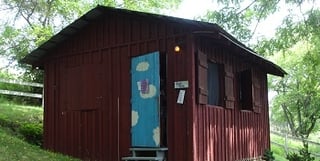 Every cabin or "bunk house" at SMA will have at least two "Bunk Captains", one of which will sleep in the cabin each night. Having the consistency of the same 2 camp counselors each night helps with the "camper-to-staff" connection. Our staff also Helping campers bond with their counselors and friends in their cabin is an essential part of feeling comfortable at SMA.
Staff Contacts Every Camper Before Camp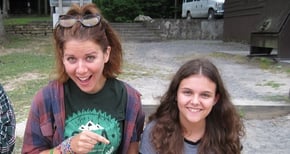 Telephone calls are made by camp staff prior to the opening day of camp to answer any questions and address any particular concerns. We find it's comforting to new campers to speak to our friendly staff just before camp. It also makes opening day a little less stressful to feel like you have a connection at camp that you recently spoke to.
Campers Can Call Home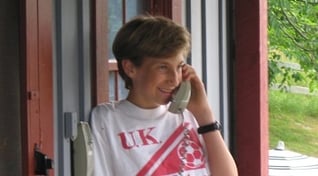 Hearing a familiar voice on the other end of the phone line can be very comforting and telling camp stories is always fun. Campers and parents can call each other once a week from camp on a set day and time. Parents can call e-mail campers once a week as well, campers do not have access to computers so cannot e-mail back.
"Unplug" and Slow-Down at SMA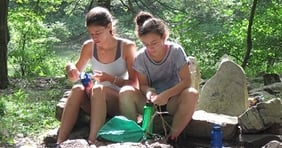 At SMA kids take a break from t.v., cell phones, and the internet, and tend to rediscover their creative powers and engage the real world: with real people, real activities, and real emotions. They realize there's always plenty to do at camp. At SMA we do not allow electronic devices, cell phones, iPods, or other plugged-in distractions. We find the transition to life "unplugged" is surprisingly easy because no one at camp has a cell phone so we all transition away from screens and devises together.
SMA Feels Like Family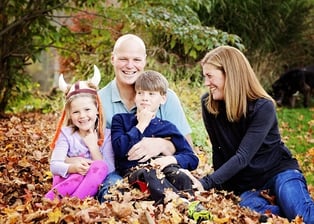 Stone Mountain Adventures was founded in 1983 by Pam and Biff Houldin. Current Camp Director Jud (son of Pam and Biff) grew up at camp attending camp as a camper and working there as a counselor. He and his wife Anne bring a combined 40+ years of experience teaching in traditional and non-traditional school settings, coaching youth sports, leading international trips for high school students, leading wilderness trips and working as a mountaineering guide. They live at camp year round with their two children Wyatt and Molly and their fuzzy animals. We find this family atmosphere helps to create a "family" vibe at camp each session.
BEFORE CAMP
Telephone calls are made by camp staff prior to the opening day of camp to answer any questions and address any particular concerns.

At the parents request we are happy to put your child in touch with one of our Veteran Campers who will be returning to camp.
DURING CAMP
Camp counselors and Directors work to meet the needs of our campers each day with the goal of helping our campers to feel like they have a "summer home away from home."

Campers are assigned to cabins where with two camp counselors called "Bunk Captains," one of who sleeps in the cabin each night.

New campers can call home after the fourth day of camp, and then every few days after that. Parents can e-mail campers every four days, campers do not have access to computers so cannot e-mail back.

Jud and Anne Millar foster a nurturing environment that encourages campers to be kind to each other, challenge themselves & broaden their horizons.
AFTER CAMP
We send each camper a Reflection Packet from camp reminds our campers of the wonderful memories from the past summer.

CD Slide Shows are sent to each camper.

Newsletters keep campers current with improvements and changes occurring at the camp and in touch with fellow campers.
Being attentive to each camper's individual needs assists with the transition of being away from home and helps to assure a positive experience and summer they will never forget.