Stone Mountain Adventures is an incredible teen summer camp located in beautiful central Pennsylvania that emphasizes water sports! Thanks to our small camp size and close proximity to gorgeous Raystown Lake (the largest lake in Pennsylvania), we can offer exciting water sports every day and teach them effectively with a great camper-to-counselor ratio.
Water sports at SMA include:
Wakeboarding and water skiing

Sailing

Stand-up paddle boarding (SUPing)

White water rafting

Canoeing

Fishing
Whether On the Lake or On the River, our water-based activities offer a fun and rewarding array of challenges and experiences.
On the Lake: Water Sports at Raystown Lake
---
There's no better way to spend a sunny summer afternoon than hanging out with friends on the lake, having fun, encouraging each other, and learning new tricks on the water. Thanks to the pristine beauty of Raystown Lake, we can say that "every day on the lake is a good day." Come see what it's all about!
Wakeboarding and Water Skiing
Wakeboarding, water skiing, and kneeboarding are some of the most popular activities available at Stone Mountain Adventures! Whether an absolute beginner or a seasoned veteran, each camper can have fun, find a new challenge, and benefit from the lessons of our experienced instructors, who are there to help you every splash of the way.
In Stone Mountain Adventures' Wakeboarding and Water Skiing Program, our goal is to provide quality wakeboard and waterski instruction to teens ages 12-16. Along with the instruction, learning to wakeboard or waterski instills responsibility, teaches safety, and builds character. Beginners and veterans alike will improve their skills and make some new friends along the way. It'll be a great summer on the lake this year!
Wha

t are wakeboarding and water skiing?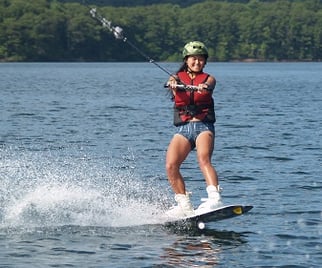 Some of the fastest growing water sports in the world, wakeboarding and water skiing are aquatic board sports. Wearing properly fitted, Coast Guard-approved life vests, campers learn to ride wakeboards and water skis while being towed behind a high-performance, specially-designed speedboat. Campers learn to start from a stationary, floating position and to control their board in and around the wake created by the boat.
While wakeboarding and waterskiing are roughly comparable to snowboarding and skiing respectively, kneeboarding is closer to sledding. Because we love to challenge ourselves at SMA and because kneeboarding doesn't require as much skill relative to the other water sports, beginning campers are strongly encouraged to focus on wakeboarding or water skiing!
Raystown Lake is our Playground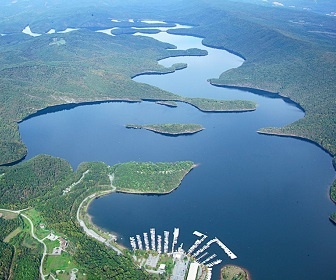 Thanks to our closeness to Raystown Lake, we're lucky enough to run our wakeboarding and water skiing program on one of Pennsylvania's largest lakes. Completed in 1973 by the Army Corps of Engineers, Raystown is one of the largest man-made lakes in America at 28 miles long, with 110 miles of shoreline. Public land and recreational design ensure the lake stays beautifully rural and clean all summer long. We use a well-maintained camp motorboat (complete with a wake tower) and attentive, experienced instructors to offer up to two sessions of wakeboarding and waterskiing per day. Activity sessions are spent teaching campers to challenge themselves through water sports while exploring the coves, bays, and cliffs of Raystown Lake from the comfort of a private boat!
Learn from Experienced Instructors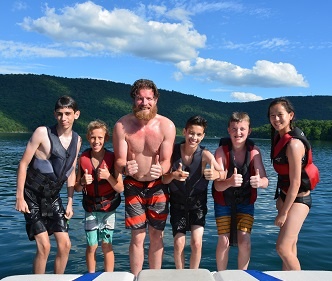 Mature, experienced, and fun camp counselors are the backbone of our camp and especially our Wakeboarding and Water Skiing Program. Whether on the boat, on the board, or in the water, keeping campers safe is always our first priority. All campers will learn the universal hand signals to communicate with the boat driver as they ride, as well as learn to "spot" for their peers.
When working with beginners, our staff knows how to set them up for success by communicating fundamentals, demonstrating as needed, and providing actionable encouragement and instruction, always with a focus on having fun. Our instructors are also equipped to teach our more experienced riders (some of whom bring their own boards!) advanced riding techniques and tricks.
Wakeboarding Camping Overnights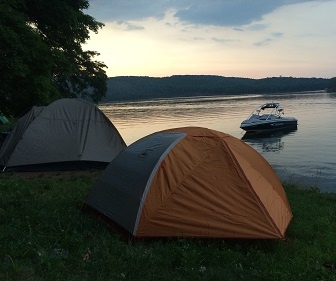 Several times per session we offer Wakeboarding and Water Skiing overnights. During these trips campers will depart camp after lunch for Raystown Lake, where they'll set up camp at a campground and spend the afternoon out on the lake. Darkness brings dinner, a campfire, s'mores, stories, and a well-deserved rest in a tent or out under the stars. Motivated campers will rise for an early-morning wakeboarding and water skiing session, but everyone will get a turn on the boat whether it's before breakfast or after! We then pack up our site and return to camp for lunch with many stories to tell.
Want to take your riding to the next level? Try Wakemasters
Campers who are excited about the thrill of wakeboarding or water skiing and serious about improving their skills will love this program. Campers receive individual attention and learn from experienced instructors to develop skills and gain confidence, taking their skiing and boarding to the next level. Limited to 8 campers per session. Find out more here.
Sailing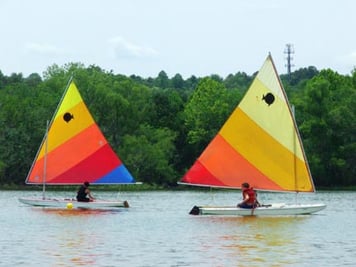 Sailing is another hugely popular activity we offer each summer out on Raystown Lake. Our Sunfish sailboats are great for sailing around the bays of the lake, and our sailing instructors will help you every step of the way. Sailing topics covered include:
Boat safety

Rigging the sailboat

Understanding the concepts of sailing

Reading the wind and the water

General navigation skills
Being able to harness the power of the wind is an incredible and empowering experience. Raystown Lake is located in the mountains, which makes it a terrific spot for beginner and intermediate level sailing. Come and join us at our PA sailing camp as we glide across the water and let the wind fill our sails!
Stand-Up Paddle Boarding (SUPing)
The sport of Stand Up Paddle Boarding (SUPing) has been exploding in popularity and is quickly becoming the watersport of choice for a growing number of teens. At its simplest, it involves a rider standing on a wide, flat board, using a single paddle for movement through the water. Not only does SUPing increase strength, balance, and coordination, teens love it because it's a fun and exciting way to explore the water. At Stone Mountain Adventures, SUPing is offered in conjunction with our sailing activity at beautiful Raystown Lake!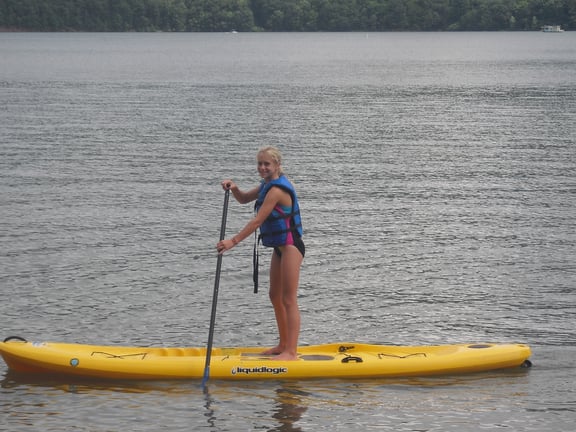 ---
On the River
---
Our location in central Pennsylvania provides us with a number of rivers including the Little Juniata, the Frankstown Branch of the Juniata, the Raystown Branch of the Juniata, and the mighty Juniata River herself. No matter what the activity, fun on the water is guaranteed!
White Water Rafting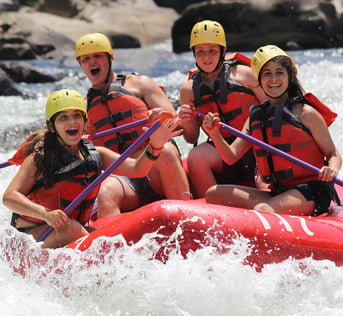 Nothing compares to the exhilaration of powering through rapids, so once per session we launch our whole camp into the Class III rapids of the Lower Youghiogheny River (the "Yough" or "Yock") for a seven-mile whitewater rollercoaster ride. In an all-day activity towards the end of each session, the whole camp makes the trip out to the Yough, which is a world-class intermediate whitewater river perfect for young teens and first-timers. After every stretch of white water there is a stretch of calm where we can regroup and prepare for the next rapid. Everyone wears helmets and life jackets for safety, and professional guides ensure a safe and exciting journey. Our guides even provide us with a hearty lunch halfway downriver, and some lucky days they even let us body surf "Swimmers' Rapid," a small, standing wave in the middle of the river. As one of the most exciting activities we do at SMA, whitewater rafting is an absolute highlight of camp that reaffirms the bonds everyone has made with each other and gets our hearts pumping!
Canoeing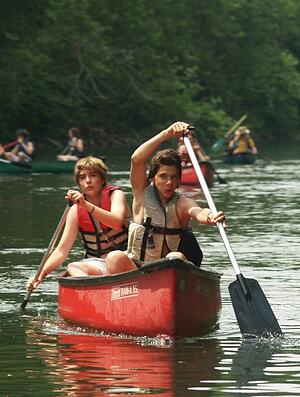 Canoeing is a favorite camp activity on a hot summer day at SMA. Sometimes we take a slow, playful trip along a winding river and other times faster trips present opportunities for campers to command their crafts through small rapids. It all depends on the location of the trip, the height of the water, and the mood and skill level of the group of campers. With enthusiastic and experienced counselors giving instruction when needed, canoe trips at SMA are always full of hearty laughter and good times as we navigate our way downriver. Our staff will teach:
General canoe strokes (sweep, draw, correction, rudder, etc.)

Ferrying across the river

River safety & communication

Righting a capsized canoe

"Reading" the river

River songs & local lore
Canoe Overnights
Several times per session we offer Canoeing overnights. During these trips campers will depart camp after lunch for the river, where they'll put in with their canoes and spend the afternoon paddling down the river. We send a van ahead to a campground on the river, so all camping supplies will be safe from the water and waiting for the campers when they arrive. Darkness brings dinner, a campfire, s'mores, stories, and a well-deserved rest in a tent or out under the stars. In the morning, we'll pack up our site and set off once more to finish our canoe journey before returning to camp for lunch with many stories to tell.
Fishing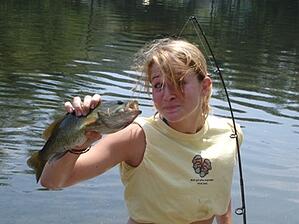 We provide the fishing rods and the bait, while campers provide the courage to put the worm on the hook and the patience it takes to "catch the big one!" We offer fishing on many of the local rivers in central Pennsylvania. Many of these are tributaries of the Juniata River which flows into the Susquehanna and is part of the Chesapeake Bay Watershed. We mainly fish for trout, bass, and catfish at SMA. A peaceful morning or afternoon spent with a rod in the water while cooling your feet in the river can be the perfect respite from other adventure activities at camp.