Our Star Quality Staff (Click here for Staff Profile Page)
One of our greatest strengths at our teenage summer camp is the staff we hire to be summer camp counselors. Dynamic, responsible, skillful, fair and funny – our staff listens, cares and treats everyone with respect. They put the needs of the campers first. Campers who stay for either 2 weeks or 7 weeks often comment on the genuine friendships that are formed with our camp counselors, the magical memories that are shared, and the feeling of family that's created. The average age of our camp counselors is 25. All staff must be at least 21 years of age and have a minimum certification in CPR and First Aid. Stone Mountain Adentures is a co-ed, overnight teen summer camp for 12 to 16 year olds and our camp counselors are an intregral part of what makes SMA a terrific place for teens.
Stone Mountain Adventures Teenage Summer Camp Counselors…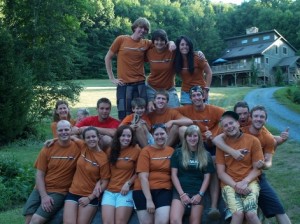 They're fair, skillful, and funny.
They listen, care, and love to play.
They are there for you in their actions, thoughts, and words.
This is what they love; playing is their passion.