Click Here to download our employment application.
Thank you for your interest in becoming a member of the Stone Mountain Adventures Staff Team. The success of SMA is due in large part to the talents, abilities and hard work of our staff. It is for this reason we invest such a great deal of time and attention to hiring the best staff possible.
Camp counseling is one of the best (if not the best) jobs in the world. There is no better way to spend a summer than at camp. You will have the opportunity to make a real difference in a teenager's life. The experiences you have and the friendships you develop at camp with the campers and other counselors will stay with you for years to come.
Eligibility and Requirements for Camp Counselors at SMA:
Must be 21+ years of age

Possess a valid driver's license.

Complete our employment application and skills checklist.

Be available to work a full summer season of employment including staff training

US residents/citizens must complete our employment application so that we may conduct a background check.
Who are we looking for?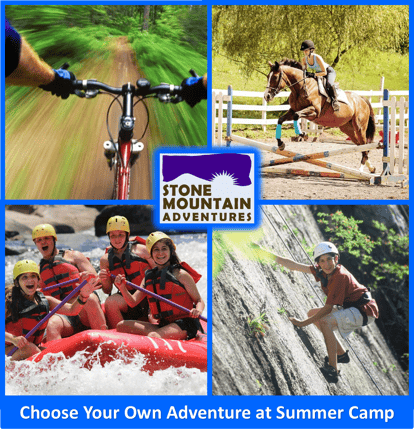 Camp counseling is not an easy job and it can be very difficult at times. In order to do well in camp, it's important to have a genuine interest in children. Unless you truly enjoy living and working with kids on a 24-hour basis, it is best not to seek employment at a summer camp. Job satisfaction has to be a key element in your desire to work at a summer camp. Since camp counseling positions, for the most part, do not pay as well as other summer jobs, the rewards you derive from working with children must be significant. Otherwise, the job will grow very tiresome during the course of the summer and your desire to continue employment will wane. Enjoying your time with our campers is critical. Being able to relate to teenagers and assume responsibilities of supervision & care for teenagers are essential qualities of a successful staff member. In short, we're seeking talented, fun, outgoing, and enthusiastic individuals who can provide quality instruction on activities. Our philosophy is "you can never expect a camper to be more excited about an activity than you are."
Some questions you might ask yourself in order to evaluate your potential for success at SMA are:
Have you previously enjoyed working with children or teens?

Did you have a positive camp experience as a child?

Are you willing to work and play hard every day?

Do you love to be outdoors?

To what extent have you worked with children or teens?

Can you live with children on a 24-hour basis?

Can you adjust to the camp community with its rigid schedules, rules and regulations?
As part of SMA staff, you become a role model for our campers. Your behavior will have a big impact upon the lives of these youngsters! It stands to reason, therefore, that we are seeking individuals with high moral character. In the past, our staff members have exhibited good sportsmanship, strong loyalty, honesty, and the ability to work hard in order for the camp experience to be a memorable & positive one for our campers! We intend to continue this tradition at SMA this coming summer.
Ready to apply?
Click Here to download our employment application and skills checklist.
Other positions at Stone Mountain Adventures:
We offer support staff positions at Stone Mountain Adventures. Support staff do not sleep in cabins with campers and currently we do not offer accommodations for our support staff. Positions include head cook, kitchen staff and maintenance staff. To learn more about these positions or to apply please contact us info@sma-summers.comm