We love to mountain bike at Stone Mountain Adventures Teen Summer Camp. We ride on varied terrain including winding country roads, rolling hills, "Rails to Trails" and the world class single track Allegrippis Trails. We teach good bike riding form and technique to aspiring as well as seasoned riders.
Our mountain biking camp program emphasizes skill development, proper riding technique, safety awareness, and enjoyment. In addition, campers learn basic bike maintenance and about the parts of the bike and safety equipment. Our bike shop houses mountain bikes for all sizes and provides room for campers that wish to bring their own equipment.
For those campers who want to ride everyday please check out our Mountain Bike Masters Program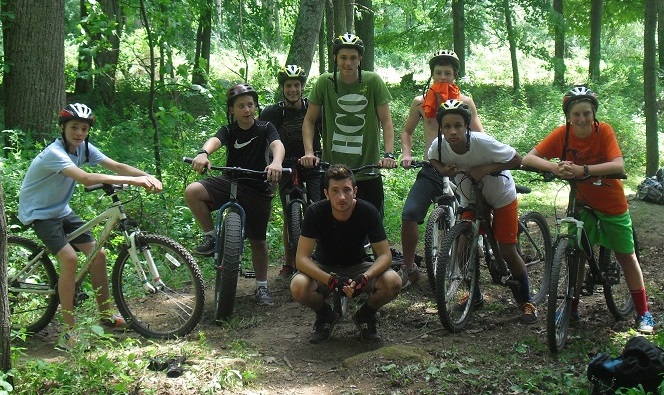 Riding begins on the fields at camp where campers practice proper braking, shifting, maneuvering over obstacles, and staying relaxed on the bike. Next, the campers begin to explore the trail network including a skills park at Stone Mountain Adventures using the foundation of skills they have developed. As campers progress further in their skills and excitement for biking, they move off-camp to the famous Allegrippis Trails at Raystown Lake and in the Rothrock State Forest.