Our mission is to provide growth experiences for teenagers in a safe environment and to build their confidence through challenging activities and the cooperative group process of living together at camp... and to have fun everyday
At SMA we believe that each individual should be challenged to step beyond their own abilities: To ride with confidence, to climb with technique, to control the sail, to bike one more hill. Stepping beyond also means personal growth: Developing self-reliance, trusting in new friendships, learning to be sensitive to the needs of others in community. These are some of the things that make our adventure teen summer camp special.
As a teen summer camp with only 60 young teen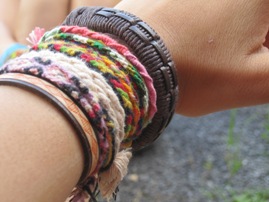 campers ages 12 to 16 and a staff of 14, Stone Mountain Adventures feels like a family of good friends sharing the summer's adventures in a noncompetitive atmosphere. During our 2 and 4 week sessions we celebrate our victories, accept our shortcomings, and learn from both. As the days flow by, our philosophy of respect and sharing emerge. We learn respect for animals, the outdoors, and one another. As strong individuals, we come together as a summer family while learning and having fun together.
Over the years we have kept our promise of staying a small, family-oriented summer camp for teenagers. We believe that our camp's small size directly affects the quality of our programming as camp quickly becomes a close knit community that creates strong, positive intrapersonal relationships. Campers are challenged on activities every day which builds confidence. The combination of mutual respect among campers and staff and the increased self-confidence through physical endeavors helps teens to begin to discover who they really are and how they fit into this world. Being a young teen can be a challenging time and SMA is a fun, safe place for teens to grow emotionally and physically. We encourge you to explore and learn more about 2 week summer camps.