Hundreds of Miles of Trails Around SMA
Stone Mountain Adventures is an outdoor adventure summer camp for teens with a great tradition of hiking and backpacking. With so much great hiking so close to camp, we take every opportunity to go explore the natural world.
Some of our favorite stretches of trail near camp:
Trough Creek: Located in the dramatic Trough Creek State Park, this hiking spot has tons of hidden gems to explore, like an old mine shaft and a peculiarly balanced boulder! When it's sunny, campers can enjoy a post-hike swim, but when it rains mellow Trough Creek quickly becomes a raging river. From the trail high above, it is a powerful experience to watch and hear the waters churn below.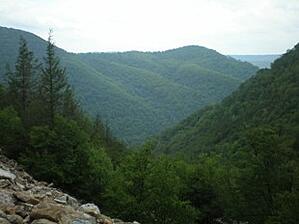 Thousand Steps: Just outside of Huntingdon sits Jacks Mountain, an area highpoint. One thousand stone steps line the route to its summit, chiseled and placed by miners at the turn of the 20th century. Near the summit lay the ruins of their abandoned mine, which reward campers who make the trek up with an amazing view and a photo opportunity. Pictured: view from near the summit trail of the Thousand Steps hike.
Rocky Ridge: Just down the road from camp is one of our favorite hikes, which explores the huge boulders and dramatic vistas of Rocky Ridge. Campers are almost guaranteed to spot some great wildlife on this hike!
Hiking and Backpacking Camping Overnights
Campers can further explore the stunning mountains and forests on a hiking or backpacking camping overnight! It is most common for us to first shuttle the gear to the campsite and then hike in to meet it, so campers can focus on enjoying themselves in the great outdoors. However, we can also run backpacking trips for campers interested in a more physical experience! Whichever the case, we'll leave in the afternoon and return for lunch the following day, bringing home many great stories!