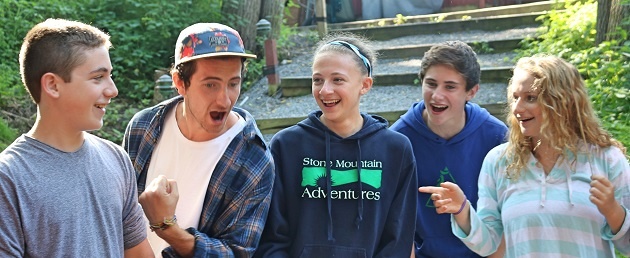 Our daily schedule provides the rhythm and routine that campers need balanced with the excitement of "Special Days" including All Camp Days, Community Service, Camping Overnights and more!
---
At "Typical" Daily Schedule at Stone Mountain Adventures:
7:45am – Wake-up, Eat Breakfast, Tidy Your Cabin
8:30am – Morning Chores with your "Crew"
9am-Noon – Morning Activity
12:30pm – Lunch!
1:30-5.30pm – Afternoon Activity
5:30pm – "The Power Hour of Freedom," An Hour of Free Time
6:30pm – Dinner
7:30pm – Evening Meeting, Choose the Next Day's Activities
8:00-10:00pm – Evening Activity
10:00pm – Evening Snack
10:15pm – Brush Your Teeth and Off to Your Cabin
10:30 – Lights Out
All Day Activities
These special activities are rare and will take both Morning and Afternoon Activity Sessions to give us more time to focus on skill building. These All Camp Days are a highlight of of the summer at SMA 2 week teen summer camp.

Service Projects
Rather than have typical Afternoon Activities, on certain afternoons we offer Service Projects. Campers can choose from six different projects each Saturday. Click Here to Learn More about our Service Projects.

"All Camp Days" at SMA
On "All Camp Days" mornings everyone at camp gets to sleep until 9AM!! We also have a special breakfast of Donuts and Bagels & Cream Cheese. We then do a serious cleaning of the cabin including mopping the floor (as opposed to our daily morning tidy of the cabin). Cabins are then inspected by our camp counselor inspectors. After lunch we travel to one of the many State Parks that are close to camp for an All Camp Day of sports activities, hiking, crafts and swimming. This is followed by a BBQ cookout at the State Park.