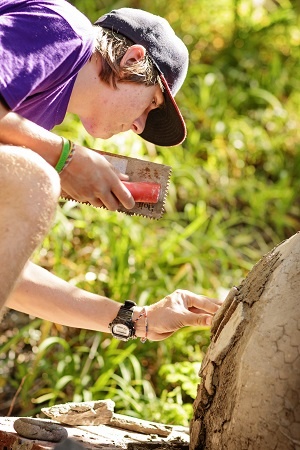 Community Service has always been an integral part of the SMA experience. For the past three decades and counting, our campers and staff have worked on meaningful community service projects over the summer. The SMA Service Program provides campers the opportunity to show commitment to themselves, to others, and to their ability to shape the future.
Campers may be involved in building new cages for Golden Eagles at the Shavers Creek Environmental Centre, working on watershed rehabilitation with the Clearwater Conservancy, or planting trees in downtown Huntingdon. Sometimes we work with the disabled or senior citizens to paint and fix up their homes. The work can be challenging but the rewards are great as we learn to work as a team & give back to the community.
We choose SMA Service Learning Projects carefully to ensure quality and that we only go where help is wanted. It is a helping hand, not a handout. Our projects are designed to work alongside of local volunteers and help deserving families. You will become a part of our community, while helping others and learning more about yourself.
What are some of the the local organizations we work with?
Shavers Creek Environmental Center

Alex's Lemonade Stand Foundation for Childhood Cancer

Westminster Woods Retirement Community

Plowshare Organic CSA Farm

Allegrippis Mountain Bike Trail

Huntingdon Habitat for Humanity
How did we develop this program?
Through a web of local and regional connections built over years of community involvement, Directors Jud and Anne are able to offer a range of service opportunities that is always growing! To help develop this program we also called on the help of SMA founders Pam & Biff Houldin. As the 1989 founders of Global Works, which offers international service opportunities for high school students, they have extensive service learning experience.
Now, they are both involved in serving the community locally and abroad. "It is a dream, of course, to have Stone Mountain Adventures help develop the passion for local community service." says Biff. "Campers get as much out of helping others as the recipients. Service learning is a lifelong journey."
Who can participate in the SMA Service Leaning Program?
All campers at SMA Summer Camps for Teens can sign up for community service projects. Priority will be given to veteran campers who will have the opportunity to take a leadership role on certain projects. Our goal is to provide SMA campers with more opportunities to create positive change in the community & in themselves.
When do we do service projects?
We offer community service at least once per session, and often more frequently, usually as an afternoon activity.
How many service hours can I earn?
Campers looking to fulfill service requirements for school or otherwise can earn up to 4 hours per service learning activity.
Community Service needs to be ethically responsible. SMA will evaluate all of its service projects to ensure our hard work is going to deserving causes.