Raystown Lake is our Playground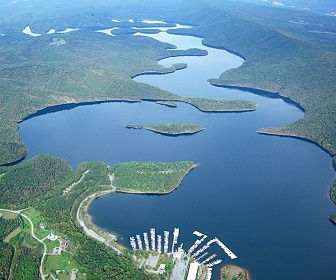 We are incredibly lucky to run our Wakeboarding and Water Skiing Program on Raystown Lake located close to camp. Fun Facts about Raystown Lake:
- 28 Miles Long w/ 110 miles of Shore Line
- 10 Largest Man-Made Lake in the USA
- Public Land Means No Lake Houses
- Army Corps of Engineers Project
Because of Raystown Lake's size and unique shape, we can almost always find protected bays with pristine water conditions. This makes learning and perfecting tricks much easier.
Learn from Experienced Instructors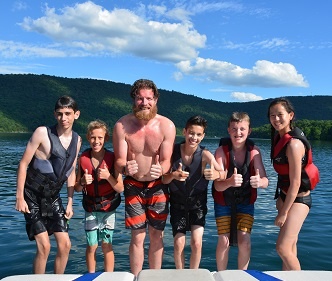 Great camp counselors who are mature, experienced, and fun are the backbone our camp and or Wakeboarding and Water Skiing Program. When working with novices, our experienced staff know how to "set beginners up for success" by clearly communicating the fundamentals and demonstrating as needed. Our instructors are also equipped to teach our more experienced riders advanced riding techniques and tricks
Keeping campers safe on the boat, in the water and on water skis or a wakeboard is always our number one priority. All campers learn the universal nonverbal hand signals to communicate with the boat driver.
Wakeboarding Camping Overnights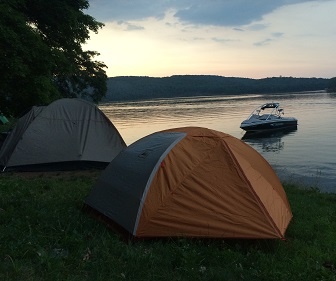 Once a week we offer Wakeboarding and Water Skiing Camping Overnights at where we camp on the shoes of Raystown Lake. Campers will depart camp after lunch and head out the the campground and work as a team to set up camp. The rest of the afternoon and evening will be spent on the boat riding and skiing!
Darkness brings dinner, a campfire, stories, s'mores and a well deserved rest in a tent. Motivated campers rise early for a morning session on the boat with amazing, pristine water (similar to a powder day for snow skiers). We then pack up our site and return to camp for lunch with many stories to tell. Click Here to learn more about Camping Overnights at Stone Mountain Adventures.
The Wakemasters Program is for campers who are excited about the thrill of wakeboarding or waterskiing and serious about improving their skills. Participants can ski up to three sessions per week and may participate in one specialized clinic. Experienced instructors will assist campers in:
Beginner Wakeboarders & Water Skiers will learn to be comfortable riding behind the boat while developing skills and confidence. Intermediate and advanced riders will learn from experienced instructors and other campers and be challenged to take their riding to the next level. As a member of the Wakemaster Program you are part of a team that is serious about skill development and even more serious about fun. To ensure quality we limit this program to just eight campers per session. Please note that campers not enrolled in the Wakemasters Program will get ample time to Wakeboard and Water Ski during their time at SMA.
Please note that campers who do not enroll in the Wakemasters Program will still have ample time to Wakeboard while they are at SMA. The Wakemasters Program are designed for campers who wnat to focus on improving wakeboarding skills while at camp.
All three of these water sports are challengin adrenaline-filled activities that will leave you with a sense of accomplishment and exhilaration. Whether you are an absolute beginner or a seasoned veteran, our experienced, certified instructors will be there to help you every step of the way. We often say that "every day on the boat is a good day" because of Lake Raystown's pristine beauty. As a Wakeboarding Summer Camp in PA, we offer these activities most morning and afternoon sessions. We also offer Wakeboarding Overnights each session at SMA!