Our Horsemasters Program is designed for the rider looking to dedicate a large portion of their summer toward improving riding skills. For Horsemasters, riding is offered almost every morning. We avoid riding in the afternoons due to the heat and humidity and the strain that this can cause the horses. You will have your choice of another activity in the afternoon. This is a personalized and fun program and is limited to only 12 campers. Please note: Campers who do not sign up for this program will still have the chance to participate in the activity while at SMA, and those enrolled in the Masters program will still have ample opportunity to participate in other activities. Pricing information can be found on the Dates and Prices page.
Learn From Experienced Instructors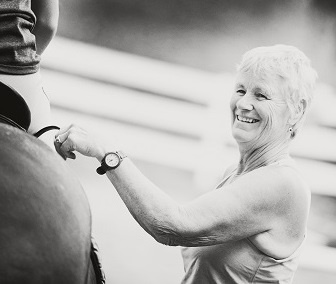 The Stone Mountain Adventures Equestrian Program is run by equestrian professional Pam Hayes-Houldin and her experienced instructors and barn staff. Pam has over 35 years of riding instructing experience and is one original founders of Stone Mountain Adventures.
Each summer Pam and her team look forward to working with campers and improving their confidence, knowledge and experience around horses and in their riding skills. She has an incredible teaching style and knows how to bring out the best in riders and horses alike.
Riding Lessons & Trail Rides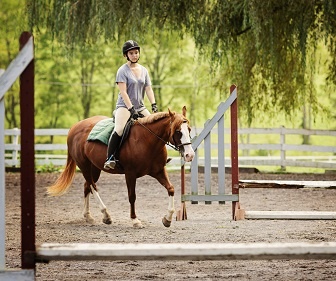 Every camper who signs up for our Horsemasters Program will spend most mornings in the barn with the horses. The morning session will be split between Horseback Riding Lessons, on the ground Horsemanship, and Barn Management. Each day campers will get a total of three hours of hands on horse care.
Campers are paired with horses based on personality, experience, and ability. Campers will ride multiple horses, interacting with multiple equine personalities while building versatility and confidence as a rider. A typical morning may include a trail ride, bareback riding, a lesson in the arena and games on horseback.
Our Equestrian Facility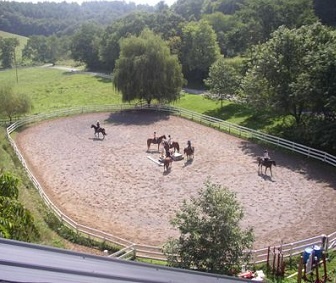 All equestrian activities take place on-site at Stone Mountain Adventures in our 60 acre riding facility. Our riding facility, also known as Horsepower Farm, is centered around a 200 year old barn retrofitted with modern box stalls, a tack room and an indoor barnyard.
All formal riding lessons take place in our outdoor arena. We have three additional paddocks for turnout.
Along with the historic barn, riding arena and turnout paddocks we have acres of winding trails through coniferous forests, perfect for relaxing on a hot summer day. We also have fields set up with a cross country course for riders that are interested in eventing.
Our Horses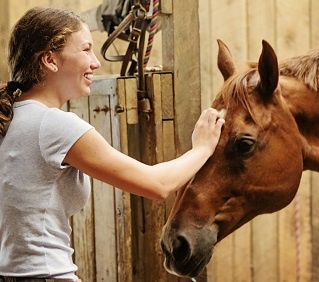 All of the horses that are used in our summer equestrian program live in our facility year round. Our riding facility, also known as Horsepower Farm, is home to a Therapeutic Riding Program for People with Disabilities that runs in the spring and fall each year.
We work with our horses every day of the year and we know their strengths and weaknesses and their equine personalities. Because of this we are better able to match our campers with the "right horse" while they are at Stone Mountain Adventures.