Our two sunfish sailboats are great for sailing around Lake Raystown. Our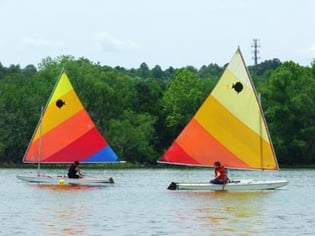 sailing instructors will help you every step of the way including:
Teaching you to rig the sailboat

Understanding the concepts of sailing

Read the wind and the water

Sailing safety

General navigation skills.
Being able to harness the power of the wind is an incredible and empowering experience. Raystown Lake is located in the mountains which makes it a terrific spot for beginner through intermediate sailing. Come and join us at our PA sailing summer camp as we let the wind fill our sails and we glide across the water.