Farm House
This is the epicenter of camp and where the dining hall, the bathrooms, the kitchen, the first aid station andthe camp offices are located. The campers live in six cabins that surround the farm house. Nestled in the mountains, the farm house is the year-round home of Anne & Jud Millar. The farm house is a historic structure built over 160 years ago from timber felled in the immediate surrounding forests. The farm house is a warm and welcoming building that helps make campers feel at home at SMA.
Cabins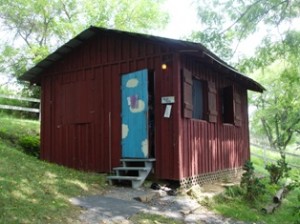 Our cabins are rustic and comfortable and will be your summer home while you are at SMA. We have six cabins that surround the farm house, three for the girls and three for the boys. Cabins have bunk beds and accommodate 8-10 campers and one counselor. There is electricity in the cabins but no running water as bathrooms and showers
Medical Facilities and Medications are a short walk to the farm house. It is our policy that all medications are kept safely and distributed by our camp staff. Medications will be distributed at mealtimes or when necessary. All minor medical issues are cared for by our camp medical staff. We have a camp doctor who makes house calls at SMA. We are located eight miles from JC Blair Memorial Hospital with Emergency Room Service.are divided by gender and by age. You will be in a cabin with campers your own age. As an adventure summer camp it is great to come back "home" to your cabin after a long day of amazing adventures.
Game Room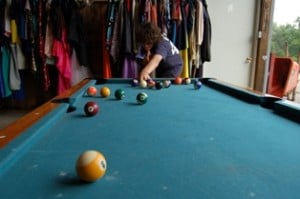 Close to the farm house is our game room. The main attractions in the game room include the ping pong table, pool table and foosball table.
The game room is located in a building called "the Rhino" and gets lots of use during our hour of early evening free time called the "Power Hour of Freedom." As an adventure summer camp it's fun to have a pace to chill & play games in the evening.