Wakeboarding * Water Skiing * Kneeboarding
Our wakeboarding, water skiing and kneeboarding program takes place on beautiful Lake Raystown (26 miles long!), the largest lake within Pennsylvania. Campers who sign up for this activity

experience

top-notch instruction from our experienced staff, state-of-art-equipment, dynamic curriculum, a safety-first




attitude and all the fun you could ever imagine from a wakeboarding camp in Pennsylvania

.
Wakeboarding, Water Skiing and Kneeboarding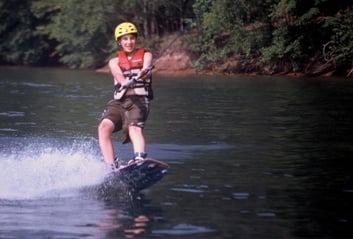 are challenging adrenaline-filled activities that will leave you with a sense of accomplishment and exhilaration. Whether you are an absolute beginner or a seasoned veteran, our experienced instructors will be there to help you every step of the way. We often say that "every day on the boat is a good day" because of Lake Raystown's pristine beauty.
Focus is placed on leaning proper technique and water-safety skills. Participants learn to get up out of the water, then basic techniques of riding the wake, water safety and the lake environment. As a Wakeboarding Summer Camp in PA,, we offer these activities most morning and afternoon sessions. We also offer Wakeboarding Camping Overnights where we camp at the waters edge!
For those of you that are serious about Wakeboarding and Water skiing and want priority instruction to focus on skill development, we have the Wake Masters Program.
The fastest growning aquatic sport in the world, wake boarding is a combination of
water skiing, surfing and snowboarding wrapped into one.

Wearing properly-fitting, coastguard-approved life vests, campers stand on their
wakeboards while being towed behind high-performance, specially-designed speed
boats. Campers weave in, out, up and over the wake created by the boat.
At SMA Overnight Wakeboarding Camp our goal is to provide quality wakeboard instruction to kids ages 12-16. Along with the instruction, we also will instill character building, responsibility, and safety. If you are a beginning , intermediate or advanced wakeboarder, we will help you get better and meet some new friends along the way. It will be a great summer on the lake.
Click here for more information about Wakeboarding