Wakeboard + Water Ski for Fun

Wakeboarding, Water Skiing and Knee Boarding are literally the most fun activities you can do on water! Whether you are an absolute beginner or a seasoned veteran, our experienced instructors will be there to help you every step of the way.
There is no better way to spend a sunny summer afternoon than hanging out with friends on the boat, encouraging each other and learning new tricks on the water. We often say that "every day on the boat is a good day" because of Lake Raystown's pristine beauty.
Raystown Lake is our Playground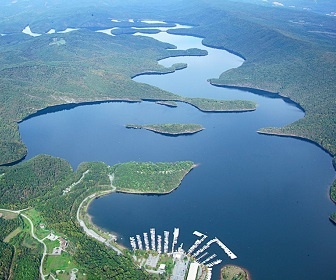 We are incredibly lucky to run our Wakeboarding and Water Skiing Program on Raystown Lake located close to camp. Fun Facts about Raystown Lake:
28 Miles Long w/ 110 miles of Shoreline

10 Largest Man-Made Lake in the USA

Public Land Means No Lake Houses

Army Corps of Engineers Project
Because of Raystown Lake's size and unique shape, we can almost always find protected bays with pristine water conditions. This makes learning and perfecting tricks much easier.
Learn from Experienced Instructors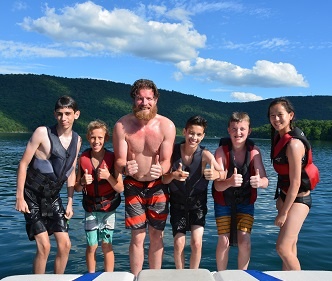 Great camp counselors who are mature, experienced, and fun are the backbone our camp and or Wakeboarding and Water Skiing Program. When working with novices, our experienced staff know how to "set beginners up for success" by clearly communicating the fundamentals and demonstrating as needed. Our instructors are also equipped to teach our more experienced riders advanced riding techniques and tricks
Keeping campers safe on the boat, in the water and on water skis or a wakeboard is always our number one priority. All campers learn the universal nonverbal hand signals to communicate with the boat driver.
Wakeboarding Camping Overnights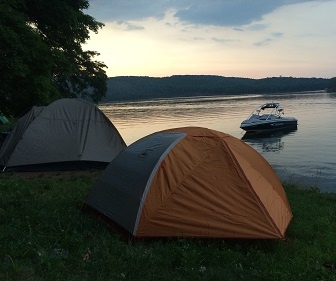 Once a week we offer Wakeboarding and Water Skiing Camping Overnights at where we camp on the shoes of Raystown Lake. Campers will depart camp after lunch and head out the the campground and work as a team to set up camp. The rest of the afternoon and evening will be spent on the boat riding and skiing!
Darkness brings dinner, a campfire, stories, s'mores and a well deserved rest in a tent. Motivated campers rise early for a morning session on the boat with amazing, pristine water (similar to a powder day for snow skiers). We then pack up our site and return to camp for lunch with many stories to tell. Click Here to learn more about Camping Overnights at Stone Mountain Adventures.
The fastest growning aquatic sport in the world, wake boarding is a combination of
water skiing, surfing and snowboarding wrapped into one.

Wearing properly-fitting, coastguard-approved life vests, campers stand on their
wakeboards while being towed behind high-performance, specially-designed speed
boats. Campers weave in, out, up and over the wake created by the boat.
At SMA Overnight Wakeboarding Camp our goal is to provide quality wakeboard instruction to kids ages 12-16. Along with the instruction, we also will instill character building, responsibility, and safety. If you are a beginning , intermediate or advanced wakeboarder, we will help you get better and meet some new friends along the way. It will be a great summer on the lake.
Click here for more information about Wakeboarding