To all of you Horsemaster's and non-Horsemaster's alike…Spring seemingly is here! The grass is growing, the trees are budding, the flowers are blooming and the horses are crazy frisky. A little bit of warm wind blowing sends their tails into the air and we hear happy snorts and squeals from the far corners of the pastures!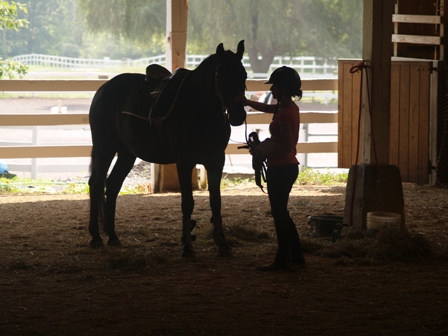 We are all well in the barn. The winter was quite mild, so we could horseback ride often. The chickens are laying lots of eggs again and are very noisy about it. The one remaining white bunny from camp has taken up living quarters with the wild rabbits and she is seen happily nibbling grass in the pasture above the ring. The horses are excited to have their blankets off and are finding the muddiest places in the fields to roll, so between hair flying from their shedding and dust from the mad, grooming rises to a whole new level.
The Therapeutic lessons start soon, so we are busy planning that schedule and in the back of my mind I am also dreaming and scheming about our SMA days to come. I am so excited for the horseback riding summer camp to some! We got a new adorable grey welsh cross pony in the fall and she is doing great…I can't wait for you all to meet her. By summer I hope to have 2 more horses for us to love and use, so keep looking in your mail boxes for more news and updates.
Well that's about it from the barn…if you haven't gotten your applications in yet, do so immediately and don't forget to sign up for Horsemasters!!!