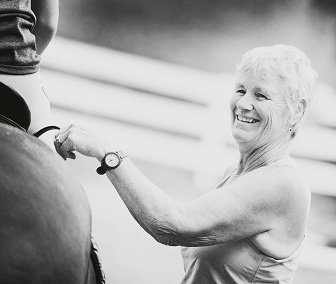 Pam Hayes-Houldin co-founded Stone Mountain Adventures in 1983 with her husband (my dad) Biff. Since then, Pam has been the Equestrian and Horsemasters Director at camp.
A Little Bit of "Herstory"
Pam has been a horse lover her entire life. She grew up on a dairy farm in "Big Valley" (where the Amish Market is) named "The Heide" as the second oldest of six children (two boys and four girls). Her first love was showing cows, which she did with some success at Harrisburg Farm Show and eventually to Chicago.
Pam's father Reed Hayes had a deep love for horses and competed in "Harness Racing" when Pam was a child. Pam and her brothers and sisters each had their own horse; they would ride deep into the mountains connected to their family farm. Riding and training with 4-H, Pony club and many instructors has allowed Pam to hone her balanced seat teaching skills to work with both children and adults.