An upcoming episode of The Mindy Project will feature Seth Rogen as the latest in a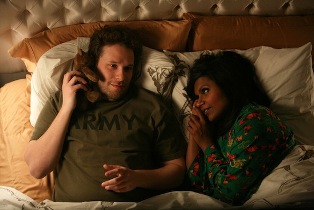 long line of famous guest stars to play the love interest of Dr. Mindy Lahiri. Other famous guest stars who have appeared on the show include Ed Helms, B.J. Novak, and Seth Meyers. Rogen will be playing Mindy Kaling's summer camp crush on an upcoming episode of her Fox comedy The Mindy Project, according to media reports.
Rogen, who attended summer camp as a kid at Camp Miriam in British Columbia (he's featured in the camp's 2009 promo video), will be playing Sam, the kid Mindy Lahiri shared her first kiss with at Jewish teen summer camp, in an episode titled "The One That Got Away."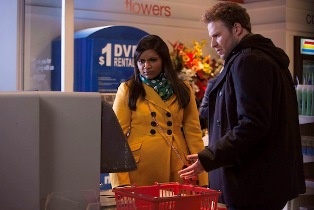 In the episode, Mindy is incredibly excited to be reconnecting with an old teen summer camp crush from her childhood. As an awkward teenager Mindy's parents sent her to a Jewish camp where she didn't really fit in. But Rogen's character Sam was kind to her and the two became close. Much of the episode is a flashback to their days at summer camp while the rest is devoted to them reconnecting and rekindling their youthful fling.
Kaling and Rogen actually have a history of collaboration together, most recently on the big screen with This Is the End and dating back to a brief scene the pair shared in The 40 Year-Old Virgin.
According to Rogen's biography on imdb.com, he first performed stand-up comedy in front of a group when he was a camper at Camp Miriam.
The Mindy Project "The One That Got Away" Trailer"
Camp Miriam Promotional Video