Stone Mountain Adventures Teen Summer Camp was recently featured in the "Good Life" section of the Centre Daily Times under the "Living Local" heading. Jud and Anne were interviewed a few weeks ago by reporter Chris Rosenblum with Nabil K. Mark coming to camp to take photos.
"Of all the physical activities at the Stone Mountain Adventures summer camp, one of the most meaningful involves little motion at all.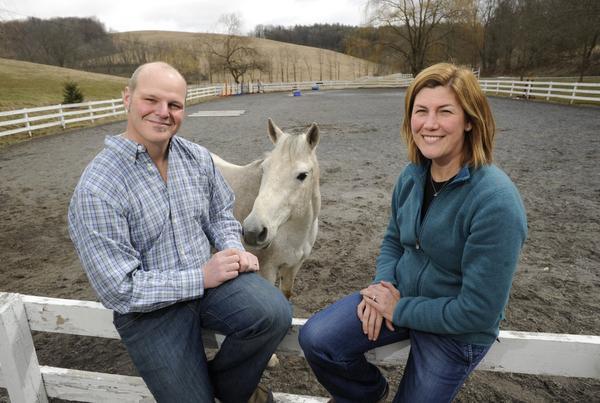 Every evening, as the sun slips lower, campers gather in a circle on the camp's front lawn. Then "Warm Fuzzies and Cold Pricklies" begins.
Anyone can volunteer a "warm fuzzy," such as a fun or silly moment, or a "cold prickly," such as a stubbed toe, bee sting or other minor bummer. There's only one rule: offer a prickly and you have to leaven it with a fuzzy.
"It's a time for sharing about the day," said Jud Millar, the camp director.
Millar and his wife, Anne Millar, the camp's co-owners, believe in fostering camaraderie. The evening ritual fits squarely into that philosophy, said Anne Millar, a former high school teacher and basketball coach.
"What's so wonderful about it, it brings everybody together," she said.
Nestled within a nearly 200-year-old Stone Valley farm about 30 minutes from State College, the camp naturally promotes close ties. Each session for youth ages 12 to 16 is limited to 60 campers, who live in six hillside cabins that sport painted bunks and graffiti-decorated walls.
But the Millars, who are preparing for the camp's 30th year, build bonds with more than just coziness. Sessions lasting two to seven weeks include "All Camp Days," when everyone participates in field trips and afternoon barbecues, as well as cabin skits, dances and improv performances in the barn and other group festivities.
"It's a tight-knit community," said Alex Goncalves, the State College Area High School senior class president, who attended SMA for two summers. During the sessions, he said, he became friends with all his fellow campers.
"Everyone spends so much time together you really get to know each other."
Of course, the heart of an adventure camp is adventure, and SMA offers a smorgasbord on its 60-acre property, surrounding lands or nearby recreational areas. Among the activities, campers can choose from horseback riding, caving, rock climbing, white water rafting, mountain biking, canoeing, water skiing, fishing, sailing, windsurfing and various sports.
Discoveries can happen indoors as well. The camp teaches arts and crafts, yoga and culinary arts, and provides instruments for musicians to jam. During a session, kids can even adopt and care for one of the camp's rabbits.
"Our goal is to provide growth experiences for teenagers," Jud Millar said.
Millar himself is a shining example. He literally grew up at the camp.
His mother and stepfather, Pam and Biff Houldin, renovated a dilapidated farm and started Horsepower Adventures, a therapeutic horseback riding camp. A few years later, they changed the name but kept converting their farmhouse living room into the camp's dining hall every summer. They still live across the road from the camp.
Millar, who attended the State College Friends School early on, was a camper before becoming a counselor. After he graduated from college, his stepfather gave him some advice: Don't rush into the family business. Go out and live life, then return if you wish.
Millar heeded the wisdom.
He taught high school and worked as a mountaineering guide in California. In North Carolina, he worked as an Outward Bound wilderness instructor. He organized and led service trips to Fiji for high school students and lived for a spell in Montana, where he met his wife.
In 2001, he returned to Pennsylvania, not thinking at first about working at the camp. But in time, he changed his mind.
"I knew if my adult life went by and I didn't take the opportunity to run Stone Mountain Adventures, I would regret it," he said.
Today, he and Anne, who held their wedding at the camp eight years ago, live year-round in the farm house with their two young children, Wyatt and Molly. When summer rolls around, they oversee 17 staff members and a considerably larger family.
No longer do campers eat in the living room. Instead, they take their meals in a dining hall where a handmade canoe hangs from the ceiling. Next door is a game room, a popular spot during the daily free time period called "The Power Hour of Freedom."
As explained on the camp's website, www.sma-summers.com, campers also are free to pick their morning and afternoon activities. At the evening meetings, Jud Millar fills a white board with their choices.
"They have so much freedom," Anne Millar said. "In a sense, they can reinvent themselves."
Read more here: http://www.centredaily.com/2013/04/07/3567623/living-local-stone-mountain-adventures.html#storylink=cpy