At Stone Mountain Adventures we ride the Allegrippis Trails everyday. Here are a few new sweet videos on YouTube about the Allegrippis Trails that are worth checking out!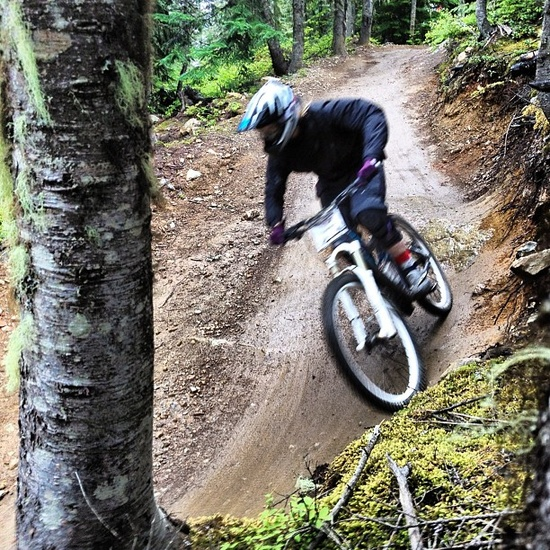 Robert Pell describes the trails in his video "Assault in the Allegrippis": The Allegrippis Trails at Raystown Lake are some of the best mountain biking trails on the east coast. The trails are buttery smooth and flow like a pump track through the forest surrounding the high-mountain lake. The trails are easy enough for your grandmother to ride but when you let off the brakes they become an adrenaline pumping roller coaster where your wheels are in the air nearly as much as they are on the ground. Once you get into the rythm of accelerating through the deep compression bottom turns and airing off the top of the next mogul you can't help but to have a huge grin on your face.
Here is a review of the Allegrippis Bike Trail by www.videotrailreviews.com
The History
In May 2009, Raystown Lake opened their Allegrippis Trail System to the public, though the project had been in the works since 2003. And while a variety of outdoor enthusiasts enjoy the newly-created trails in Hesston, Pa., the 30-plus miles of singletrack were designed by mountain bikers and built by the International Mountain Bicycling Association.
The Riding
Described by many as part pump track, part mountain bike trail, the Allegrippis trail system is machine built and organized in a "stacked loop" format-meaning riders can tailor the distance and difficulty of their ride. Small, easy loops are located close to trailheads and longer, more difficult loops spur from the easily-accessible trails. Endless combinations of routes can be ridden-both short and long.
Obstacles are few and far between on the Allegrippis trail system, a rarity in Central Pennsylvania, which is known for its rocky terrain. Beginners will enjoy the smooth trails and lack of demanding climbs. More advanced riders can simply pick up the pace for a fast, rhythmic ride on the rolling trails.
The Rating System
What the Allegrippis trails lack in technical features, they make up for in well-designed and well-marked sustainable trails. Although they're rated easiest,moderate and most difficult, mountain bikers of any level could safely ride all 30 miles of trails—just watch your speed!
Take a Breather
Riding this trail system is so fun, it's easy to lose track of time. But every once in a while, don't forget to stop and take in the scenery! Many of the Allegrippis trails overlook the sizeable and stunning Raystown Lake.
Access Points
Access the Allegrippis Trails at trailheads along Seven Points Road just past the Seven Points entrance and on Bakers Hollow Road right before the Susquehannock Campground entrance.
Allegrippis Trails Rating Guide
Easiest Trails: Buck Trail; Doe Trail; Fawn Trail; Dark Hollow Trail
Moderate Trails: Eagle Trail; Osprey Trail; Stony Trail; Dirtsurfer; Shade Trail; Barrel Bay Trail; Sleek Dog Trail; Allie Trail; Grippis Trail; Switch Trail; Ridge Trail; Berry Patch Trail; Red Legs; Loco-Motive Trail
Most Difficult Trails: Ray's Revenge Trail; Sidewinder Trail; Hydro Loop; Allegheny Trail