Donation Rocks, located in central PA, is a rock climbing area made available by owners Jud and Anne Millar, who also own and operate nearby Stone Mountain Adventures Teen Summer Camp (SMA). The rocks are climbed by SMA campers everyday during the summer months and they were recently featured in Liberty Mountain's Rock Climbing Catalog.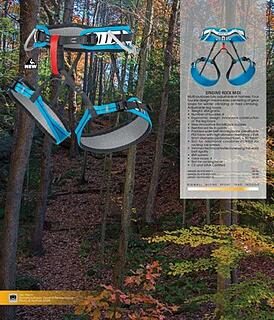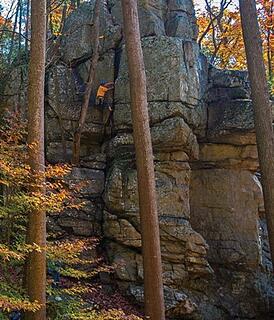 Founded in 1952, Liberty Mountain is one of the largest wholesale distributors of technical outdoor products and climbing gear in the U.S. Liberty Mountain is the one-stop-shop for "Everything For The Outdoors." Liberty Mountain does not make their own products, but rather they are a wholesale distributor. So, instead of contacting, ordering, and managing numerous accounts with various manufacturers to fulfill the store's inventory list, retailers can simply make their orders with Liberty Mountain to get their shipments that consist of countless brands and products.
Liberty
Mountain represents over 600 different brands, however they are the exclusive U.S. distributor of the following brands: Beal, Cypher, Edelweiss, Equinox, Grivel, Kong, Olicamp, Outdoor Designs, Peregrine, Pieps, Singing Rock, Stram, Stubai, Trangia, Ushba, Valandre, and Vaude. Liberty Mountain operates out of two major warehouses in Sandy, UT, in the Rocky Mountains and Montoursville PA, in the Appalachian Mountains.
It is the Montoursville, PA, connection that helped land Donation Rocks in the Liberty Mountain Rock Climbing Catalog. Featured in the rock climbing photo is Jac Frech who is co-owner of the Milton Rock Gym in Milton, PA. The Milton Rock Gym is a premiere indoor climbing facility perfect for beginner through advanced climbers.
The photo was taken by Nathan Smith who a professional outdoor photographer based in Salt Lake City, UT. Nathan was tagged by Rock & Ice Magazine as one of the "world's most renowned climbing photographers." Click here to see Smith's portfolio.
In writing this article I recently made contact with Scott Pershall, the Mid-Atlantic Sales Rep. for Liberty Mountain. Pershall was excited to learn about Stone Mountain Adventures Teen Summer camp as he spent 12 years working at an overnight summer camp. Pershall worked at Camp Susquehanna in Trout Run, PA, for eight years as a camp counselor and lifeguard and then for four years as the program director.
Stone Mountain Adventures
Teen Summer Camp
(SMA) is a co-ed overnight teen summer camp for 60 teenagers ages 12-16 located in the mountains of central Pennsylvania. We specialize in getting teens excited about life through:
Our teen campers learn new skills, gain self confidence, make strong friendships and become members of our cohesive, value-centered summer community. Things that our camp unique are:
Campers can choose from several two week sessions that can be combined into 4, 6 or 8 weeks.
Donation Rocks Climbing Area

is located at camp and is the premier rock climbing area in central PA. This helps make SMA a real

rock climbing summer camp! We have worked with the

Climbing Conservancy of Central PA (3CPA)

to open this climbing area to the public.

Rock climbers

from New York, New Jersey & Maryland travel to central PA to climb Donation Rocks! Stone Mountain Adventures owns the rocks thus maintaining priority for campers on all routes everyday.
Donation Rocks

is primarily a top roping climbing area with three main walls. Each wall has six to eight climbs. The closest crag to camp is locally known as "Camels Head Wall." The middle and tallest crag is called "Shark's Tooth Wall." The lower wall and the one seen first when approaching camp is called "Triceps Wall." Climbers at SMA love all three of these walls due to their unique, individual features and beauty!