Dirtfest is a fantastic event that is weekend long mountain bike festival promoting a hearty spirit for adventure, festivity and camaraderie. DirtFest features clinics on sustainable trail building, entry level mountain biking, sustainable trail maintenance; and includes organized events such as a womens skills series, kids mountain bike rides, unicycle course and an epic all day group ride that departs on a houseboat shuttle. Hosted by the Raystown Mountain Bike Association (RMBA).
This is how Outside writer Bern Broudy describes the event:
"What it is: A massive festival of all things bike, with 2500 riders, a handful of hot tub-topped houseboats and loads of riding.
The Dirt: Crowds that used to attend Pedro's Fest and Jim Thorpe Mountain Bike Weekend now rejoice at the Dirt Fest. So do wanna-be mountain bikers and anyone else within a day's drive that loves to ride. There's no racing, just lakeside camping out, group rides, clinics, and freak bikes hidden in a side tent—find 'em and you can try to ride the famed Rodeo Bike, a big wheel for big people, the opposite bike and more. Or keep it tame, do some clinics, pick up some skills, or go for a paddle on Raystown Lake after you've pedaled.
It's chill and friendly welcoming, no matter how fast or slow you ride.
Details: Always the weekend before Memorial Day, half way between Philly and Pittsburgh, $40, camping and houseboat rental separate."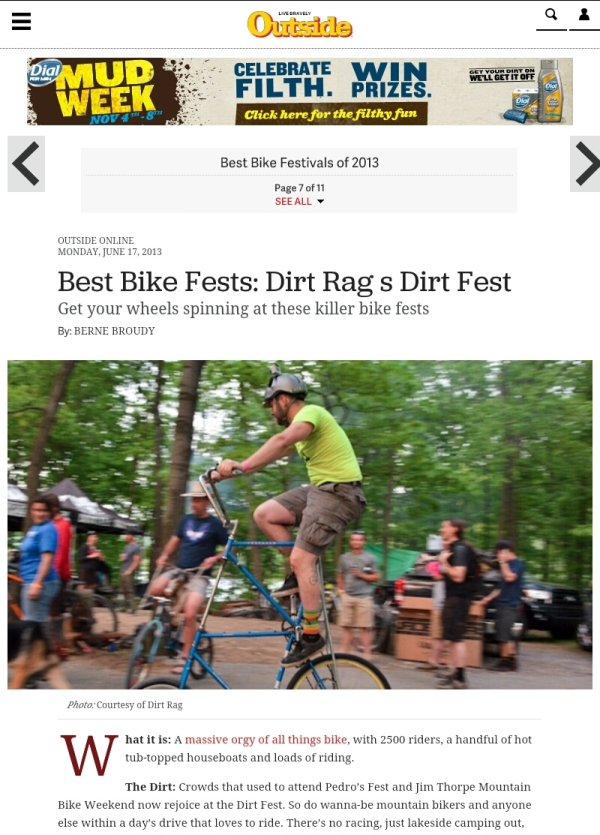 Stone Mountain Adventures Teen Mountain Biking Camp has been participating in Dirtfest for the past 5 years. As a Teen Mountain Biking Summer Camp it is an ideal place to meet potential campers, hang with great riders and even get some rides in ourselves. Last summer we had 2 campers at Stone Mountain Adventures Teen Summer Camp who we first met at Dirtfest. Brooke Cheery attended Stone Mountain Adventures Teen Summer Camp for 5 weeks. Campell Sorenson attended Stone Mountain Adventures Teen Mountain Biking Summer Camp for our 3rd Session and was also enrolled in our Mountain Biking Masters Program
ALLEGRIPPIS TRAILS:
Designed by mountain bikers and built by the International Mountain Bicycling Association, the Allegrippis Trails at Raystown Lake is a premier single-track mountain biking trail system located in the Eastern United States.

The 24 trails in the system were designed and built to provide sustainable trails for a variety of human uses including mountain biking, hiking, trail running, snowshoeing and cross-country skiing.

The Allegrippis Trails are arranged as stacked loops, giving the user the opportunity to plan a route as short or as long as they would like. There are nearly endless combinations, so even riders who come back time after time have the opportunity to use a new route each time.

Although the trails are rated "easiest", "moderate", and "most difficult", they can all be safely traversed by users of all skill levels, but users should expect their normal pace to be slowed as the difficulty increases. The ratings are provided to give all users a good idea of what challenges to expect. These ratings only apply to trails in the Allegrippis Trails system, they should not be compared to other trails or their difficulties.

You can access the Allegrippis Trails at trailheads along Seven Points Road just past the Seven Points Entrance Station and on Bakers Hollow Road just before the Susquehannock Campground Entrance Station.

The trails were developed under the direction of the Friends of Raystown Lake in a unique partnership between the Appalachian Regional Commission, Pennsylvania Department of Conservation and Natural Resources, US Army Corps of Engineers, Southern Alleghenies Planning and Development Commission, Huntingdon County Visitors Bureau, Huntingdon County Business and Industry, Pennsylvania Conservation Corps, and hundreds of volunteer laborers that augmented the professional construction services of the International Mountain Bicycling Association.