Winter is upon us and as the northeast is blanketed in snow many families start to think about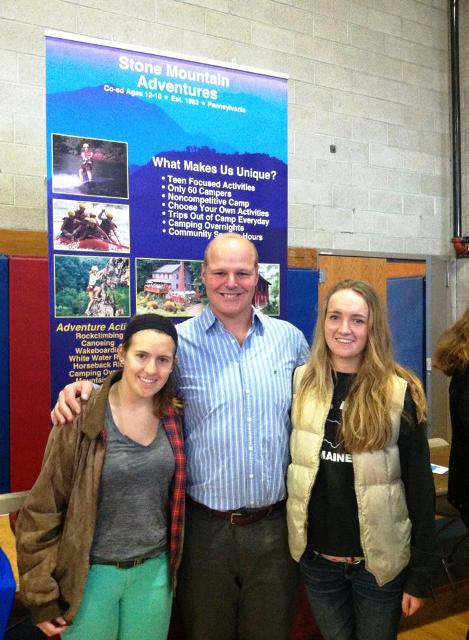 summer plans including summer camps for kids. A great resource to help families sort through all the available options are to visit a camp fair. A camp fair is similar to a job or college fair but is for summer camps and travel programs. Representatives from 50 to 100 camps and travel programs gather at a school, mall or hotel and families stop by and learn about the programs.
This year, as in the past,Stone Mountain Adventureswill be attending a number of camp fairs. Please come see us on the road this winter as Director Jud travels the East Coast meeting with families and talking about the SM Summer Camp experience at camp fairs.
We will be attending the following camp fairs:
Thu 1/19/14 TheChapinSchool, NYC, NY 4 to 6.30
Sat 1/11/14 Boston Parent Summer Expo,Brookline,MA 11 to 2
Sun 1/12/14 K.I.D.S. Steps to Success Fair,Brookline,MA 12 to 3
Sat 1/18/14 Buck's County Fair,Doylestown,PA 12 to 3
Sat 1/26/14 Washington Family Fair,Montgomery,MD 10 to 6
Wed 1/29/14 Greenwich HS CampFair, Greenwich,CT 6 to 9
Sat 2/1/13 State CollegeCampFair, State College,PA 10 to 2
Sat 2/8/14 Tysons Corner CampFair,McLean,VA 10 to 6
Mon 2/10/14 Campsource Fair,Germantown Academy,PA 5.30 to 8
Sat 2/23/13 Dulles Towne Center Mall,Dulles,VA 10 to 4
Sut 2/23/14 Dulles Towne Center Mall,Dulles,VA 11 to 4
We have a busy travel schedule during January & February and are excited to be "out and about" meeting with potential new SAM Camp Families and connection with SMA camper and staff alumni. We would love to see you when we are in your area. Also, if you have interest in helping to promoteStone Mountain Adventuresat a camp fair that would be awesome. It is very helpful & comforting to potential families to speak with experienced campers & parents in person about Stone Mountain Adventures.
If you would like to volunteer to help please drop us an e-mail any time Jud@sma-summers.com, message us over facebook www.facebook.com/StoneMountainAdventures or just come see us when we are in your area.