2014 Montgomery County Camp and Summer Fun Expo
Stone Mountain Adventures, a Rock Climbing Summer Camp will attend the Wahsington Parent Camp Fair to be help at the Hilton Hotel and Meeting Center in Rockville, MD on Sunday 1/26 from 10 to 6pm. Here are the details:
When:
Sunday, January 26th - 10 a.m. to 6 p.m.
Where:
Hilton Hotel Meeting Center
1.5 miles north of White Flint Mall
1750 Rockville Pike
Rockville, MD 20852
Washington Parent's Montgomery County Camp & Summer Fun Expo will take place on Sunday January 26th from 10 a.m. to 6 p.m. This event, held at the Hilton Hotel Meeting Center on Rockville Pike will introduce your family to exciting summer opportunities for kids of all ages, all under one roof!
Do you know what your kids are doing this summer? Attend a camp fair and find out about camps in Washington, DC, Maryland and Virginia. Camp representatives will be available to answer all of your questions about day and sleepaway camps in the Washington, DC area. Explore a wide range of camps from sports to nature discovery to drama to educational programs.
Stone Mountain Adventures (SMA) is a co-ed overnight teen and "tween" summer camp for 60 teenagers ages 12-16 located in the mountains of centralPennsylvania. We specialize in getting teens excited about life through:
Our teen campers learn new skills, gain self confidence, make strong friendships and become members of our strong, value centered summer community.
Things that our camp unique are we:
Young Teen Focused Activities
Choose Your Own Activities Everyday
Adventures and Camping Overnights Out of Camp
Campers increase self confidence and independence
As with many aspects of teenagers lives our camp is also a very social place and we work hard to model and encourage positive relationships, create community in an authentic way, stop cliques from developing, and take away many of the traditional pressures that teens feel in school.
The result is that campers feel a new found freedom to explore who they truly are while at the same time feeling like they have a new "home away from home" atStone Mountain Adventures.
2 Week Sessions « Tuition: $2550
· Session 1 (SMA1) Sun 6/22 to Sat 7/5
· Session 2 (SMA2) Sun 7/6 to Sat 7/19
· Session 3 (SMA3) Mon 7/21 to Sun 8/3
· Session 4 (SMA4) Tue 8/5 to Mon 8/18
4 Week Sessions « Tuition: $4980
· Session 1 + 2 Sun 6/22 to Sat 7/19
· Session 2 + 3 Sun 7/6 to Sun 8/3
· Session 3 + 4 Mon 7/21 to Mon 8/18
6 Week Sessions « Tuition: $7350
· Session 1 + 2 + 3 Sun 6/22 to Sat 7/19
· Session 2 + 3 + 4 Sun 7/6 to Sun 8/18
8 Week Session « Tuition: $8880
Session 1 + 2 + 3 + 4 Sun 6/22 to Mon 8/18
2013 Camper Testimonials Click Here
2013 Parent Testimonials Click Here
If you are ready to enroll in SMA for 2014 Click Here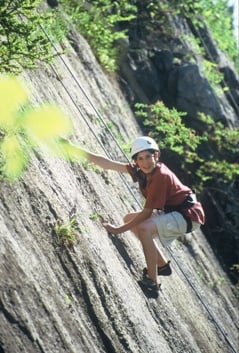 If you rock climbing is something you have interest in or something you are passionate about, Stone Mountain Adventures is the camp for you!
Highlights of the SMA Rock Climbing Program:
Top Rope Climbing Area called Donation Rocks located on the premises of camp
Bouldering Area with world class bouldering called Hunters Rocks
5 Climbing Areas near camp offers campers a wide variety of climbing styles and rock types
Our Climbing Staff are experienced and passionate about rock climbing and sharing that passion with teens.
We offer a Rock Climbing Camping Overnight at Bigler Rocks every session
Campers can climb on real rocks 6 days a week at SMA!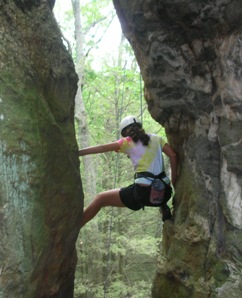 Donation Rocks is located right at camp and is the premier rock climbing area in central PA, this helps make SMA a real rock climbing summer camp! Camp owners Jud & Anne Millar have worked with the Climbing Conservancy of Central PA (3CPA) and the to open this climbing area to the public. Rock climbers from New York, New Jersey & Maryland travel to central PA to climb Donation Rocks! Stone Mountain Adventures owns the rocks and so we have priority on all the routes everyday.
Donation Rocks is primarily a top roping climbing area with 3 main climbing walls each with 6 to 8 climbs each. The closest crag to camp is locally known as "Camels Head Wall". The middle and tallest crag of the 3 is called "Shark's Tooth Wall". The lower wall and the on you see first as you drive into camp is called "Triceps Wall" If you are a climber at SMA you will learn to love all 3 of these walls.
Huntingdon Cliffs Climbing Area
Located 8 miles from camp are the Huntingdon Cliffs. This climbing area is unique in that you access the climbs from the top and must then rappel to the bottom in order to climb back to the top. There are also steep access trails as well. The scenery here is stunning as the Huntingdon Cliffs are located in the picturesque Juniata River Valley. Campers and staff alike rave about the feeling of exposure at these crags because while you may only be 40 feet off the ground you are 250 feet from the Juniata River far below you. This is where we do ourclimbing camp which includes 3 elements: Climbing, a Tyrolean Traverse and a Rappel.
Bouldering at Hunters Rocks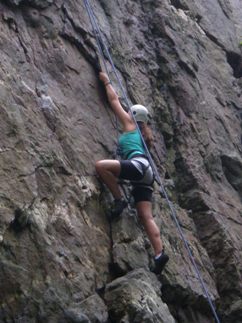 Bouldering differs from top rope climbing in that you do not climb with ropes. For safety you always have a spotter to help support you, you never climb above your spotters chest and you have a "crash pad" on the ground below to cushion you. Hunters Rocks is located 6 miles from camp in an area called Martin's Gap in the Rothrock State Forest. This is a classic boulder field that follows a ridge with literally hundred or "boulder problems". With the quality of bouldering at Hunters Rocks we see parties from New York, New Jersey and Maryland and enjoy the camaraderie that can only come from bouldering! Having Hunters Rocks as an option every day helps make SMA an awesome teen rock climbing summer camp.
Rock Climbing Camping Overnights at Bigler Rocks
The highlight of the SMA Rock Climbing Summer CampProgram each session is the camping overnight at Bigler Rocks. Bigler Rocks is located in Clearfield County about 74 miles from camp. This is a great opportunity for the climbers of SMA to get out of camp and sleep under the stars, share climbing stories and do some amazing rock climbing! Bigler Rocks is a sandstone formation with a private campground at the base of the rocks. It is truly a unique experience to have our campsite set up near the base of the rocks and be able to climb until dusk, take off your harness and warm up next to the camp fire and roast some marshmallows. We then wake up at the crack of dawn and do it all over again. A rock climbing camping overnight at Bigler Rocks is something that every climber at SMA rock climbing camp should experience!
"At home I climb in a gym and it's good but at SMA climbing on real rocks has been amazing! Here I climb almost everyday. My climbing skills have improved so much. I alos love the variety of climbing offered here. The climbing camping overnight is an expeience I will never forget!"
Ezra Cohn, Bethesda, MD