Stone Mountain Adventures (SMA) 2 Week Teen Summer Camp will have a booth at a camp fair in Arlington, VA Friday, Feb. 21, 2014, from 6-8 p.m at the Jefferson Community Center, 3501 2nd Street S.
This event is sponsored jointly by the Department of School and Community Relations and the Arlington County Council of PTAs (CCPTA). The money raised from the exhibitor fees is used to fund scholarships for APS seniors who will be pursuing careers in education or youth services after graduation in June.
The fair will feature approximately 90 summer program exhibitors, including APS Summer School, Arlington Aquatics, Arlington Career Center Enrichment, and Arlington County Parks and Recreation.
A special thanks to the following organizations for their special sponsorship:
The following list includes all participating exhibitors at this year's Summer Fair:
Adagio Ballet and Dance School
Golden Boot Soccer Camps
Adventure Links at Hemlock Overlook
GWU Pre-College Program
American Inline Skating and Biking
Fort Ward Civil War Kids Camp
Aqua Sports Camp
Fun Bot Lab
Arlington County Department of Parks and Recreation
Hameau Farm in the Big Valley
Arlington Artists Academy
iTravel & Last Lap - Travel Camps
Arlington Arts Center
Kate McClain Social Skills
Arlington Cheer Camp
Kettler Capitals Iceplex Summer Camps
Arlington Fencers' Camp
Khary Stockton Soccer
Arlington Independent Media - Video Production Camp
KidSpanish
Arlington Public Schools Career Center
Keyboard Camp For Kids
Arlington Public Schools Summer School Programs
Language Stars
Arlington Youth Street Theatre
Levine's Summer Music & Arts Day Camp
Arts Adventure Camp by Creative Cauldron
Ligonier Camp & Conference Center
Baroody Camps, Inc.
Lola's Laboratory
BEE-Fit Movement
Mad Science
Burgundy Farm Summer Day Camp
Marymount University Summer Camps
Camp Arena Stage
MathTree
Camp Hidden Meadows
Modeling Camp
Camp Horizons
Momentum Football Camp
Camp Overlook at Potomac Overlook Regional Park
Orange Line Sports
Camp Rim Rock
Outdoor Lab Summer Camp
Camp Shakespeare
Peace Camp
Camp Tall Timbers
Perfect Pointe Dance Studio Summer Camps & Classes
Candy Creation Camp
Renaissance Lego and American Girl Summer Camps
Capital Ultimate Camp
Saint Luke Summer Sports Camp
C.A.R.E Actor
Saffron Studios, World Explorations Dance, Movement & Culture
Chummy Gill Basketball Academy
Sandy Hill Camp and Retreat Center
City of Falls Church Recreation Department
Science Camp Watonka
Civil War Kids Mini-Camp
Silver Knights Chess
CommuniKids Preschool
Skyline Sport and Health Tennis Camp
Congressional Camp
SolPlay
Dance Camps with Jane Franklin Dance
Steve and Kate's Camp
Digital Media Academy
Stone Mountain Adventures
Dinosaur Family Camp
Summer Art Camp with The Art League School
Educational Theatre Company
Summer at St. Patrick's
Edu-Futuro's Spanish Academy
Tea with Mrs. B
Encore Stage & Studio
The Handwork Studio
Engineering for Kids Summer Camps
The Theatre Lab Inc.
Fairfax Collegiate
TIC Summer Camp

Fairfax County Park Authority,

Spring Hill RECenter Camps

Traveling Players Ensemble
Ferrum College Summer Enrichment Camp
USTC SUMMER CAMP
FirstServe Tennis
Virginia Fishing Adventures/Virginia Outside
Fish and Explore
Washington Sailing Marina Summer Sailing Camps
Fort Myer Tennis Camp
YMCA Arlington
Georgetown Day School Camps and Classes
YMCA Camp Silver Beach
Georgetown Learning Centers
Watch APS Snapshots featuring the 2011 Summer Activities Fair:
For more information, contact Gladis Bourdouane, Communications Coordinator: Family Engagement & Public Information at
gladis.bourdouane@apsva.us
or by calling 703-228-7667.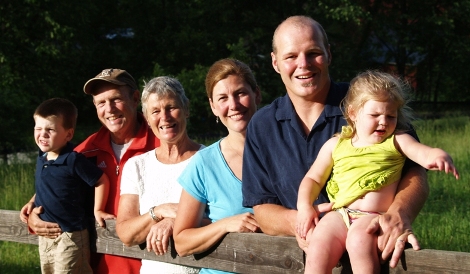 Wyatt, Biff, Pam, Anne, Jud & Molly
A message from Camp Director Jud Millar-
In 1983, my parents Pam and Biff Houldin started Stone Mountain Adventures (SMA) by opening our family farm to a small group of teens and counselors. Since then SMA has morphed into a magical summer camp, a home away from home for so many people across the globe. My wife Anne & I with our young children now own and operate SMA while Pam and Biff live just across the road and are still involved in the day to day activities of camp.
Over the years we have kept our promise of staying a small, family-oriented 2 week teen summer camp. We believe that our camp's small size directly affects the quality of our programming as camp quickly becomes a close knit community that creates strong, positive intrapersonal relationships. Campers are challenged on activities every day which builds confidence. The combination of mutual respect among campers and staff and the increased self-confidence through physical endeavors helps teens to begin to discover who they really are and how they fit into this world. Being a young teen can be a challenging time and SMA is a fun, safe place for teens to grow emotionally and physically.
Year after year, our greatest concern is the safety of our campers and staff. Constant attention is given to the physical and emotional health of all involved. Precautions are taken and safety is paramount (seatbelts, helmets, lifejackets, etc. are non-negotiable). Camp is noisy, full of laughs and a fantastically fun, healthy atmosphere for all during the summer. With a summer family of 20 staff and 60 campers, most people think we are crazy, but we have a large family of our own, so the summer is just a little noisier.
We genuinely enjoy the opportunity to provide a healthy and fun atmosphere in which teenagers and staff can develop greater confidence and set and achieve personal goals at our 2 week teen summer camp. We invite you to join our summer family.
– Jud Millar