Isabelle Kough:
4th session was amazing- all the overnights, meeting new people, my cabin, the activities, and just everything made me want to come back. The counselors have made everything more fun. The camp itself didn't change me but the people did. Darius taught me not to care what people think. Ben the counselor made me realize to laugh. On the overnight was fun because Will was fighting everyone with lightsabers. I had an amazing session with everyone especially Adi and Jordyn. I can't wait to come back next year! I love Jem (because she made me write this).
Matthew Weitzel:
This was my first summer camp that is an overnight, as it was the longest time I've been away from family. It started to feel normal after about 2-3 days. By for this is the most outdoor activities I've done this summer. The adventures beheld a mass of emotions including the happiness of belly whomping to the pain of falling off my bike and cutting my arm and leg. Overall, I think I learned a lot and became a lot tanner which I'm happy about, but in all seriousness I will leave a better person and with a lot more skills (and scars).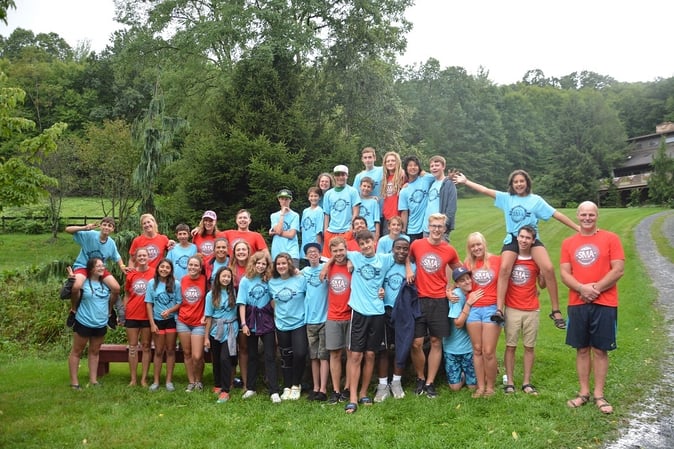 Jack Weiman:
I like Ben. Ben is cool. So is Jay. Jem is cool. Will is one of my favorites. He used to look like a cool Viking warrior but then he was lame and shaved off his beard and now he looks like a British person. Helen is cool because she is majoring in what I want to major in. I also love Connor and myself. Ben is my favorite. I learned how to wakeboard and had a lot of fun on all the activities. My favorites were sailing, mountain biking, white water rafting. I made a lot of new friends and I really enjoyed my time here.
Mary Zaher:
Coming to camp, I was excited and relieved to have finally made it here. The moment I stepped into my cabin, I was greeted with friendly faces. I got to know my cabin mates better, and tried several new activities with them. Some of my favorites activities were the Amish market, the fair, white water rafting, and overnights. The Amish market and the fair were both opportunities to learn more about the Amish culture. White water rafting was exciting as well as scary, and it required teamwork and cooperation as well as the ability to listen to instructions. While I was on my overnights, I had to learn to coexist with the critters and bugs living in the forest. I had a lot of fun learning how to get up on the kneeboard and hiking through the woods. Overall, I had a great time at camp. I made new friends and tried new activities. I was an unforgettable experience and I hope that I will be back again next year.
Adeline:
This session was amazing!! The activities I did were: rocking climbing, fishing, wakeboat fun, etc. When I first came here, I didn't think that I would make any friends. But right when I walked into Mattawanna, Jordyn helped me right away. She is so crazy (in a good way) and we have gotten so close in these two weeks. I can't forget about Izzy- she has been so helpful with my knee! I'm so grateful for both of them! The overnights were amazng! I loved knee boarding (without my knees) and canoeing was great until Izzy smashed her finger between two boats!! The Yough was very fun! I loved going done the river!! The amish market and the countryfair were fun. All the counselor's were amazing. And I'm going to miss them and all my new friends so much!!! I can't wait to come back here next year but for a month this time!
Daniel Bosch:
SMA was really fun! I tried a lot of new things that I wouldn't be able to try at home. As a first year at SMA, it was a great time! I can't wait for next summer! The first day was really fun because after my parents left- it was just a really great place to be. When I first got there everyone was yelling "New Camper" and it was just great. I met a lot of new people and made a lot of new friends. The camp was amazing and I had a great time. Rock climbing was amazing, white water rafting was cool, and SUP and Sail was nice.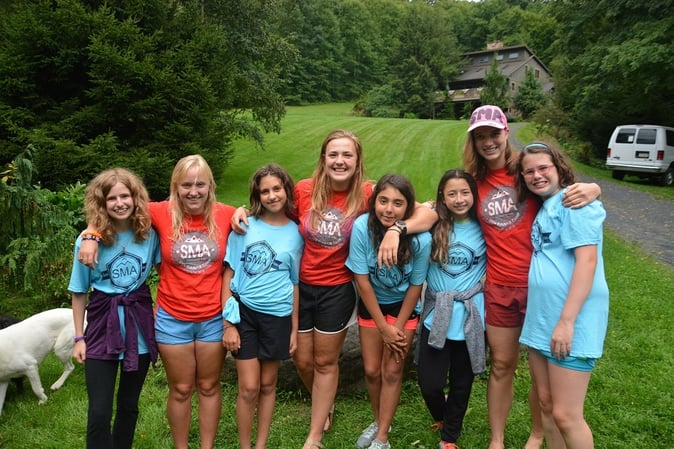 Trey Niccolini
This session was amazing. At first I didn't want to come here. When my mom told me I was coming I was really disappointed because I wanted to spend that last few weeks of summer with friends. When I got here I decided to really jump in and get involved. I really tried to get connected with everyone at camp, but through a lot of stuff that happened I realised I was wrong. I realise now that if I try to surround myself with everyone then I will ultimately be unhappy. I have realised there is a difference with being nice to everyone and actively being friends with everyone. If there is one thing I can take from camp it I not try to be friends with people who make me feel badly, I will definitely be back next year.
Emily Beun
Camp was so much fun. It was worth it to lose electrics for two weeks. I kind of wanted to go home half-way through. But I stuck to it. The friends that made helped me. Mary, Marie and Lily helped me. They didn't help me much, but just knowing I had friends helped. All the activities were really fun. My favourite activity was arts and crafts. It a a small group but we had a fun time talking about anime, One of my favourite conversations was the conversation I had with ben. We talked about terresria in the van. That was really fun. Running around the Amish market with Kat and Jackson was really fun. I got an umbrella, and two things for my sisters. A bow and a solar powered dancing flower. White water rafting was extremely fun. I fell in two times and Jem pushed me out three times. Dinner was awesome because my secret friend got me a cheeseburger and a medium Oreo Blizzard, it was funny because my secret friend was the person everyone shipped me with. His name was Jackson and he was Marie's older brother. I have been told to kiss him on multiple occasions. Camp was fun and will try to convince my cousin to come next year. Bye for now!
Darius Garris
For my first year at camp in America it was awesome. The councillors made me feel at home from the very first day. Chase is awesome and some how always keeps his head cool. My roommates were friendly and welcoming and we quickly became new friends. The wakeboarding overnight was amazing. Sup and sail was probably the most chill activity. Ultimate Frisbee was amazing and the fact that I saw 2 shooting stars that night was even better. I really hope to come back next year ..
Ben Ackerman
SMA is one of my favourite summer camps I have ever been to.
When I first got here I was super shy I had no idea what anything was, not even bunk junk but now I'm on my last day of camp and when I get home I will miss a lot of them even Jordyn. I have many favourite parts of camp. Fist is the rock climbing walls, they were super fun and I even got to belay too. Second was the knee boarding, I got up on my first try, and then almost started a circle of death. Lastly was the campers and councillors, I had real fun and have tons of friends.
Lookman Raji
My time here at SMA was really fun. My favourite activity was the white water rafting trip that we went on, I hope to do it again sometime in the future. I also enjoyed the wakeboarding overnight; I went knee boarding and belly-whomping. But the one thing I enjoyed the most was going to the Amish market and buying a totally radical fidget spinner.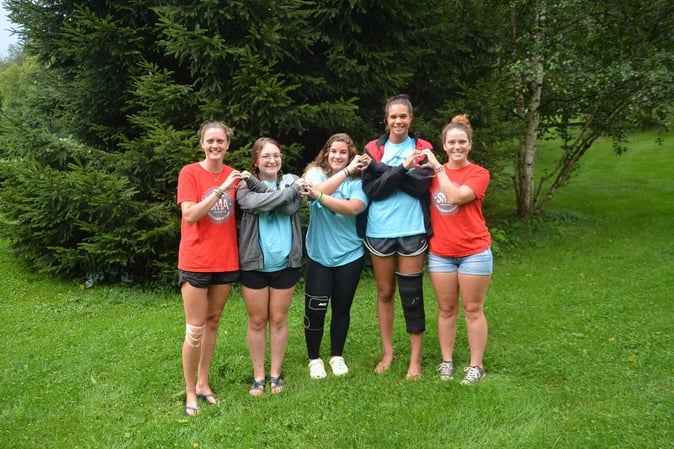 Jackson Romero
So, apparently, I'm supposed to write about my camp experience. I'm not in school and don't feel like creating a good introduction. So yeah, this is my summary of my time at camp.
On a positive note, I had fun at almost all the activities. I got up the cliff in rock climbing, got up on the wakeboard, loved the overnights, and only fell into the Yough twice! The van rides were great and all of the counselors were super positive, they all really seemed to enjoy having time at camp. After crossing out the previous paragraph, Will told me to describe my cabin mates as interesting and that they made my experience awesome.
On the point of making friends, I was significantly more successful with the girls and no matter what the guys say I'm no dating any of them. They were just more relatable to me than the boys. Overall, I enjoyed the activities quite a lot. The counselors were really nice, and I made some good friends here at SMA
Eliza-Jean
Stone Mountain Adventures has been very fun! I got to ride Bebe, who was a very good listener, we got to go for a trail ride, where we were out in all of the nature. Another favorite was white water rafting which was very awesome, and I didn't get pushed in which was good. And I got 2 strawberry milkshakes in a row! At the county fair, I got to go on a ride with Connor, which was really fun and I got another strawberry milkshake there! One of the activities was rock climbing which was fun, I got higher than I thought I was going to! At the Amish Market, I got a fidget spinner and lots of cool treats.
I've had so much fun at SMA and I would love to come back next year!
Cody Pierce
Camp this year was very great. SUP and Sail was still my favorite. Power hour was really fun because I played a lot of pool and I got a lot of summer reading done.
This year I made much more friends even though the session was smaller. I also got very close with many people this year. Although I had so much fun this year during 4th session, I think I will come back 3rd session. This is due to more people, and more summer when I get back.
As always, the counselors were great and very nice to everyone. All in all, I love this camp and really want to come back next year and the year after that.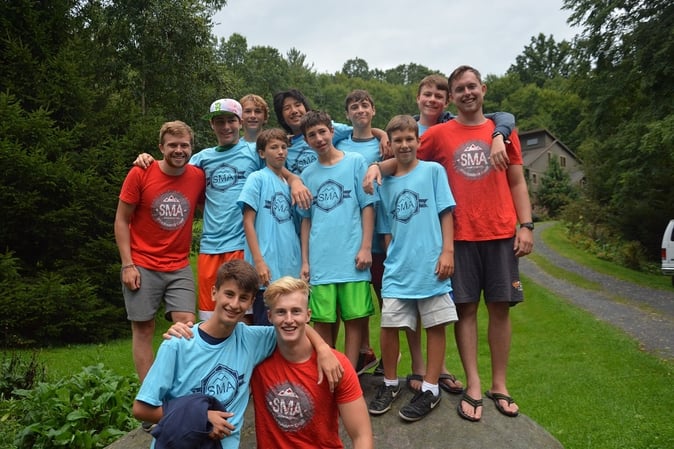 Sam Frieman
My favorite activity I did this session was hiking. My favorite hike was with Jem, Jordan, and Ben when we got Frostys at Wendy's and hiked the cemetery trail, Ice Mine, and did the Balance Rock hike. My favorite trip we did was the trip to the Yough where on the way there we had second breakfast at McDonalds and had pancakes and hash browns. In the evening, I got to go to Wendy's, get 2 Frostys and a hamburger at McDonalds. My favorite counselors are Jemima and Ben. This was my first time at camp and it was great, I will maybe come back next year if Ben returns. My favorite part of camp was watching movies the last night at Stone Mountain Adventures.
P.S: Helen is my most favorite counselor and so is Jemima and Ben.
Camp flew by this year because it was so much fun. I loved the wake boat because I was able to master a 360 on the kneeboard and was able to get air on the water skis on the overnight. Then when I went on the wake boat again, I was able to get up on the wakeboard and get in and out of the wake.
I also loved the other campers. I made a ton of friends. Power Hour became really fun, because of this. I really enjoyed hanging out with my friends during this time. But my favorite day as a whole was white water rafting. I just wish we were allowed to choose rafts.
Jackson Waters
Al the counselors are amazing. They are so kind, funny, and fun. They make every activity fun no matter how much you don't want to do it. So I end up looking forward to every activity I do.
Finally, I can't wait to come back next year because everything at SMA adds up to making SMA so great.
Jacob Bader
It was great to see old friends coming back and making new friends. Power Hour was great, card games were pretty much all that Power Hour was along with the occasional foosball. Rock Climbing was great, and SUP and Sail.
As a 3rd year I felt very much responsible to teach all the first years those ropes.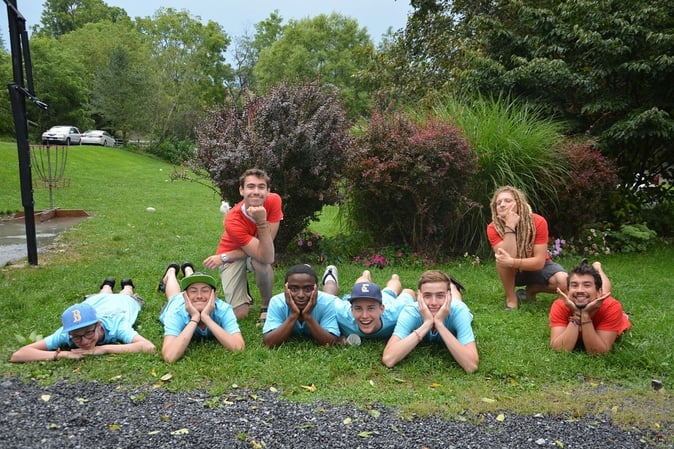 Jordyn Bitton
So hey. My second year here is coming to a close and I know tomorrow will suck, royally. I don't want to go home yet, at the same time I do. I love it here. My cabin was amazing and I am so grateful to have the family I met here. I know that next year is my last year so I'm very happy that I had an amazing summer. This session the counselors and I got very close seeing that I am the oldest. The Yough could have gone better and I am still sick. I hate writing reflections because I'm going to cry. I will miss this place so much. I love SMA, so much.
Love,
Lily Bang
Memories to last a lifetime. I will never forget the 1st time I completed Shark's Tooth, it was my 1st time rock climbing on real rock and looking out at the top felt amazing. It also wouldn't be a life if I said I went on every single SUP n Sail.
Every person at SMA 2 Week Summer Camp is welcome and able to be yourself, nobody ever got hurt and I've met some of the kindest people here. I hope I'm able to keep in touch with many many people and see everyone again.
My favorite part of camp were the van rides jamming out with all of my friends to some songs I'd never heard before but somehow knew the words to the songs.
I loved the jokes I've made with the best people, for example how it's proper to go through the door, close it, come back through the door, then let the lady go through the door.
I know that every single person including counselors were very chill and would help you whenever you needed it.
It is my 1st year at SMA and can't wait to come back next year.
Marie Romero
Day 1: We had the hike in the morning which was really fun. During the hike, we went bouldering and saw some amazing views. In the afternoon, we had Belay School and the swim test. Belay school was amazing and we learned how to make certain knots. Then we had the swim test, we had to swim in freezing cold water, but in the end, it wasn't too bad.
During these 2 weeks, I've made some amazing friends. There's Lily, Emily, and Kat. They were so amazing and we were all sad when Kat had to leave. Then there are all the counselors. They are so awesome, Jem is super nice, Ben is really funny, Chase is good at rock climbing, and there are so many more, they all made it the best time ever.
I did have a lot of fun on the boat and during climbing. On the boat, I tried waterskiing and got up the first time. Then I tried knee boarding, it took me about 6 times to get up but when I did it was sooooo cool. I also had a lot of fun during climbing, on the first rock I climbed I had to jump from a ledge to a rock 2 feet away and… I failed.
Whenever we go anywhere we get to wear bunk junk. Bunk junk is random clothing items; my favorite is a blue dress and a hat. Everyone dresses up so weird and we all look funny.
I have had such a great time and I don't want to leave. I have made so many great friends and I don't want to leave them behind. Well, this is the end of my reflection from my first session and I can't wait to come back.
Henry Westrich
I had an amazing time at SMA 2 Week Summer Camp for Teenagers as usual. My favourite activities this year were wakeboarding and mountain biking. I didn't get to do rock climbing but had the best game of ultimate ever. I even got to help out with the little kid's camp. In summary, camp was great and I am definitely hoping to come back again.
Ethan Levine
One memory from SMA 2 Week Summer Camp for Teens that will last a lifetime is scaling the rocks. Rock Climbing is the best! At first, I was petrified of the high heights. I easily gave up and made up my mind to never climb again. That was when a counselor forced me to climb again. Although, at the time, I did not appreciate this gesture, climbing the rocks was one of the highest points in camp.
SMA Session 4 Staff Reflections, 2017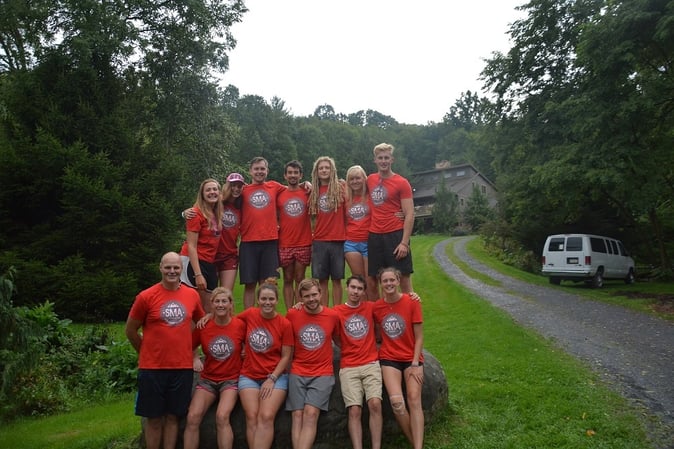 Ben Dillard:
What a way to finish the summer! 4th session was smaller in size but not in energy! Eight weeks into the summer, we still have our expections exceeded when we hop into a van to go out on activity. The wakeboarding overnight was awesome, from being on he boat to sitting around the campfire and listening to campers play songs and tell stories. Hitting the Allegrippis trials with Bikemasters before going to the skills park was another great afternoon. On the last day of activities, the rain did not prevent us from having fun, it actually got everyone hyped up! We started jumping in puddles as we arrived at Greenwood. We played ultimate frisbee for half an hour before Jud arrived and made it even more intense! Evening activities were also great, from the unforgettable time at the county fair to embracing my inner fairy princess at the talent show (hubba hubba!)
It is hard to believe that summer is coming to an end. Thank you SMA w Week Summer Camps for Teensfor those five life changing summers and for the lifelong friendships you have provided me with!
Jem:
What a crazy weird sessiom! Its flown by, ive done so many fun things! I got to spend a lot of time hanging out with Pam, Jordyn and Eliza Jean in the barn, and take the Horsemasters on a special extra trip to the county fair to see that animals. On the evening at the fair I finally got to have some deep fried oreos and kettle corn (definitely not UK sweet popcorn!), followed (too soon after) by going on the rides, not a good idea!
On the yough, Will and I successfully captained our boat, the '9/10 trust/the hot dannys' down the river, with the help of hot Danny through Dimple!
I couldn't get over how good the talent show was, I was so so so impressed, I wish I was that talented!
Im sad this session is ending but ill always remember it and how much fun it has been!
Super sizzling summer 2017 over and out….
Helen Stroheker
Session four was start to stop crazy, hectic, loud, exuberant, awesome fun. It takes a special group of kids to keep counselors weird in all the right ways up until the very end, but weird we are, and weird we'll stay. Thanks for being great and making the session what it was, I live for all your energy.
I had the best Yough trip yet this session, with our zany breakfast chef on board with me and four campers. Having two kids fall out in Rock Garden while Trey clung to my leg to keep me in and Cindy screaming to be careful was hilarious. The talent show was great, with some stellar musicians (especially singers!) and acts. All the creative SMA-inspired songs showed just how special this session was. I was happy to finally do the Trough Creek Hike and appreciate the beauty of central Pennsylvania on the last day of activities.
Overall, this session was the perfect cap to my summer. I'm happy to call SMA 2 Week Teen Camp my second home.
Greta Kissman
Session 4 may have been smaller than others but it was still a lot of fun. Spending time on the boat was awesome; seeing everyone better their skills was incredible. First time wakeboarders/water-skiers get up and even learn some tricks.
HMS Chakras down the Yough was painful but a lot of fun. Captain A and B fell out on the first rapid but after that it was mostly smooth sailing.
Sleeping in Mattawanna with four, then three girls was a special experience. Everyone got close and became a family. All of us got broken at one point but together we made one semi capable person. Thank you to those who made this session fun and memorable. Peace out Summer 2017.
P.S. I can see you Daniel.
Chase Cloward
So session 4 was a blast just like the rest of the summer! We had so much fun rock climbing down at Donation Rocks with all the spectacular climbers that came to camp this session! We also went to Hunters Rocks and did some amazing hiking and climbing over there while enjoying the beautiful sights. The Yough was the best day of the session with so much positivity and good vibes with only a few clouds in the sky and the water was nice and refreshing. This summer has been so much fun and I'll remember it for the rest of my life!
Swaggers
SMA Summer Camps For Teens, Session 4- what a note to end the summer on! Between the overnight campers and the younger day campers that were running their own programs simultaneously, there was never a lack of things to do, people to laugh with, and activities moving out. Even at the end of these past eight weeks, session 4 came in with a new burst of energy that revitalized the staff team, making this session amazing.
My favorite activity this summer was the hiking overnight- we hiked around 7 miles through Rothrock State Forest to a campground that was 15/20 miles from the nearest paved road. The hike was beautiful and the conversation, flowing. All the campers were awesome around the hard hike and then we all had a blast around the campfire, telling stories, eating mountain pies, and singing songs. It was probably my favorite overnight of the summer.
This summer has been absolutely stellar and I'm so glad that I got to spend it with so many of my favorite people, both new and old. Thanks for a great end of summer!
Will Hooton
The final session of the summer was a great way to finish this year as a camp councillor I have multiple memories from this session.
The first memorable moment has to be the white water rafting, leading a boat of very fun and excited campers was very enjoyable and floating through big rapids was also very thrilling. The best memory I have from this session was the adventure hiking overnight. The nature and scenery of the location was incredible and in future when people ask me my opinion and experience of Pennsylvania the place I will be describing is this beautiful location of the overnight. Improvised songs by the campfire with the ukulele on this overnight made me laugh till my abs hurt and trey teaching me "house of gold" on ukulele was something I can now continue to play in future. Learning from these campers is what made this session so good. A great way to end.
Simon
Session 4 was different because it was much smaller than previous sessions. However, this meant we got to know everyone really well. From the first day it was a close-knit group.
Activities were really fun from this session. I got to go climbing for the first time this summer and I loved it. I also got out canoeing in the pouring rain and everyone still had a really positive attitude. The wakeboarding overnight was amazing and we had a great time out on the lake.
White water rafting was so much fun this session! The water level was much lower than session 2 and 3, which meant we got to guide our own raft down the river! Our boat H.M.S chahra was amazing.
As the session draws to a close it is really a time for reflection for me. This brings to a close my 3rd, and most likely, last summer here at SMA. Camp has meant so much to me over the past 3 years. It really makes you realise the importance of being comfortable with who you are. I've made life-long connections here and it has definitely helped shape my life.
Thank you SMA for an unforgettable life-changing experience.