---
SMA Summer Camp 2015!
It's Sunday, March 29, which means there are 90 days until the Opening Day of Stone Mountain Adventures Overnight Summer Camp 2015! The snow has finally melted. The days are getting longer and preparations for the summer have begun. Many returning campers are chirping about how excited they are for the summer to be here so they can return to their summer home at SMA Teen Summer Camp. We are also excited to meet and get to know all the new campers who have signed up for summer 2015!
---
2 Months and 29 Days
This means that in just 2 months and 29 days our staff will have arrived from around the country and throughout the world. Our staff training will be complete and the momentum will really be building for the summer. Fences will have been painted, stone will have been moved onto our walk ways and our cabins will have been cleaned and made ready for eager campers to inhabit for the summer.
---
12 Weeks and 9 Days
By my calculations, in just 12 weeks and 9 days our food orders will have arrived and our menu planned for the summer here at SMA teen summer camp. We will have communicated with Penn Skates in State College and Holiday Bowl in Huntingdon to set our dates for Disco Roller Skating and Disco Bowling. Evening Activities are an exciting time at SMA because we are all together as a group each night. About half of the evening activities we do are in camp and half of the activities we do are out of camp.
---
2160 Hours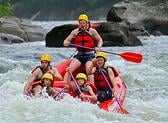 This means that in 2160 hours will will have communicated with Wilderness Voyagers in Ohiopyle, PA and made arrangements for our four white water rafting trips for the summer of 2015 at SMA Teen Summer Camp. White water rafting the Lower Youghiogheny River is one of the activities we do as an entire camp towards the end of each session. It is a highlight of camp that only reconfirms the bonds everyone has made with each other. As one of the most exciting activities we do at SMA overnight teen summer camp, whitewater rafting is guaranteed to increase your heart rate!
---
129,600 Minutes
In just 129,600 minutes we will have made arrangements for our 16 camping overnights that will take place during the summer of 2015 at SMA Mountain Biking Summer Camp. We offer Overnight Camping Trips out of camp for groups of 8-10 campers! Each overnight camping trip has a focus, including:
Hiking
Canoeing
Wakeboarding
Mountain Biking
Rock Climbing
Backpacking
Overnights are usually offered two times a week and often we will have two or three overnights out at a time. Overnights last about 24 hours, you will depart camp after lunch on the first day (afternoon activity time) and return for lunch the following day (morning activity time). You will spend the afternoon of the first day and the morning of the second day doing your activity, help prepare a hearty dinner & breakfast around a campfire & help set up & break down our camp site. S'mores, games, ghost stories and sleeping under the stars with your friends make this one of camp's most popular activities. Rock Climbing Teen Summer Camp
---
7,776,000 Seconds
in just 7,776,600 seconds our wakeboarding and water skiing boat will have been "summerized" and put in the water at Seven Points Marina at Raystown Lake. Plans will have been made for our Wakemasters Program at SMA Teen Wakeboarding Summer Camp.
The Wakemasters Program is for campers who are excited about the thrill of wakeboarding or waterskiing and serious about improving their skills. Participants can ski up to three sessions per week and may participate in one specialized clinic. Experienced instructors will assist campers in:
Setting Realistic Goals for the Camp Session
Boat and Water Safety
Building Confidence on the Board or Skies
Giving Campers Constructive Feedback by Videoing Riding Sessions and Watching them with Campers
Developing Skills So You Can Take Their Skiing and Boarding to the Next Level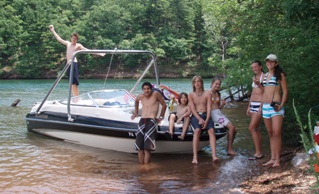 Beginner Wakeboarders & Water Skiers will learn to be comfortable riding behind the boat while developing skills and confidence. Intermediate and advanced riders will learn from experienced instructors and other campers and be challenged to take their riding to the next level. As a member of the Wakemaster Program you are part of a team that is serious about skill development and even more serious about fun. To ensure quality we limit this program to just eight campers per session. Please note that campers not enrolled in the Wakemasters Program will get ample time to Wakeboard and Water Ski during their time at SMA.
---