Time to Reflect…
It is hard to believe that the Crazy COVID SMA Summer of 2020 ended over 8 weeks ago. With the passage of time we have been able to reflect on the summer and our accomplishments. We ran camp this summer for 6 weeks at or close to capacity and due to our vigilance, our devotion to our COVID Protocols and our attention to details we stayed 100% COVID Free!
There are so many incredible people that contributed to the SMA Summer of 2020 in small and large ways and share in our success:
Cara Exten, our camp epidemiologist who assisted us in creating our COVID19 Protocol Document which gave us a roadmap for how to navigate this summer.

My fellow camp director colleagues who helped keep our vision for the summer strong during our endless zoom meetings.

Dr Allison Buza-Holmes (our camp Doctor) and the other health care professionals as well as the super stars at the CSI COVID Testing Facility

To you, our SMA Families that stuck with us and had faith that we could and would keep your child safe this summer.

To our campers who accepted the COVID changes of this past summer and fully embraced the active outdoor SMA lifestyle and helped to make the SMA Summer of 2020 one of the record books

And finally to the Incredible All Star SMA Staff Team of 2020 (camp counsels and support staff included): it was because of your work ethic and dedication to our campers that we were able to run camp this summer. Through all the late nights and early mornings and camp activities and the crazy of camp your commitment to our mission and your enthusiasm camp all things camp remained steadfast and we all owe you a debt of gratitude.

Millar Family Update…
We are all great here in Central Pennsylvania at camp! The Huntingdon Area schools started late with a hybrid model of 3 days remote and 2 days in-person each week. We have now moved to 100% in-person with the occasional positive case that moves us back to fully remote for a few days. Constant change seems to be the new normal.
Molly (12) is in 7th grade and is in her first season of junior high soccer. She splits her playing time between goalie and mid-fielder and soccer provides the social outlet she craves. Wyatt (14) is in 9th grade and is loving playing trombone in the marching band. They only play at home football games the this year they are playing all the Bon Jovi hits!
Anne and I have been learning to "go with the flow" with evolving school and sports schedules. It's been a beautiful fall here and the brilliant colors of the foliage are currently in peak season. There is always lots of maintenance and ongoing projects at camp to keep us busy but we do also take time to enjoy an occasional afternoon of rock climbing, mountain biking, running (for Anne) or taking our dogs Comet and Jack for a hike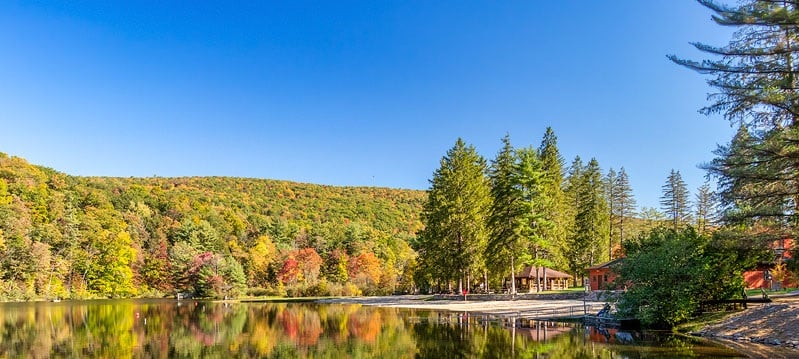 Looking Forward…
In this new COVID world we strive to find balance amid all the life stressors of potential positive tests and outbreaks along with the upcoming presidential election. At this time we are laser focused on the Stone Mountain Adventures Summer of 2021. We still don't know exactly what camp will look like this summer and there maybe some additional small changes, but we remain are 100% confident that we will run Stone Mountain Adventures safely during the summer of 2021.
The mission of Stone Mountain Adventures remains steadfast: To provide growth experiences for our teens through our camp activities and cooperative group process of living together at camp… and to have fun every day. To that end stand by for the announcement or our SMA Summer 2021 Dates!