Stone Mountain Adventures Teen Horseback Riding Summer Camp will attend the Dulles Town Center Mall Camp Fair this weekend in Dulles, VA. Here are the details:
When:
Saturday, February 23 – 10 a.m. to 4 p.m.
Sunday, February 24 – 11 a.m. to 4 p.m.
Where:
Dulles Town Center
21100 Dulles Town Circle
Dulles, VA 20166
Washington Parent magazine is proud to present the 14th annual Dulles Town Center's "Northern Virginia Camp and Summer Fun Expo." We will create an exciting camp and summer fun expo for day camps, sleepaway camps, summer programs, and summer fun destinations like theme parks, vacation spots and general summer happenings within the beautiful and expansive Dulles Town Center mall.
Introduce your family to exciting summer opportunities for kids of all ages, all under one roof! Speak one on one with representatives from:
Local, regional and national summer programs
Day camps
Sleepaway camps
Summer fun destination spots
Programs and camps will include schools, sports, tech, arts, specialty and more
For further information, please contact Jacky Dooly at 301-320-2321,
Get all the latest updates on the Expo Facebook page.
We offer many activities at Stone Mountain Adventures including Horseback Riding:
Stone Mountain Adventures is a teen riding summer camp and we offer a complete riding program for riders of all levels.
Highlights of our horseback riding camp:
Experienced instructors who customize lessons to meet your needs
Trail Rides
Small Group Lessons
English and Western Riding Styles
Learn to groom and feed the horses
Cross County Course
We have three riding instructors, a riding ring, one outdoor course, and many miles of wooded trails. All aspects of horsemanship are covered, from learning to comfortably sit atop a horse to jumping to trail rides. All campers will have the opportunity to ride during the summer. If you are passionate about horseback riding you will love Stone Mountain Adventures
If you have ever dreamed of being a rider then attending a horseback riding camp is a once in a lifetime opportunity. At Stone Mountain Adventures you will get to find out if riding really is for you. There really is nothing like the joy of sitting atop such and strong and powerful animal as a horse and being in control and one with the horse. You also get to choose whether you ride English Style and Western Style which gives you a lot of flexibility in the way you ride.
This horseback riding summer camp is designed for beginners to intermediate riders. You will eagerly look forward to your time in the barn and learn to love spending time with horses. In no time at all you will know the horses names, where they live in the barn and what their favorite treats are. Getting to connect with horses like this is something special and something that can only be found at a horseback riding camp like Stone Mountain Adventures
Horseseback Riding Summer Camp
Horsemaster Program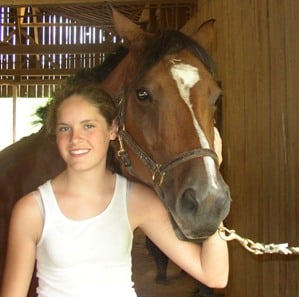 Our Horsemaster Program is designed for the rider looking to dedicate a large portion of his/her summer toward improving riding skills. Riding for Horsemaster campers is offered every morning. You then have the opportunity to choose from one of our many Adventure Activities, Water Sports, Traditional Sports or Creative Arts Activities in the afternoon.
Horsemaster Campers also learn about stable management including:
Feeding the Horses
Meeting with and observing our Local Blacksmith
Tacking Up Before Lessons
Cooling Down the Horses After Lessons
Meeting with and observing our Local Equine Dentist
Cleaning Stalls
Meeting with and observing our Local Equine Vet
Beginner riders develop skills and confidence and learn to be comfortable handling and caring for horses. Advanced riders are challenged on the flat, over fences, on the trail, or on lunge lines while learning new skills from seasoned Horseback Riding Instructors. Balanced seat is taught to all riders in order to develop a strong, effective seat doing flat work. Horsemaster riders may focus on jumping, cross-country, or dressage. This is a personalized and fun program and is limited to only 12 campers. Please note that campers not enrolled in the Horsemaster Program will have the opportunity to ride a horse during their time at SMA.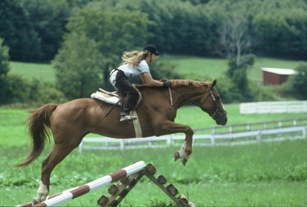 "I love everything about the Horsemasters Program. At home I only get to ride a few days a week, here I get to ride every day! SMA may not be an exclusive horseback riding summer camp but I love it anyway The instructors are so awesome & down to earth, I have gained so much confidence it's crazy. I can't wait to come back next summer!
Rose "Swaggers" Miller, Solomons, MD
"I love being at a camp with an incredible riding program where I can focus my energy on riding, but it's not a riding camp & every one's not a rider. There are kids here just as excited about rock climbing or mountain biking as I am about riding. Plus when I'm not riding can do all those other activities like White Water Rafting & Ultimate Frisbee!"
Nina Armstrong, New York City, NY
Instruction and Lessons
Beginner riders develop skills and confidence and learn to be comfortable handling and caring for horses. Advanced riders are challenged on the flat, over fences, on the trail, or on lunge lines while learning new skills from seasoned Horseback Riding Instructors. Balanced seat is taught to all riders in order to develop a strong, effective seat doing flat work. Horsemaster riders may focus on jumping, cross-country, or dressage.
Head Riding Instructor
Pam Hayes-Houldin is in charge, and has been for over 30 years of working with campers who choose to ride. She is a master instructor, a level one dressage rider, and has a life long love of horses and everything to do with them. Pam is a caring person who campers love working with and learning from. Her vast knowledge of the horse world is a wonderful resource for all riders. In addition, each summer, one of counselors is hired because of their experience in riding instruction, and will be a part of the riding program every day.
The Horses
With 20 horses in the barn, it is critical they be well trained and well behaved. It helps that our horses are here at the farm all year, and handled by Pam Hayes-Houldin every day. Pam has a very special relationship with the stable of horses, and a way of handling them so they work well with riders of all levels and abilities. Our horses, of various breeds, are very well taken care of and in good shape. Most of our horses are trained in English style riding, but some also are trained in Western style.
Our Horse Facilities

Horsepower farm is not a new facility, it goes back the 1800's with hand hewn beams andlong wooden water troughs. It is warm and friendly in atmosphere. It is summer and the riding is outdoors of course. We have at traditional fenced ring, and outdoor course, and many trails to ride on.
Our tack room will provide all that you need in the proper safety helmets to the well fitted saddle.
We can facilitate usually one or two horses that campers can bring with them to be boarded during their stay at Stone Mountain Adventures. Some riders, who own their own horse, want to keep working with their partner horse. Board is very reasonable, and separate turn out pastures are provided.
Stable management is always an important part of each day. it may be grooming your horse, tacking up before lessons, cooling down your horse after lessons, or even helping to clean stalls some of the time.
On some of the mornings, you may have the chance to meet up with the blacksmith, or the local equine dentist. Other days the Horsemasters riders will take trips to Penn State's barns and equine breeding programs.
Frequently Asked Questions
I am not part of the Horsemaster Program, but I would like the experience of riding during the camp, can I ride?
Yes, we slot in several afternoons as needed to give other campers the experience of riding. For lots of reasons we don't just put you on a horse and wave good-bye. Instead it is a beginner lesson or two. This experience will bring the Horsemaster riders out to help you have a successful ride, and perhaps you will gain some horse confidence.
What do I have to bring?
It is always helpful for you to have your own personal riding equipment, boots, riding breeches, helmet. We will provide the saddles, bridles, etc., and can also give you a safety helmet, but you will need to bring shoes that have a heel, like paddock boots, just not sneakers.
Do I get to ride the same horse every day?
We try to match horse and rider as long as the relationship between them, this team will stay together.
Do we ride every day?
Yes, if you choose to do so. Mornings are the typical part of the day when it is cooler and Horsemasters ride. All Camp Day is the horse's day off once a week.
How many riders in a lesson?
Not more than four. We try to keep the numbers as low as possible so we can keep the program personalized.
Are riders grouped according to ability?
Yes.
Is there a special riding technique taught?
Balance seat riding is a fundamental focused on for flat work.
Check out the new Horsepower Farm Website