Pam and Biff led a Habitat for Humanity trip to Kenya in early February; a giant leap across the "pond" to Africa. It was a trip of a lifetime. Not easy. Long miles to get there, wide spread poverty to witness, and equatorial sun to build a home under. I can't explain the feeling you get from the people, their sense of family, and making you part of their life. Such gratitude.
---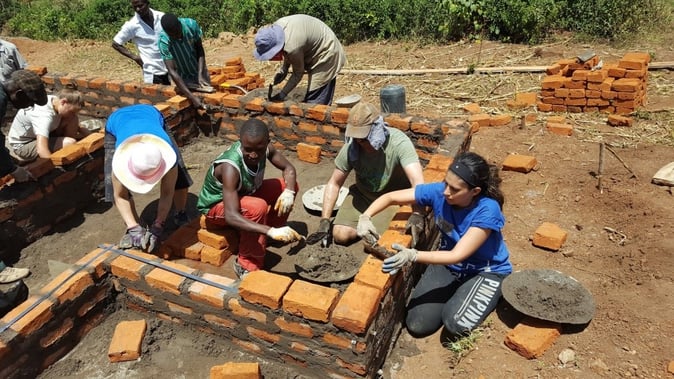 After a safari for 4 days in National Parks near Mt. Kilimanjaro, observing all the usual suspects, lions, zebras, elephants, hippos, giraffes, and their savannah mates, we enjoyed the safety of our lodges at night; well almost safety, except when a big bull elephant joined us for breakfast one morning. Check out the photo.
Our group of 14 Habitat volunteers then made their way from Nairobi to Lake Victoria, 9 hours by crappy roads. Miles of shacks making up towns, the trash build up that needed a lot of collecting, but when 80% of the country earns less than $3. a day, well, you don't care too much about ever owning a car or picking up plastic. You are concerned about your next meal.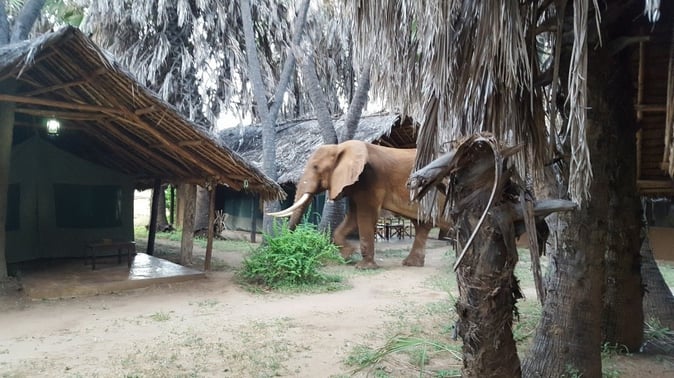 The family and community we built for were incredible. "Jambo," hello in Swahili, was one of maybe a dozen words of communication, but interpreters kept us all joined as a community with a mission to build a house. A home for Susan and her husband, a grandparents raising two grandchildren after the parents died from HIV Aids years ago.
Neighbors came to helpus, and school children sang to us during lunch time. Seeing us very pale Americans in this remote area was truly a novelty.
Unforgettable ! An impact of a lifetime. With my magic wand I will wish all of you reading this can find time to travel to Kenya, and in some way walk in their shoes. The contrast to our rich material life at home is so dramatic. Their richness falls under family and community all around them. Where is that magic wand ?
(Pam and Biff are the founders of Stone Mountain Adventures Overnight Camps for Teens)