This week Director Jud is attending the American Camp Association Keystone Conference at Bear Creek Mountain Resort & Conference Center. Attending ACA Conference is an incredible professional development opportunity. It's a fantastic chance to learn from summer camp industry professionals, network with our camp directors and attend informative workshops. The Keystone Retreat offers three content tracks running concurrently: PROGRAMMING, LEADERSHIP, and MAINTENANCE as well as many others - Core Competencies included - vital to a successful camp operation.
TUESDAY, November 12
11.00am - REGISTRATION
Note: Throughout the Retreat A Genius Bar will be in operation. What's a Genius Bar? It's a computer setup that you or your staff can visit and talk with the resident Genius to learn more about the incredible and comprehensive offerings available through ACA's webpage.
1:30-6:30 pm - Plan your afternoon to....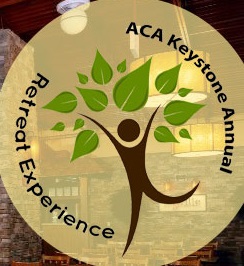 Take advantage of Standards Training and/or Visitor Update classes. Is your camp due a visit in 2014? Standards instuctors Tim Nielsen and Sue Williams will conduct two separate classes, one for camps and the other for visitors needing an update. Also, meet informally with a standards visitor and learn what to expect on an accreditation visit.

Debrief your camp experience and look towards the future: You and your camp staff can select a quiet space for your own

pre-scheduled camp debriefing session

RELAX and REJUVENATE: Enjoy recreational and spa opportunities at Bear Creek Mountain with your colleagues, friends, and family: geocaching, hiking, mountain biking, kayaking, paddleboats, tennis, disc golf, volleyball, badminton, horseshoes, bocce ball, putting green, darts, ping pong, foosball, indoor/outdoor pools, full service spa and salon (book massages, facials, wraps and other spa services in advance to ensure availability).
4:00 pm - Unique Summer Camp Keystone Opportunity ! Go Behind the scenes for a general tour of Bear Creek Mountain Resort & Conference Center's operations. NOTE: there will be two more in-depth looks at Bear Creek's outdoor maintenance and recyclng programs (3.15pm Wed) and kitchen, food prep, and house keeping ( 9.15am Thurs). Sign up and regisiter for each tour when you arrive at Bear Creek.
6-7:30 pm - Exhibitor Set Up and informal opening.
7:30 pm - DINNER and VISITOR RECOGNITION (included in registration)
9:00 pm - Evening Activity: Minute to Win It!
WEDNESDAY, Nov 13
8:30 am - REGISTRATION
9:15 am - Opening Session: JIM CAIN, PhD, Teamwork & Teamplay.
10:00-11:15 am - Four concurrent tracks of educational sessions: PROGRAMMING, LEADERSHIP, MAINTENANCE AND SOCIAL MEDIA.
99-second Programming: Tammy Echevarria, Recreation Superintendent, Upper Dublin Township

CIT and Internship Programming: How to run a CIT or Internship Program that develops future leaders in your camp community. Morgan Mcray, Todd Brinkman.

The Oh-No Moment: Would you be ready for a water crisis right at the start of your camp season? Don DeHaven, YMCA of Greater Pittsburgh, discusses how DEP officials were a great ally during this real-life crisis.

Social Media: Share and Share A "Like" Gary Kimball (presented by AMSkier)
You know your camp should be on Facebook and other social media, but how do you know it's really working for you? Learn how to evaluate social media success, what to measure, what to do to make it more effective and how to make it an affordable way to boost your awareness and build enrollment. Plus, learn best practices for protecting your camp's reputation and your campers' safety and privacy.
11.15 EXHIBIT HALL OPENS. Come on down for some great deals!
11:15 - 12:45pm - LEARN from our EXHIBITORS: Attend exciting educational sessions presented by our exhibitors and visit our exhibitors to learn more about how you can benefit from their products and services. This slot continues after lunch from 1.40pm .
11:15 - 12;00pm - Exhibitor Edu Commerce Session Group A
12:00 - 12:45pm - Exhibitor Edu Commerce Session Group B
1:00 pm - LUNCH (included in registration)
1:45 - 3:00 pm - More time to attend exciting educational sessions presented by our exhibitors and visit our exhibitors.
1:45 - 2:15pm - Exhibitor Edu Commerce Session Group A
2:15-3:00pm -
Exhibitor Edu Commerce Session Group B
2:00 pm-3:00pm Security in the Wake of Newtown and Boston: Gary Kimball (presented by AMSkier)
The Newtown, Conn., elementary school shooting and Boston Marathon bombing have many camp directors evaluating their own security. Learn how you can address security in meaningful ways at your camp, from conducting an effective risk assessment to planning and training staff. This session examines the role of gates, fencing, lighting, communications and cameras, and how to create protocols for training, prevention and emergency response.
3:15pm - Bear Creek Resort Tour - Outdoor maintenance, engineering, waste and recycling programs.
3:15 - 4:30 pm - Three concurrent tracks of educational sessions:
It's only a water slide - I need to do what? Amusement park regulations: an overview of new state policies and how they can affect you;Mark Scott, Salvation Army Camp Ladore

Programming session with Jim Cain

Leadership Tips, Tricks, and Techniques: Learn skills for group management and public speaking while raising your awareness of your own public presence and power. Your leadership abilities will soar to new heights after this session; Jon Adam Ross

Work Ethic Deficit: Using performance expectations to improve summer staff performance; Amy Murphy, 4-H Extension Educator
4.30pm - "Grab one more hour with our exhibitors – Hall closes at 5.30pm".
4:30pm - Need to kick back? Use this time to sit with a mentor, play tennis, network, swim, snack or visit the spa (appointments recommended)
7:00 pm - DINNER (included with registration)
8:30 pm - EVENING ACTIVITY: Storytelling with Jon Adam Ross around the CAMPFIRE & COMEDY CAFE with Evan Burke Derek Humphrey.
THURSDAY, Nov. 14
8:00 am - BREAKFAST (included in registration)
8:30 - 9:15 am - GROUP SESSION: Whose Line is it Anyway? Learn how to use Improvisational theater as a tool for staff training and camper programming; Jon Adam Ross.
9:15 am - Bear Creek Resort Tour - Kitchen, food prep (what we use during ski season) and house keeping tour.
10.30am-1pm Last opportunities with our vendors. Seal those deals!!!
10:35 - 11:45 am
Family Camp Programming; To

dd Brinkman; Executive Director, YMCA of Greater Pittsburgh & Deer Valley YMCA Camp

Damn Dam: the dam problem just got better...going from a high risk C1 to a low risk C3. What to do? Don DeHaven has the answers
11:50 am - 1:00 pm
Camp Marketing and Social Media: Why your emails don't get opened; Dave Yunghans, Greater Philadelphia Regional Development Director, Constant Contact

What is a master plan and why bother? Doug Gillespie
1:15 - 2:00 pm - LUNCH and Presentation of the Don McClain Award (included with registration)
2:15 - 3:00 pm
Nutrition at Camp: Why, what, and where and other specialities. Healthy options for snacks at camp. Beh Schwartzman.

Critical Conversations: How to have sensitive conversations around supervision and firing staff; Cheryl Magen, Wiiliam Davidson Graduate School and Amy Murphy, 4H
The Electrical Nightmare - what would you do if the propane line suddenly touched the electrical line and things started happening and the cabin is filled with campers? Join Don DeHaven to learn how to handle an electrical nightmare
3:15 - 4:00 pm - CLOSING SESSION, SWAP MEET, and RAFFLES (don't miss your chance to win great prizes!); Tim Nielsen, ACA Keystone Chair, Local Council of Leaders and Director, Camp Sandy Cove.