A Climbing Camp Camp Counselor Returns to SMA 20 years later!
A few weeks ago a former camp counselor came to visit Stone Mounatain Adventures Teen Summer Camp. Neal McLennan traveled from Brisbane, Austrailia with his wife Natialie and their three children Grace (7), Anrdew (5) and Hannah (3) - very brave. Neal was a camp counselor at SMA Teen Summer Camp in summers of 1993 and 1994. For those of you who remember Neal, he actually hales from England and immigrated to sunny Brisban, Australia in 2004. The following is an interview I conducted with Neal while he was here visiting camp after being gone for 20 years: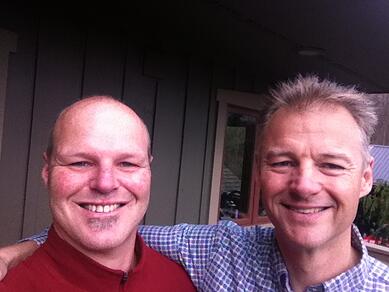 As mentioned earlier Neal was a rock climbing instructor while he was at SMA. Here is a description of our Rock Climbing Program at SMA 2 Week Summer Camp.
At SMA rock climbing summer camp focuses on fundamental skills and techniques. Participants will receive expert climbing instruction and learn how to use harnesses, tie knots, belay and rappel. This is the perfect experience for those taking their first steps into the vertical world or for climbers who have yet to learn to belay.
If you rock climbing is something you have interest in or something you are passionate about, Stone Mountain Adventures is the camp for you!
Highlights of the SMA Rock Climbing Teen Summer Camp Program:
Top Rope Climbing Area called Donation Rocks located on the premises of camp
Bouldering Area with world class bouldering called Hunters Rocks
5 Climbing Areas near camp offers campers a wide variety of climbing styles and rock types
Our Climbing Staff are experienced and passionate about rock climbing and sharing that passion with teens.
We offer a Rock Climbing Camping Overnight at Bigler Rocks every session
Campers can climb on real rocks 6 days a week at SMA!
SMA rock climbing camp is perfect for young climbers who want to take the sport further this summer! The most common question asked regarding our camps is "how experienced do you have to be to participate?" The answer is quite simple: you need not have any experience rock climbing at all. Our regular camps are designed to take those new to outdoor climbing and teach them the skills they need to learn to climb. Campers learn to navigate on the rocks, learn the subtle jargon, social customs, and ethics involved in rock climbing. In short, they become climbers!