Camper and Staff Memory Book
Session 3 2018
Click Here to Download the Session 3 Camper and Staff Memory Book
Liz Feldstein-Nixon
This session flew by faster than the past two. It's hard to believe that tomorrow we all have to leave this magical place. This was my first time staying session 3 and I've had a blast. The people here that I've met have a contagious energy that even made the rain fun. Mattawanna was awesome and we all got super close. Sup n Sail with Seb was definitely a high point along with the hiking overnight. I did the Yough with Babs + Helen, but then Helen left ( thanks for that Helen). We crushed it. It rained. It poured. Abbey got cold. All in all a good time. It sucks that so many of my friends won't be back next year, but I'm so grateful to have met them. Thank you guys for making this summer so special.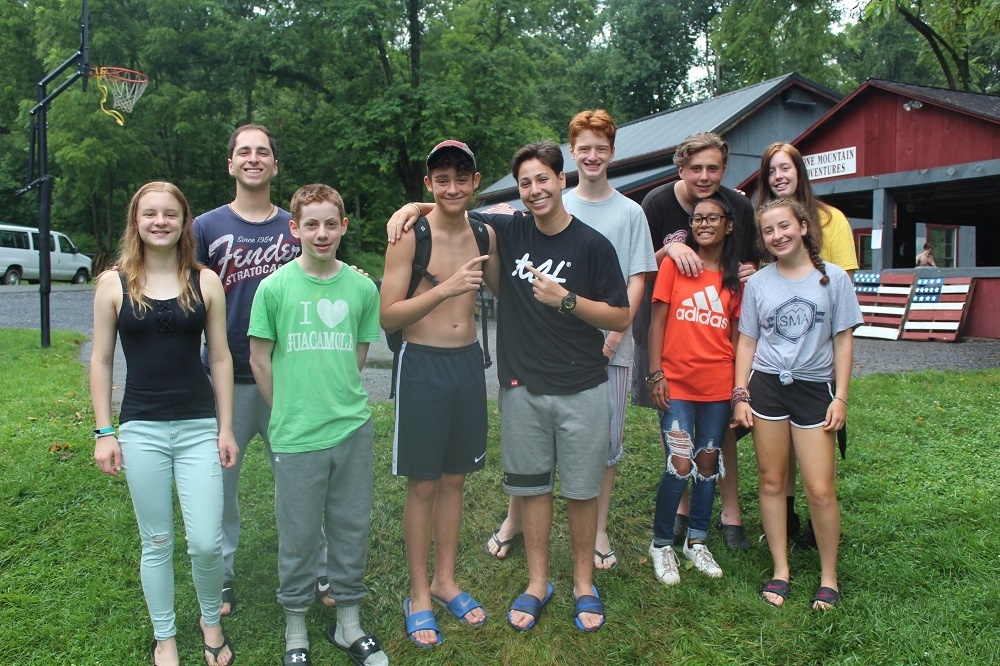 Emily Stroud
SMA this year was really fun, getting to see old friends from last year. My favorite activity this session was Sup n Sail. It was relaxing and really chill. I also enjoyed bowling and the people picking the songs. It was great. I really miss most of the people that were here Session 2 and stayed a week for Session 3. The white water rafting was fun but a bit embarrassing that I was the first to fall out on the first rapid.
Kat Benjamin
I loved camp! Everything was great. I was (and still a little) upset that we can't go to Delgrossos during intersession. But I loved the people here, they helped me for the first week with me being home sick. Also if any one finds a dark navy blue with pink writing on it please call me. I also lost a light blue grateful dead shirt, do the same. I will miss Jo, Jared, and Ty. Also most of the counselors and pets. I loved yoga. I also loved doing Horsemasters, meeting hew horses and new people. The barn in general was fun. White Water rafting too. But above all I LOVED camp, and I'm really excited to come back next year.
Zoe Nechin
This session I've enjoyed finally being in Mattawanna and all of the girls that were in my cabin. Horsemasters was a lot of fun and I met some really awesome new people, as well as got back together with some old friends. I still haven't been on the boat but there is always next year.
This session was full of a lot of great moments with all of my friends. I had fun on the rocks this session and on all camp day we won the skits.
It rained all session except for 2 days. So we had evening meeting on the lawn twice. I got much closer with some councilors and had fun talking and singing with new people. Griffin and I performed in the talent show and we did what they say versus what they mean. The Yough was fun, it rained and I got super cold.
This session was awesome and I can't believe that it's ending. I can't wait to come back next year. I love this place and can't wait to come back.
Anna Raffaelli
Since first arriving in SMA, I have had the most amazing two weeks of my life (as I have every year for the past three years). I love all of the activities and I adore the community even more. All the activities show different strengths and talents in each individual which helps us get to know each other better. I love everything about SMA, but for me, the people are the reason I come. Everyone is so great here and every year I get surprised with new, brilliant campers. During my time at camp, I have learned to be more relaxed and take every day as a challenge. I love every part of these two weeks, from the Yough to the wakeboarding overnight. All the new friends I've made (Lily, Liz, Kate, Morgan, Cedar,…) as well as the old ones (Abbey, Ellie, Will, Graham, …) have been amazing and I've had the best time! Love you SMA and I'll see you next year.
Abbey Scott
What a mess. It rained a majority of the time, but we still had so much fun. This year, the dynamic at camp was sooo different, but I really enjoyed it. The first years brought great energy and as a fourth year I couldn't wait to see what the two weeks had to hold. To say the least I wasn't disappointed at all. It's been a wild ride. From loud van rides to the Yough & ice cream to talks on Trouble Rock, I've had an amazing time. This year, Furnace & Mattawanna got extremely close and it was amazing. #Fernawanna.
I would have to say as a fourth year you expect to know what you're getting yourself into when you come each year. But, honestly you really don't. This year brought so many adventures, laughs, stories, and swing talks. I'm so happy I got to spend 2 weeks with my little brother Griffin. This year really allowed me to step back and evaluate the impact SMA has had on me and what I've had on it. I've been able to realize how Much I love this place and how much it means to me. And I've been able to realize it's time for me to say good-bye. So, thank you SMA for the best 4 summers of my life. I love you so much and I can't wait to see you again. See ya later alligators.
Ellie Creedon
Coming into this session as a third year, I thought I had camp all figured out and that it wasn't possible for me to discover anything new.
However, I couldn't be more wrong. While this session may end up being my last, it was full of firsts. I was in Mattawanna for the first time, did paper plates, the wakeboarding overnight, bowling and more all for the first time.
I'm so thankful for three amazing summers and for the people that make camp a second home .Missing everyone already…
Lily Grossman
It is my 3rd session here, first year, and so far it has been so much fun. If I could I would restart this whole adventure. I am so sad this has to come to an end. I've made so many friends here. Some of the best I have ever made, Morgan and Cedar were there through the whole thing, especially Liz. I've made other great friends like Anna and Ellie but I just wish I had more time with them. I will try very hard to come back next year to see all them again and make more memories. I love everyone here so much. I've spent a month and a half here and I've loved every second of it. The activities are awesome. My favorite is being a Wakemaster. I have improved so much like jumping pretty high. But, Alex is so good at it. He amazed me every time we go out. Now for the counselors, they were so cool. They were chill. Best people ever! But, some were not so nice. But I think it was just them trying to be funny. But, I still love them. Thank you SMA.
Morgan Oxenreider
My last final session was by far the best. My 3 years at SMA have been some of the best and I'm extremely lucky I had the opportunity to come back as a super camper this year. I started off this session meeting a whole group of new people who I had never met before and it was very stressful, but after winning the volleyball game with my new team I soon realized that there was no need to be nervous or stressed. This session Mattawanna and Furnace were super close this session, which resulted in the ship name: furnawanna. After many attempts to get up on the wakeboard, I finally got up for an impressive 6 seconds (new personal best). The hiking overnight was by far the best one I've had here. We all played cards, stargazed, and slept in one big cuddle puddle while we looked at the stars and cracked jokes till 2am. Liz and I won poses at Jud games and we are very proud of ourselves. Lily, Liz, and I jammed out to Man! I feel Like a woman every chance we got. I am forever grateful for the amazing friends and great memories that were created here. I love all you guys and I will never forget the years spent here and I hope to see you guys again and I hope to see SMA in 4 years as a counselor instead of a camper. Cheers to a great summer! Love you all.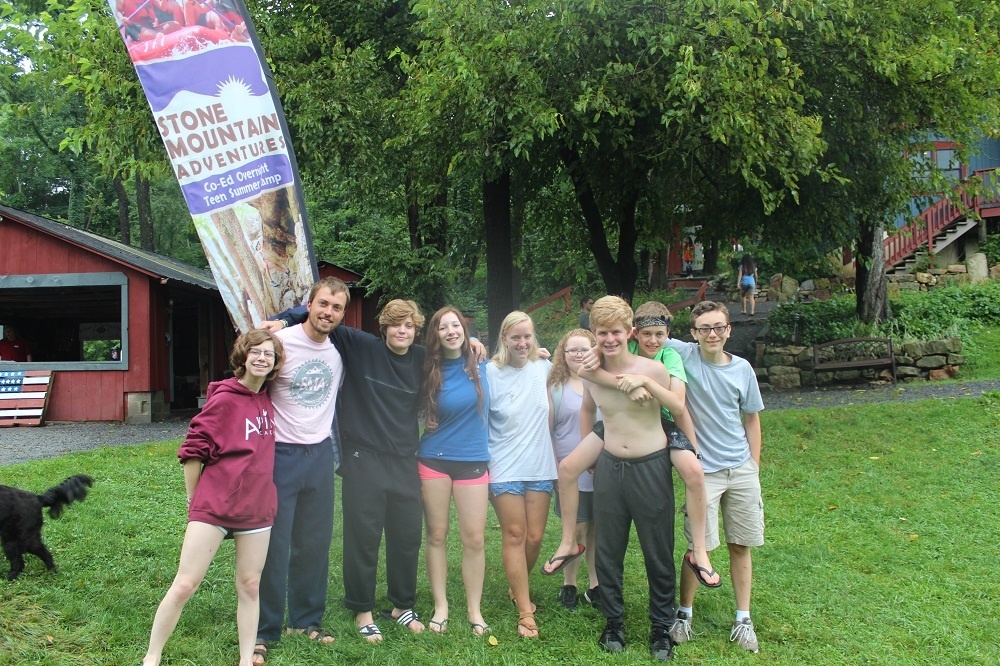 Kate Nord
I have enjoyed so many things at camp while I was here. I loved the Yough most of all. One thing I have achieved was getting up on the wakeboard. My favorite activity was probably wakeboarding or rock climbing. Some memories I have are falling out of the raft with Lebowitz on the last rapid of the Yough, singing with Anna in the cabin, having awesome volleyball tournaments, and getting loads of cake smashed in my face. Overall, I had a wonderful time at SMA and can't wait to come back next year.
Jo McCarthy
SMA is a really interesting place. I wouldn't call it "magical" as some other people do, because it's far from magical. The first week and a half or so was the scariest thing ever. I felt like I was being judged and excluded just because I look younger than everyone else, and I was a first year. Almost all of the people here are returners, so I had a really hard time making friends. I had Kat from the beginning though, she's like a little sister to me, even if I have a hard time expressing it. But these last few days have been great. I finally feel comfortable here, and the people don't really scare me anymore. I have people I'm really really going to miss, even if it's only a few people. I love them a lot. I love that you can get away from your life here. The people who are supposed to be in charge treat you like a friend instead of a child. I want to come back next year A LOT. If I can. I guess that the activities we do here aren't as important to me as the other parts of camp are, so I don't have a favorite activity. I just know it isn't Horsemasters. I don't like it a lot. I mean, I just signed up because I was scared of doing things without Sophia. But I don't go to Horsemasters anymore. I want to come back next year SO MUCH. And all the years in the future. I'm finally comfortable here, and I have to leave. I'm going to miss SMA so much.
Jack McDermott
My last moments at SMA will be memories I will cherish for the rest of my life. I have made friends here that could not have been made anywhere else. This was the first place where I learned how to rock climb and now continue it as a daily activity. Going wakeboarding for the first time this year was a huge highlight. Learning to land jumps with Alex the wakemaster was so much fun. While these are my last moments as a camper, hopefully I will get the chance to return as a counselor.
Faye Mulder
SMA's like my home away from home. Once I leave this place, I will deeply miss the people. I enjoyed people, activities, and all the memories that happened here such as the Yough, the Amish market, and all camp day. Also the talent show, and taking part in the dating game. Something I will truly remember when I fell off at dimple rock. But the most important thing about this summer, camp, or summer camp in general is the people, and I had many friends and many alliances.Thank you for listening to my confusing note.
Livia Boulding
I had a lot of fun at SMA this year. I enjoyed everything here but mostly Horsemasters. I also enjoyed staying for Session 2 and Session 3. The Dating game was so funny and being in it was great. I went white water rafting for the first time. I was on Diego's boat which made it easier. Overall this month has been amazing.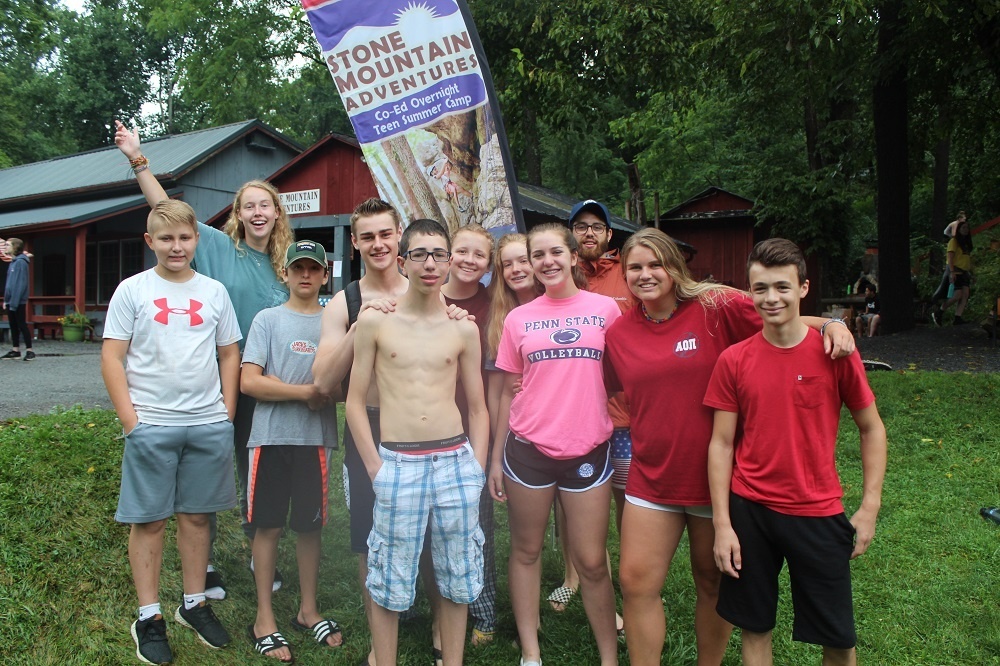 Jordyn Bitton
Dear Future Me,
Camp was awesome this session between Furnawatta, overnights, and trying new activities with new friends. I stayed back on the Yough and chilled in Ohiopyle with Beth and Tim. In the beginning a hornet stung me in the face and I felt like death. Kyla and Babs and Greta and Hannah visited, it made my whole session. I love Swags and Mattawanna. PEACE OUT!
Griffin Lee
I don't really know where to start. This was m fourth year at camp, and it didn't disappoint. I came in not knowing what to expect because I knew only a few people coming back. But when I arrived, I knew this session would be great. The people rom session 2 were awesome. I made some really good friends with really great people. I met a really cool person that I grew very close with. My cabin was great. I loved everyone who was in my cabin, they made it my best cabin ever at SMA. I love this place so much, I can't really put it into words. I feel so lucky to go here, and I will always have a special place in my heart for SMA.
Rebecca Wieman
This session was really fun. I enjoyed the activities as well as meeting new people. I think that this camp isn't just about new beginnings, it's also about experiences in your life. Being at this camp has taught me so many things like trust. There are many things at this camp, but the most important thing here is that we're all brought together as family.
Sophia McCarthy
Personally. I think that my first time at a sleepaway camp was fun. My favorite activity was the Yough. At this camp I like how everyone is so close. It doesn't matter if you have been here for a day or one month, you are treated like family regardless. Also I love that I can just walk up to anyone and hug them for no apparent reason whatsoever. Some of my best memories include:
-Playing pool in Rock Bottom with Ryan and Calvin
-Hanging out with my cabin mates
-Getting ice cream in bunk junk
-The Yough!!!
-Playing basketball with Julien
-Making bracelets
-Secret friends
-The time that we had to take Swags to the doctor and all 12 of us just walked in.
I will most definitely come back next year!
Kyle Nord
I can honestly say, this year was a roller-coaster. There were a ton of ups and downs but I loved every second of it. This place truly feels like home, rain or shine, even when there's a lot of rain. I've learned more about myself in these two weeks than the other 50 I spent at home. I doubt anything will ever top the Big Time Backstreet Boys to Men.
Thanks for everything SMA.
Dylan Port
I enjoyed this session more because I've made more friends this time. We did the exact same stuff as last time, although that made some parts more fun. My favorite activity was definitely laser tag. It was so fun and the pouring rain made it better. I also really enjoyed the Wakeboarding overnight and playing pool with other campers. In total, this was fun, and I will be back next year, probably.
Chris Dawson
I have enjoyed all of this camp but mostly mountain biking. Because it was fun riding the SMA trail with other people. Also helping add the table top jump and the half-built berm was fun. I had a lot of fun at this camp and I am excited for the upcoming week
William Brandes
This was my 3rd session and 2nd year at SMA. So far each session I have gone to was better than the last. I had a blast on the wakeboarding overnight and loved eating the mountain pies. Playing ultimate frisbee in the rain and slipping everywhere was such a great time. I am going to miss every single person at this camp and can't wait to see them next year.
Julien Dutay
At camp this session is the best holiday in my life because I do so many activities. I discovered many sports (softball, kickball, yoga, wakeboarding). My favorite activity in this camp is probably wakeboarding (overnight) because it's so funny even if it was raining almost anytime. The people in this camp are very nice because I am French and I don't speak English very well but they help me to speak English. I love SMA.
Jacob Bader
This session was one of my all time favorites. It was really cool how everyone accepted me with open arms. The Furnace as a whole was a ton of fun. I've never been so tight with my cabin. It kind of stunk how it rained almost all session, bu the way Jud and the staff handled it and still managed to make session great was incredible. I very much enjoyed this session.
Aron Barr
I had a great time at SMA this year in both my sessions. I have watched my friends mature into something, someone wholly greater. We have made friends become family, and pulled together as a group. I have made bonds I feel will last forever, and I am glad for it. At SMA, nobody has to fear being themselves. At SMA we reveal our honest, essence of humanity, and share it with those we hold dear. I will never forget the brothers and sisters I made at SMA.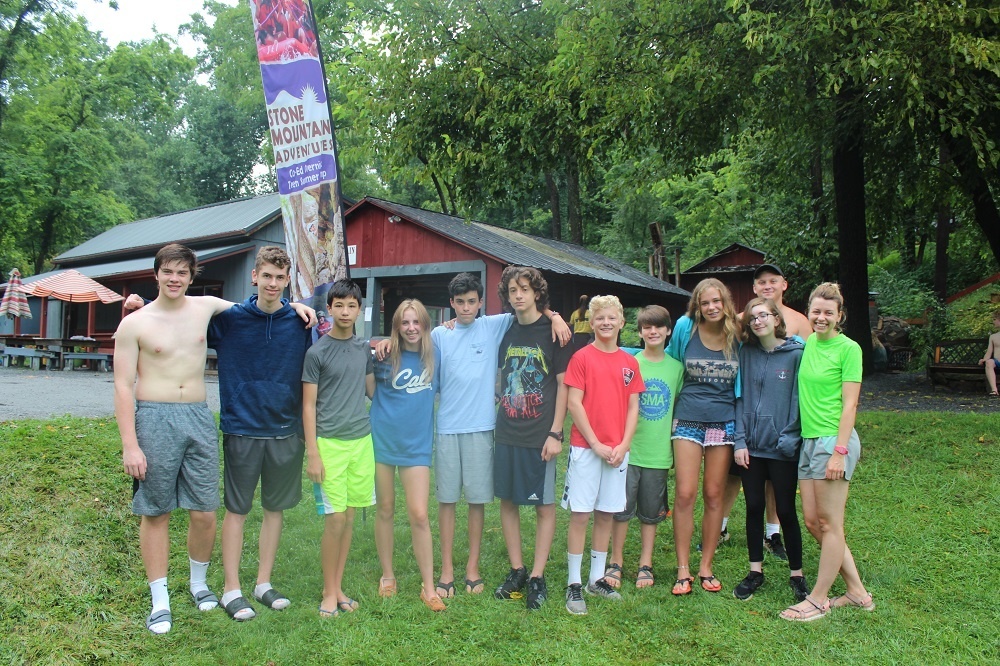 Omer Shani
At camp this session I enjoyed the counselors, the campers, and the activities. I made new friends and did some things. My favorite activity was wakeboarding because I was a wake master. The overnights were fun and everything was fun. Making a band and performing at the talent show is one of my big memories. And doing the Yough with Flat Matt was really fun. Telling scary stories in Crows Nest was fun .I don't have a favorite counselor because every counselor was good in their own way. Hoping to come next year.
Alex Brunner
Even though it rained every day except for 2 days this camp was one of the best experiences of my life. I enjoyed every single activity in the camp. All of them were fun, but I enjoyed wakeboarding the most because I got to teach people how to get up and how to jump on the wakeboard. I have made lots and lots of new friends and had some amazing experiences with them. Overall, I had a lot fun going to this camp and I wish I didn't have to leave.
Calvin Kuwahara
At camp I had a lot of expectations from last year Session 3. Almost all were met. If could be better, it went by faster than 2 weeks. This year I managed to do a 360 on the kneeboard and got good at pool. There was a lot of new campers. I made some new friends and joined some old.
Lucas Allen
I am truly surprised how fast my first time at camp went. Every single day there was a new memory. It was very hard to write home to tell my family what I had done at camp. Even though it rained most days it didn't stop anyone. This was very apparent on the white water rafting trip. AT first it was a hot sunny day, but after lunch the skies turned gray and it started to pour. Everyone from SMA still kept smiling and paddling. It seemed as if people were even more energetic. This had to be one of my favorite trips at camp.
Sebastian Gornecki
Although the rain brought this session's mood down, we powered through and made it the best we could have made it (very wet). All the new friends I made, and all of my old friends came together to make SMA my home for the past 2 weeks. I felt like I was a person the younger kids could look up to, and maybe I could of done more to show it, but from what I've heard, and the messages I've received I could honestly say the energy, and vibes that everybody gives are way better than I expected. Ground Beef!
Ty Hillman
During my time here at SMA camp Session 3 2018 I had lots of fun just like I did last session. I like all the counselors here were very fun to talk to and I liked all the new and old campers that came here for all the fun experiences. The activities I did this session were better and more exciting than last. I will definitely miss everyone in this session and I hope I get to see them again.
Ryan Hicks
I have enjoyed hanging out in between activities and long van rides with friends. My favorite activities were wakeboarding/water skiing and chilling at SUP N SAIL. One of my favorite memories is all the wakemaster memories, talking the whole van ride back from the Yough. Also trying to get better at mountain biking. The Dating Game was also fun. My favorite thing about Crows Nest besides the people is the horror stories told at night.
Jared Rapaport
I enjoyed hanging out with Aiden, Becca, Jo and others. I also liked white water rafting because it was raining. I am going to miss all of my friends and all of the counselors. I might come back next year and I want to be in Crows Nest again. I liked getting ice cream and wearing bunk junk. Beth and Nathan are my favorite counselors.
Graham Engel
At camp this session, I have enjoyed seeing all the people who came back from camp last year. I have achieved my goal of making new friends and creating tighter relationships with my friends from last year. My favorite activity was the wakeboarding overnight. I have learned many different things from many different people. I also had a great time playing ultimate and soccer in the rain when the field was soaked and super slippery and everyone slipped and fell.
Aiden Brennan
My favorite activity was whitewater rafting because it was the first time I had done it. Also, I didn't fall in on any of the rapids. Even with the rain I still had fun. I also enjoyed spending time with Becca, Ryan, Calvin and others. They are some of my new best friends, and I will hope to see them next year. I enjoyed playing pool in Rock Bottom with Ryan, Becca, and others in my free time.
Staff Reflections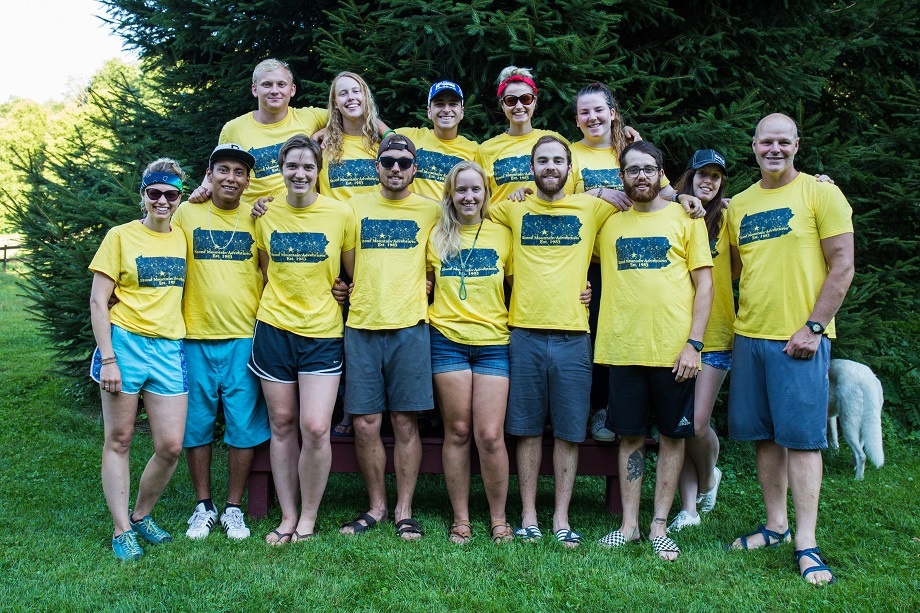 Nathan- Belfast, Northern Ireland.
On paper Session 3 shouldn't have been that great; with pretty much rain every day and 9 campers leaving half way through you'd have thought it would suck. But session 3 was great! The rain didn't "dampen" our spirits (sorry) and every activity had high spirits even if we were soaked.
A highlight for me was definitely the Yough, starting of with sunny weather and then having the skies open after lunch made it even more fun. Definitely the best trip down the river so far this summer. Other highlights were the camp fire when overnights were out, making salsa with the guys, ukulele sessions with Ben R, Dr. Seuss with Ben M and the talent show was great fun, (thanks Matt and Matt for letting me play with you).
I wish session 3 could go on longer but it's been one to remember.
Ellie- Princeton, New Jersey (mean streets of)
Session 3 may have been rainy but spirits were still high! This group of kids was so special...I commend them in their ability to be so happy and motivated in every activity they attempted! I've also watched them accomplish so much...from Morgan getting up on the wakeboard for her first time to other campers stepping up into new leadership roles. All of the staff has grown so much too, and I have loved to watch connections we have made with campers. Some highlights of this session include our rainy but INCREDIBLE Yough trip, as well as the wakeboarding overnight. Overall, session 3 has been a blast! I cannot wait to see what our final session at SMA has in store.
Matt "Flannel" Lebowitz -Princeton, New Jersey (meaner streets of )
Third session maintained the intense energy created from the first two sessions, yet with a twist unique to its campers. Especially fun, at least for me, was the sheer number of musicians we had! Great guitar players, bassists, and drummers abounded, and camp band The Ground Beef Snakes made their landmark debut at the SMA3 talent show to a roaring crowd!
It was amazing to see our first and second session campers integrate so smoothly into the third session crowd. Veteran campers who had never overlapped with each other at SMA suddenly found themselves navigating the friendship process for the first time in years, and their love of this camp was foremost among the things that united them.
Our staff dynamic continued to evolve as well. Our teamwork, while never bad, has improved vastly since the beginning of the summer. Generally, camp runs super smoothly, and we're excited to continue this great work in fourth session!
Jordan – Chester, England.
This session has been very enjoyable. The campers have been great, the activities this session have been really fun even when the rain has been pouring. Laser tag was one of my favourite activities at camp it was so much fun in the rain. The Yough river was also a fantastic experience and probably the best trip yet with all the different weather we had!
I found waking the kids up with a water gun and a 3 second countdown very fun and also extremely effective, I'm sad this session is ending but I'm also hopeful that next session will be just as amazing as this one. I look forward to meeting all of the new campers and doing all of the activities with them
Swaggers- Middle of nowhere Maryland
I have a secret to tell you. Session 3 is always my favorite session. Not that counselors have favorites. But something about session 3 sets it apart. I think it's the meld of new campers and old campers blending together seamlessly to create such a warm, accepting, and fun vibe! Session 3 was an absolutely stellar time, even with the rain that fell every day.
I think, however, the rain made the session even more fun. It made all of us dig deep and find new and exciting ways to dance through the raindrops as Jud always said. The games of slip and slide all over the front lawn, the mud sports full of falling over and gliding over the wet grass, and the general dance parties are just a few ways that we were able to put a smile on their faces even with the rain. Playing rugby in the rain with Jud was definitely a highlight of the session for me. Rugby is already one of my favorite activities to teach the campers, added with the highlight of playing with Jud, combined with the rain made it just the best way to spend an afternoon. I loved how excited all the campers were about playing in the rain and how the enthusiasm never faded away.
Doing the hiking overnight after the rain fell was also amazing. The path of hike itself was flooded. Listening to the kids screaming about getting their shoes wet was hilarious. But we all full sended it and successfully made our way through the wet and wild hike with amazing conversations. There was also some prime stargazing and mountain pie making that really made the trip even better. Card games were also a highlight of the evening and the morning as well. Despite the 5 am rain that woke us up, the overnight was absolutely amazing.
Yough day with the campers captaining my boat was also an amazing experience. I love getting to challenge the campers to do things outside of their comfort level and getting the chance to teach them a new skill as we go is always a stellar time.
Overall, this session was absolutely amazing. I laughed, cried, danced, and had a really, really, really good time. Thank you so much for letting us have your children for the past two weeks. They made the summer fantastic!
Flat Matt- Albany, New York
A deep breath, exhale and then darkness. Closing candle meeting is always an emotional time at Stone Mountain Adventures. With many campers reaching their last year a group that had become extremely close as the years had gone by was on its way to making some big changes.
Some people feel the rain others just get wet. At Stone Mountain Adventures the campers seem to have found a third option which is to go full send. Despite the rain at some point during every day of camp campers and counselors alike found ways to not only get through the rainy days but use them for wet and wild fun.
A highlight of the session was going on the hiking and wakeboarding overnights. This gave me a great opportunity to spend some extra time getting to know many of the campers take a quick spin on the wakeboard make mountain pies and even a little star gazing. The end of session 3 means the end of summer is drawing near but also means that there is still one more to go and many memories of a great session with great friends.
Jess- Dublin, Ireland.
All of a sudden it is August and session 3 is drawing to a close. How?!? I was so excited for this session to begin because of all of the returning campers arriving on top of the new campers and lots of session 2 campers who stayed. The vibe from the get go was incredibly exciting and energetic with fun being had from day one. A lot of the fun that was had this session stemmed from dancing through the almost constant thunder and rain storms the entire session! The camp slip and slide/pond that formed outside of the barn was a blast, alongside the fun of mud soccer/rain rugby (with Jud was my favourite activity this summer so far!) /thunderstorm frisbee and extra wet wakeboarding! The hiking overnight was hysterically fun as was the dating game and the talent show was the best one this summer. Yeah for the Ground Beef Snakes and Lebowitz running the show! A major highlight for me was conquering my fear of white water rafting and making it successfully down the Yough, and having so much fun in the pouring rain! I also got to spend a morning in the barn during Horsemasters and even got to ride a horse for the first time all summer which was a warm fuzzy for the whole summer (so far!). I love all of the campers that were here for session 3 and will miss you all terribly! (cough * Griffin, Ellie, Will B, Graham, Anna, Alex* cough to name a few ) Overall, I can say this session has been incredible and I know I'm not supposed to have favorites but if I could…
Cassie- Shropshire, England
Friday already! Crew Olympics already! Session 3 ends tomorrow! Nooooo! This session has been so much fun. Yet again the Hough was blast! Being serenaded by Nathan was hilarious! Ground beef snakes were amazing in the talent show, and both Matt's and Jud did ace! Some of my favorite moments have been learning about South Africa, Horsemasters, and going to Delgrossos with camp! Morgan, all I can say is thank you for tricking me on that ride at the park! And I love that Jared and Ty caught up with Beth, me, and Jess and joined us on the rides. I really enjoyed being a bunk captain for Little J. Liz and Jared – I will miss you both. I'm looking forward to our jam session on the way back to DC airport. But for now – Goodbye session 3 – I will miss you!
Beth- Cheshire, England.
This session has been the fastest one yet and by far the rainiest!! Sun dances everywhere for the next session please! Session 3 has been wonderful, the campers have been a joy to be around and their positive energy has been key to the fun memories made. Thank you for supporting us counselors in our pursuit to make this the best summer ever! Basketball in the gym was awesome, I loved having an activity with all the basketball pros and being coached by the boys-I got so many baskets! Rappelling-from the barn, to the rocks was great, I'm so glad the big man sent one dry day at the least for a trip to Donation Rocks.
The wakeboarding overnight was an absolute blast, the highlight was Ben M's bed time story from Dr. Seuss. The talent show was fabulous-thank you for sharing your talents! My firm favorite was Mr. Brightside by Ground Beef Snakes – thank you Lebowitz, Flat Matt, Seb, Omer for the live experience. Seb you were amazing on the drums. Softball/kickball/rounders were brilliant fun and yoga, so chill! We will continue to dodge and dance through the raindrops for Crew Olympics- I'm super excited to share candlelight meeting with the awesome Session 3 camper team. Harness the SMA You!!!
Ash- Cheshire, England.
How have another 2 weeks flown by SO quickly!! Time flies here like no place I've experienced. We arrived late on the first day from DC and the van was swarmed by upper enthusiastic kids and counsellors to welcome us- a proper SMA welcome. The rain made for pretty wet 2 weeks but it didn't matter in the slightest- it has been another absolutely awesome session. I taught my first of many ,barn yoga classes, repelled from the barn rafters and I'm pleased to announce that I did not join the Yough swim team. Highlights include Seb buying me a Lamborghini (absolute hero), the sheer musical talent amongst the campers and paper plates. Shout out to the campers that introduced me to F'realz in Sheetz (new guilty pleasure). I have so much love for these campers and I'm gutted to see them go. Missing you all already!!