Click Here to Download the Session 1 Camper and Staff Memory Book
Scout Kranick
I can't even begin to tell you how much I love Stone Mountain Adventures!! This is my second year coming to camp and its been amazing. I got to see my old friends from last year; Tyler, Odessa and Jordyn and it was so nice to see them again, I also made new friends; Kaylen, Kendal and Lily. We all had a lot of fun together getting to know each other, making each other laugh and having adventures. We're all very different in our own ways but I think that's what made us all click somehow. I'm so glad I met all of them.
My favourite activity at Stone Mountain was SUP and sail! Always getting to go with Jordyn and Odessa was fun because we just hung out on the paddle boards, talked and laughed. Jordyns shenanigans are always funny to watch! It was the best activity because of the heat wave that had come through as well… it was pretty refreshing. SUP and sail was just really fun all the time. I love SUP and sail.
SMA is a wonderful place. The energy of this place cannot be replicated anywhere else. It's amazing here and when you come you never want to leave!
I LOVE SMA!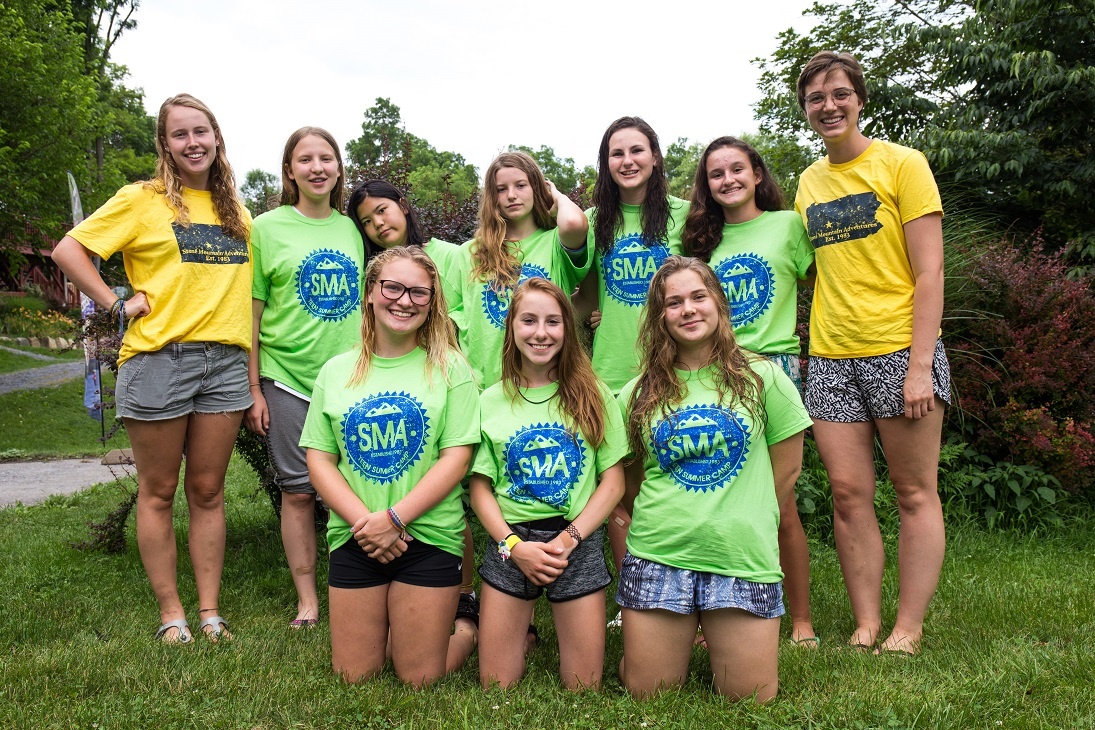 Daniel Bosch
Session 1 was way bigger than session 4 last year. This being my second year I felt like a veteran camper already. Besides seeing old friends and making new ones I think this session was pretty nice. I tried some new activities and had fun trying them. I'm not writing too much because im here for two sessions so will probably write more at the end of session 2. Well between Tim, Jim and Kim I prefer Kim. While ash and Beth are bugging me while I'm alone in a boat and Jess is broken and Swags is sick it has been a great group of councillors. With flat Matt and flannel Matt and a group more that includes Jellie (Jordan and Ellie), Helen, Nathan, Cassie and Diego. With doing things in power hour like watching the World Cup or the dancing fire (Helen) or the cat in the bush debacle; I don't know, session 1 was not as close as session 4 last year but that's because of there being more campers. Having so many 4th year and up campers really added to the experience.
Well, session 1 SMA '18 has come to a close.
Sophia Segura
This was my second year at SMA and it was just as good as my first. Once again, I was one activity away from SMAM. Surprisingly that one activity had been rock climbing which I had been quite excited about, I didn't know how many times climbing would be offered and in the end I missed my chance.I made a bunch of new friends this year and was pleasantly surprised by how many people retuned from last year. I was very happy to be in Rothrock again and I really liked my cabin mates. There were many funny moments this session, including Flat Matt duck calling the national anthem and Helen dumping water on her secret friend. I got much better at foosball and wasn't nearly as scared during white-water rafting. All in all this was a very fun session and I will miss SMA immensely.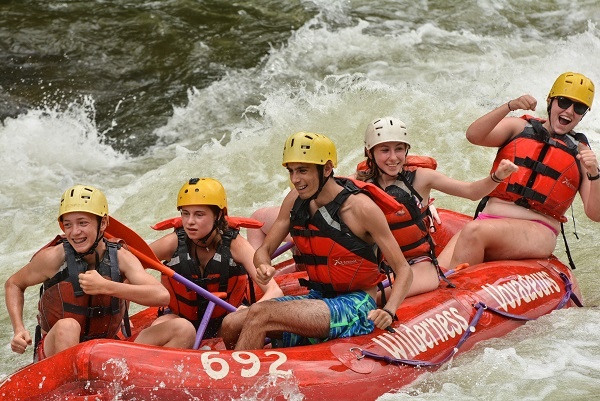 Cesar Deschamps
So its my first year here at SMA and my second time in America so when I left France I didn't know what was waiting for me. I'm used to leaving my family but SMA is further away than the other camps I have been to in the past in England and Spain. But this was one of the most rewarding couple of weeks that I've ever had. I met incredible people, I did awesome activities like the two over nights, laser tag, disco bowling but the most important thing was getting to talk with Americans. I obviously loved rafting and so I'm excited to stay for one more week.
Walter Keiler
This was my 6th year. It was nice to see everyone again. The furnace was a good crew. I enjoyed lying around and telling stories. Some of the new councillors were really chill and nice. This year was weird with an almost new staff and a lot of old returners but I'm always looking forward to next year.
Jordyn Bitton
This session was kind of rough as usual. First session is always kind of weird. I pretty much only did SUP and sail and horse masters which I'm totally fine with. This was my 3rd year and 9th session WOW! I should have gotten SMAM by now but I hate bikes. I really love camp and I'm horribly sad that this is my last year. Uh…YAY SMA!!
P.S ... I love Ellie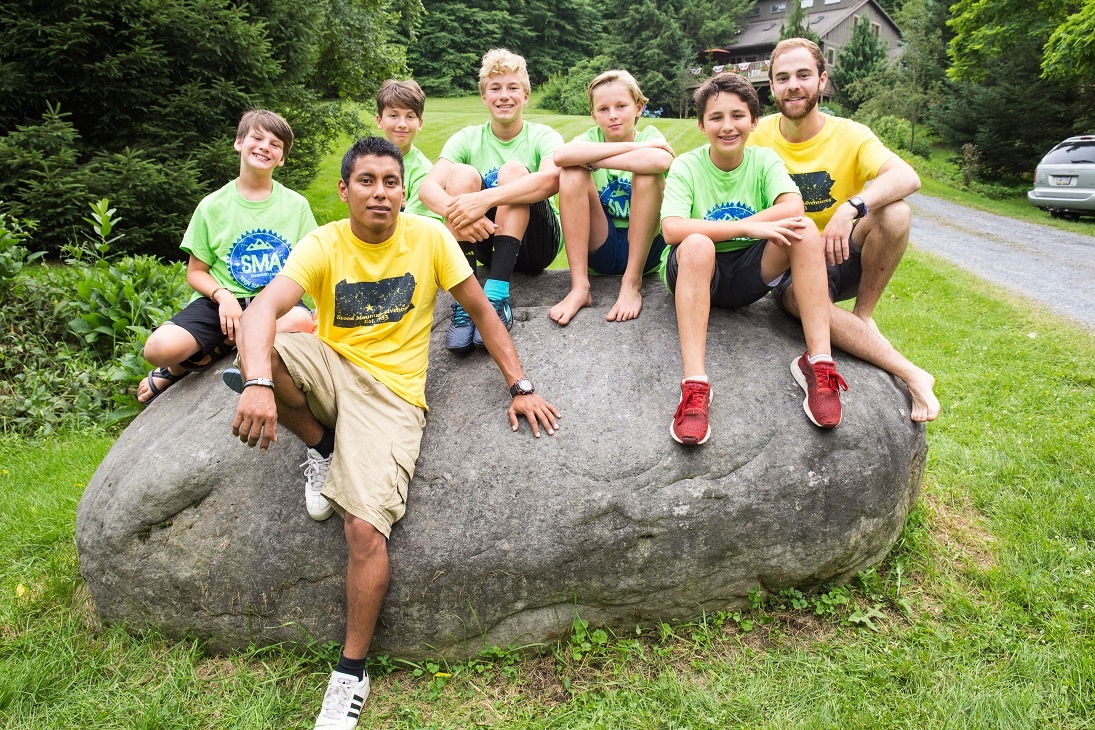 Garrett Wider
My experience at SMA was very fun. I enjoyed biking with Matt, Tim , Nathan and Sam. It was awesome speeding down the trails at Raystown lake. Going on the wakeboard overnight was the highlight of my week. I made a lot of new friends including Guilhem ,Mattieu, Wyatt, Braden, Trey, Natalie and Diego. SMA is like family after these two weeks. I can't wait to return next summer!
Julia Holland
This is a very fun camp. I enjoyed having a secret friend and I enjoyed the talent show. My secret friend was Trey. I think " Frozones" were the best at the talent show. My favorite activity was Sup and Sail, it was super fun and super chill. I also liked the Amish market, there were so many cool things! I enjoyed my two weeks of camp, it was awesome!!
Eline Delmas
This is my second year at SMA it is still as fun and just as amazing, I hope it never changes! I remembered everyone's' name after the third day. The skits this year were mind-blowing and I loved being part of candlelight. I also loved shower parties in the girls bathroom! I enjoyed eating mountain pies again and this year I got up on a wakeboard! I have made so many friends, thanks to Georgia for giving the flip flops her secret friend gave to her! It was funny mixing up Ash and Beth, they look alike! I'm looking forward to coming back next year, I love you SMA!!!
Jade Aubourg
This was my first time at SMA but my brother and sister came here and they enjoyed it. I decided to follow their footsteps and it was the best decision! I really enjoyed my time and made great friendships that I hope will last a long time. My two weeks went by so fast but I had so much fun. My favorite part of camp was the wakeboarding and the canoeing overnight. Belly- womping was awesome with Victoire! The people at this camp were so welcoming and friendly even though I was shy at first. This was an amazing experience and I hope I come back to SMA!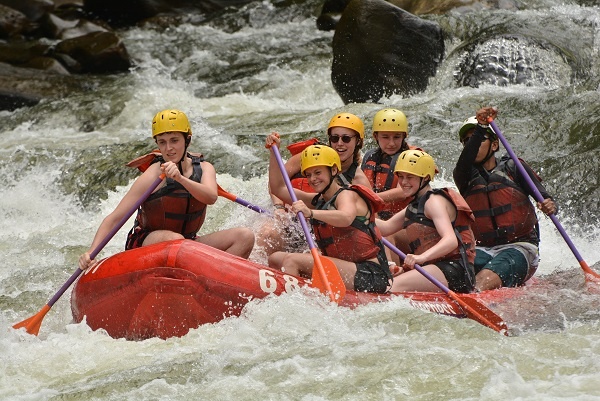 Victoire De Tonquedec
It was my first time at SMA, at the beginning I felt shy and I know my English is not very good….. but I automatically felt welcome here. Everyone was so lovely! I met some exceptional people like Tim, Jade, and Lily. I have made a lot of good memories during session 1 at SMA. My favorite activities are wakeboarding and canoeing overnights. It was my first time doing belly – womping with Jade! SMA has been and unforgettable experience for me, thanks for everything!
Ben Ackerman
Session 1 has been great. I enjoyed being a camper in Tussy and playing lots of pranks on other cabins .I also made lots of new friends including Wyatt, Guilhem, Daniel, and Matthieu. This session was pretty awesome, I had loads of fun especially on the Yough trip, including the McDonalds!
Guilhem Roche
My experience at SMA was really special. It was my first time at summer camp and I really liked it. I made lots of new friends that I can hopefully see again. We had a lot of adventures and made lots of memories. It was fun to listen to Kurupt FM. Even though my friends in session 1 may not return I still want to come back and live all of my experiences again!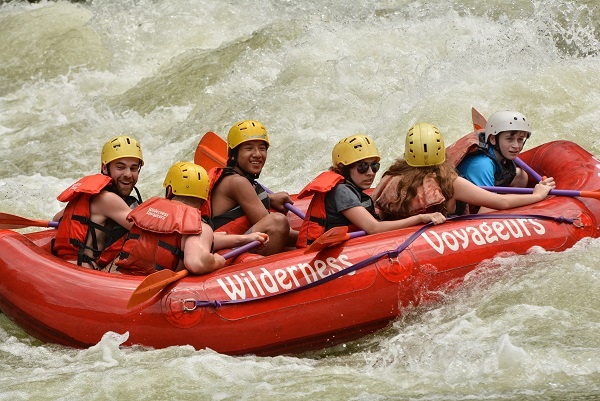 Tyler Margiani
I had an amazing first session but it went by so fast. This is my fifth summer at SMA and my first year in Mattawana. Having so many new counselors and campers has been so much fun. I do admit though, I do still struggle with names! White water rafting was my favorite activity this session. I have never seen so many rafts flip on Dimple rock resulting in lots of swimmers though the rapid. Jud games and the talent show were two of my favourite things. Shout out to Liz for coming up with the great counselor coffee prank! They really couldn't handle being un- caffeinated! Even with the ridiculous heat wave I have loved this session. It gets harder to leave every year but at least I can take friendships back home! I'll miss you SMA!!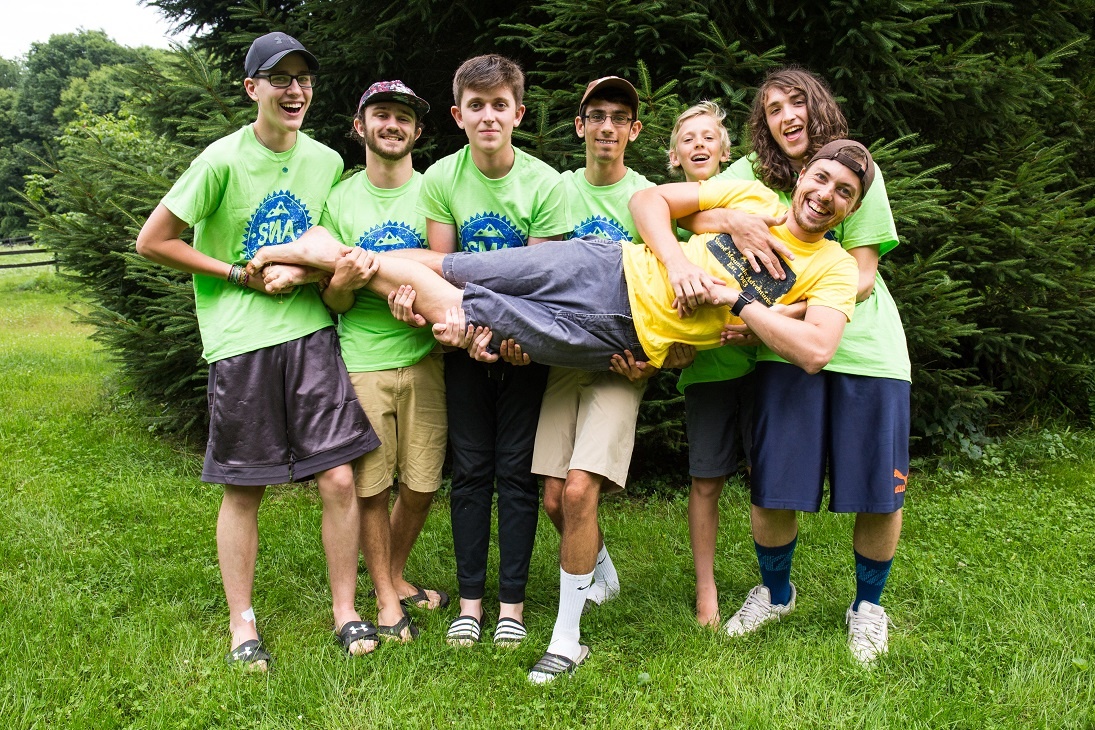 Oriah Koerner
This was my first time at SMA and I wish it wasn't my last. I made a lot of friends and it seemed like a real home here. The music and food was amazing and the counselors were fantastic! I've had so much fun, I was adventurous and did lots of different things. I'm proud I've done things I haven't before, thanks SMA!
Odessa Shingler
SMA… where do I start! This session has been amazing! It was so good to see all my old friends and I enjoyed making new friendships. As always I loved tie-dye , even more so with my friends! I love the dance at SMA, it's not like a school dance where you have to act like someone you're not, you can just be yourself. White water rafting was another favorite activity of mine, it was so much fun and I loved the van ride! But for me SMA is all about activities and friendships whether they are old or new, it's the best part of camp. I love coming to SMA to escape life at home, thanks for everything you do. I LOVE SMA!!!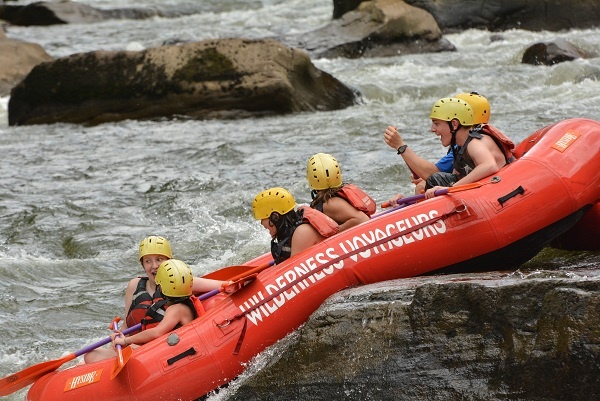 Coby Polatsek
This session went very quickly, it kind of sucks that have to leave, but I'm excited to see what next year brings! I really enjoyed the overnights, white water rafting and Sup and Sail. I loved making smores and flipping other peoples boats during sup and sail!
Trey Niccolini
This was my second year at SMA, last year I went to 4th session so 1st session was a lot different for me. It was interesting to see all of the new counselors starting out and it was fun to help out when they didn't know what to do. I was a wake - master this year and I shredded the gnar (#onlyfullsends). I wrote another song for the talent show and it was pretty cool I guess. I goofed on all of the counselors and it was pretty cool. I learned many cool things- like the fact that joker is poker with a J- life is wild my friends! Ellie is my favourite and me, Trey Niccolini wrote that!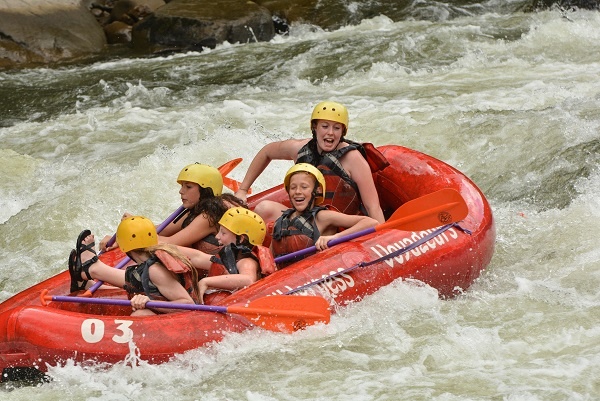 Liz Feldstein-Nixon
This is my third year at SMA and my 5th session. I was in Mattawanna again (sorry Kaylen) I bought Ethan pad thai at the beginning of the session, but I have still been made fun of by literally everyone! It's fine they are just jealous. I managed to get on both sides of the wake on the wake overnight (take that Trey!) which I'm very proud of! I have finally won a game of Gaga. Apart from that this session has been pretty chill. Everyone is already sick, but it's fine because the Smurf family is still thriving! When I say Smurf I mean me, Georgia, Ethan and Natalie. It has been a nice kind of different this year as we have had many new campers and counsellors! I'm still really happy to be at camp and I'm pumped for my next month at SMA! Wahhoooo!!
Natalie Brucker
This was my first year at SMA and it has far been the best thing that has ever happened to me. I would give this camp a solid 10/10! So many amazing and fun activities here at camp. I have made friends here that I never thought I would meet. I feel like SMA has changed me, I feel like a better person overall. This camp has helped me come out of my comfort zone, and I love that everyone liked me for them and I loved all the campers too. This place has been like a second home, and I will definitely be returning next year!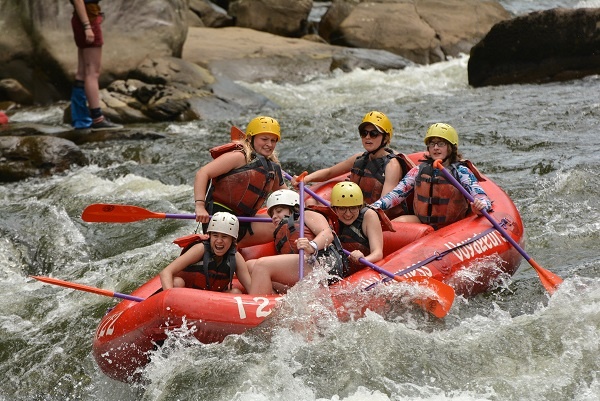 Lily Grossman
When I first got to camp I was very nervous and I was worried about meeting all the campers. I was worried if they would like me or not, but pretty soon I released that these people were different. Everyone had their own personality, and everyone liked me for me. I love all the people at camp and they love me. These two weeks have gone by fast, but I have made close friendships already. This session has gone by too fast, but I'm glad I have another two sessions left. I'm sad that some of the friends I have made are leaving, but I'm looking forward to meeting new people. I'm only missing home a little bit, and I'm super excited for session two.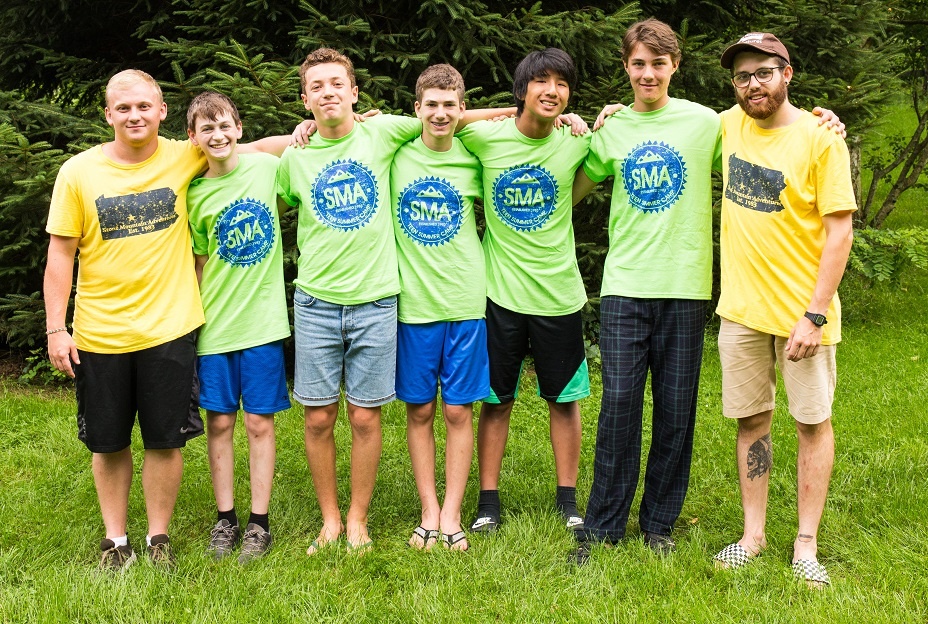 Karissa McMahon
This was my first time at SMA an Ioved it. I made a lot of new friends, and I have had so much fun! I have enjoyed making friendship bracelets and I'm 100% coming back next year. Horse masters was fantastic and the best part of my morning! I rode snoopy and I loved his. I loved brushing him, tacking him up and riding him. Snoopy made me laugh when he stuck his foot in the bucket and knocked it over. I also really enjoyed the sup and sail activity at Raystown lake. When we flipped over the paddle boards it was hilarious! All I can say is… I LOVE SMA!
Kate Murphy
I have enjoyed session one at SMA My stay has been interesting and fun. I was very apprehensive about camp, but once I got here and got settled I started to make friends. The food at camp was nice and I really enjoyed being in a cabin with lovely campers. Thanks SMA, great start to my summer!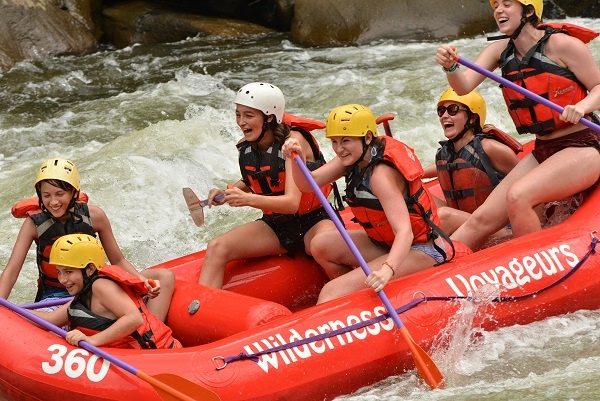 Natalie Houldin
These past two weeks at SMA have been great! At first I was really scared but after a while it got better. Seeing my friends from last year was great. We got to catch up and chat about a lot of things. This year I also got to be at camp with my sister Kaylen. WE got to take part in activities together as well. Such as softball, swimming and sup and sail. I really enjoyed being I the cabin with lovely campers. Honestly everyone is so nice at SMA. All the activities are really fun, my favorite was berry picking! The food at camp was so yummy, it was like heaven on a plate! Overall SMA was amazing and a lot of fun!
Timothee Lafeuille
This session at SMA was my first time here. This is also the first time I have been to the United states. Before I arrived at camp I was shy and a little bit scared. But I soon realized that I could make friends and I was excited to learn all about the American culture. I have met some cool and funny people, and now session one has finished I can say that I am not scared to meet new people anymore. I really enjoyed spending time with my Cabin buddies in Furnace. I did spend a lot of time will fellow Frenchie's this session. Next session I will spend more time getting to know American campers as well as keeping my Frenchie friends. I'm enjoying camp so far.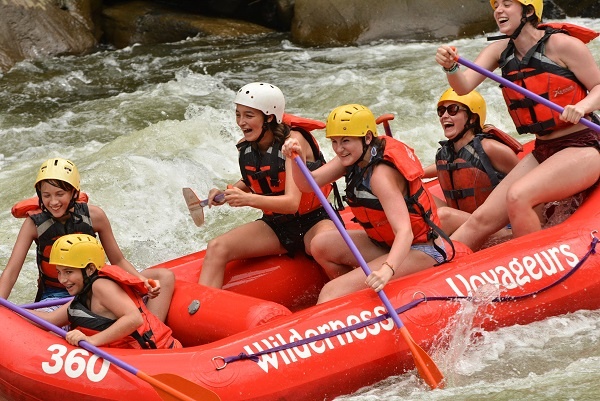 Matthieu Soulier
It was my second time in the US, but my first time at SMA. When I first arrived I was very shy and scared, but I soon realized that all the campers and counsellors were very nice. I made some really good friends at camp. I really enjoyed the white water rafting, being in Tussey and the wake board overnight! Thanks SMA!
Kendal Seymour
I had never been away from my parents for longer than 4 days before. I was a little apprehensive about coming to camp. But despite my nerves I automatically started to feel like SMA was my home away from home. The friends and counsellors her do change your life for ever and it's the perfect environment for you to build friendships and create memories. I have made some many friends here and I will not forget these two weeks of camp, as they have been unforgettable and two of the best weeks of my life. Thanks SMA!
Lauren Riley
My week at SMA was pretty fun! I was unsure about whether I would enjoy my week at SMA as I was arriving half way through a session, but when I arrived I started to get to know all the campers and counsellors a things started looking up for me. I really like all the girls in my Cabin and I enjoyed all the activities that cap provided! Some of my favorites were sup and sail, canoeing and white water rafting! I really enjoyed the van trips and all the music that was played. This camp has been a lot more fun than other overnight camps I have attended. I have enjoyed my week here very much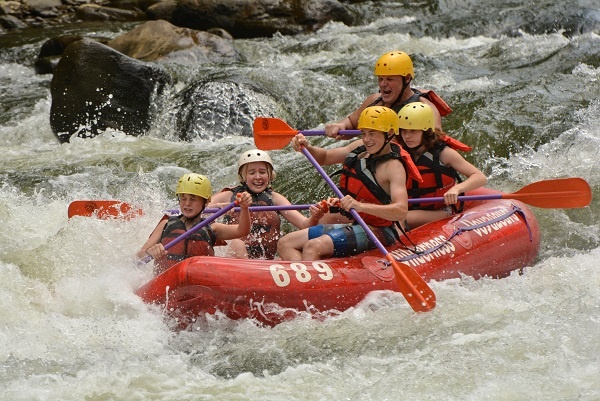 Sophia Ferris
Session one was great I made lots of new friends and did a lot of new activities! The counsellors were amazing and I will miss them so much! This is my second year at camp and I defiantly plan on coming back. All the campers were really nice and I felt at home. Every activity was like a crazy adventure and every day got better than the one before. I loved white water rafting and mountain biking with Nathan and Matt. I will also miss all the animals at camp, peter rabbit, comet, Ebony, Jack and Piggy. These last two weeks have been the best and as always it makes SMA an unforgettable experience!
Braden Dahl
I really enjoyed my sessions at camp. I got to see all my friends and take part in all the activities that I love. I did miss Nate so all I can say is…. RIP Nate with out Nate life has no meaning. RIP Nate you are a beautiful boy who is capable of doing amazing things. RIP Nate sadly we lost him this year at camp. RIP Nate Ethan misses you too. RIP Nate he spread love throughout camp RIP Nate. So yeah I love Nate! Also I love SMA!
Ethan Apparies
This is my 4th year at camp. I really enjoyed my session but it was very different. I was a little poorly throughout session one. Overall I have had a good session one. I have met some new friends and Smurf family is still thriving (me, Georgia, Liz and Natalie). I also had some new experiences, Swaggs encouraged me to go horse back riding, and I did it! So thumbs up for me! One of my favorite things about camp was playing a joint prank on counsellors with Mattawana when we hid the counsellors coffee. Pieing Nathan was also funny! I have enjoyed session one and looking forward to next session.
Sam Weber
I came to camp mostly for the mountain biking, that is how I found SMA. The biking was a lot of fun but I wasn't able to bike as much as I wanted. The activities were often too short to get much serious riding. The bike part was absolutely amazing, I am sad I never cleared the whale tails but the rest of the park was full of amazing drops and berms.
Gilly Millar
This was my first time at SMA and it was amazing!! The first few days were really hard because I was so homesick! One reason why was because my mom was here and seeing her everyday just made it even harder to see her leave! But after a couple days I got settled in and I was riding every day which made it more comfortable. The counselors were all amazing and sadly most of them won't be here next year. All of the activities were very fun! Especially the riding! I've never jumped here and I was well experienced enough to. I loved riding Bilbo this year and all of the horsemasters were very nice and kind! The talent show was super fun! Me Matt and Wyatt played Seven Nation Army and I thought it went really well!! I am hoping to come the next 6 years and looking forward for Lucy (my little sister) to come here!!
Kaia Goedhart
My first year at SMA was a good experience. The activities I enjoyed were Art and Sup + Sail, although I also enjoyed wakeboarding, white water rafting, and all the other activities we did. Sup + Sail always had warm water in the lake we went to, and so was always great for swimming. Wakeboarding and rafting were especially fun. A failed wheelie resulted in me going under the boat, being fine, and making everyone freak out. It was great. In 'secret friend' terms, I can summarize it easily'. I gave him two bucks, candy, and three Frozone toys. It was great. All in all, SMA was a great experience for me, and a great first impression of summer camp.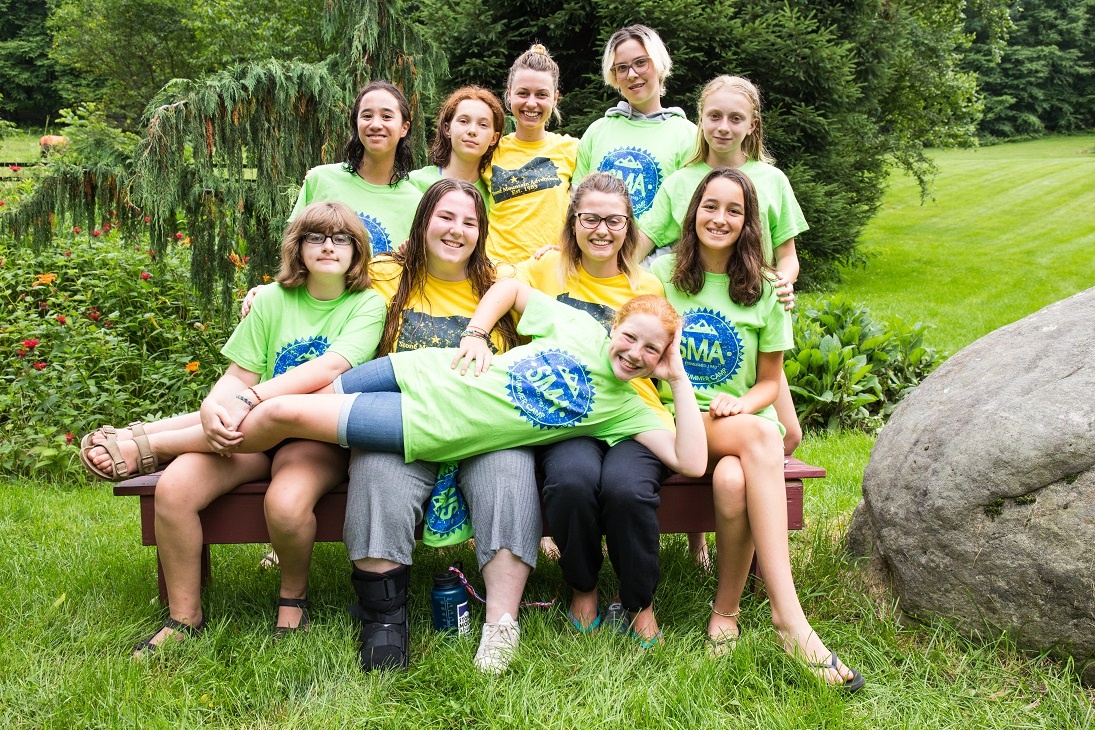 Maddie Day
This year is my 2nd year at SMA and I'm so glad I'm staying for 1.5 sessions, even though I wish I could stay for 2. I made such great friends and even though none except for me are staying for next session, and I'm unsure if they are coming back next year, I wouldn't trade them for anything. We also had a really strong bond in Rothrock this year, and I would think of them as second family. The activities were also really fun this year. I am definitely coming back next year.
Nick Garrone
I had a lot of fun this session. Since I was a first-year camper, I was nervous about making friends and getting to know everybody at camp. Luckily, after a couple of days I had more friends and knew almost everyone at camp.I also tried some new activities and I improved in some that I've tried before, like rock climbing. I was part of the mountain bike masters program, and I feel like I improved my skills a lot, I even hit a jump for the first time! Overall, I'm glad that I went to SMA, and I hope to return next year.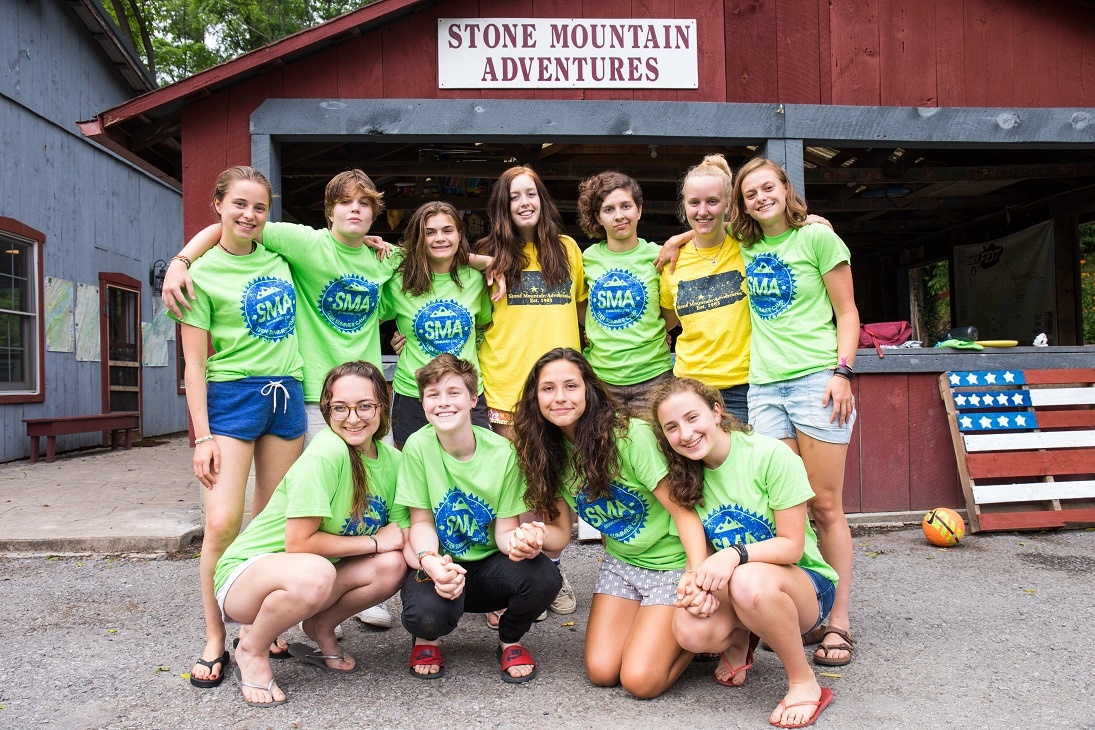 Georgia Thomas
This year was my last year at camp. I have been coming here for five years before this. I came to camp expecting a lot and wanting camp to be as amazing as it was all the years before. Although it was very different it was still amazing and I couldn't be happier that 5 years ago I decided to come to SMA because it truly was the best decision I have ever made. SMA truly is an amazing place and I am heartbroken this is my last year. I truly hope that I can come back as a counselor and try to give other kids the amazing experience that this camp gave me.
Wyatt Millar
My first year was crazy. Even though I live here, it was surprisingly different. I never would guess Tussey was broken. It was also a session of firsts. First year, first time getting up on the wakeboard, making new friends, and learning my place in SMA. I also love going to the market and buying whatever we wanted. And of course, the activities. All in all, SMA is (literally) my home.
Elise Bowers
IDK really what to say here considering it was my first and only year. I guess it was ok. Summer camp has always been a bit strange but SMA was ok. I liked the activities and the Rothrock gals were amazing. I just wish I had known what was going on more often than not. The counselors were nice and the boys were hilarious. They understood my nerd humor more often than the girls. I have only one hope and that's when Swags gets better and she can do stuff happily.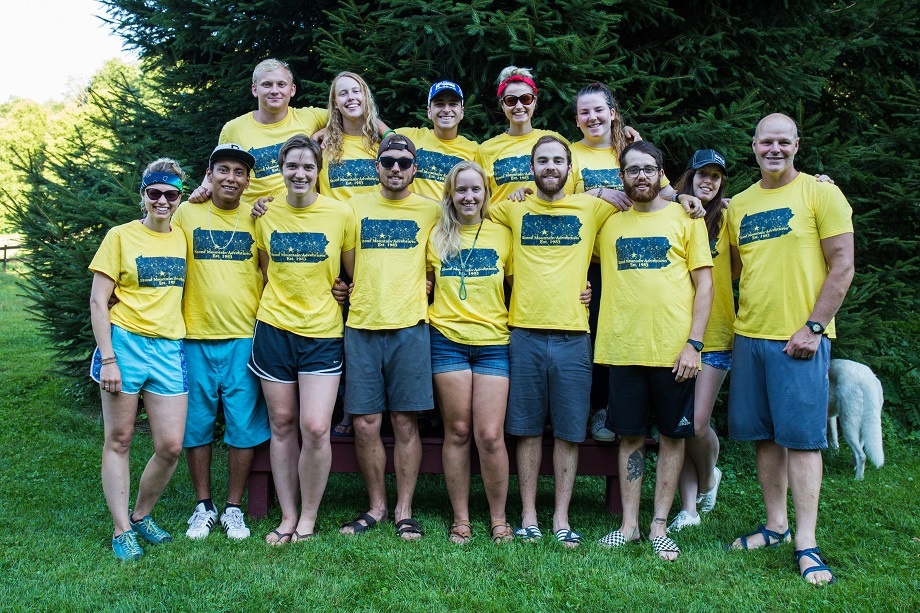 Session 1 Staff Reflections
Beth- Cheshire, England
For the past five years I have fondly remembered my time as a counselor at Stoner Mountain Adventures. My summers here at camp have been very happy times, and I feel incredibly blessed to get the opportunity to return session one has gone so quickly! I have enjoyed connecting with campers and watching them grow and bloom. It has been such a pleasure spending time with such awesome young people I have learnt so many new things! – Buying bunnies with the girls, playing Jud games and doing Tie-dye in the art studio. I also loved spending time on the Allegorppis trails, climbing at donation rocks, hiking near hunters rocks with the girls, canoeing the Juniata river, and having an all girl boat team at the Yough! Go Girl Power!! Camp is a wonderful place, and I'm so thankful to have spent the first two weeks of my summer here, with such amazing campers and counsellors.
Nathan- Belfast, Northern Ireland
This was my first session as an SMA counsellor and I was very nervous. I wasn't sure what was going to happen over the space of the two weeks and if I would do a good job living up to the campers expectations. It was a rocky start as I tried to do everything "by the book" but as I started to build relationships with everyone I realised that that maybe wasn't the case.
All the activities that we have done have been awesome, from ultimate Frisbee; overnight canoe trips, camp days and BBQs and especially the mountain biking program.
This first session at SMA was a big learning curve and despite my war with the furnace that ended up in me wearing a dress (appreciate all the comments at evening meeting boys) its been an amazing first two weeks here.
Ellie- Princeton, New Jersey
Coming back to stone mountain adventure as a counsellor after 7 years after my final summer as a camper has been an incredible experience! Meeting and bonding with the staff in the days running up to camp had ensured I had an amazing first session! First session blew all my expectations away. Even if I did struggle to make a fire (one time!). I will look forward to all the experiences yet to come and enjoyed first session. Stone Mountain… I'M BACK!!!!
Cassie- Shropshire, England
If someone would have told me this Christmas that I would have been at SMA this summer I wouldn't have believed them. Session one has been amazing! So many amazing campers that I am fond of even though a few of us topped on dimple (but not me hehe). It was the best raft experience ever. OI have really enjoyed getting to know all the campers. My canoe trip with Ethan, Liz and Natalie was amazing. Furnace skit was amazing even though the masks were scary! Along with the campers the staff team I work with are amazing, they are all so funny in their own unique way. I'm not sure yet whether I like 108.9 but I think its growing on me. Bring on session 2 and the rest of summer!!
Ash- Cheshire, England
My first session at SMA as a Counselor has been an absolute blast. I can't believe these two weeks have passed. Session highlights for me include (but are not limited to) white water rafting, the wake board overnight and canoeing. Getting to know all the young adults and watching them develop and grow their skills and as people has been so very rewarding. My stomach and cheeks are still aching from all the belly laughs! Bring on session 2.
Jordan- Chester, England
My name is Jordan and this is my first summer at SMA, where I have found the opportunity to spread my love for kurupt to all of the kids. I have enjoyed sending time out on the lake, driving the boat and white water rafting was great with my awesome boat crew!! I have made many new friends, and I have enjoyed meeting and looking after all of the campers. I have also enjoyed many fun activities. I'm looking forward to the rest of the summer and meeting all the new and returning campers. So much love for SMA! Jord the greatest MC in the galaxy!
Tim Tam- Boston, Massachusetts
Jim, Kim or Tim? The campers certainly don't now and to be honest neither do I. The past two weeks has flown by as we have made some amazing memories. From spending all day on the bikes with the bike masters to playing king of the boat during the rain storm, everyday has been the best! Session 1 was a fantastic start to the summer and I hope to see everyone again someday!
Jess- Dublin, Ireland
Summer 2018 has started with a bang here at SMA! I was very nervous to arrive for staff training, traveling solo across the Atlantic and meeting the other international counselors for a five- hour megabus trip was daunting but a great start to an awesome adventure of my summer here at SMA. When I arrived at camp for staff training, I felt at home instantaneously, and the Emerald Isle didn't seem so far away as I began to find my camp family here. Staff training was a blast, filled with plenty of first time experiences for me, learning from the other counsellors and getting super excited for the kids to arrive! I began first session on the North-East van trip, which involved two days of extensive road tripping, driving on the opposite (right) side of the road and improving my DJ skills. All while not getting horrifically lost, missing a pickup, or missing a kid! Arriving to camp that afternoon to greet all of the other campers was a feeling I won't ever forget. All the preparations were over and it was time for the real deal. Memorizing everyone's name within the first two days was a great start to the session for me, sorry Trent (I mean Trey!). I participated in all activities only to realize that counsellors aren't in the running for SMAM awards! Some went better than others, but I'm excited to see if my canoeing or rafting skills improve over the course of the summer. Being a nursing student back home, it was only right that I spent lots of time in the First Aid room as the session medic and completed session one with a trip to the local ER for my white water rafting injured foot, with a boot in tow I am super excited for the next session to begin!
Flat Matt- Albany, New York
As a new counselor to SMA the first session can be a daunting experience. There are a lot of expectations put on you. Parents trusting you to care for their greatest joys, returning campers who already understand the culture of SMA and our very own Judson Wickersham Millar. As the days of staff training wind down the nerves and excitement settle in. Suddenly the day we all have been waiting for arrives in an instant.Session one was everything a new counselor could ask for. With the help of a great crew of returning campers the session kicked directly into high gear. The nerves of the staff quickly melted away as we realized that our ten days of staff training had not only prepared us to lead our activities but had also formed a strong team that could handle any situation. Old and new campers quickly formed strong relationships and it was great to see how they developed over 2 weeks.
As a mountain biking instructor I grew particularly close to the mountain bike masters. All of the riders showed an impressive amount of skill and perseverance on our first day of riding. This ride was particularly challenging technically and physically to test the capabilities of the riders. The group was particularly fond of riding the skills park at the Allegrippis trail system. Each day brought huge increases in skill, confidence and most importantly fun!
Driving away in the Northeast Van on Saturday was an incredibly difficult task. The hardest challenge I faced during session one was certainly saying goodbye to the great group of people I had grown so close to over the past 2 weeks. With this sadness also comes plenty of excitement because as we bring session 1 to a close we celebrate a the new opportunities that session 2 brings!
Diego- Oaxaca, Mexico
This year is my first time as a camp counselor here in stone mountain adventures, I am so exited because this is also my first time in this country. In the beginning it was a little difficult to understand everything when the kids or the other staff counselors spoke with me because I wasn't accustomed to hearing English all day but then with the passing of time I started to understand better and I feel happy because thanks to the kids I have learned a lot. I am so excited because in Mexico I usually practice many of the activities that we practice here so I enjoy it because when you love your job when you are working you don't fell that you are working. I happy because I have a lot of friends and here in the camp I have made many friends and now I have many new experiences, the camp is changing my life and definitely I will fell sad myself at the end of the summer because everything is new for me so I am trying to enjoy it as much as I can, I am sure that I never will forget this moment and also I never will forget the day when we went to practice white water rafting because this day was the day that I was waiting for since I came here.
Matt "Flannel" Lebowitz- Princeton, New Jersey
Although I came into first session a bit late, I quickly was struck by the incredible cohesiveness of the group. I only spent a few days with the campers, yet in the final days of the session my impression was that of a group of friends who had known each other for years, rather than people who, for the most part, had only just met two weeks earlier. The uplifting energy of my fellow staff members helped to quickly bring me up to speed, and working/playing with them has been a dream so far.
Some of my highlights of the session included a chilled-out stand-up-paddle board and kayak session out on Raystown Lake with Flat Matt, as well as playing a flaming rendition of "Seven Nation Army" with Gilly and Wyatt as "Flannel Matt and the Onesies" at the awesome SMA Session 1 Talent Show!
I'll miss all of the campers, even though our time together was brief. I'm looking forward to getting to know those staying at camp for Session 2 as we all prepare together to welcome a big group of new friends!
Helen- Oakland, California
Session One has been fantastic, and it's hard to believe it's already over! From staring at wild cats hiding in the bushes to replacing our off day of crew with dancing to playing paddleball - or, I mean, canoeing - to chilling in the Board Room making friendship bracelets, I couldn't have asked for a better group of people to spend my last two weeks with at this magical place. After a long year, SMA is exactly what I needed, and the day that these campers arrived I knew that we had a fantastic session ahead of us. I am so grateful for the memories I have shared with each and every camper this session, and hope that SMA has changed you in the same ways that it has changed me during the five summers I have been able to spend here as a camper and a counselor. Thank you to each and every one of you for making this place so special.
Swaggers- Middle of nowhere, Maryland
And here we are for yet another summer at this magical and wonderful place. I honestly thought I wouldn't make it back so this year just feels like stealing a cookie from behind my mom's back- I'm definitely getting away with something! Session 1 has been an absolute blast with so many fun activities and fond memories being created. Despite the rain and the heat, we have been able to spend every day shredding bike trails, scaling rocks, wiping out on mud patches playing sports, standing on wakeboards and paddleboards alike, and, obviously, having the BEST TIME.
The group of campers have been an absolute joy! They are all so funny, creative, and good sports for the level of embarrassing fun that is SMA. Everyone has really gotten in the swing of camp and I can't believe that the session is over so quickly! It feels like yesterday that I was introducing myself to so many campers and parents, spending my first night in Mattawanna for the summer, and wasn't completely exhausted yet! This session has also seen one of the fewer pranks by the campers against the counselors in the stealing of all the caffeine (well done Mattawanna and Furnace) and the subsequent war by counselors in response.
My favorite day, as always, is white water rafting day! Even though this session, my boat (and a few others) wiped out and flipped going through a rapid and my valiant co-captain counselor injured her foot, we still had a blast making our way down the river! I am so impressed by the bravery that the campers show, especially as the river was high meaning the white water was bigger and faster. And yet, everyone paddled their heart out and made for the best day. I also had a wonderful wakeboarding overnight, full of mountain pies and smores with all the campers being so successful in getting up on wakeboards, skis, and kneeboards. It is such an impressive thing to watch a camper stand up for the first time (not an easy feat to be sure).
Thank you so much for sharing this session with me! It was the best start to a summer that I could have asked for! Thank you so much for making this summer extra, extra special!