All of us at Stone Mountain Adventures are thrilled to introduce the SMA Staff Team of Summer 2020!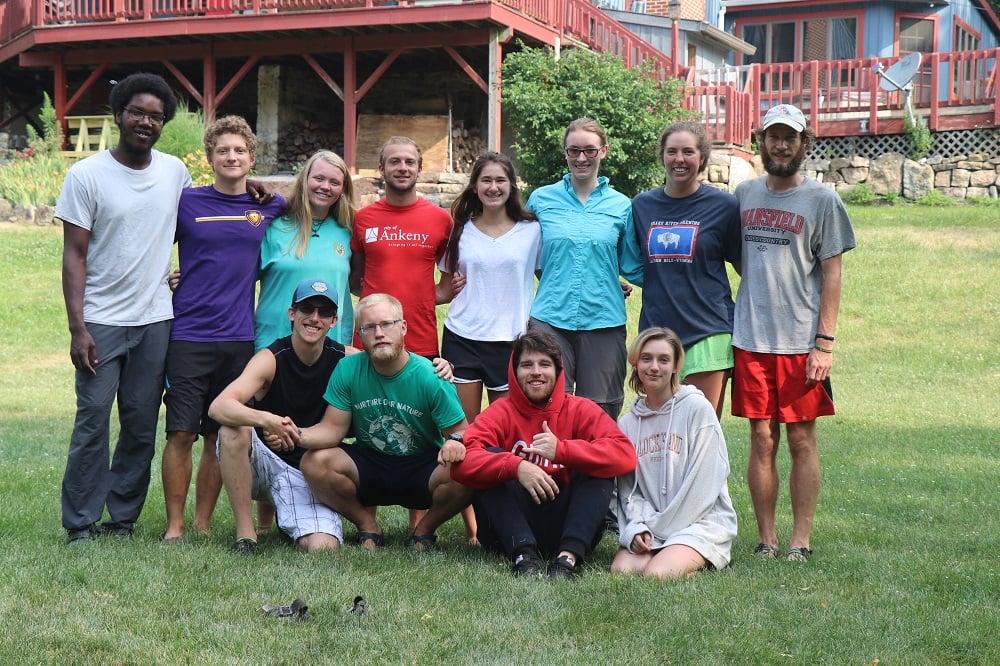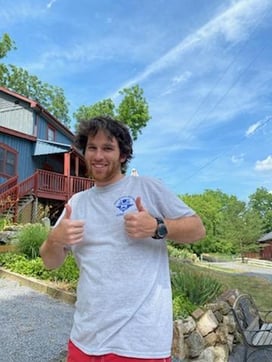 Luke Lonnie
Have you ever met anyone who won the coveted "Best Lil' Ranger" award from Hawk Mountain Ranger School at age 12? Well, now you have! Luke, short for Lucas, brings a lifetime of fun and experience to Stone Mountain Adventures. From years as a lifeguard, summers spent doing watersports, and even a little bit of valeting, he's done it all. Luke is back for more at his second summer with SMA, where he specializes in wakeboarding, kneeboarding, and applying sunscreen. If Luke was a sandwich, he'd be an Italian sub – ask him for more details. He's so, SO excited for a great summer session and to perhaps maybe visit the Waves of Nazare someday. Luke has driven two of the three following vehicles: an excavator, a tractor, and a plane; your task this summer is to find out which one he hasn't driven.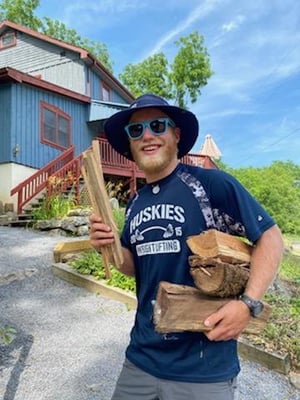 Ed Hegemann
Here we have Edward "Edison" Hegemann, history buff, world class adventurer, and Lord of the Rings guru. He's spent years traveling all the lands, learning all trades, to prepare himself for his first summer here at Stone Mountain Adventures. He believes that if he acquired the ability to teleport, he could single-handedly end world hunger. A favorite historical figure that speaks to him would be our man, Teddy Roosevelt, reminding Ed of his favorite quote, "Do what you can, with what you have, where you are" (too bad HE didn't have teleportation).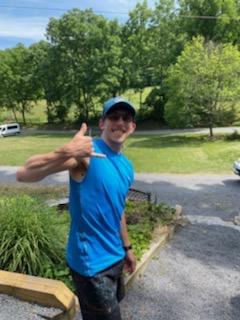 Kyle Griffin
Kyle is 25 and from Levittown Pa. He was a camper at Stone Mountain, and has finally completed evolution and leveled up to the position of powerful SMA counselor! One of his favorite things about camp is being able to meet people from all over the world and be able to stay in contact with them. Here at SMA he is one of the rock-climbing instructors and is very excited to share his passion with all the campers. One of his favorite places he has ever climbed is the moon. When he's not climbing rocks on the moon you can find him drawing pigeons, playing video games, playing the saxophone, and reading comic books. He is ecstatic to begin the summer!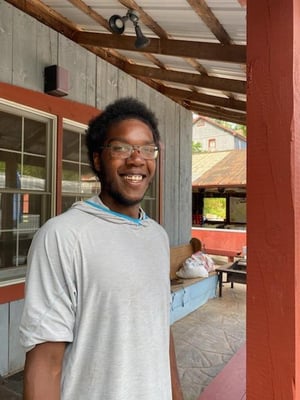 Jordan Thorne
SMA is so lucky to get Jordan after his six years on the road! He pulled into camp in his awesome jeep full of every item a road-tripper could possibly want, including a baby moose, a step ladder, baking yeast, and 40 carabiners. He has worked with Americorps, Fema Corps, Nols, and Outward Bound, but arguably his biggest accomplishments have happened around the pool table. He will help lead the rock climbing staff and if we're lucky we'll get to hear him sing some of the songs from his new album called "Christmas Chicken" that is about to drop. When asked where he'll be in five years, Jordan laughed and responded "beats me, I don't even know where I'll be tomorrow!" For a few months, though, he's psyched to be able to say he'll be at Old Hawn Road!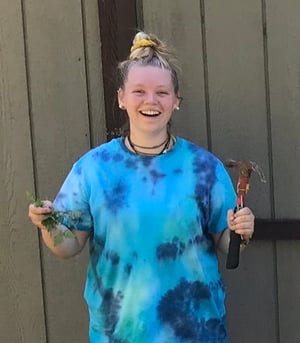 Olivia Boyle
Olivia is from Telford, Pennsylvania and has one younger brother. She is a current junior at the University of New Haven in Connecticut, where she is studying Biology. Olivia has continued playing softball and field hockey throughout college. This is not her first time at Stone Mountain Adventures, as she was a camper here for 5 years!! Olivia's favorite activity during her time at SMA was the Canoeing overnight and the evening activity Talent Show. Her favorite place she has traveled to was Costa Rica where she went zip lining in a hammock. One of her favorite hobbies is tie-dying photographs that she's taken. Looking back on her time at SMA, her biggest takeaway was being able to push and challenge herself to do things outside her comfort zone, so she's looking forward to helping kids challenge themselves this summer!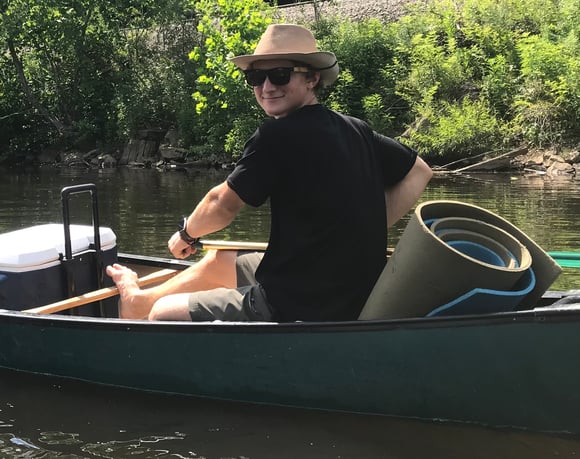 Chase Cloward
The man, the myth, the legend, the longest returning SMA veteran, Chase, is back and better than ever for his 6th summer at Stone Mountain Adventures. He may be a familiar face to many, but for those of you who still find it new, here's the beta on our friend. Much like Chase's history with SMA, his history with traveling and adventure goes way back. It begins with living in outdoor recreation hubs such as Utah, Southern California, and Kansas as a child. It progresses to Chase leading horse back riding trips on the beaches of Costa Rica while working on a monkey farm, to being a carpenter in Switzerland, to van tripping across the islands of New Zealand. His travels have loaded him with stories to tell and knowledge to share. He is fired up to help campers recognize this beautiful wonderful world we live in (and if they are lucky he might just teach them how to make an actual fire). Hoping to help campers better understand the world around them and empower them to go out and enjoy it on their own, is the mission that keeps Chase coming back to camp year after year! He is so excited for the summer 2020 and cannot wait to show your campers his secret talent of doing the worm, drinking a milkshake, and burping the ABC's backwards all at the same time. Please remind them to request to see this act upon arrival!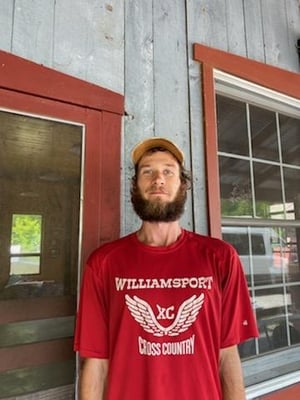 Dylan Rhodes
Dylan is a whimsical free spirit from Central Pennsylvania who is passionate about nature and climbing. He's an outdoor recreational manager major at Lockhaven University and aspires to educate people about the environment. Dylan sees the beauty and value in nature and hopes that his campers will also see it. He has years of climbing experience and is passionate about sharing that passion with and igniting others' passions for climbing. An item on his bucket-list would be to jet-ski to Alaska. If you can't find him, look in a tree!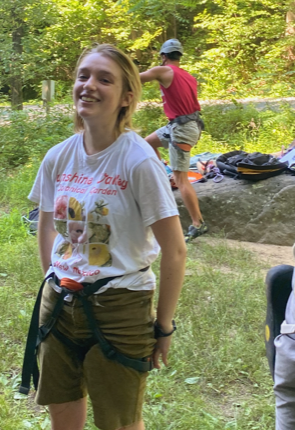 Hannah LeGoff
Hannah is an accomplished artist who is currently a student at Pratt Institute as an Illustration major. This summer she is bringing her passions to SMA, hoping to enrich the campers' lives though the wonderful amazing awesome incredible world of art! Hannah hails from the Garden State where she enjoys spending time with her cat named Sally (18 years old). She is really excited to craft: jewelry, lanterns, macramé, friendship bracelets, knitting, painting, clay working, and dreamcatchers! Hannah is excited to meet all of the campers coming to SMA!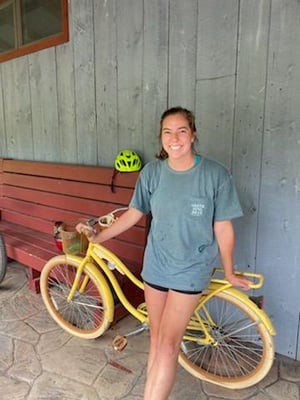 Theresa Scott
Bonjour! Theresa was born into a family with three other sisters in Alabama and has spent most of her life there. She likes it when people put a heavy emphasis on the TH, THeresa. She graduated from Auburn University and hasn't looked back since. She has seen a lot of the western states when she went on a road trip to discover not only new lands but also herself along the way! Theresa worked in Yellowstone where she befriended a group of bears and lived in the woods without showering for an entire month! During her travels she has seen many countries in Europe and has even worked as a glacier guide in Alaska, helping lead ice climbing and hiking trips. She loves working in the outdoors and her aspiration is to help people find their love for nature!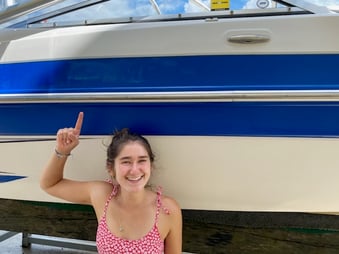 Emily Fichandler
Emily is a 22 year old born and raised in the land of Philly cheesesteaks, Philadelphia Pennsylvania. Raised with one older brother, a dog, two cats and a bunny, she would travel to DC for pizza and chocolate moose. Graduating from Carleton College in Minnesota, she studied psychology and Spanish, and will be teaching 6th grade math and science in California sometime in the future. She is known by some as an extroverted journalist with a love for running, country music, Chelsea Cutler, and The Weeknd. She is known by family as a terrible violin and piano player "but with more practice would get better." She is also aggressively optimistic, energetic and an empathetic listener. She started out as a camper for six summers and came back as a counselor for two years. She's so excited to be on the boat everyday and beat all the campers at knockout on the basketball court!
Jeff Hyler
G'day mates! Jeff was born in Brissie, Australia and has been living in the States attending Iowa State University. Jeff is looking excited to continue learning more about American culture. He is also excited to teach you all about living in Australia! Have you ever wondered how to throw a boomerang? Want to learn about The Great Emu War of 1932? Curious about proper etiquette when you are wrestling with a Tasmanian Devil or a dingo? He's got you. He recently graduated from college where he was involved in stand-up comedy, competitive swimming, and snowboarding. His current favourite activities include petting kangaroos, rewatching "The Office," hockey (both ice and underwater), and anything outside and sporty. In the future, he would love to work for a landscape architecture firm in Arizona (he thinks it would remind him of his home in the Outback). He is super keen to meet all of the kids and is defo going to help them have a great summer! Cheers!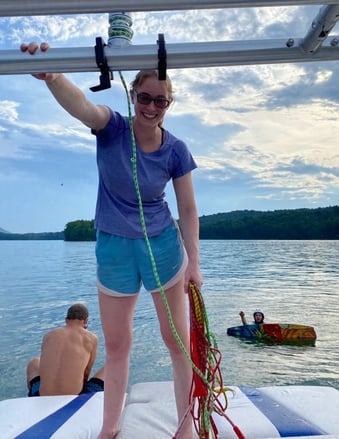 Julie Cheatham
Julie is ecstatic for SMA this summer because she loves spending time outdoors and becoming friends with all the kiddos. Since the age of 9, she has been going to camp and cannot wait to be on the staff side of operations. She studies biology and ecology at Colgate University in New York and hopes to work for the National Park Service one day. When she is not busy, she enjoys spending time knitting items such as hats for newborns to donate to hospitals, care centers, etc. She also enjoys swimming, diving, and doing gory special effects makeup. Campers should keep in mind she loves to pull pranks so, beware… you have been warned...