Greetings from the Stone Mountain Adventures (SMA) family. It is hard to believe that the summer of 2018 has come and gone so fast. It seems like only yesterday we were dusting off the canoes and tuning up the mountain bikes, and now this incredible summer is in the history books. The remainder of August was great, but we often found ourselves playing "remember that time in first session... that was awesome!" during our down time
On the last full day of the session we asked each member of our group to take a few moments and "reflect" about his or her experience at Stone Mountain Adventures. Enclosed are the written reflections of campers as well as a brief description of many of the activities that we did at camp written by our stellar staff. We hope you enjoy this SMA Memory Book and these reflections as much as we do!
Click Here to Download the Session 2 Camper and Staff Memory Book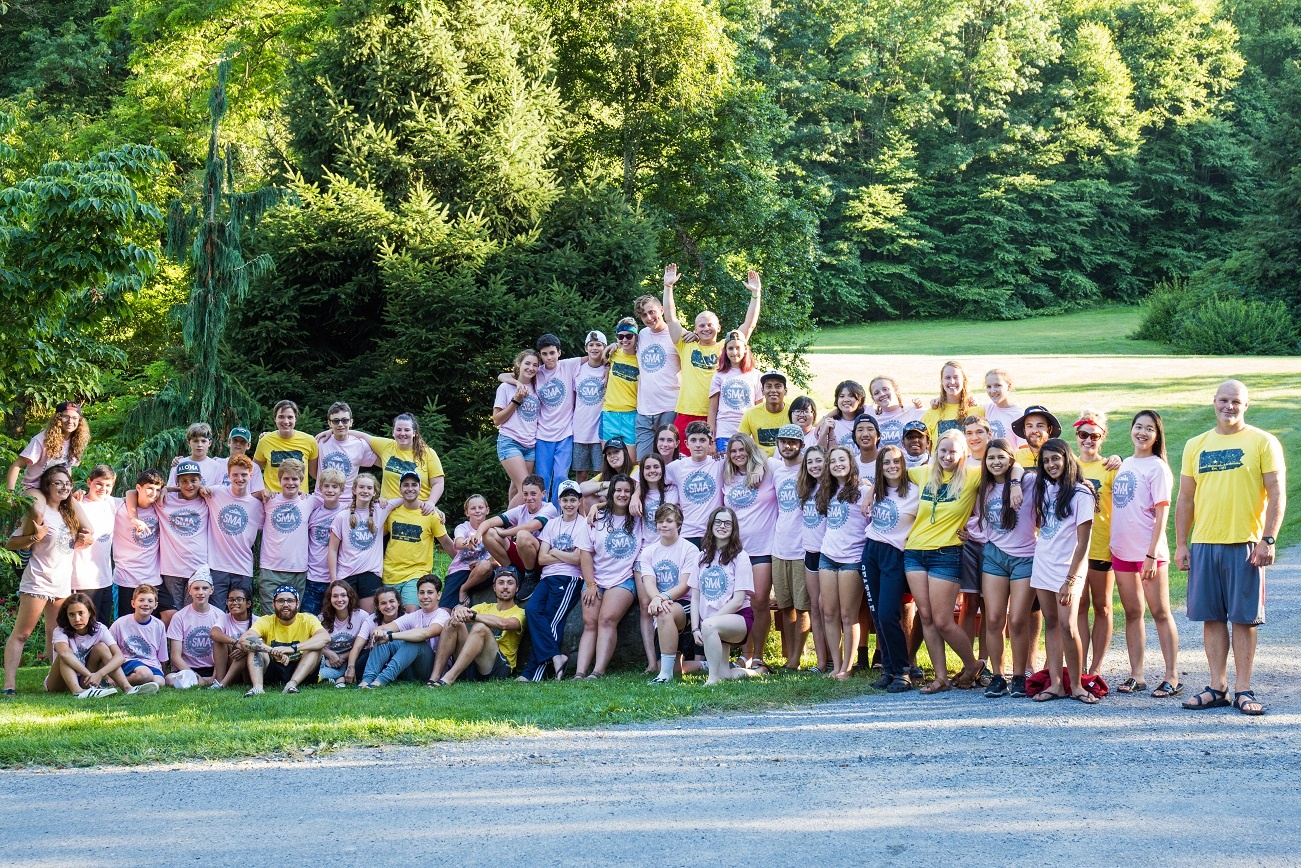 Alyssa Phillips (Billy Jean Johnson)
This was my second year of SMA and it just keeps getting better and better! It went by so fast but when I look back it feels slow. This year I became very close to many people. Last year I feel like I closed myself off to only two people. This year was way more fun and I'm going to miss everyone so much. Besides spraining my thumb I couldn't have asked for a better two weeks! I feel like this is the only place on earth where I can be myself and live in the moment.
Stephen Reohr
I had a blast at SMA the cabins, jokes, stars, waters, counselors, campers, 'talents', mountains full of steps made this camp a truly amazing experience. I am happy with the past two weeks and will hope others had a great time too.
Lily Grossman
2nd Session went by even faster. 1st session was very fun but 2nd was even better. I have made so many new friends. I hope we will all stay in touch. I also accomplished jumping on the wakeboard. I am so excited to make even more friends next session. I will never forget it. Every session keeps getting better and better. Cedar was ok.
Daniel Bosch
This session was a great way to end my 2018 summer time here. I made some friends and kept the old ones. Being here for a month allowed me to become closer to the staff here at SMA. Even though I'm a bit happy to be heading home, I'm sad because I know that I won't see some of the campers and staff members again here at camp. This session was full of surprises. From making some unlikely friends to getting into a relationship, this session gave me a run for my money. I've been here for a month and half of the SMA sessions. I'm excited to be going home because then I can look forward to coming back next year. I spent some time bonding with Nathan over the white water rafting trip with him being in both my van and my raft, plus going out sometimes at night to take photos. I would definitely say I left camp this year as a changed person. I had experiences that I usually don't come into contact with. This session was an amazing experience. I am happy to say I came this session. Peace out session 2, 2018!
Georgia Millman-Perlah
This is my 3rd summer here at SMA and as amazing as the last two summers were, this has by far been the best summer I have ever had. These two weeks have gone by so incredibly quickly that I am so surprised it has actually been two whole weeks. Arriving at the north east van two Sundays ago legitimately feels like yesterday. Looking back on my time here this summer, I am so genuinely proud of the memories that I have made and the friendships that I have built. It is so hard to believe that I have only met a few of the people here less than two weeks ago.
This has also been a session full of firsts. My first time not falling out on the Yough, my first time sleeping under the stars at the wakeboarding overnight, my first time participating in paper plate awards, and my first time truly appreciating nature and the beauty of being disconnected from the outside world. Even though like half of camp is broken, it doesn't matter because everyone is so amazing and supportive. Thank you SMA for making 2nd session the best session of my life.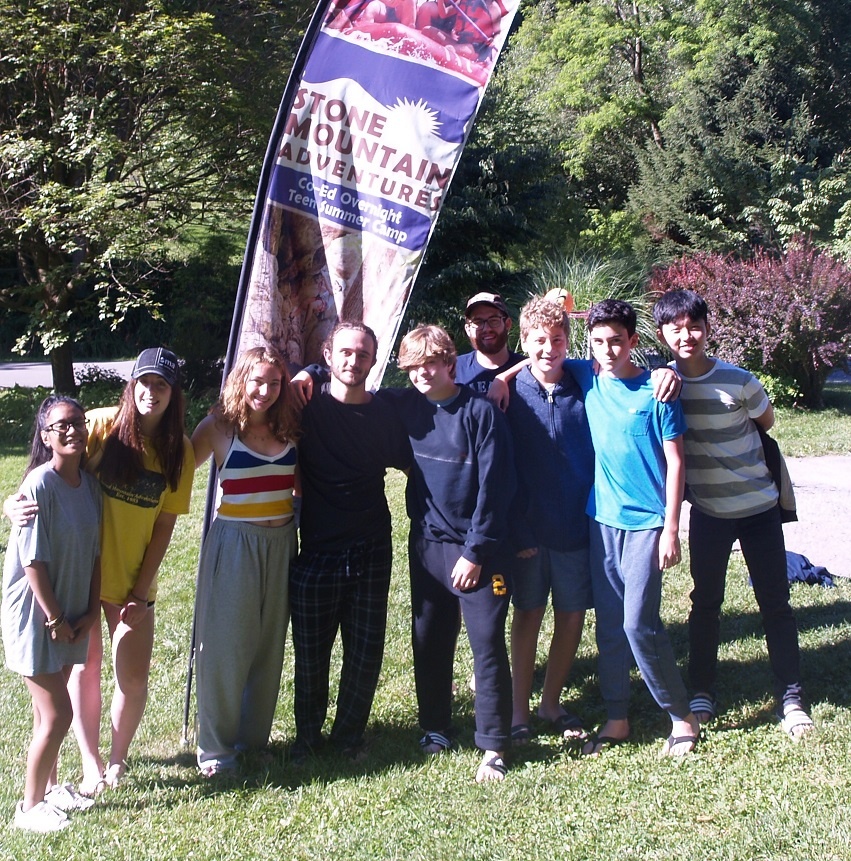 Liz FN
This session flew by. I was here for 1st session so it was nice to meet a bunch of new people who had such a great camp vibe. My highlights of this session were the 2 overnights I went on. The hiking overnight was great until it started thundering & lightening and we didn't know where we were. It's fine though because Trey wrote a song about Sheetz and we had the best cuddle puddle. On the wake overnight we all shredded the gnar. Tessa went a little too hard and got concussed. The sunset was incredible and so was our hammock stack. Georgia T. left (RIP) but she is still here all of the time. The dance was awesome because everyone committed 100%. I've had glitter all over me all session and I think I'll never get it off. Ethan was the only 4th year so 3rd years got to do 'what they say, what they mean'. SO FUN. I'm excited for 3rd session but I'm so sad to say goodbye to all of these amazing people. I'll never forget this session of full sends.
Olivia Chamberlain
My first session at SMA has already impacted my life in so many ways. I have met so many amazing people and have made unforgettable memories. I have learnt selflessness, kindness, and much more to a point I couldn't even dream of. The canoe overnight was the highlight of this session. I had so much fun with everyone and I will never forget it. I am so excited to come back next year!
Jordyn Bitton
I love Mattawanna. The highlight of my session was how amazing my cabin is, they are very supportive. I pulled my thigh muscle full sending it up the hill. Shout out to my favorites Lebo, Ellie, Swags, and Helen. I did a lot of sup and sail and barely rode, its chill tho. I'm sad it's my last year. I will be back in 2022 tho fo sho! Phebe is a baby what the heck. I love Liz. Ethans pretty cool. I'm happy I got close with Lydia. Izzy moved into Mattawanna which is cool. Georgia M is an angel among us. Will B is without his tire. Multiple boys have painted nails its gr8. Till next session.
Cedar Cox-McAllister
This was my second year here at SMA. I came back second session instead of first. I expected to feel this change way more than I actually did and camp was the same beautiful, freeing, welcoming place I remembered. This summer has taught me a lot about myself and I've realized I'm not exactly who I thought I was and I don't want certain things in relationships that I thought I did before spending the summer with old friends and so many new ones. It has changed me and how I'll interact people moving forward. On the actual camp side of things, I always love coming back to camp and having my days filled from start to finish. I'm in my element here and I got to do activities I'd been looking forward to all year (canoeing, volleyball) and found some other favourite activities as well (wakeboarding). In the end, there's never a time at SMA when I'm not completely at ease. Even when my expectations for things to feel the same weren't fulfilled, I was comfortable with my new experiences and even when previous friendships were tested I was comfortable enough to confront my feelings and it definitely taught both of us things about ourselves. I'm staying for half of session 3 and cannot be more thrilled!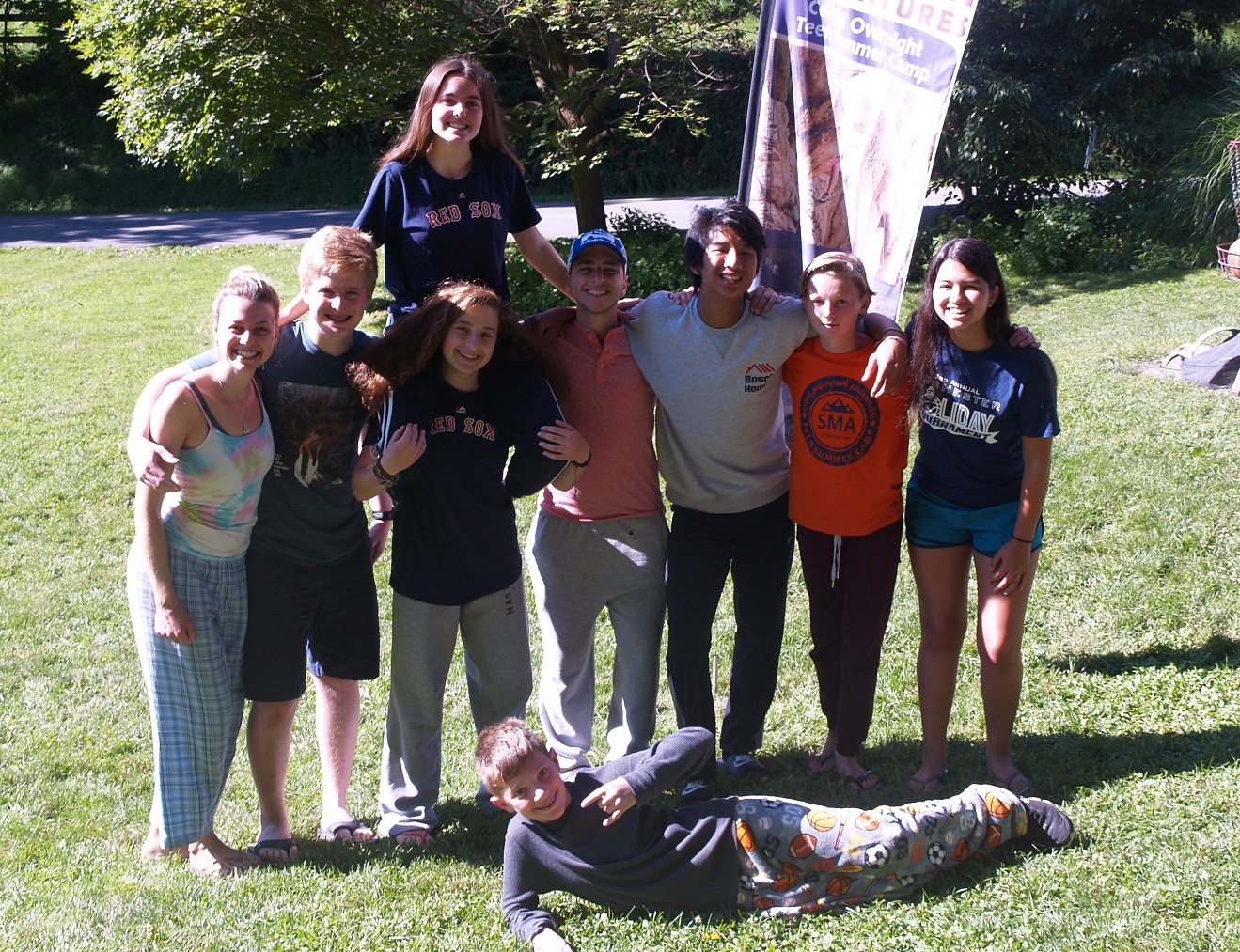 Izzy Kough
This is my second year at SMA. I had the most fun being with all the people I met here. Olivia and Jordyn were the first people to run to my car along with Jess and Cass. I loved doing bingo for community service. I had lots of fun in both cabins. Beth and Ash have been so fun to be around. Cass is the best (I was told to say it). But second session has been so much fun, much love!
Priya Natarajan
Session 2 was so much fun! I only got here halfway in, but everyone was super friendly and accepting! I made friends pretty easily and everyone was so kind and helpful about what goes on at camp. My bunk was awesome. I tried white water rafting for the first time ever, and it was amazing! I personally think falling out was the best part. The counselors were amazing, and some people at SMA were of different cultures and/or lived in different places, so it was fun to learn about new things! The whole camp environment was very welcoming and inviting. SMA has a music studio, which was one of my favorite things about camp because music is one of my favorite activities. Overall, SMA is a great experience and I hope to come back again.
Lydia Mills
I started my first session at SMA 2 weeks ago. At first when I came here I wanted to go home, but after a while I started to like it a lot and enjoy my time. Probably the best part of this camp is my relationships with the counselors. They are adults who helped me know what the right path is. They helped me in ways they don't know like when Ashleigh would hug me and the deep conversations Beth and I would have on the hike, Matt's singing, and Diego's jokes. This camp was truly a great experience for me. This place helped me with my OCD and panic attacks and showed me I don't have to keep those issues to myself and I am able to tell people about them. Also, the people I met are great. I will keep this in my heart forever. Thank you for showing me your color SMA <3.
Cao Trung Kieu (Karl)
This is my first time I came to America and SMA. It was so wonderful, campers and staff in SMA so funny, good and cute... I met new friends in different country and I love it. I'm 17 and this November I'm 18, so this is my final summer camp. I like the activities, it taught me skills in survival, made me healthy, and made me improve my English when I talk with friends here. I want to stay here in session 3. I don't like myself if my English is not really good, I can talk more stories with my friends or staff in SMA. Thank you making my summer awesome.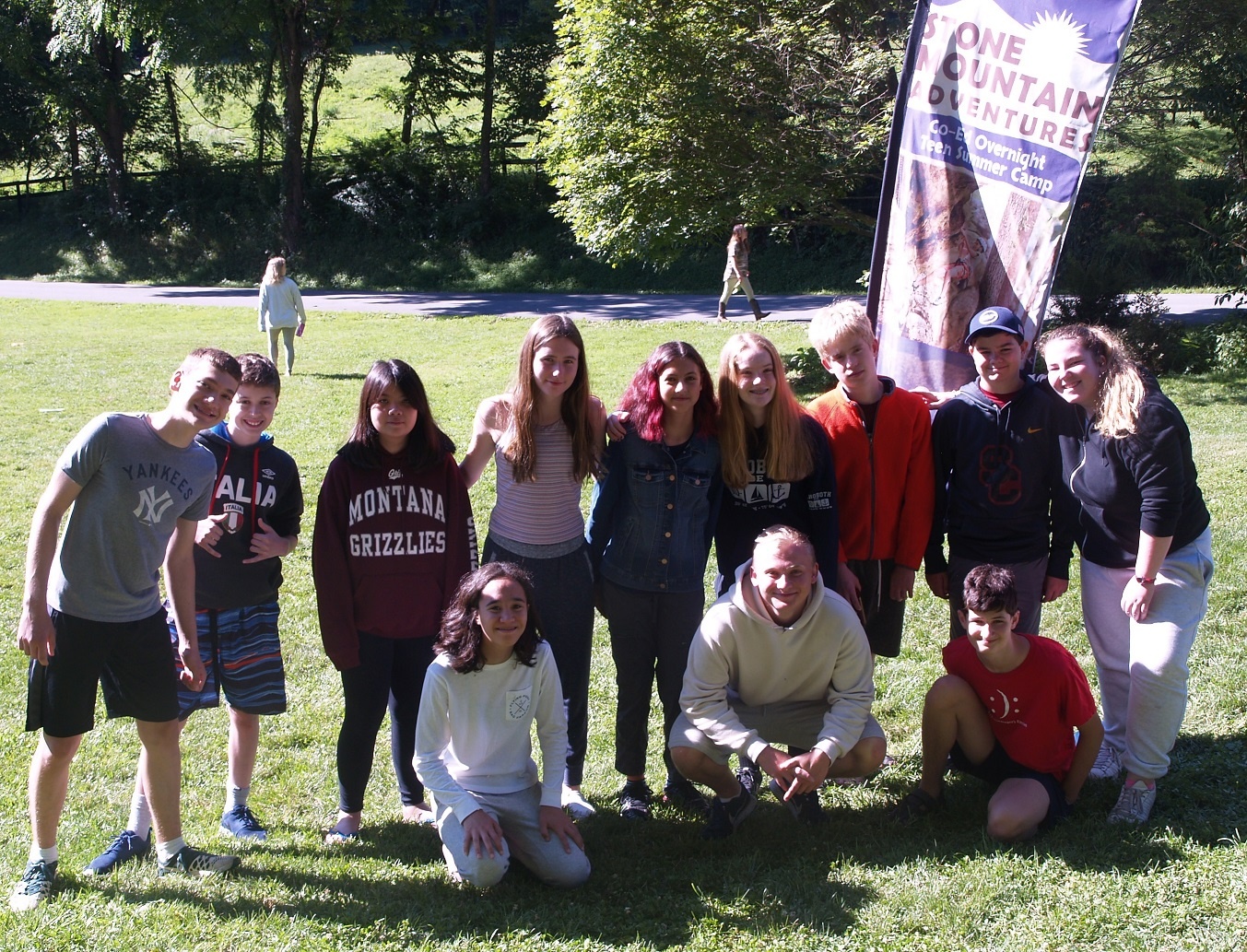 Mila Nowlan
This session started off rough, but the counselors were there to listen to me and comfort me. Beth, Ash, and Helen were the best and helped cheer me up. When I was told I couldn't go home, it changed me slightly. After that I began to clear things up with other campers and had more of an experience. I had a ton of fun on white water rafting and all the times after activities because everybody is just chillin'. I'm honestly going to miss every single girl in Mattawanna because they were the girls I was closest with and always had my back. I'm glad I'm going home because I miss my dad and sister so much and need to go to the cemetery to tell my mom how this trip was. I'm going to miss everybody and hope I never lose anyone here.
Matthieu Soulier
I was here for the 1st session so I wasn't very shy and met friends quickly. During this session we were a little more people so the counselors were more strict. We did lots of fun activities like rollerblading, white water rafting, laser tag, and Jud games. We did a more emotion activity called the 'candlelight'. This session as very good and funny, I hope to come back next year. Thank you very much for all the amazing staff and Jud and Anne.
Morgan Oxenreider
My first session of my last year at SMA was amazing. This session, many things went wrong, but we survived. This session was filled with many cuddle puddles, dance parties, party vans, and awesome friends who returned and the new ones that I just met. This year I survived the first session with NO injuries (I know I'm shocked too). This session our dance theme was high school prom and the cabins competed with the others to see who could dress the best and the winner got a prize. Olivia from Cali made some bomb avocado toast for us. My heart hurts that this is the last session with the same group of friends I've had for years. Hoping one day we can all meet up and remember the good days at SMA. I'm excited but nervous for session 3 but I'm sure my last session will be great!!
Cece – Vietnamese Guide
Xin Chao!!
Hello from Vietnam, the other side of the world. We have some different cultural backgrounds, that's why my campers and I, as the group leader, found it kind of hard to get used to the environment, food, and all the people here. Sometimes, I felt it hard and maybe a little bit isolating to be in a huge crowd of American people. Well, it was just the first few days. The camp counselors, you guys, so amazing, thanks for your help. Especially Matt, Nathan, Jess, Beth, Ash, Cassie…thank you so much for suffering from us, haha. We enjoyed camp activities here. Me, crazily love rock climbing and biking. And the first time, ever, I witnessed, by my eyes, a waterfall (in Ohiopyle). So awesome! But I still have to admit that the activities are kind of a struggle for us. We do not often have them in Vietnam, maybe not at all. Finally, Thank you so much Jud and Anne. You two helped us so much and spoiled us with most of our requests every day. Sorry! Thank you again! Hope to get the chance to come back here. XOXO.
Timothee Lafeuille
For me, this session was just amazing. I met some incredible people and spent some amazing moments with them. My favorite moments this session were definitely all of the moments on the boat with the wakemasters but also the few games of soccer that I played, and the amish market. I'm also very proud of myself because after the first session I was sad because I found that I spent too much time with the people coming from France. So, I'm really proud of myself because after this second session I can say that I spent the whole session with the Americans. Because of that I was able to improve my English which was my mail goal for this camp.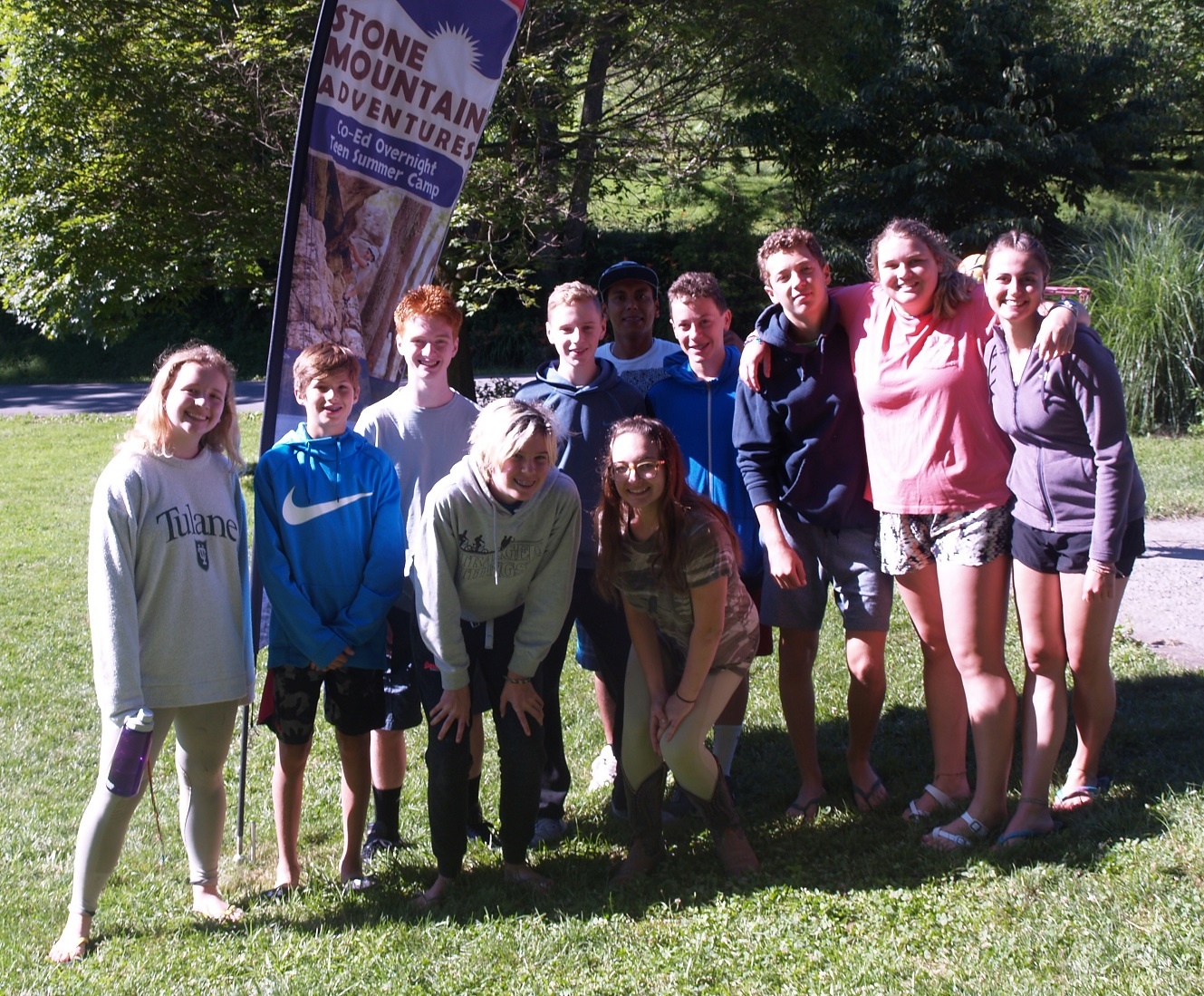 "Moon" (Hoang Lan)
I have been staying in SMA for 2 weeks, and it was really a good time. Firstly, I had a homesick and really difficult time to make friends, I had to do activities I don't like…But when I tried it, I thought it fun. Biking is so fun, but I want to have more time for biking. Canoeing and hiking…it was so scary. Secondly, I meet a lot of people like Jud, Anne, Matt, Beth, Ash, or campers like Rose, Sophie, Asher, Ryan. Finally, I am glad because I find joy at this camp, its really an amazing time. Thank you SMA!
Lan (Minh Nguyet)
I stayed here for more than 2 weeks. I found all of the campers very friendly. There were a lot of fun things, every one laughs every day, that makes me so happy. The activities are quite dangerous but I still enjoy it. My favorite activity is biking. It was so much fun when we passed the campers while they were doing the white water rafting. My secret friend made me feel so many emotions, I'm very curious about my secret friend, they gave me a friendship bracelet which is so pretty, a bag of gummy bears which I ate and shared with the others. The most important memory that I won't forget is Jud saved me when I was canoeing. It was pretty fun until Jordan got to my boat to be my partner. I'm impressed by Jordan's paddling skill, but I'm also worried because we were so fast. We crashed into a big rock and I fell down. It's not Jordan's fault, it was also my fault for not helping him. The moment when I fell down, and the boat blocked my way, plus the current was so strong so I couldn't get out. I was so scared because my butt hit more than 3 rocks and I'm scared if I can't breathe I can die. But luckily Jud saved me. Overall, I learned so many things from SMA camp. Thanks for giving me a best memory that I can't forget. 😊
Livia Boulding
Session 2 was a lot of fun. This will be the first time I've stayed for a month. Horsemasters was great and I learned so much. This session I tried mountain biking and wakeboarding. They were both super fun. Laser tag was also great, even though Ellie and Beth got us lost on the way there. Performing in the talent show with Priya, Alyssa, and Phebe was also great. I can't wait to come back next year!
Will Brandes
Session 2 2018 was a blast! One of my favorite activities was the canoe overnight. I had many memorable moments playing volleyball and during SUP & sail. This session I learned so many things about friendships and cultures of other countries. I met so many new people and I cannot wait to come back next year!
Ethan Apparies
How would I describe session 2 2018…FULL SEND. I wanted a whole wheel roll down the hill from Mattawanna. I performed in the talent show for the second or third time in my 4 years here. I was also the only 4th year camper, and over the years I've seen camp change a lot. I have a lot of memories from different sessions, and this session was definitely one of my favorite sessions yet. The vibe was just so positive throughout and camp was just so upbeat all the time. This session was amazing, and helped me learn a lot. It was also nice to disconnect and reflect on my year. I really loved this session so, so, much.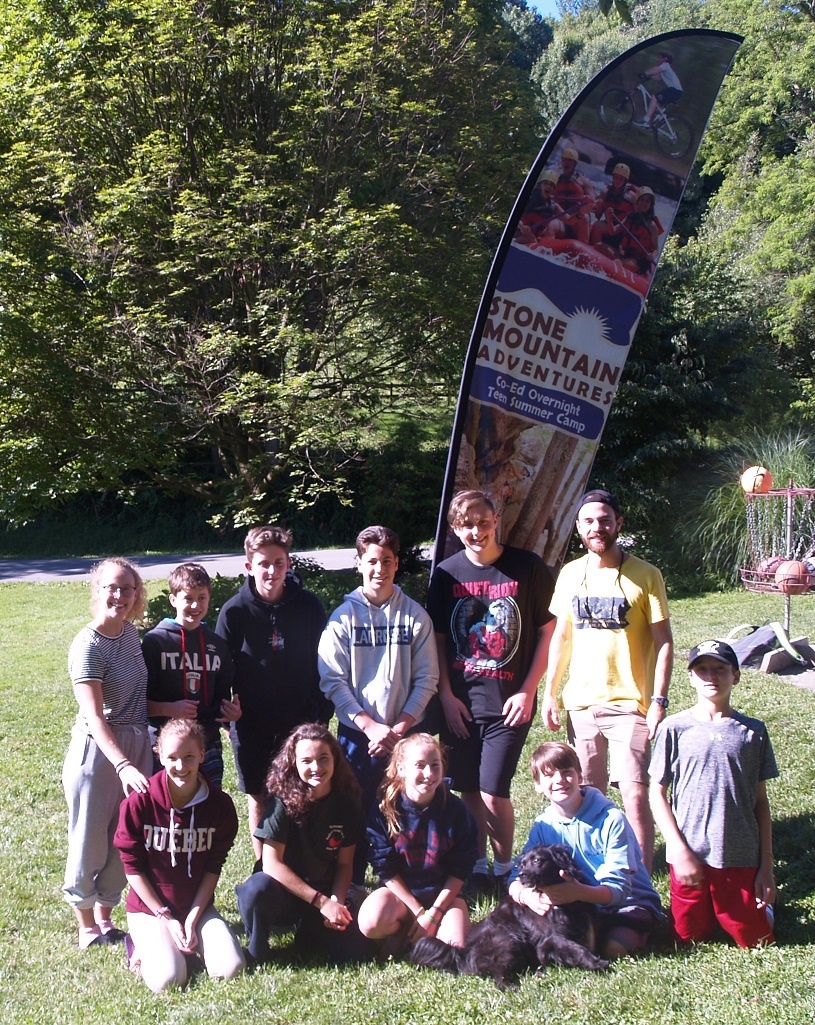 Rose Reohr
As a new camper to SMA, I was a little nervous about the whole ordeal of making friends etc. However, everyone greeted me with a warm welcome and I soon made a ton of new friends, including counselors. SMA isn't a normal camp, it's a family of people from different places with different pasts who unite together. There are so many different experiences that no other camp would do such as candle light, overnights, wearing bunk junk, and the Amish market.
I enjoyed many activities such as wakeboarding/waterskiing, soccer, any of the sports, music jam, canoeing arts and crafts, and especially white water rafting!! I had an amazing two weeks at SMA and I hope to come back next year!
Sophia Ferris
Session 2 was amazing! I made so many new friends and I had so much fun. My favorite activity was horseback riding and I really want to be a horsemaster next year. I will miss everyone at camp so much and I wish I could stay here forever! I will miss all the animals, especially Jack and Peter Rabbit. I am so sad that many of my friends and counselors aren't coming back next year but I know next year will be just as amazing! The whole camp environment was very warm and welcoming and there is nowhere else I would rather spend my summer.
Cooper Buck
My first year at this camp has been great. The trails for bike masters are so nice and the bikes here are amazing when compared to demo-bikes. I love the size of this camp. It is big enough to make friends and small enough to feel like home. Going to Walmart is the best. I am very excited to come back next year.
Annabelle Chase
This was my first and last 2 weeks at SMA. I was recommended the place by my friends Cedar and Tessa. The first day here was shocking. I was so surprised how open and welcoming everybody was. Right when I stepped out of my car I was greeted by returners who told me this would be the best 2 weeks of my life. I've had some amazing experiences and met even more amazing friends. There is no other place in the world where you can bond this much with people in just 2 weeks. I'm so glad I ended up coming to do fun activities that I had never done. In the end this was definitely one of the best 2 weeks of my life and I'll miss this place so much.
William Serlin
This is my 3rd year and 5th and likely final session. It is amazing to me that I have been to this camp for so long, I remember my first few days at SMA and being extremely homesick and anxious about being here for 4 weeks. However it was an incredible 4 weeks and I ended up coming back for 2 more summers. My memories from Stone Mountain Adventures will never leave me and I will always remember this place. I don't know if I will be back next year or as a counselor some day or maybe bringing my kids here someday. I do know that my SMA experience has changed my life and has left a lasting impact on me. I would recommend anyone to come to SMA because it is such an amazing place filled with memories.
Ty Hillman
My time I've had at Stone Mountain Camp is the best camp I've ever been to in all of my years. The reason I like it so much is because I've never been to an overnight camp, where I've stayed for more than two days and have not known anyone there. My favorite activities were sup n sail, art studio, volleyball, ultimate, hiking, laser tag, gaga, and wakeboarding. One of the best things about things about this camp is the counselors that are here. They always make you feel warm, welcomed, happy, and always active. As I go on to session 3 I hope I can do more activities, make more friends, and always be happy.
Connor Westerlund
Camp has been really fun. Being able to try all new activities was amazing. Wakeboarding was definitely my favorite activity here. Going on a speed boat and riding the wake was very fun. One of my most memorable moments was finally getting up on the wakeboard for the first time. I've learned how to throw a frisbee and how to wakeboard. I am happy to come back next year if I can hopefully, but I am going to live in the moment and live out my life.
Dylan Port
Camp was fun. This was a lot more fun than my last camp, which had 200 kids (all boys). This camp is a lot more open, like a community, not a camp. I loved the wakeboarding overnight. We all slept under the stars, and witnessed several shooting stars. I also enjoyed rock climbing, white-water-rafting, and all evening activities. This has been a great summer.
Rebecca Wieman
I think 2nd session was amazing. I learned so much from being at this camp. My favorite thing at this camp was meeting new people because after meeting new people I've learned how to be more confident. People at this camp don't judge you. The activities are also great. I think the most important thing at this camp is knowing everyone is here for everyone. No matter who you are we're all connected as a family.
Sam Werkmeister
My favorite part about this camp was all the activities. I was surprised how quickly we were always doing the activities and not spending half the time preparing for them. My favorite activity overall was whitewater rafting. Also, I was really surprised at the quality and condition of the mountain bikes. The trails at Allegrippis and here at SMA were great. I love dhow I was also able to go on a wakeboarding overnight even though I was a bikemaster and not a wakemaster. The atmosphere at camp is also really nice. I love the concept of Power Hour. One of the coolest parts of camp was the buffet style meals, the desserts after every dinner, and (most importantly) the late night snack.
Overall, Stone Mountain Adventures is an amazing camp with all kinds of activities that everyone can enjoy.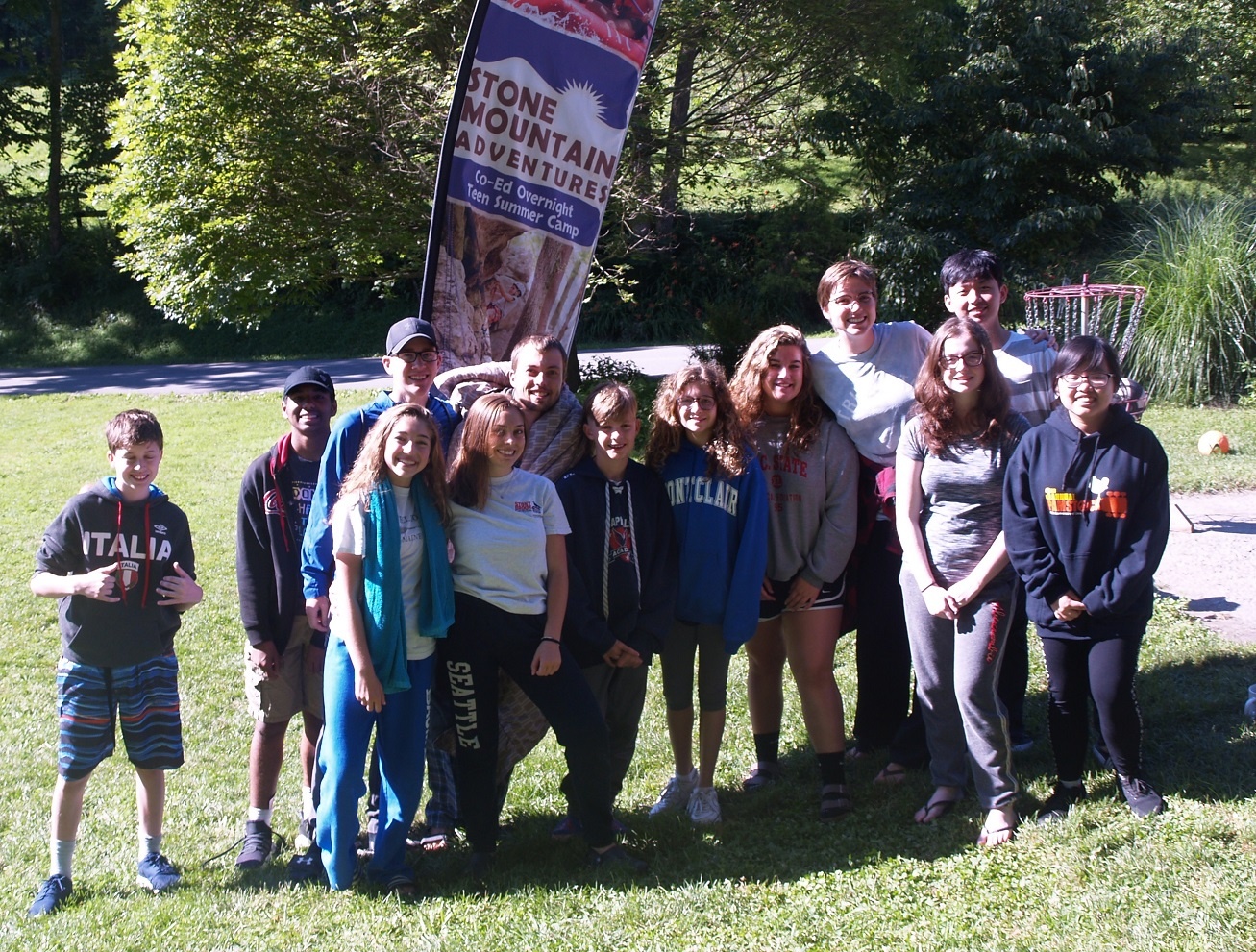 Tessa Small
I Love SMA! The connections I made with people are so deep and honest; I know they will last forever. I am so incredibly thankful. As a second year camper I realized how important the relationships we make are. Everyone found themselves and helped each other grow as individuals. Im blessed to have gotten close to all the councellors. From morning talks on the swing to spending all Yough day with Jess, I look up to all the "adults". Our activities were obviously amazing; horseback riding, rock climbing and moon-bathing. The memories are irreplaceable. This oasis will always have a large spot in my heart. #fullsend #iconic
Cannon Clarke
Tussey Rules! This was my first time at SMA I had a great time doing wake masters and the bike trail. I got up on the wakeboard for the first time! I got to help on the bike trail and then try it out and it was awesome. I made some friends and got some letters from my grandparents and cousins. I will for sure come back next year.
Benjamin Reohr
SMA session 2 has been great! The first day was a little slow because I had to make friends with new people I had never spoken to in my life!. However SMA possesses a bonding atmosphere that guides campers into becoming friends almost immediately. As an outsider one is drawn to this camp for the mountain biking on the Allegripis trails, wakeboarding in Raystown, the rock climbing, camping overnights etc. however, as a second year camper the main attraction of this camp is meeting and hanging out with a community of quickly developed friends. You will never be bored here or upset for long. SMA is a camp full of "warm fuzzies" with amazing people who you can confide and trust in.
Jud inspires a constant positive attitude at camp and the councillors are great people who are really passionate about the camp experience. Throughout my reflection I have stressed the importance of the SMA camper spirit from bunk junk, Jud games, the dating game and Matt Lebowitz jamming on the guitar, SMA is a perfect camp to attend. The engaging and adventurous activities that we do at camp are a bonus. If you go to SMA you wont regret it.
Rob Chase
My favourite part of camp was jumping from raft to raft on the Yough while humming the pirates of the Caribbean theme song very loudly. I also deeply moved by being serenaded by Matt Lebowitz with "The General" on the wakeboarding overnight. SMA has many fun activities but my favourite ones were the evening activities.
Graham Engel
I enjoyed the overnights because of the amazing camping experience and traditional food. I had many memorable moments during session 2, some were the canoeing overnight and rock climbing. I have learned many helpful skills about friendships and trying many new activities. I am very excited to come back next year and meet even more new people and do many more exciting activities.
Gavin Spain
My favorite activity was wake- masters. It really helped me improve my skills. I made lots of new friends and had a blast bonding. This was my first year at this camp and it was amazing. I will definitely come back next year. Thanks to all of the amazing staff!
Benedict Mattingly
I didn't know what to expect from session 2 at SMA, but what I got was really wonderful. Making new friends and sharing experiences with them really made my time here amazing. One memorable moment I had at camp was learning how to wakeboard, and being able to get up and stay up for a little bit. The activities I participated in were exceptionally fun and I would love to come back again.
Sam Alprin
I enjoyed the wakeboarding overnight because I got to be with my friends and we got to do fun things. I also enjoyed rock climbing and sup and sail. My memorable moments were getting up on the wakeboard for 60 seconds and also going on the white water rafting trip. I have learned that it is easy to make new friends because by the second day I knew everyone. I am very excited to come back next year.
Asher Coughlan
This camp is much smaller than the other camps I have been to and I love everybody at SMA. Almost all of your activities never confine you to a group. Everybody is friendly with everybody. The small group lets us also travel to awesome places. We had many local lakes to catch fish, play volleyball and swim happy with the amount of freedom we get to play foosball, basketball and pool at camp. Amish market was also a blast with 25cents expired slim jims. I am excited to come back next year.
Jared Rapaport
During session 2 I ate an entire half of a watermelon. I took a bite out of an onion. I liked our trip to get ice cream as an evening activity. I belly whomped behind the boat and did good. I had lots of fun with Rob and Natalie. I enjoyed invention convention and Walmart. I liked all camp day and white water rafting .I also loved secret friends!
Ryan Hicks
I did enjoy this session. I came in nervous about making friends but everyone was super nice. I learned how to wakeboard and learned more about the game of pool. The evening meetings were always awesome. My favorite activity was wakeboarding. The best part of camp for me was going roller- skating. I also especially liked the overnights as well. I cant wait to come back next year and the talent show was amazing!!
Marie Romero
During session 2 of SMA I had the time of my life. I tried out Horsemasters and I loved it! I decided to continue and I had so much fun. At first I rode Ebony and then Bebe for a while. On the last day I rode Jewels and was able to trot on my own. At home my mom doesn't let me take lessons, so being able to ride here was absolutely amazing. The trail rides were also amazing and so peaceful. SUP and Sail was amazing, paddle boarding and kayaking were so much fun! Even swimming and just floating were amazing. White water rafting was SO MUCH FUN! I only fell out once and it was still fun. My memorable moments were no being in the picture for rafting , playing my uke in the talent show along with Phebe, Alyssa, Priya and others. I have learned so much specially during Horsemasters. I am excited to come back next year, hopefully for longer!
Aron Barr
I have only been here for a week, but I'll still had a great time. I really enjoyed whitewater rafting on my second day and we had the best raft. We came first in the final race by a good 10 – 15 feet and it was awesome. I instantly made connections with people like Rob and Jared, and felt like I belonged. In the few days I have been here I have done rock climbing, ultimate frisbee, visited the Amish market and even hiked 1000 steps in the middle of a huge rainstorm. On the hike I slipped a good many times and almost passed out but it was still fun and I can't wait to do it again next session. Ihave had a great time and I'm going to miss the people who are leaving. On the other hand I'm really excited to meet the new campers and I cant wait for the start of next session
Grace Boulding
I loved SMA. This was first year and it was full of new experiences and people. I participated in Horsemasters, since I ride at home I enjoyed spending time with the horses and Pam was a wonderful instructor. I also branched out a bit and decided to do rock climbing which I've never done before. I only got about 6 feet off the ground, but the whole experience was a blast. I'm sad I never ended up doing tye-dye but the fun during rafting honestly made up for it. I really learned how to open up , and reach out to others at SMA. I made so many memorable moments with such wonderful people. I'm so excited to hopefully come back next year and make so many amazing memories. I'll miss you SMA!
Phebe Herlocher
Here at SMA I've had the best 2 weeks of my life! I got to take a break from drama and problems at home and just have fun and build friendships. There is so many fun activities like wakeboarding, "non competitive volleyball", fun overnights and white water rafting! My favorite day is all camp day because we spend the morning together and then branch off to do community service before a great BBQ and secret friends. Another highlight is the dating game and small candlelight. I cant wait to return for my 3rd year at SMA next year.
Helena Flinchbaugh
SMA this year was so fun! Though I had a rough first few days with homesickness and adjusting to a constant presence of spiders on my things I wouldn't have missed it for the world. Also, even though I came here for mainly Horsemasters, which was definitely my favorite activity and I hoped it would be, I found many other things I enjoy as well! Shout out to canoeing , white water rafting, and apparently I can sing! Despite being super nervous to come to camp where I knew none of the counselors and campers. I met some crazy and awesome people in the best ways. At every other new place I've been in I'm normally super shy but at SMA you're sort of forced to make friends and get out of your comfort zone. This year was awesome and I look forward to coming back next year.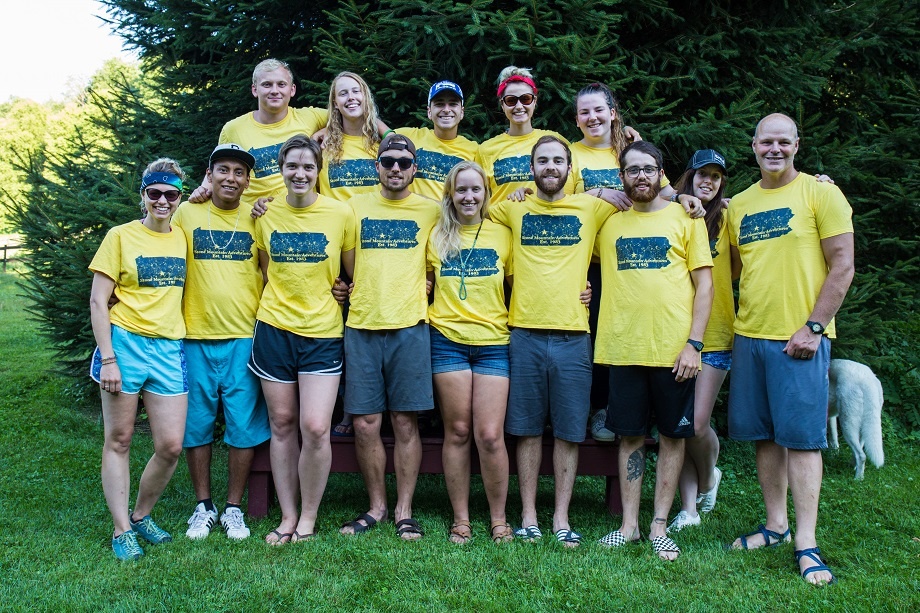 Staff Reflections
Tim- Boston, Massachusetts
From playing volleyball in the rain to riding bikes on the rail trail, this session was a blast! It was so much fun getting to know everyone and sharing so many special moments. Some other highlights were a beautiful day on the Yough, stealing Daniel's lava boots, swinging on the rock wall with Sophia, bamboozling the furnace, discovering Tessa and Alyssa eating half a watermelon each, spending time at the glen, building the bike trail with Cedar and the boys and playing soccer with matthieu, Ben and the rest of the team. I hope everyone had an excellent summer and take these memories for the rest of their lives!
Ellie- Princeton, New Jersey
Session Two was a whirlwind! As they say…time flies when you're having fun! I loved getting to know each and every amazing camper who attended session two 2018. It will be sad to see so many friendly faces leave, but that is what is so rewarding about working here at Stone Mountain Adventures – the connections you make with those you are with every single day for two weeks (or more). Being a counselor at SMA so far has been an incredible experience…I cannot wait for what is to come!
Ash- Cheshire, England
I just can't believe that session 2 is coming to a close already! It only feels like yesterday that we welcomed all the campers. It has been such an AMAZING second session with so many memories, warm fuzzies, and the most incredible new friendships. I've really enjoyed strengthening my friendships with the campers that stayed on from last session and getting to know all the new ones. You guys are the BEST and I'll miss all of you. White water rafting was my favourite activity once more – especially being torpedoed out of the raft by Jud's raft into the second hydraulic, then getting to ride the rapid in my life jacket – Youghiogheny swim team SAY WHAAT! Other highlights were the hilarious talent show and the dating game. I'm sad this session is over but there are still 2 more to go – YAY!!
Beth- Cheshire, England
Session 2 has absolutely flown by; it's crazy we are finishing up and will shortly be transitioning into session 3. Session 2 has had such a wonderful energy and I have really enjoyed spending quality time with the campers – we've had such meaningful heart to hearts and some really good laughs. A highlight of my session was laser tag – I loved running around with the red team, hunting down the blue team, and giggling so much – the campers were awesome, super skilled and super stealthy. I absolutely loved the talent show. The acts were moving and hilarious and gave me all the feels. Thank you Lan + Cici for playing, Yiruma on the piano. Thank you campers, counsellors for giving me an experience to remember. Roll on session 3!
Cassie- Shropshire, England
Session 2 has been amazing! I'm very sad to see it end. All the campers have been fantastic and I'll be sad to see them go. My secret friend has been ace this session! I got lots of lovely and funny gifts. Again, rafting was amazing, and we didn't tip on Dimple woohoo! I have enjoyed being a bunk captain, so thanks Rothrock girls! Another big thank you to Debbie and Izzy for filling my days with hugs and laughter! I'm excited for session 3 as well as sad to see the campers of session 2 go. Bring on the rest of the summer! AMAZING SESSION!!!
Nathan- Belfast, Northern Ireland
Session 2 has gone by in the blink of an eye and its been so much fun. The mountain bike masters have smashed it the last two weeks, which has been great to see. Some of the highlights for me have to be the wakeboarding overnight, the talent show, the all-camp day, shooting star photos and definitely digging the SMA mountain bike trails with the mtb masters in the pouring rain and getting covered in mud (I don't think many of the other campers would have had the same fun we did).
My ukulele playing has come on a lot this session so thanks to all my teachers for that (hopefully I'll have a 4th session talent show performance lined up (lol)).
I'm gutted that this session has gone so fast and I hope that everyone has had the same amount of fun that I have.
Flatt Matt- Albany, New York
If you must blink do it now. Pay careful attention to everything you see and hear no matter how unusual it may seem. This is the opening line to the film Kubo but perfectly fits my session 2 experience. SMA has the tendency to feel much more like a movie than real life. Every moment is filled with action, drama, romance, comedy or any combination of the 4. These moments all have one thing in common, they disappear in the blink of an eye. Session 2 had me constantly questioning how we dare call what we do a job because most days it certainly does not feel like one.
Although the start of a new session was an opportunity for a fresh start in some respects it was also an opportunity to build on the relationships and skills that had been formed during the first session. This session was made special to me by the opportunities that i had to make meaningful connections with campers. Some were serious life discussions about how to decide where to college and picking a career. Others were much more light-hearted about plans for the summer. My favourite of all were the times we got to share a laugh reflecting on our days.
The greatest joy of being a camp counsellor is getting to see the development of campers during their time here. It brings me much joy to be able to share my time, experiences and maybe even a little wisdom with such a great group of young adults.
Matt "Flannel" Lebowitz- Princeton, New Jersey
Second session was full of laughter, gnar-shredding, and music. Just the way we like it.
The wakemasters absolutely tore up Raystown Lake these last two weeks, and the improvement we've seen in our wakeboarders and waterskiers has been phenomenal. No matter how good we get, we always remember to stay grounded (watered?) with a good old bellywomping session.
Getting out on the SMA bike trail to build some berms and get muddy was one of the highlights of the session for me. I hadn't seen the trail since I was a camper and the amount of work that has gone into it since then has been incredible!
Jamming out with Jud and the music jam campers is always a pleasure, and this session I was reminded of how talented our campers are! Not to mention that Jud has also improved his harmonica skills since I was a camper, and it's been a blast playing the blues away along with the wonderful musicians of SMA2!
It was certainly sad to see new friends go at the end of the session, but I'm confident the relationships that we've all built over the last two weeks will endure across distance and time. Until then, we're looking ahead to lots more fun during third session!
Helen- Oakland, California
Whenever I think SMA couldn't become any more special, a bunch of new campers come in and make it all the greater! I loved each and every camper this session so much, and enjoyed getting caught in thunderstorms, going for long walks on the Rocky Ridge trail, and doing SUP yoga, to name a few moments I don't want to forget. Being a bunk captain for Mattawanna was a happy reminder of the two years I spent as a camper in that bunk, and I was able to enjoy some reminiscing on my camper days while continuing to enjoy the presence of a fabulous 2018 staff team and group of kids. My heart is so full, and I will miss this session a lot as I think back fondly on all of the memories we shared together over the past two weeks.
Jess- Dublin, Ireland
Wow! It's hard to believe that session 2 is already over! With such a quick turn around between session 1 and 2, we jumped straight into session 2 and what a great two weeks it has been! Getting to know the continuing campers more, and spending time and activities to with campers new to session 2 was so much fun. Each day brought about new friendships and relationships, and watching them grow and unfold was a huge highlight for me. Having completed two sessions now as a first year counsellor, I have become more confident in my role and had great times, belly laughs and friendships with the campers during second session. The talent show and dating game were two of my favorite evening activities where my cheeks ached from smiling so much and cried tears of laughter! I got to go on the canoeing and wakeboarding overnight which were both great fun with great kids!
Aside from a few thunderstorms changing activity plans, second session was full of great activities in the sunshine. Some of my favorites were volleyball tournaments, soccer, sup and sail and ultimate frisbee. Our incredible staff team grew closer together even more so this session, spending our time on and off together, as well as during crews and activities, we helped make each other's (and the kids' (obviously) second session great! I am dreading saying goodbye to these second session campers because I will miss the connections I have made with them and the fun we have had but I am equally excited to do it all again during third session! Bring on the third session campers, more overnights and another white water rafting trip!
Diego- Oaxaca, Mexico
Definitely the second session was great, people always say that the best comes at the end and this is true. I feel so happy because I have gotten better in many aspects but basically second session was better because I spent more time with the kids trying to know about their, their likes and it was great I really like hearing stories of kids and also that they listen my stories. One of my favorite things in second session was telling horrible stories from Mexico to the kids, and listen the stories of Ben A. in tussy. I like all the activities but white water rafting, climbing, and soccer definitely were my favorite activities in the camp why? well because I like watch kids in rock climbing trying break their fears when they feel afraid with the height or when they don't want keep going climbing and everyone tries to support his/her and at the end they do it, football well I love football and I like play as a team but also I like when I try to dribbling to everyone and I do it is so funny because I can't avoid laugh, I love rafting and I know I am horrible but is so funny when someone falls on the river I think is the best part and is not so bat because when you fall you have a good story to tell someone later, actually could be something that you never forget. I am really enjoying this moment with my co-workers and all campers and I want to keep enjoying.
Swags- The middle of nowhere, Maryland
Session 2 sped by in a whirlwind of emotions and noise. There was so much noise. Especially when a female counsellor walked into furnace and the whole cabin screamed. The Furnace is always a weird and wonderful place. Safe to say, session 2 was a blast.
The energy was so high every day it's the full camp which set everyone's sights on having as much fun as possible. Which we did. We did do that. I especially loved the games of ultimate that I was able to play with everyone being as energetic and into it as one could hope for. All the activities were made so much better with the intense excitement that everyone shared.
The wake overnight that I was able to go on was absolutely amazing. I love going on overnights and getting to spend some quality time with smaller groups of campers. Especially when we all crammed into the van to get out of the rain and then had to order food. It was definitely an adventure though and a super fun one at that. I really love taking campers out on the boat and getting to see them gain success at a very difficult skill to master. All of the campers did an amazing job!!!
Another one of my favorite things that happened in session 2 was convincing all the campers that there was a class 5 rapid on a canoe float. The float that we were taking them on does not strictly require canoes because you really can just float next to your boat and not have to paddle at all. It is a beautiful and peaceful way to spend an afternoon. It is also important at this time to mention that class 5 is the second hard type of rapid and that this was before white water rafting day. Regardless, we convinced the campers, including the class 5 rapid in the safety talk, and generally speaking about it. We told them about an imaginary waterfall and a huge rapid that they would have to get in their boats for. On the actual river there is the tiniest riffle of water and when we, as counselors, went down we screamed and made lots of jokes. Once the campers realized that we were just kidding, there was lots of laughter and splashing and jokes. It was a really amazing day floating down the river, hitting your butt on rocks and laughing the whole time.
The Yough day, as always, was one of my favourites. Just as with the boat, I love seeing the campers challenge themselves and get out of their comfort zone. Yough day always starts with some campers clinging to the raft and by the end, campers are hanging out of the boat in order to get a better paddle stroke. I loved spending the day ripping through rapids with some stellar campers. Jordan's and my boat had a lot of laughs getting down the river!
Session 2's vibe is always one of my favorites. With how full of a session, the energy is always so high. It makes every day so spectacularly fun and puts a smile on my face without really trying to at all. Thank you for letting us have your kids for the past two weeks! I definitely had a blast with all of them!!!