Camper and Staff Memory Book
4th Session Summer 2023
A Note from the Camp Directors Jud Millar about SMA Session 4:
Greetings to everyone in our Stone Mountain Adventures (SMA) family. It is hard to believe that the summer of 2023 has come and gone so fast. It seems like only yesterday we were dusting off the canoes and tuning up the mountain bikes, and now this incredible summer is in the history books. The remainder of August was great, but we often found ourselves playing "remember that time in fourth session... that was awesome!" during our down time.
Campers, we miss each one of you so much, and it's just not the same without you here. We hope you have recovered from the craziness of camp and had an awesome end to your summer.
Parents, thank you for sending your son or daughter to Stone Mountain Adventures. Each member of the incredible SMA Session4 of 2023 possessed fantastic qualities and helped to make the group so special. We had incredible experiences as individuals and as a group – it was truly a memorable session.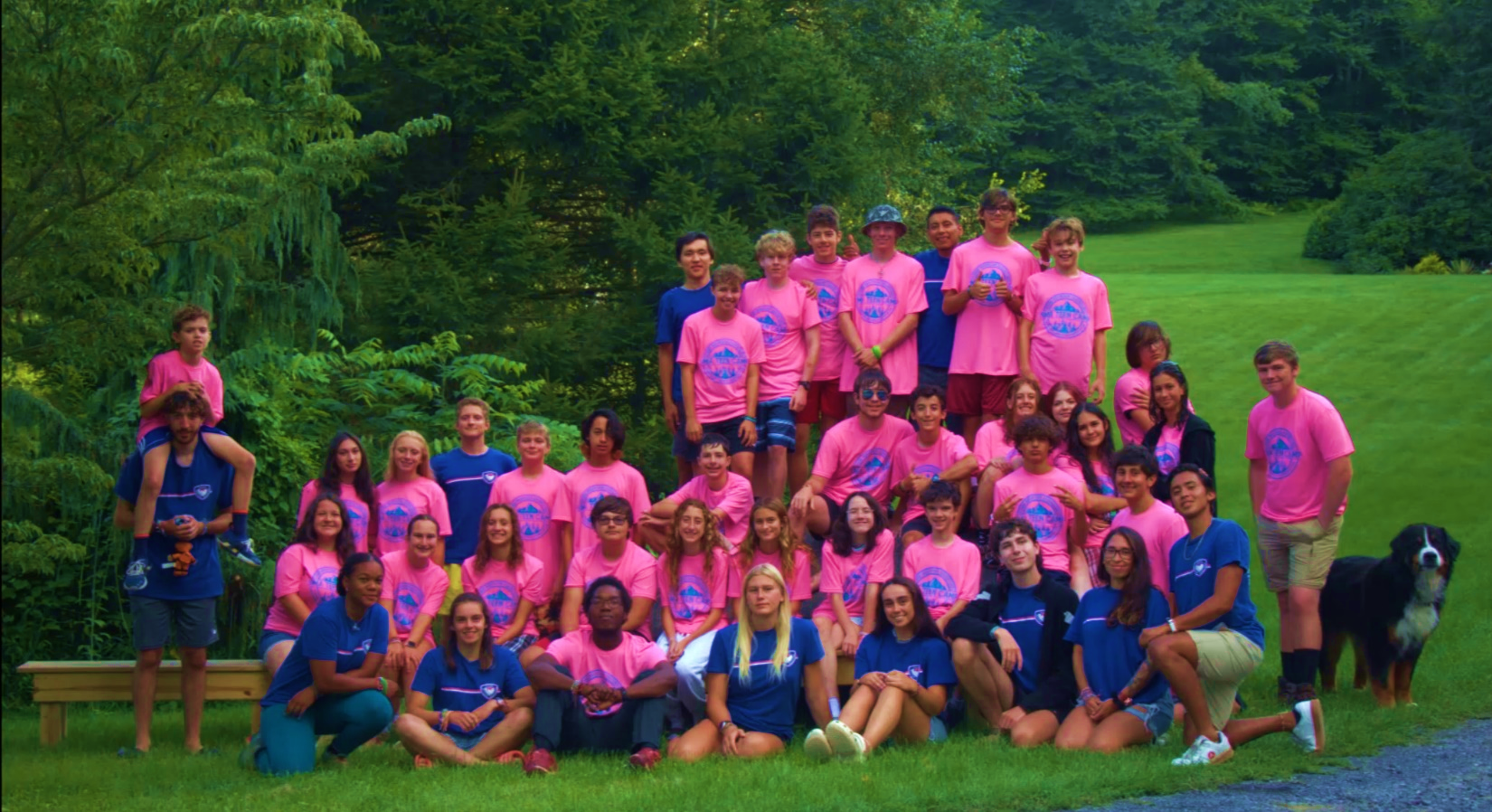 On the last full day of the session we asked each member of our group to take a few moments and "reflect" about his or her experience at Stone Mountain Adventures. Enclosed are the written reflections of campers as well as a brief description of many of the activities that we did at camp written by our stellar staff.
We hope you enjoy this SMA Memory Book and these reflections as much as we do!
Best wishes on the school year ahead,
Jud, Anne, Wyatt, Molly, Pam, Biff, Comet, Jack, Piggy, the Cats, the Horses, the Rabbits & other random farm animals!
session 4 2023 reflections – campers
Henry Ackemann
I had a very fun time doing whitewater rafting.
It was very exciting with all of the water splashing.
Another thing that was very fun was mountain biking because even though I fell a lot it was quite amazing.
One final thing that was super fun was wakeboarding.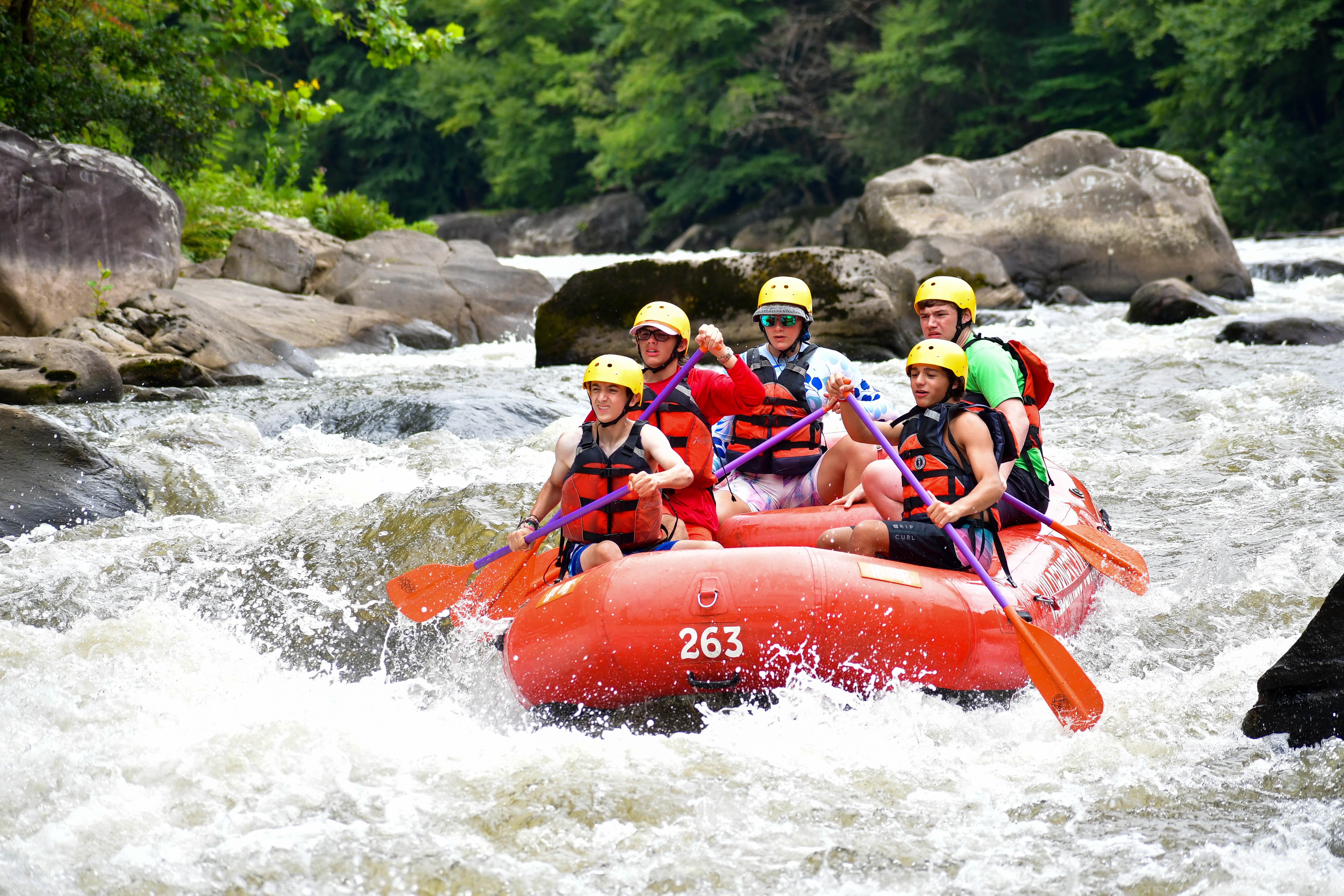 Danny Kachelries
Over my stay at stone mountain adventures I have had many new experiences and made new friends as well. I really enjoyed being on the wake boat as it made me happy to get up on the board and surf the wake. I also had a lot of fun with my cabin and my favorite counselor Matthew. It was also very fun to help prepare the dance and paper plate awards. My highlights were the wake overnight, meeting new people and performing a spoof of sherlock holmes during my talent show.
While white water rafting on matthews crew was also very fun. Overall I have made a lot of new friends and had a lot of new experiences
Connor Cheshire
I had a really fun time.
White water rafting was really fun and we were a good team.
I tried a lot of new things like rock climbing and wakeboarding which were both really fun.
The talent show skits were funny and I want to go back next year.
Fenner Abbey
The dogs are the cutest. Piggy is cute and jack is very loud in the morning but still cute, comet is just the best. I loved getting piggyback rides from Matthew and the dance with everyone I enjoyed too.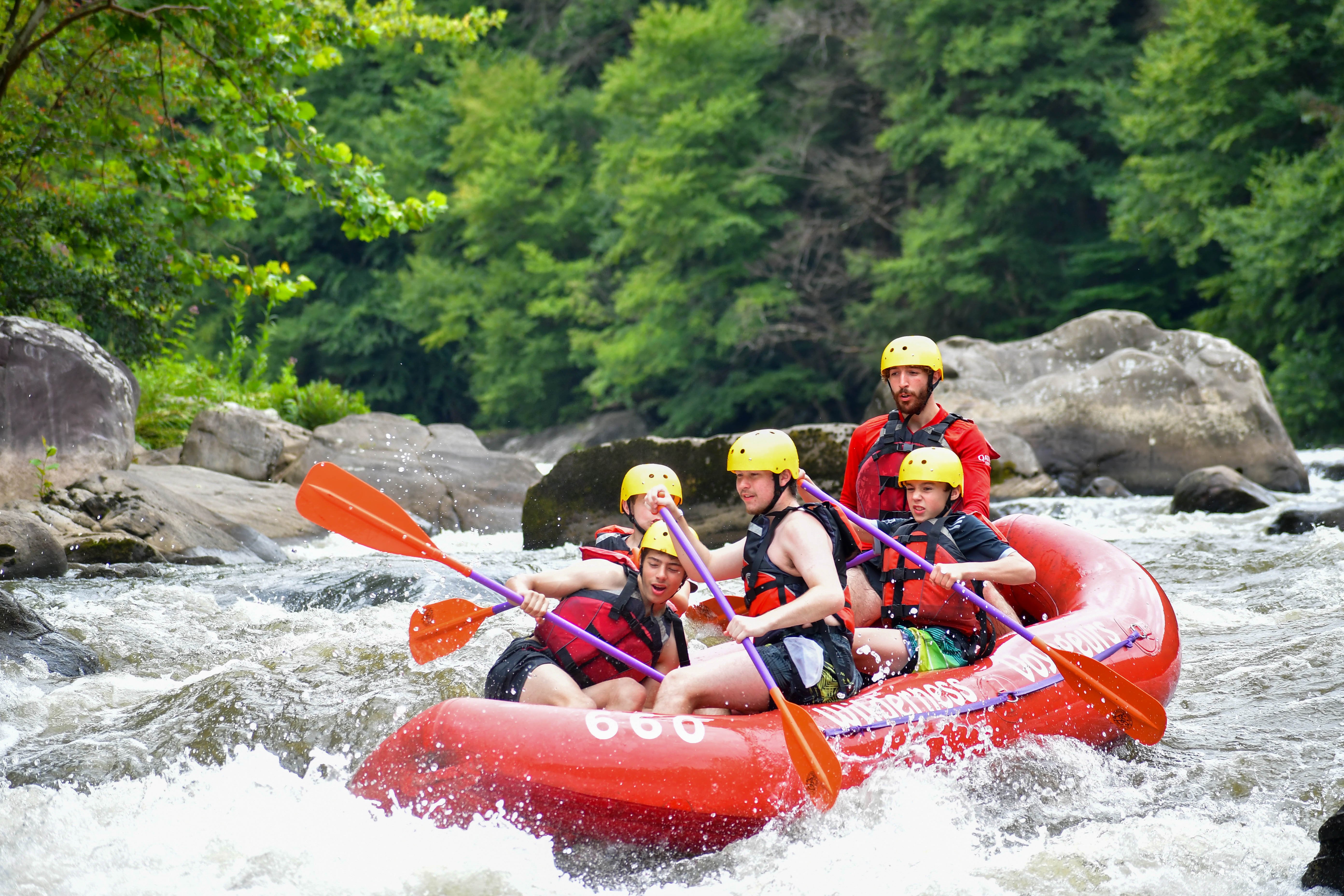 Caleb McConaughey
My time at sma is something that cannot be completely described in words.
A family that ensures you will not become homesick.
Everyone finds a way to see the best in you.
Everyone is valued like they are family.
Everyone that arrives whether it might be for one week or 3 will walk away with an experience that no one will be able to recreate.
This Is why I will always call sma home.
Zachary Bigelow
The overnights were quite fun, sadly we got caught in a rainstorm during the last one, but we continued the wakeboarding the next morning.
The weather in general was neither amazing or really bad.
White water rafting was fun and we got 4th place during the race.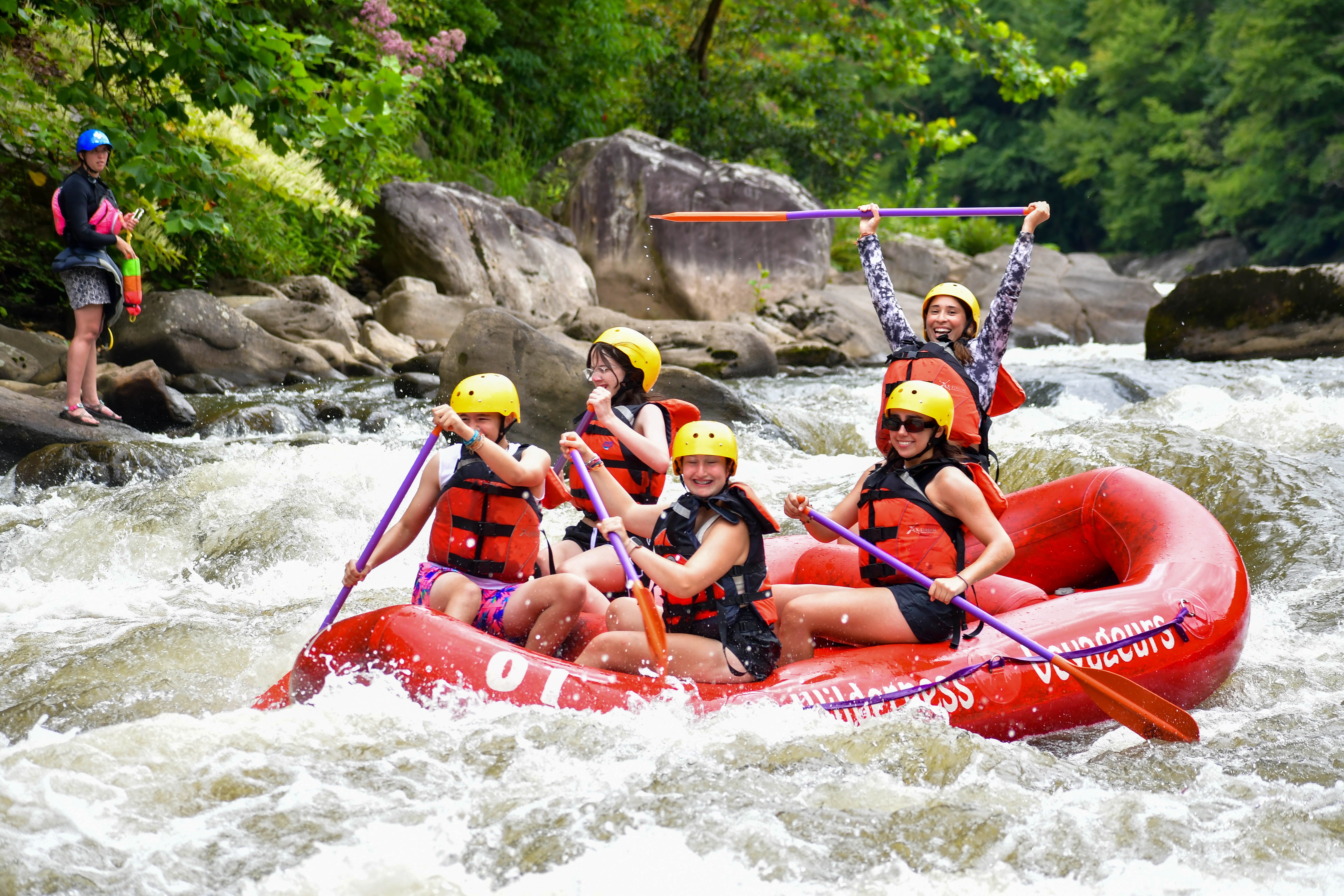 Cassie Householder
I had a great time at sma. I got to see my friends and make even more.
My favorite part about coming here is the memories you can make and lessons you can learn.
Sma will always feel like home. that's something I was always feel grateful for.
Alex Baffa
My time at sma has been so fun.
It really exceeded my expectations and was not what I was expecting.\
When I came I didn't know if I was going to find anything fun or people that I actually enjoyed being with, but throughout the past two weeks I have met so many people that I loved and had so much fun everyday.
Sam also gives you a sense of freedom that I think is very unique to other camps.
It is truly a special place and I am very excited to come back next year.
Nathan Robbins
I love sma for the activities. My favorite sma activity was canoeing. My second favorite activity was sup n sail. I also loved to pet the three dogs, comet jack and piggy. White water rafting was great too especially the swim zone where all the counselors got thrown in to the water. Archery was also quite fun.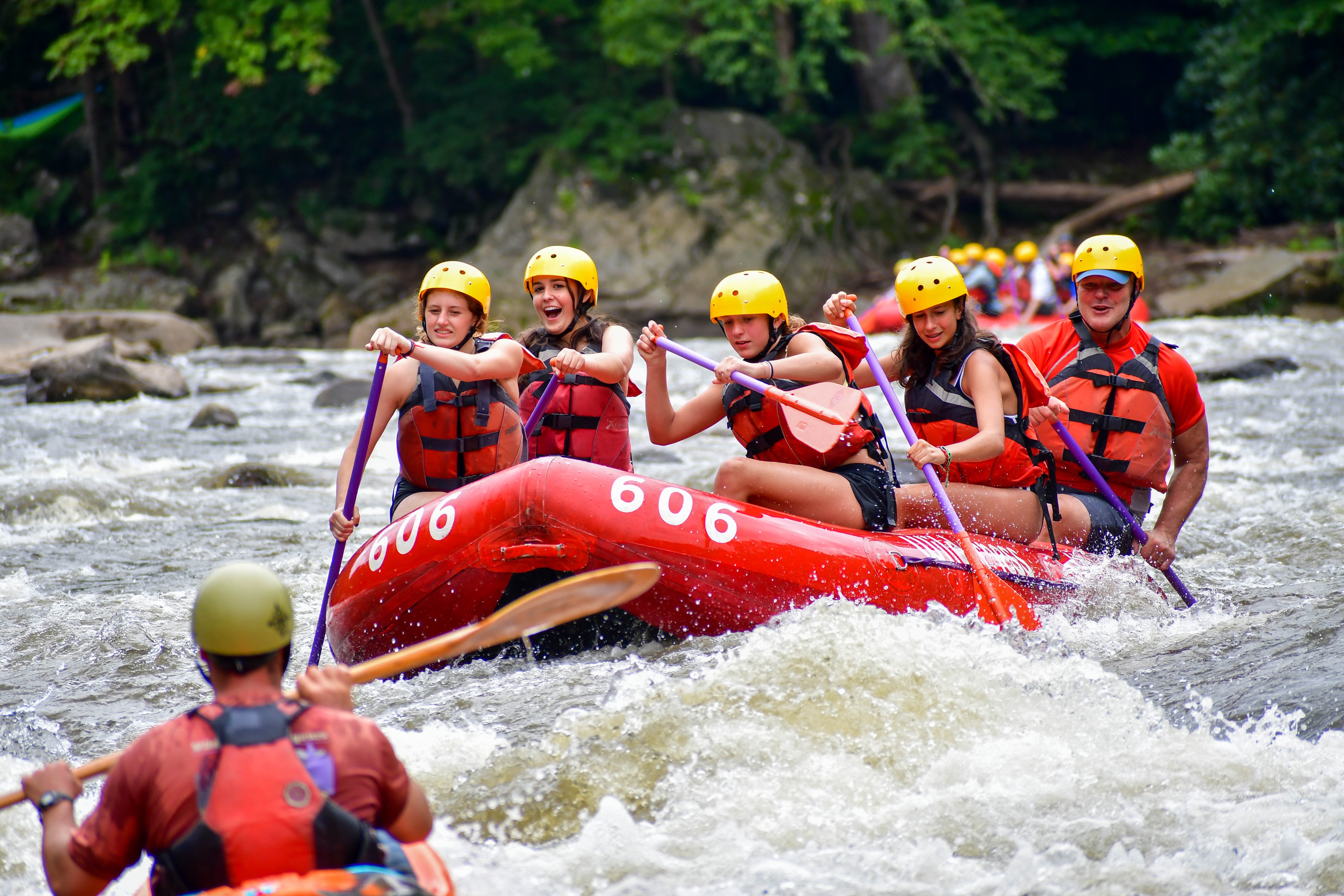 John Kuhl
When we went white water rafting I had lots of fun, but it was not extreme enough for me. When the waves went over my boat it was so much fun, the cliff jumping especially was my kind of fun. I enjoyed the bike trails and am excited for more in the future.
Luke Ezzeddin
My favorite activities were rafting and art studio. The talent show was amazing and I enjoyed playing games with Fenner and.Matthew.
I enjoyed the whitewater rafting and the drive back as we listened to good music.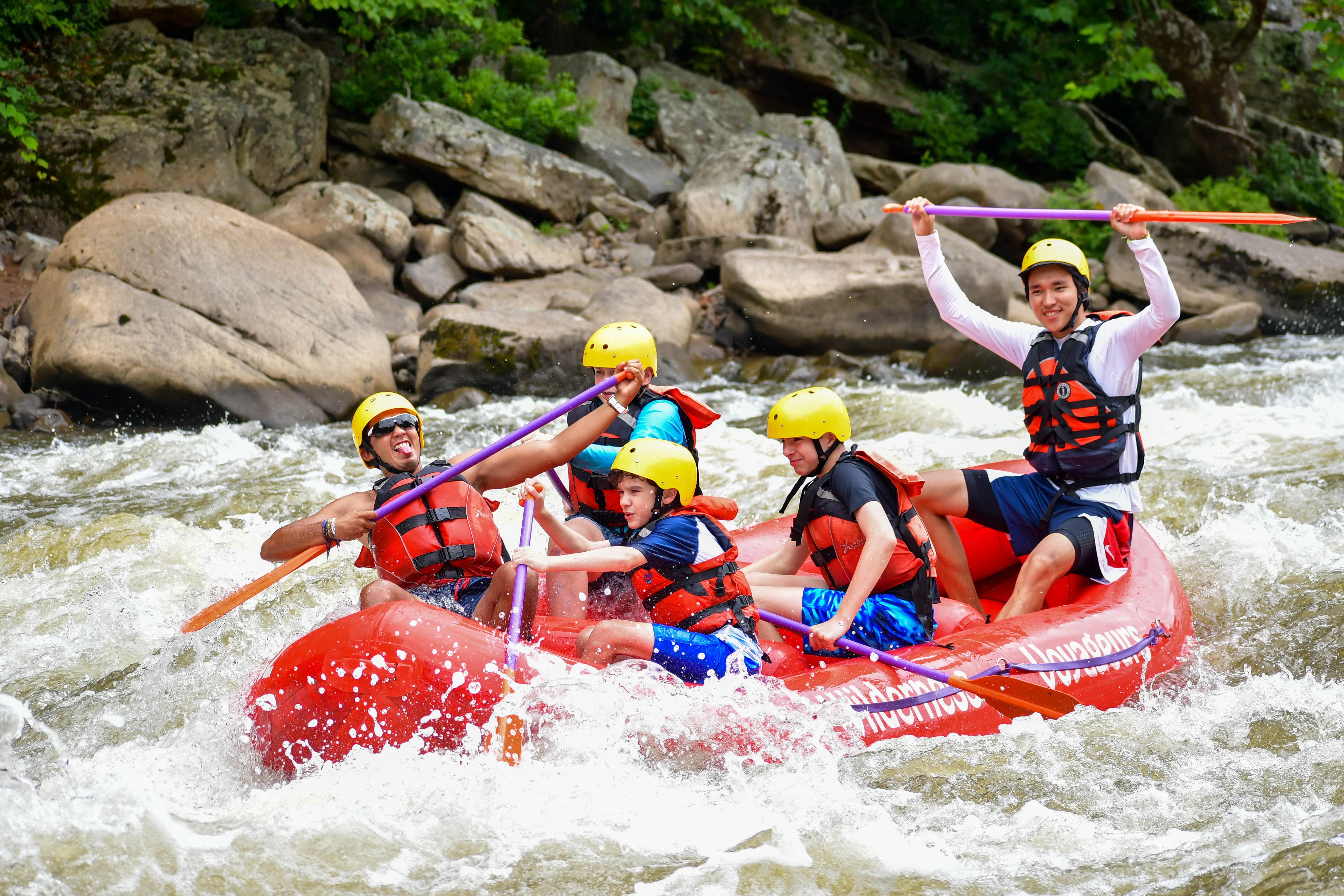 Laura Serra
I think that I've learned a lot of new things during my time here, at first I felt as if I wasn't going to fit in and that I wasn't going to have a good time but once the second week started I got closer with the other girls in Mattawanna. I'm very happy with the people I have met.
White water rafting was a very exciting experience. I never thought I would never do that at 15. I think it's a very good experience because it makes you have to trust the people around you to help you. I loved it.
I really liked the activities because they are things that are unusual and that you would probably not do at home. I especially liked rock climbing, wakeboarding and tubing. I have never done any of these before.
The wake overnight was one of the best activities at camp and I loved it.
Overnight I think this camp has changed me in the way I perceive new experiences and how I react to them. I also think it changed my way of seeing other people. I have loved being able to be here and to experience all of this.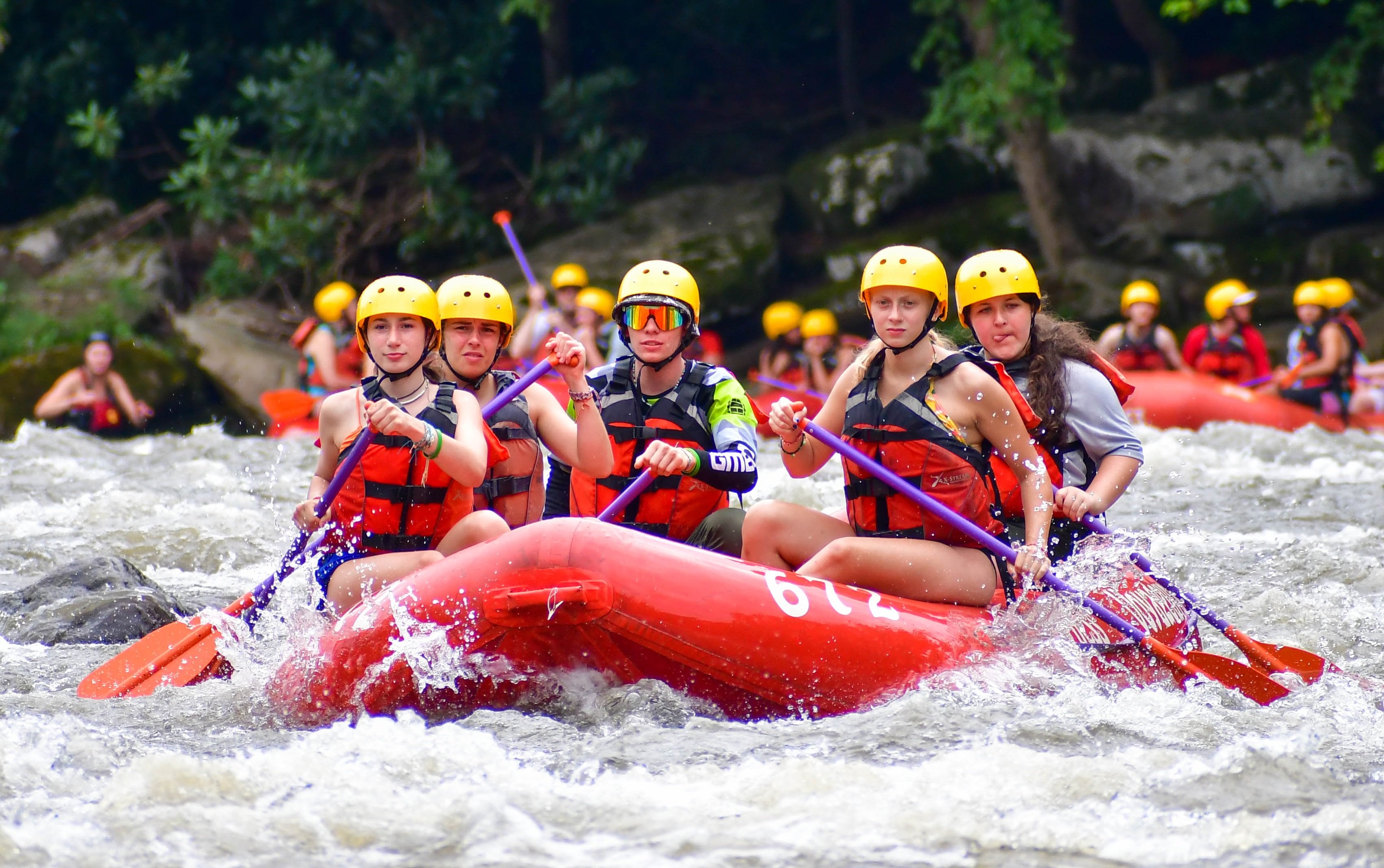 Cassidy Beauton
My first few days were really hard because I tried really hard to make new friends. It got easier and I made a couple of friends. We went rafting and I fell out of the boat and lost my shoe but it was still a lot of fun. I had a blast at the dance even though I lost my voice. I went wakeboarding and tubing. I read a whole book in four days. The dog Jack looks like my dog Leo which was very cute. I tried henna. You draw little things with it on your hands and it stays for a few days. I slept on the top bunk in my cabin. In general I had so much fun. SOme people liked listening to my stories and they enjoyed it! That made me so happy. I may not had ridden a horse but I still had a blast! I hope I come back next year.
Lorelei Keil
I'm so happy to spend time here at SMA! Everyday I met new people and made so many new friends. I've learned so much from being here and SMA has given me a new perspective on life. It has painted a picture of how good and exciting life can be if you go out of your comfort zone. Here you don"t have to feel insecure or anything like that because you learn that it doesn't matter. Everyday is a new adventure and it never fails to make every day your best day. I've tried so many new things that I never thought I will be able to do. I have met so many beautiful unique people here and when times are rough they will be there for you. SMA makes everything fun, even dish washing (except for the leaving part). I love you SMA.
P.S. Go to this camp!
Karissa McMahon
Some of my favorite memories have been made at SMA. ARt studio, wake boarding and white water rafting are some things I will remember for the rest of my life. The summers I've spent at SMA have changed me as a person and I'm grateful for it. SMA will always have a special place in my heart.
Evie Delano
I have now been here for three weeks. It feels like I've been here for seconds. At SMA everything seems like a blur. I can't pinpoint the things I actually did. I just have memories of feelings I've experienced during my time here. Looking back the one thing that sticks out the most is the rock climbing overnight. I had planned to sign up for the wake overnight but the shoe was not in my favor. We drove two hours to our cabin and trudged down a steep hiking trail, lugging our things with us. Our plan was to check out the climbing spot and go night climbing. Our plans however went away. As we started night climbing we spotted a hornet. We all freaked (except for Jordan) and ran back to our cabin. Although our plans hadn't ended up working out it was still one of the most fun and entertaining experiences I've had. We visited an elephant museum of old things only ending up actually climbing one time. That experience showed me that even when everything seems to be going wrong things will fall into place the way they are meant to be. SMA is a magical place. I feel truly alive here knowing that I'm surrounded by a world I love and I'm part of.
Sydney Tsou
This was my first year at SMA. Overall I had a pretty good time. I got along with everyone in my cabin pretty easily and quickly. I became close friends with them all.Throughout the second week I hung around with the older girls more which was fun. I didn't hang out with them as much as I wanted to but I had a fun time. All the counselors were super friendly and helped me getting comfortable around camp. I'm usually perceived as a shy and quiet person but I managed to get along with the other campers pretty well. One of my favorite activities was art studio but I wish I could have done it more (It would be really fun to do it during power hour). I really enjoying going out into town. I got a lot of freedom that I'm not used to. I missed my parents a lot but I had an overall good time here. I wish I could take all my new friends home with me so that I could hang out with them all the time. The van/ bus rides were honestly one of my favorite parts. They were so fun and everyone had lots of energy to sing and dance together. I think I'll be back next summer :)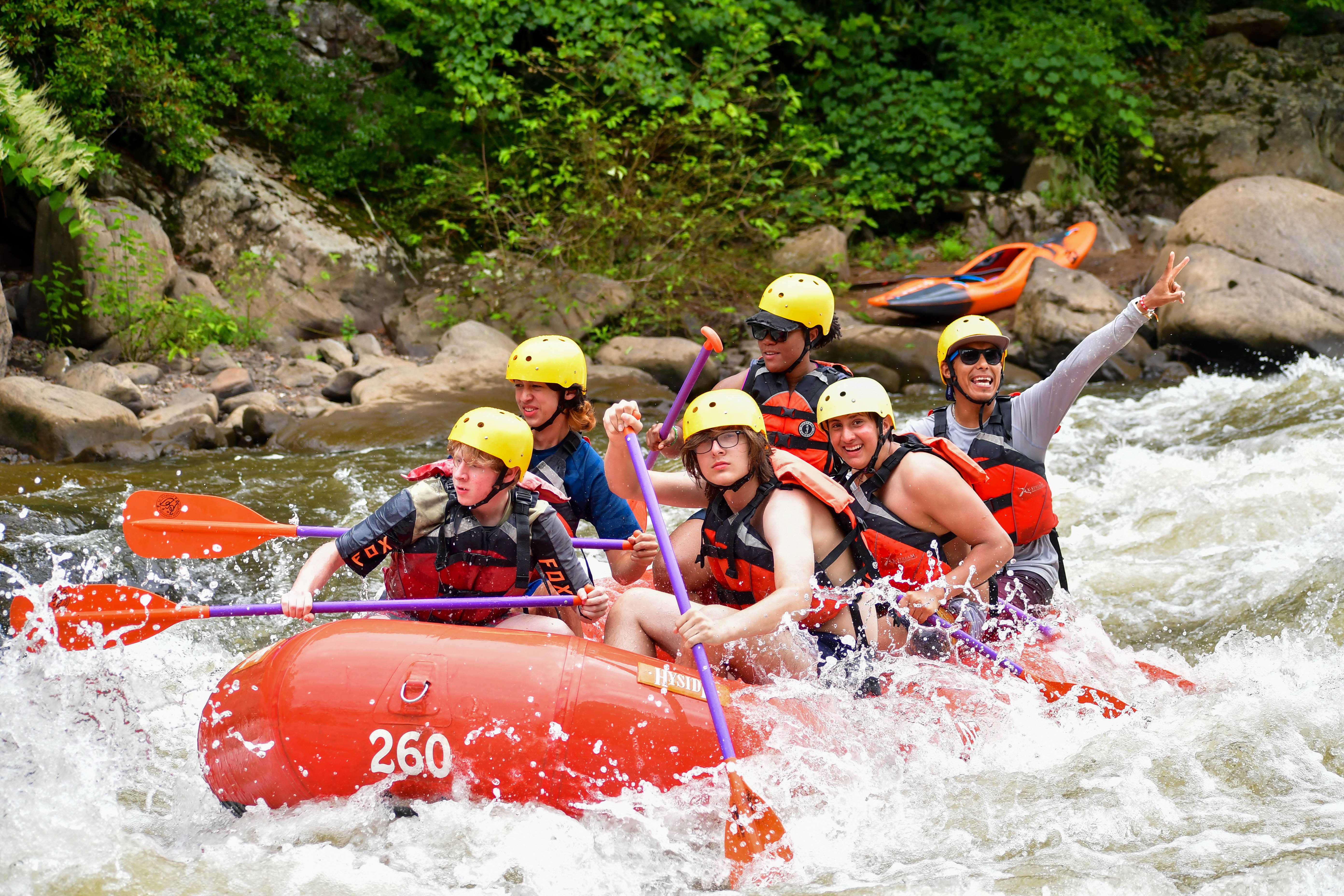 Eric Tsou
This was my first year at SMA and I was able to try many new activities such as white water rafting, rock climbing and wakeboarding. And while things wouldn't always go in ma favor there was always a surprising twist that kept these two weeks very enjoyable.
Bella Canales
This year was just as fun as the last two. My favorite activities were the wake boat, art studio and white water rafting. It was nice to see all the friends from last year and make new ones this year. Alex (counselor) is amazing. I loved this summer just as I have for the last three and hopefully I will be able to come back next year.
Madi Konka
Session 4 was so fun this year! I saw a lot of my friends from last year but I made a lot of new friends. I had so much fun at white water rafting. It was so memorable from last year. I was a wakemaster again. I did really high jumps and I did a switch. This was a very different session because of the session split up. But the second week was the best! I didn't go on any overnight but I liked staying back and having ice cream. This session was definitely my favorite and I'm so sad to leave. I'm so excited to come back next year.
Eva Russo
I have only been here for a week but it was the best week of the summer. This is my second year at SMA as well as my second week. This camp has a special place in my heart and I want to come back for as long as I can. I loved activities and the counselors. I feel like I fit in very well. I love this camp and I love the people in it.
Gavin Phillips
Initially when my parents told me I was coming to SMA for a second time I really didn't want to come back. But I have to say… this years experience was so much fun and much better than three years ago. Three years ago it was obviously the best time period of the 21st century: the covid 19 pandemic. Though the best thing (in relation to activities) that happened was easily the Huntingdon county fair.
Gus Russo
SMA was an enjoyable experience this year. White water rafting was fun especially this year with Alex, Henry and Connor. Even though it rained a lot all the activities were still all fun. I went rock climbing for the first time, did archery for the first time and got ice cream. I met new people such as John, Nathan and Connor. I also met my friends from last year such as Spenser, Matthew and Caleb.
Kylie Poole
My first year at SMA was definitely one to remember. I got to do all my favorite activities like rock climbing, archery and my favorite… tubing! The people here made this experience the best though. Everyone was so welcoming when I came here and cheerful closing the stay. The dance was my favorite part of the camp because we got to dress up and scream out our favorite songs. I loved my cabin because all the people made it awesome. Next year I hope I will be returning for some more of this fun.
Zakary Maneckshaw
During my stay at SMA I had lots of fun doing various activities and with new friends. When I first arrived at SMA everybody was extremely friendly, so it was easy to make friends. AT SMA I had lots of fun wakeboarding, rock climbing, going to the dance and doing all the other traditions like the talent show and Jud games. I especially enjoyed the wake overnight and white water rafting. In conclusion, I had a great time at SMA. I learned and grew a lot and had lots of fun with new friends.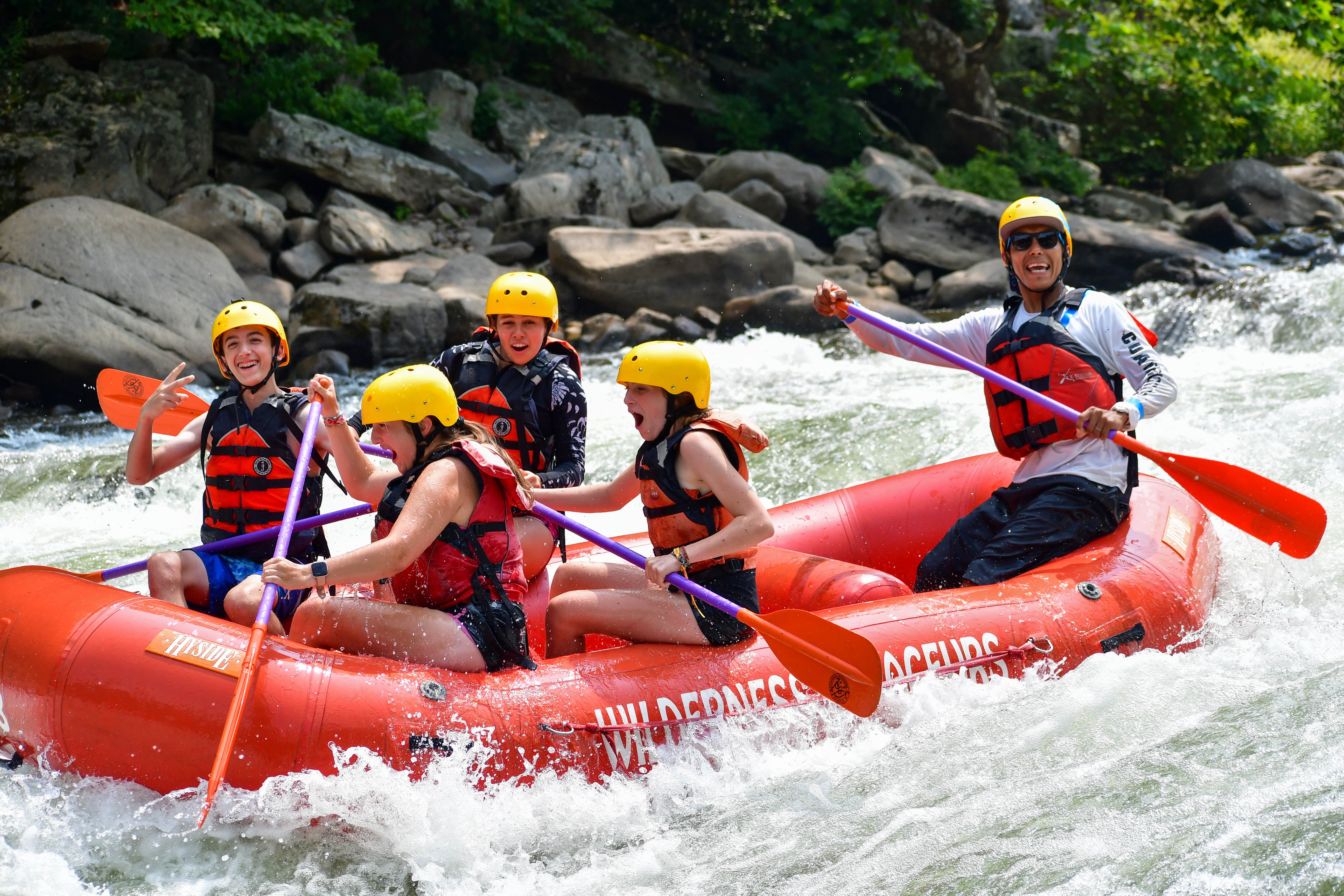 Niko Bain
When I first got to SMA I didn't think I would like it here and this would be the longest week ever. On Wednesday I missed home so bad and I was going to ask for a call home. But after that I ended up having a lot of fun and forgot about it. Thursday was very fun and I rock climbed and canoed and I haven't done either before. Te talent show was so funny. This will always be an experience I remember.
Alexa Nanula
When I first got here I wanted to leave. Overtime I got more used to it and made friends. I liked the counselors and all the activities. I didn't like the spiders and the bugs. This week was the best.
Ben Yoders
At first it was really hard to adjust to a new camp since I'm an introverted person but it ended up working out. The most fun that I had was tubing on the boat and spending time in the lake. I see why people love this camp!
Spenser Vinjamuri
During my second session of the summer I had lots of fun. Some of the activities I enjoyed were Rock climbing, white water rafting and art studio. Throughout the fourth session I got to meet lots of new people and see friends from last year. I also got to meet new counselors and see old counselors from last summer. And even though the summer is ending, I am looking forward to next summer.
Camp Counselor Reflections Session4 2023
AKBAR
Session 4 of our SMA was a journey of discovery, friendship, and personal triumphs. From the outset, the campers' enthusiasm illuminated the campgrounds, creating an environment of excitement and possibility. These two weeks were a testament to the transformative power of camp experiences.

As the campers embraced challenges together and shared their passions during workshops, their bonds grew stronger. Witnessing their willingness to support one another was a constant reminder of the sense of community that camp fosters.

Throughout the session, the campers' personal growth was evident. They faced fears head-on during outdoor adventures and channeled their creativity into various projects. These accomplishments not only boosted their self-assurance but also highlighted the importance of pushing boundaries.

Naturally, challenges arose, ranging from homesickness to minor conflicts. Guiding the campers through these moments was a humbling experience. It provided them with opportunities to develop resilience and effective communication skills.

In summary, Session 4 was a remarkable chapter in our camp's narrative. The campers' personal growth, unity, and sense of belonging made it an unforgettable experience.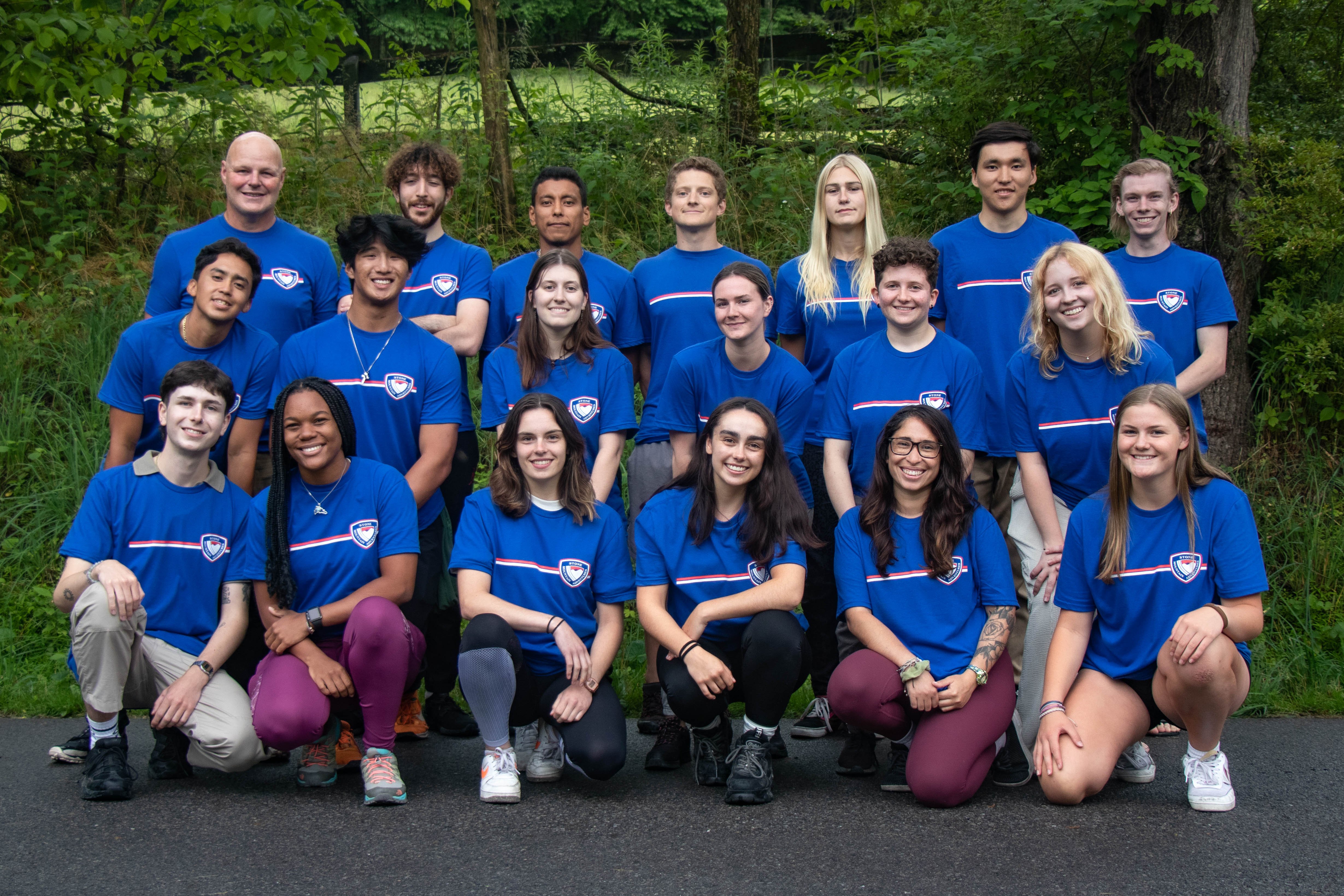 Zachary austin kane
Time flies when you are having fun.
Fourth session came much faster than i ever expected it to be.
With nothing left to holdback for i gave all my energy and enthusiasm on every activity. Dancing wasin the air and i took every opportunity on the basketball court or in the barn. Some of the counsellors werent sure if there ws enough camper drive to put on our mid sessiondance, but the campers proved us wrong!
We had on of the most amazing parties ive ever een and all of our camp got involved.
Personally session 4 was an end to my summer recovery from a very long year. I feel myself in a signigifcantly improved emotional state when compared to the beginning of camp. Ive been smiling more, talking more, talking more often and my mental dialogue has been much more positive.
Maianyely brito
This session as much as the last ones was special because the kids were open to try new things and have fun with each other, even when most of them just signed up for one week.
The different activities were easygoing and this sessions white water rafting was the best one of the summer.
I felt more comfortable at the riveer and this time i was able to jump twice from the jumping rock evn when i was so scared i did it as a way to say bye to it.
Coming to sma was the best decision ive ever done sofar! I had the opportunity to practice my understanding and pronunciation of english (as i mentioned before) and also my skills as a teacher and most importantly, ahuman beeing..
Im so happy, too happy to come back home, but at the same time i am so sad to leave…
This camp, the people, the kids, the friends i made, everyone now, has a special place in my heart <3
I take with me home all the good moments memories and everything ive learned and as the song of jud says.
Ohh! These summer days, changed me in so many ways…
Thank you so much jud, for giving me the opportunity to come to sma
I really hope to see you next year.
Alex
Session 4 of our SMA was a journey of discovery, friendship, and personal triumphs. From the outset, the campers' enthusiasm illuminated the campgrounds, creating an environment of excitement and possibility. These two weeks were a testament to the transformative power of camp experiences.

As the campers embraced challenges together and shared their passions during workshops, their bonds grew stronger. Witnessing their willingness to support one another was a constant reminder of the sense of community that camp fosters.

Throughout the session, the campers' personal growth was evident. They faced fears head-on during outdoor adventures and channeled their creativity into various projects. These accomplishments not only boosted their self-assurance but also highlighted the importance of pushing boundaries.

Naturally, challenges arose, ranging from homesickness to minor conflicts. Guiding the campers through these moments was a humbling experience. It provided them with opportunities to develop resilience and effective communication skills.
Kim alina schnalke.
This last session was very nice. In the beginning i was very tired because i already spent three sessions here and beeing active all the time is a little tiring. But it is definity worth it because i maxe so many memories here that i will keep forever and i will always be happy when i think about it. This session was different than the previous ones because there were many new kids who stayed for only one week. More 1st year capers than in the other sessions aswell, but it was very nice to show them sma and make them part of this very big family. This session was also different because it was the last one for this summer. If i dont come back then it also is the last one for me ever.this makes me sad but i also tried to enjoy everything even more.
I knew that everytime i did an activity it could be the last time. So I made them count. I also improved myself during the summer and this was shown in this session. I had alot more energy during activities and was easier for me to interact with kids.
I will miss everything here.the camp, The campers and especially the counselors i made many new friends and it makes me sad leave them after this session.
But maybe i can see them again if i come back next year if possible. I love this place and everyone here. Thanks for this awesome opportunity <3
I think i reached all my goals that i set at beginning of camp. I improved my english and my skills in working with teenagers and peoplein general. I am also more open now and just show my true self without overthinking. I am so thankful for everything this camp and these people have shown and taught me. I cannot even put everything in words i just loved this summer.
Chase
Well session 4 has finally come, its sad the summer is almost over, but we went out with a bang! We had such a fun time at camp playing games and hanging out by the lake. It was such a good session with the overnights, games, and fun activities we did. It was such a good session and fun summer
Ella mangan
This was my last ever session here as a camp counselor. I am feeling tired, my body is feeling tired, but i am so sad to leave. This feels like home now and im so scared to go back to normal life because i feel like i have been here for so long. Ive made lifelong friends here. I have laughed so hard and i dont think i have smiled this much in a long time. Im so glad i made the decision to come here because it honestly has been the best summer of my life so far. i have grown so much in just 2 months and i have done things i never thought i could.i am so proud of myself and am so sad to leave. I think my favourite thing of the summer has to be meeting people that i would never have met and trying things i never would hve tried. This place is pretty magical and im so honoured i got to experience it and be a part of the magic for the campers.
Matthew khamies
This is my last session of the summer bringing my total sessions to 8.overall it was been amazing and maybe th best session yet.
Everyone has been amazing and mans not hot was the hottest ingle out at camp.
Wakmasters was incredible and many got up and touched the water while shredding the wake.
Im quite upset that i must leave and wish there were more days or weeks left, but life moves on.
I wish I could say for sure that i will come back next year, but life hasnt given me an answer yet.
I hope i made a difference in peoples lifes and tht they leave more happy.
I will miss everyone so much and words cannot describe how emotional i am, i am to be int he last session day of sma for the summer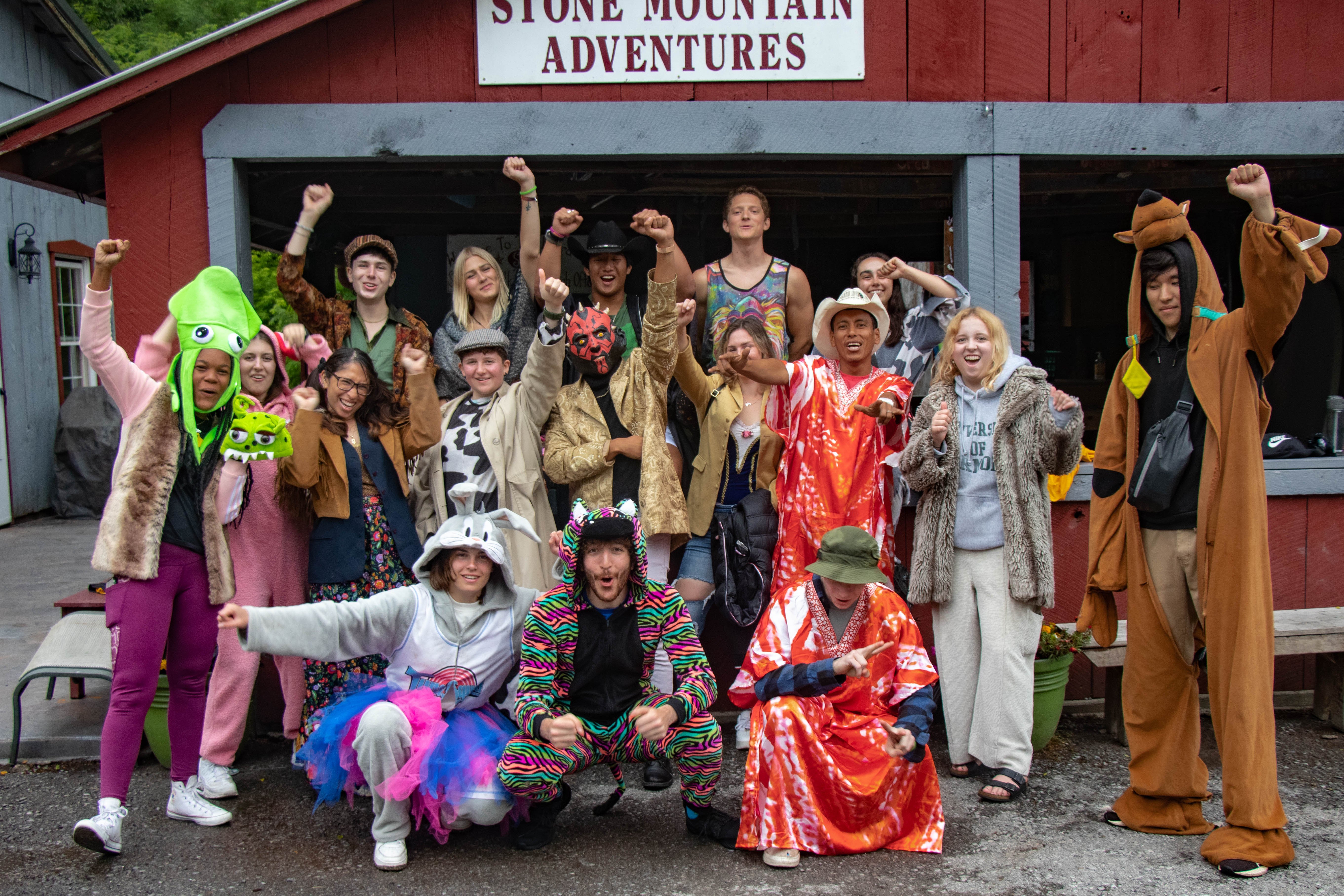 Diego
It is crazy how the time flies when you are having fun, i just remember when i was working during staff training and getting everything ready to the opening day and now today is the last day of summer and it makes feel emotional because we made it camp is over and i think the staff team did a great job this summer. I feel happy but sad at the same time, i am happy because the time to come back to my country is getting close and is good coming back but also i feel sad bc here at camp everyday is a great day doing the activities and spending time with kids, i am not sure if i will see them again but i hope so we can have more fun the next time. I had so much fun with the bikers hitting the trails, it was good watching caden and zack b doing something different, watched caleb hitting the waletale for the first time i love that when children try to do new things and also during the wake board overnight even when he had rain i think we had a good time everyone enjoyed and tried to do wake boarding and tubing like karissa, evie and laura doing wake boarding and touching the water was really nice, the rafting day was cool, i did not win the race this time but we got third place which is not bad i had a good time and i guess it was pretty fast maybe bc it was the las rafting trip and nobody wants it ends but that is a nice excuse to come back to camp and live this experience again
Liam
As session 4 was the fourth session I have done this Summer, it was filled with many familiarities, but it also had many new things and experiences. We did many fun things from previous session such as ice cream and all camp day, but there was many new editions such as the county fair, and that we got to get to know two different sets of campers!
It was great to experience a county fair for the first time, as we have similar things back home but not quite the same. Trying new foods like fried pickles and fried oreas was great and it was good to see the kids with some freedom going around the fair and having fun.
A highlight for me from this session was the Rockclimbing overnight, we got to drive far from camp and stay in an old log cabin in the woods which we had to hike to, the rocks near the cabin were beautiful and had crystal veins running through them, it was fun to night climb and to climb the next day too, as well as making perfect mountain pies. The next day we went to an elephant museum and candy emporium and the campers had lots of fun.
It's bittersweet knowing that this session had many last times, like the last all camp day, the last talent show and the last paper plates, but that just makes everything more meaningful as I appreciate my last two weeks here at Stone Mountain Adventures. It's fulfilling to know that we are giving these last campers a great fun time here as we wind down for the Summer.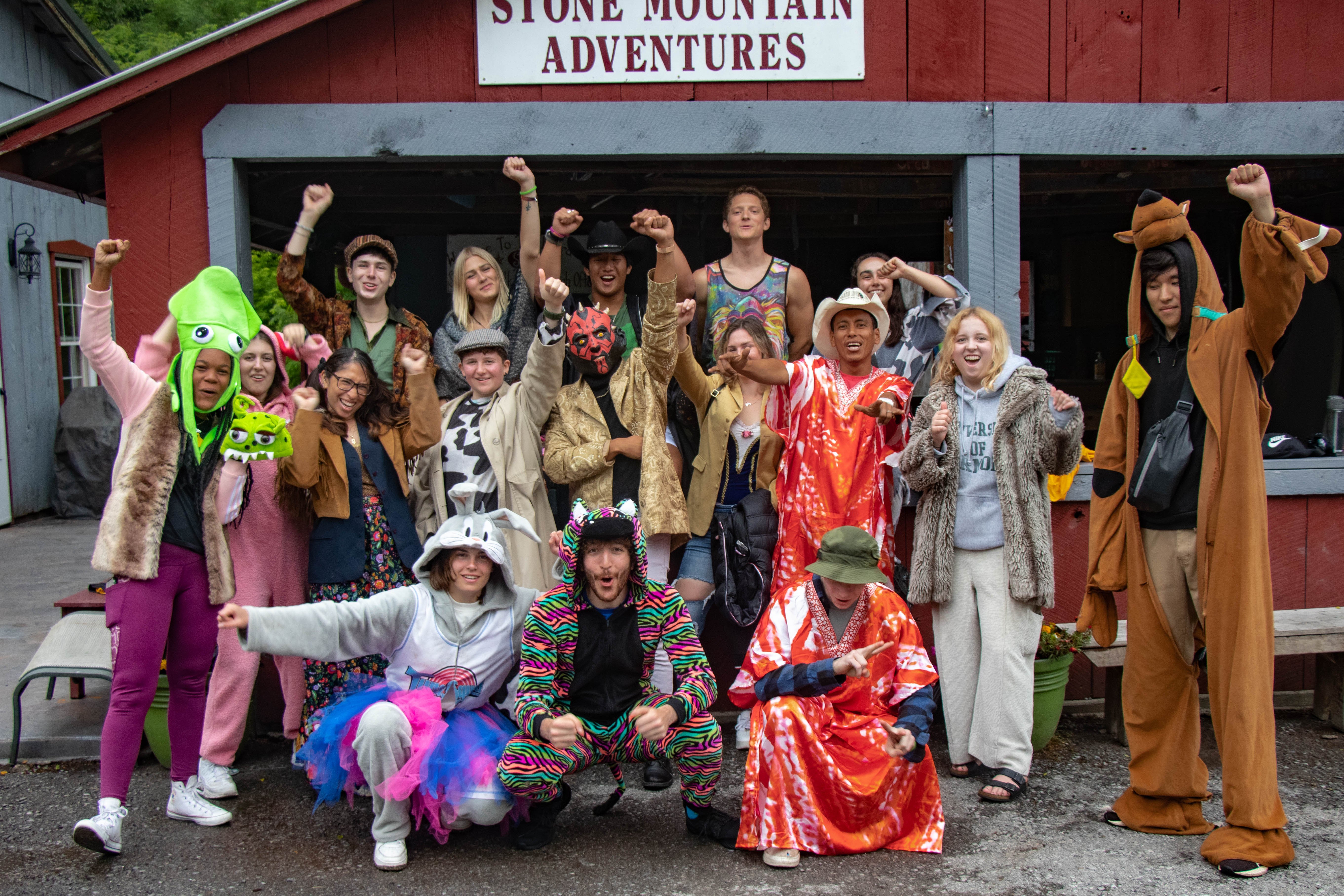 Alexia may
Session 4 was great. Everyone had a great time making new friends and rekindling with old ones. Archery was a success and many kids left the activity with smiling faces as they now knew how to practice archery. Session 4 canoeing was really fun and Noone capsized. No one was injured and all went well. The rainfall caused a big height increase for the rivers so whitewater rafting was also very fun and the big rocks were in the way, almost like session 1.
The talent show was honestly the best of the summer with all the kids participating and enjoying the USA themed dancefloor, the songs were rather new and not the same as usual wich made it much more interesting seeing the kids loving the music choices they themselves picked out.
It was an interesting session as it was split into 2 mini sessions, of wich nr 2 was certainly the more emotional one since everyone was departing and everytime we went on an activity we knew it was the last one of the summer, not just the session. Im definitely going to miss everyone alot and hope everyone will have a great rest of the year.