All of us at Stone Mountain Adventures are excited that our 2 week teen summer camp is being featured on the Regpack blog?
Last week Stone Mountain Adventures Camp Director and Owner Jud Millar was interviewed by Samantha Veneri and Asaf Darah. Regpack is an online registration management platform designed to simplify and accelerate the registration process. Asaf Darah is the founder and CEO of Regpack and specializes in product development for the web, team building and bringing a company from concept to reality.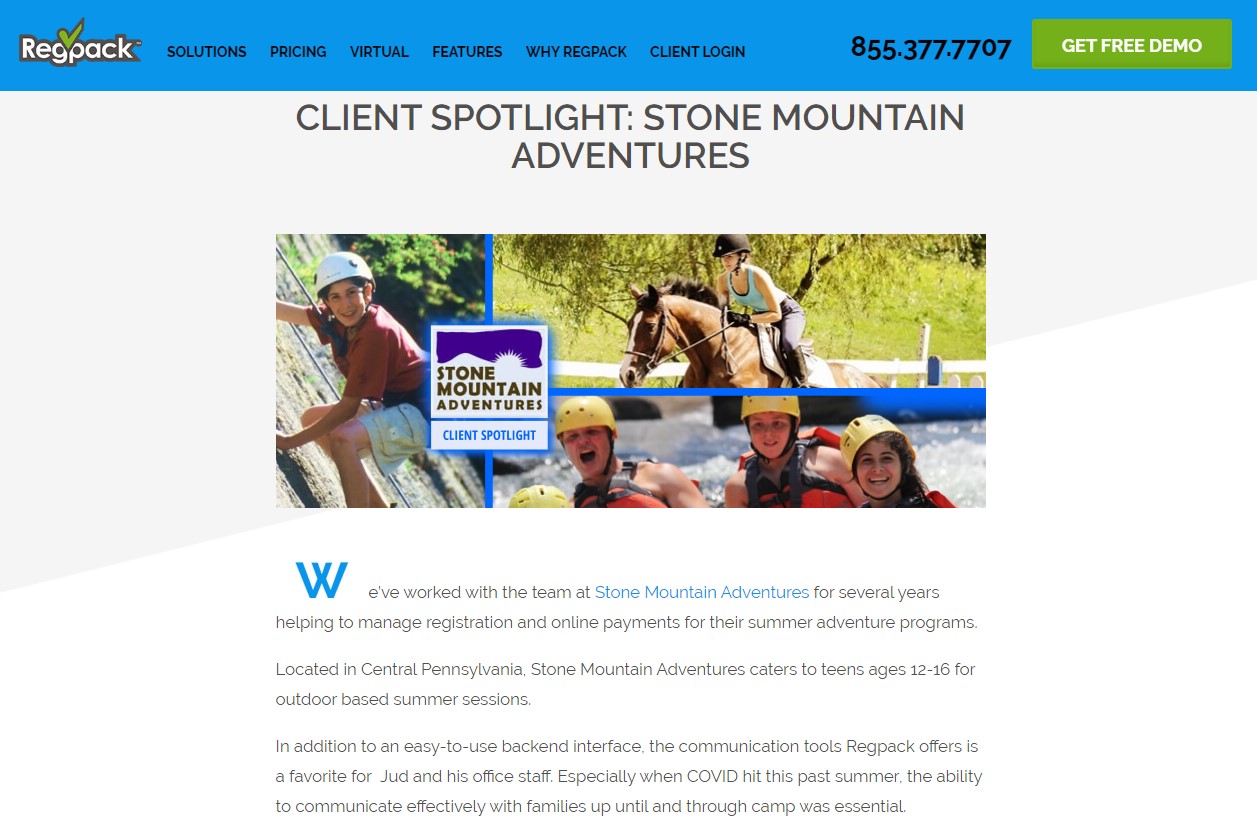 During the interview the following subjects were covered:
An overview of Stone Mountain Adventures

How we were able to run camp during the summer of 2020 amid the COVID19 Pandemic

Why we chose Regpack for our online registration software

How we integrate camp tuition payments with Regpack

Would we recommend Regpack to other camp directors

How do we anticipate COVID19 affecting the SMA Summer of 2021
Stone Mountain Adventures Started using Regpack during the summer of 2015. There have been a number of changes in the features offered by regpack over the years. Regpack has continued to innovate and improve it's online offerings which has been helpful. One of the big improvements has been with it's customer service. Recently Regpack's support team has started to utilize a service called "loom" which is a videos version of a screen shot. Basically the support tech takes a video of their screen while problem solving my issue and then sends me a link to that video. This is extremely helpful when I am trying to problem solve an issue.
Overall our Stone Mountain Adventures Camp Families have been pleased with the Regpack software package we utilize. New families use their e-mail and choose a password to create an online account. From there they complete 3 forms, choose their sessions and payment method and their child is enrolled in SMA. I then confirm the registration via e-mail and then the family has access to additional enrollment forms including:
Medical History Forms

Camper Profile

Transportation Confirmation

Emergency Contact Information

Authorization to Administer Medication
Having all of these forms on the web is helpful from an a summer camp administrative point of view. Regpack is especially helpful for returning families. When it comes time for them to enroll their child for a second or third summer they simply log into their Regpack / SMA Account, update their child's information for the current summer and choose the session and payment method they want.
Regpack continues to be a helpful partner with Stone Mountain Adventures as we move forward running 2 week teen summer camp!