Stone Mountain Adventures will be attending the Greenwich High School Summerfare on Wednesday, January 22 from 6 to 9pm. The Summerfare is a Camp Fair that is hosted by the Greenwich High School Parent Teacher Association (PTA). According to the Greenwich Sentinel "SummerFare is designed to give families an opportunity to find exciting and unique summer experiences for their children and teens for Summer 2020." They are expecting over day camps, overnight camps, teen camps, rock climbing camps and travel program to attend this years event.
What: Greenwich High School Summerfare
When: Wednesday, January 22 from 6 to 8pm
Where: the Greenwich High School located at 10 Hillside Road, Greenwich, CT 06830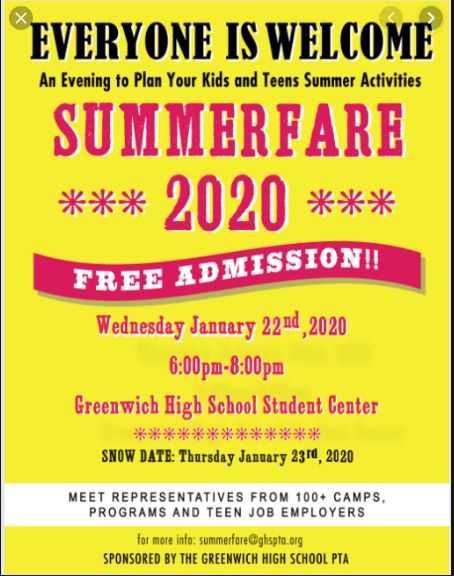 Stone Mountain Adventures has an excellent rock climbing program and are able to offer an extensive range of climbs each day as we own a rock climb area that is connected to camp called Donation Rocks. Donation rocks has something for everyone from beginner and moderate routes for those just getting into climbing to much more challenging routes for experienced climbers.
SMA is not a rock climbing specific camp, rather we are an adventure camp with a climbing area as part of our facility. Rock climbing is offered at SMA everyday. There are also 2 other top rope climbing areas and a bouldering site that are within a 20 minute drive of camp. This is awesome because it gives us options and flexibility to climb on different rock types in new locations. Our overnight summer camp is a great option for tweens and teens who want to:
Rock climb every day
Increase strength and endurance
Gain skills and experience
Learn from experienced instructors who are passionate about rock climbing