During Stone Mountain AdventuresSummer 2017, we saved the best for last! From awesome evening activities to wakeboarding to white water rafting to super-fun camping overnights session 4 was truly incredible. During the session campers and staff alike took photos and we have gathered them here in a video slideshow.
Here is the SMA 4, 2017 Video Slideshow:
The highlight of the SMA Rock Climbing Summer Camp Program each session is the camping overnight at Bigler Rocks. Bigler Rocks is located in Clearfield County about 74 miles from camp. This is a great opportunity for the climbers of SMA to get out of camp and sleep under the stars, share climbing stories and do some amazing rock climbing! Bigler Rocks is a sandstone formation with a private campground at the base of the rocks. It is truly a unique experience to have our campsite set up near the base of the rocks and be able to climb until dusk, take off your harness and warm up next to the camp fire and roast some marshmallows. We then wake up at the crack of dawn and do it all over again. A rock climbing camping overnight at Bigler Rocks is something that every climber at SMA rock climbing summer camp should experience!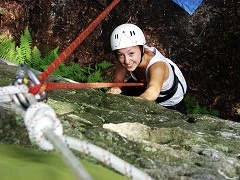 "At home I climb in a gym and it's good but at SMA climbing on real rocks has been amazing! Here I climb almost everyday. My climbing skills have improved so much. I alos love the variety of climbing offered here. The climbing camping overnight is an expeience I will never forget! I love SMA Rock Climbing Summer Camps for Teens"
Ezra Cohn, Bethesda, MD