The American Camp Association (ACA) is a national organization in the United States that focuses on the support of summer camps and youth development programs. Founded in 1910, the ACA works to ensure that summer camps meet specific standards related to health, safety, and program quality. Camps that are associated with the ACA work to ensure they provide a safe and enriching environment for children and teenagers. Stone Mountain Adventures (SMA) as been a member of the ACA since the 1980's.
Every year the ACA host Camp Conference's around the country to serve as professional development opportunities for summer camp professionals. Within the ACA there are geographical regional and SMA is located in the Keystone Region which encumbrances Delaware and Pennsylvania. According to the Keystone ACA summer camps in Delaware and Pennsylvania served over 1,500,00 kids in the summer of 2023.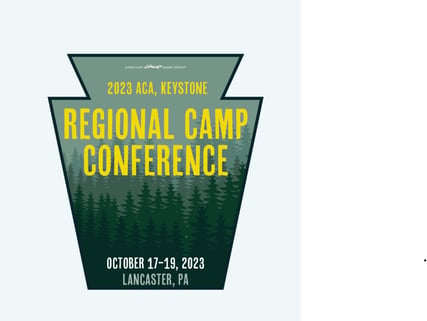 Recently the Keystone ACA hosted a Regional Fall Camp Conference at the Doubletree Resort by Hilton Resort in Lancaster, PA! The event was organized by Katherine Schaefer and the Keystone Regional Team and SMA Teen Camp Director Jud Millar was invited to be a presenter at the conference. Jud's Breakout Session was titled "Turning S'mores into Happy Roars: Cracking the Code to Motivate Camp Counselors" Here is a description of his breakout session as state in the conference program:
Are you a human who is in charge of planning and facilitating summer camp staff training? Do you lead and/or supervise staff during the summer? If you answered YES to either of these questions, then you know how hard it can be to motivate this generation of summer camp staff to be their best selves. In this session you will learn how to crack the code of effective staff leadership including:
Effective strategies for giving a receiving productive feedback with camp counselors
Techniques for creating a culture of positivity and success at your summer camp
Finding the balance between staff "micro-management" and giving staff full "autonomy" at camp
Tools for allowing staff to discover their voice and their leadership style
Strategies about how to make your summer staff feel loved.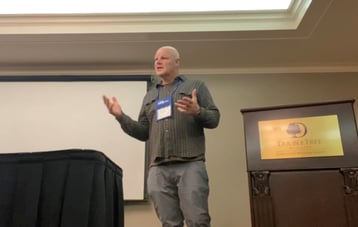 Other breakout sessions that Jud attended while at the Keystone Regional Fall Conference included:
5 Rules of Effective Conversation| From Curiosity to Questions to Customers
Transforming Program with the the Science of Resilience and Wellbeing
Understanding and Supporting Neurodiversity at Camp
Program Elevation (and Aligning to Core Values)
Please Sign Here: The Contracts that Bind Us
In a summery of the event Camp Director Jud Millar stated "The Keystone ACA Conference was an awesome professional development event. The sessions were full of helpful ideas and informational that I feel I can implement into SMA. This was my first time presenting at a professional conference and while there is always room for improvement I feel in went really well. I met so many other amazing summer camp professionals so that that made it a terrific networking event. Overall I left the event feeling inspired and motivated!"