A Note from the Camp Directors Jud Millar about SMA2 Memory Book:
Greetings to everyone in our Stone Mountain Adventures (SMA) family. It is hard to believe that the summer of 2023 has come and gone so fast. It seems like only yesterday we were dusting off the canoes and tuning up the mountain bikes, and now this incredible summer is in the history books. The remainder of August was great, but we often found ourselves playing "remember that time in second session... that was awesome!" during our down time.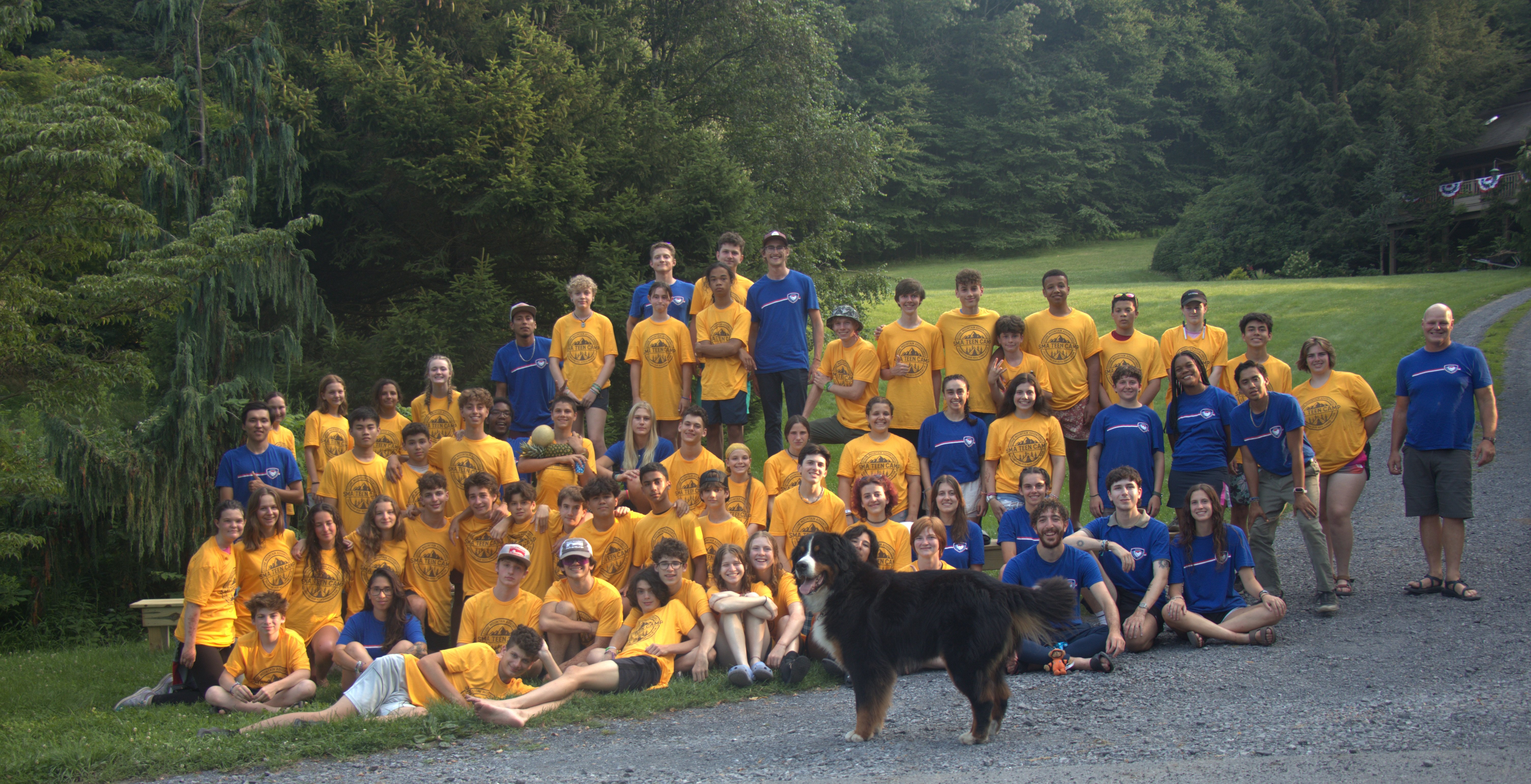 Campers, we miss each one of you so much, and it's just not the same without you here. We hope you have recovered from the craziness of camp and had an awesome end to your summer.
Parents, thank you for sending your son or daughter to Stone Mountain Adventures. Each member of the incredible second session of SMA 2023 possessed fantastic qualities and helped to make the group so special. We had incredible experiences as individuals and as a group – it was truly a memorable session.
On the last full day of the session we asked each member of our group to take a few moments and "reflect" about his or her experience at Stone Mountain Adventures. Enclosed are the written reflections of campers as well as a brief description of many of the activities that we did at camp written by our stellar staff.
We hope you enjoy this SMA Memory Book and these reflections as much as we do!
Best wishes on the school year ahead,
Jud, Anne, Wyatt, Molly, Pam, Biff, Comet, Jack, Piggy, the Cats, the Horses, the Rabbits & other random farm animals!
Session 2 Reflections – campers
Kai – This summer was so fun. I tried so many new activities and I managed to get up on the wake board which was fun. I loved white water rafting and my raft won the rafting race at the end! One of my favorite activities this session was rock climbing. It was fun.
Jack Newport (Business) – I really enjoyed this session at camp because I was able to chill a lot more. During the two weeks I read a lot. I also did a lot of rock climbing which was fun. I got to go out onto Raystown lake a lot more this session. I also loved spending time with my friends this session.
Charles – Overall I had a great time these last two weeks. The counselors and campers were all great and helped me with any problems. I loved all the activities like white water rafting and rock climbing. They were all fun. I would recommend SMA to anyone who loves outdoor activities.
Olive – I have been here for both session one and two of SMA 2023. My favorite activity has been Wakemasters. I started this year not knowing how to wake board, and now I can get up with ease, stay up, and even go in and out of the wake. I also have loved the climbing overnights which included climbing, repelling, and making s'mores/mountain pies. It was all so fun. I was looking forward to this summer all year and it did not disappoint. I am so sad to leave this amazing place. I will just have to wait until next year! Thank you everyone from campers to directors for making SMA so amazing. Until next year!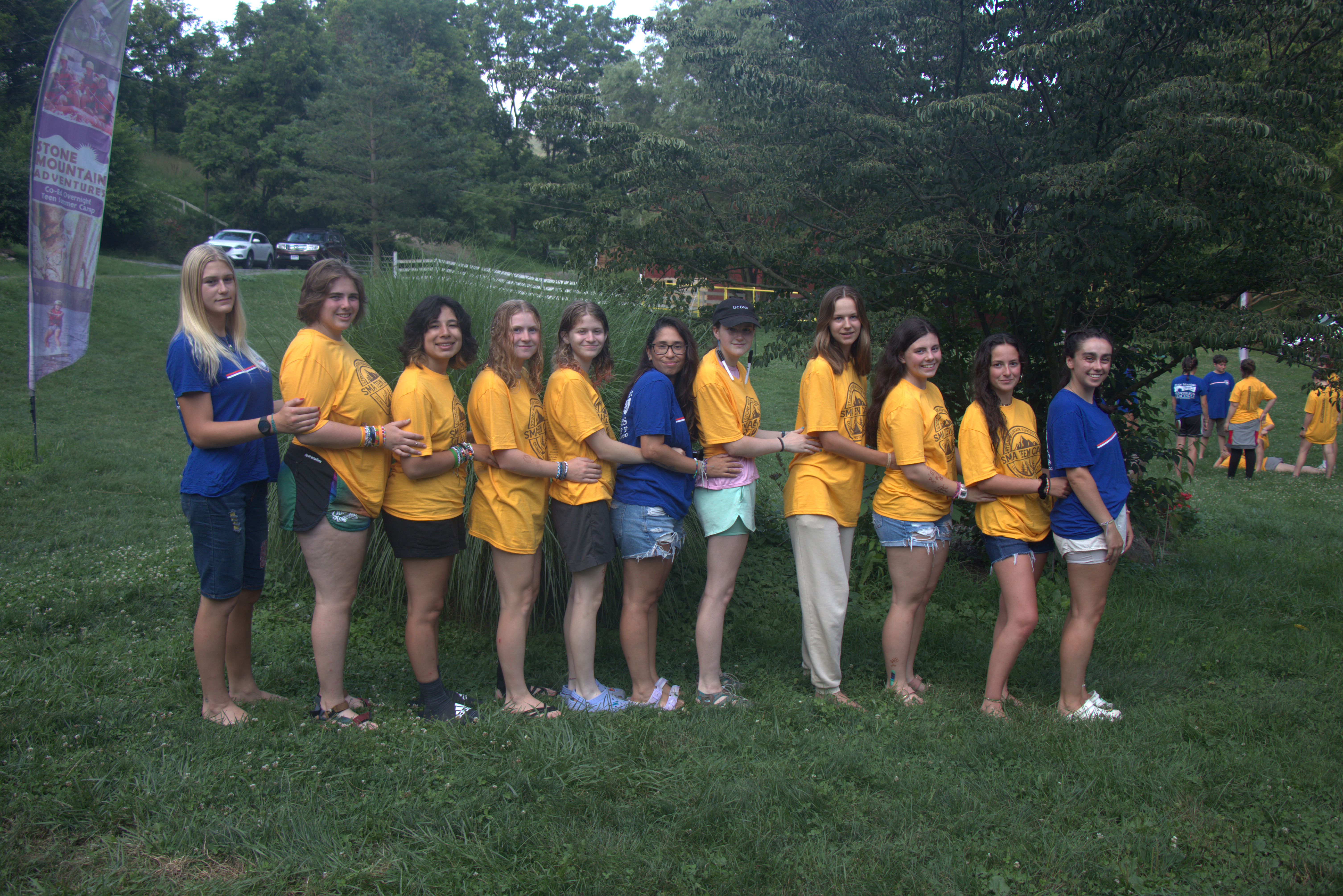 Mads C – This summer at SMA has been one of my favorites so far. During session one everyone in my cabin was so close and it was so fun. I was nervous about leaving and coming back halfway through session two but turns out I had nothing to worry about. Everyone was so nice, and I felt like I had been there the entire time. I cannot believe this session and my time at SMA has come to an end. I can't wait to come back next summer and meet up with all my camp friends.
Ariane – I enjoyed spending every minute at this camp and I had a really good time. Some of my favorite activities included wake boat fun and white-water rafting. I especially enjoyed the wakeboard overnight. I made some very good friends and I can't wait to keep in contact with them.
Adam – I love this camp because it is so fun. I made new friends this session and became closer to my camp friends from last year. I made the most of my time at camp and did many activities and took part in the talent show with my friends and my brother. I had a really great time this session.
Doruk – I had a lot of fun during all the activities at SMA but my favorites were white water rafting and wake boat fun. One of my favorite evening activities was bowling because the whole evening was fun, even the bus ride. SMA was really great because I made so many friends and all the people that come and work here are nice. SMA feels like a family to me which is an advantage of having a smaller group size.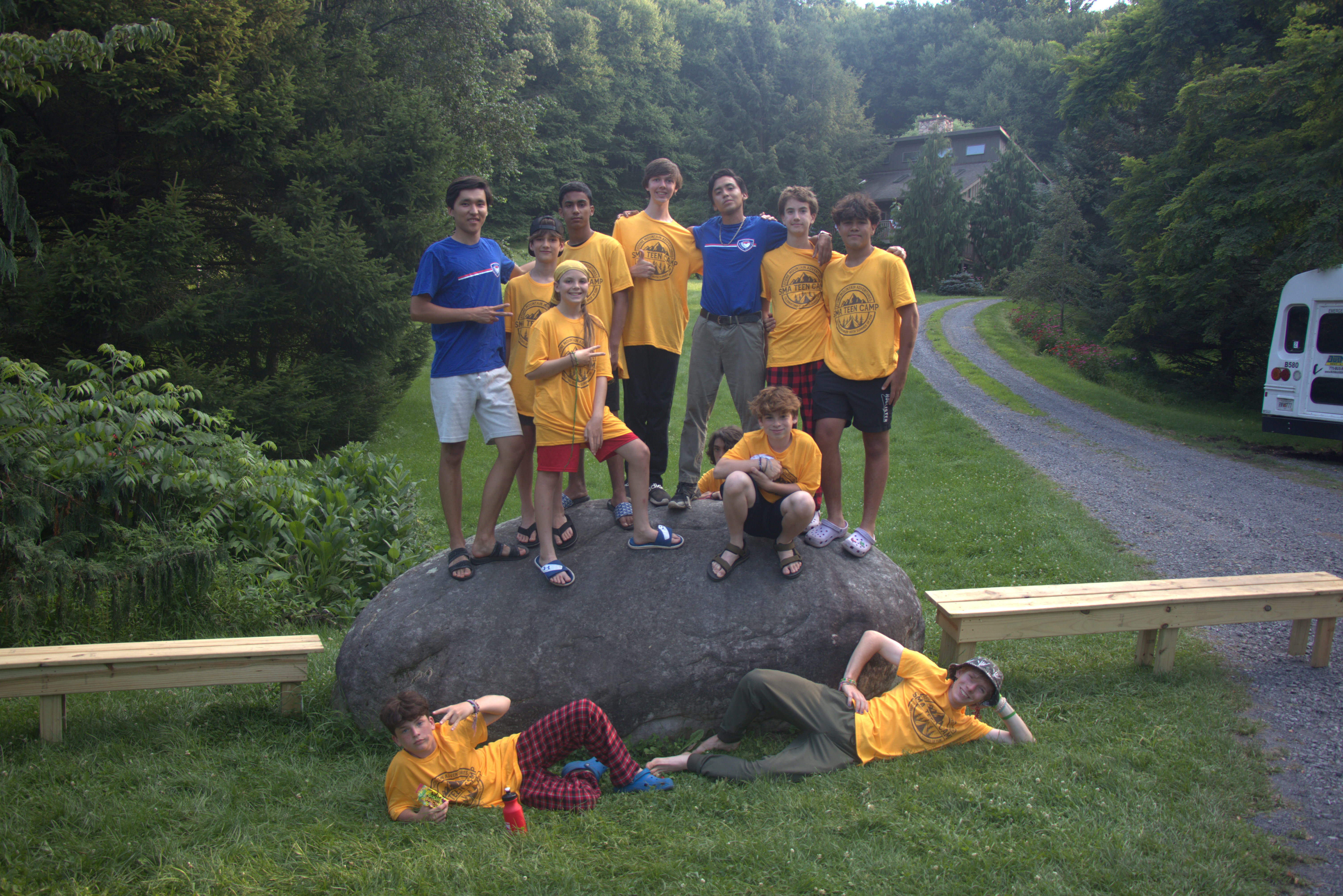 Logan S – This session at SMA was really fun. I spent a lot of time out on the boat and on Raystown lake. I made lots of friends and tried many activities.
Nicholas – One of my favorite activities this session at SMA was wake boat fun. I got up on the wakeboard my first time and managed to get out of the wake on my third time. I really enjoyed all the activities at SMA because they were all fun.
Lucia – I had a very good time this session at SMA. Everyone was so nice and I made lots of friends. One of my favorite activities was wake boat fun because I liked spending the day on the water. I really liked the white-water rafting because it was fun.
Kipp – This session was fun because I made new friends. My favorite activity was wakeboarding, especially tubing on the last day. I also liked mountain biking because it was really cool.
Audrey – This session was so fun and I'm going to miss this place and all the people at SMA so much. I had a really great time. When I first arrived two weeks ago, I was nervous at first, but I quickly made friends and camp felt like home. I really wish I didn't have to leave but I hope to come back next year.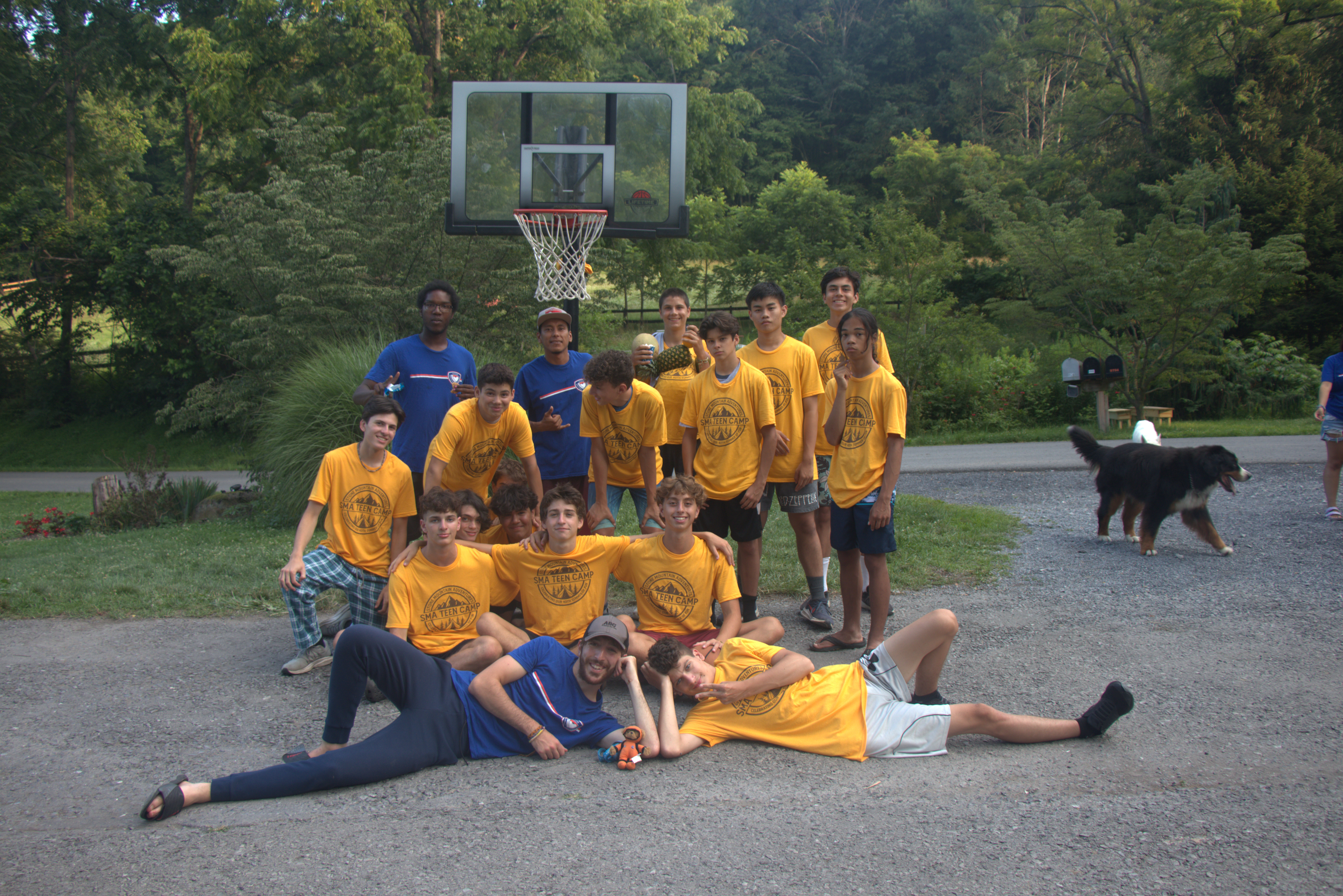 Sonya – This summer was my third summer at SMA. I was here for both first and second session and I am really sad to leave. My favorite activity was wake masters and I was out on the boat a lot this session. I also really enjoyed volleyball. I met s 00o many amazing people and I really hope to return next summer. Thanks Jud for an amazing summer!
Julia Z – This was my first ever time at a sleep away camp. The first few days I felt homesick but after making so many friends I felt really comfortable. All of the counselors are so nice and welcoming so it didn't take long for me to feel comfortable. I loved the past two weeks I have spent here and I'm excited to spend two more weeks here. SMA is an amazing camp with so many amazing people.
Eugenie – This session was my first time at SMA and I really enjoyed it. I met so many new and cool people and I tried lots of new activities like wake boat fun, rock climbing, mountain biking, hiking and arts and crafts. I also went on my first wake overnight and I enjoyed it a lot. There was a great ambience this session and I made many new friends and created new memories.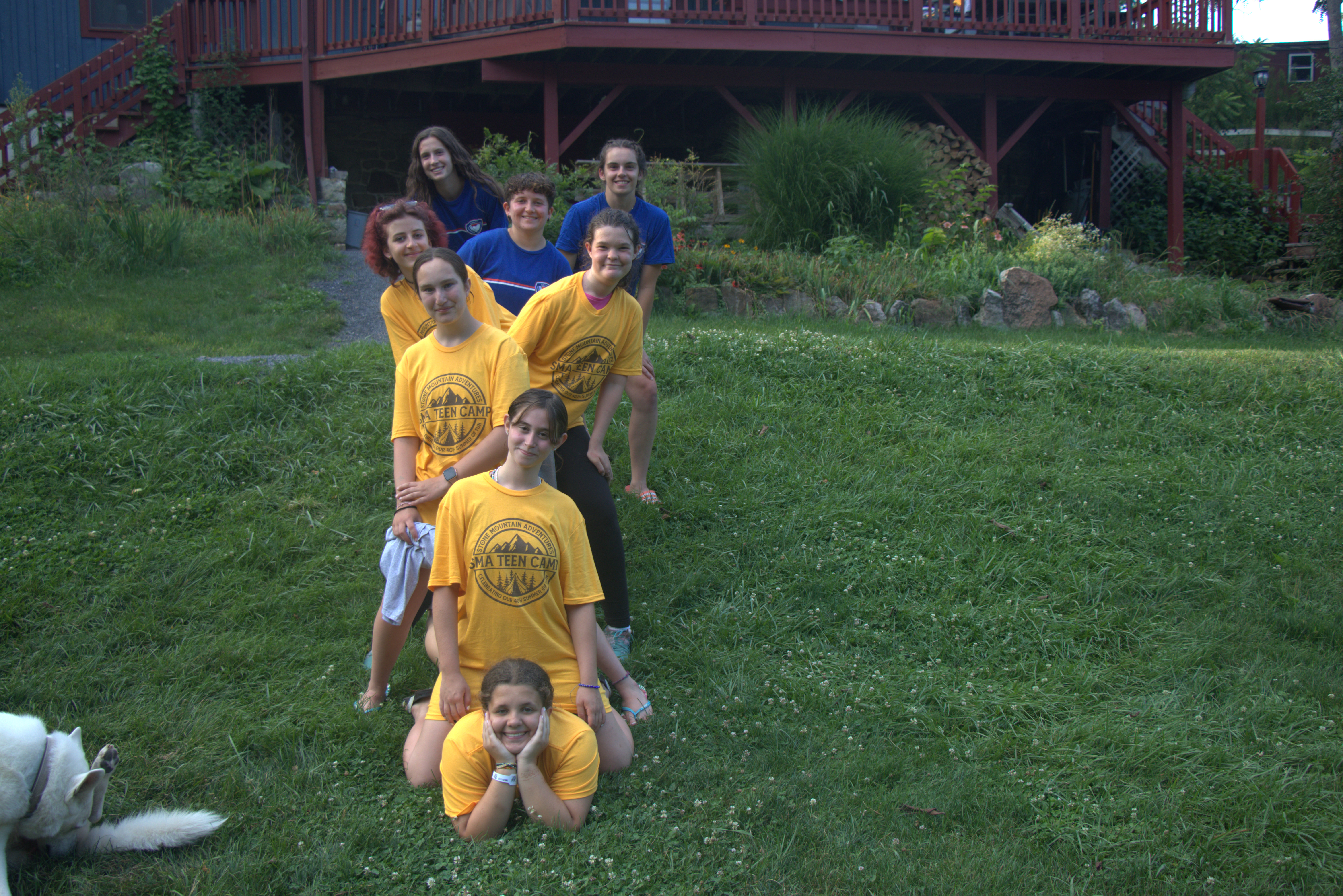 Maddi K – Session two at SMA was so fun this year! I remember the first day of this session waiting for the new campers to arrive and I met my amazing friends Julia, Audrey, Lucia and Olivia. I really enjoyed wake boarding this session. Although I wasn't a Wakemaster I tried to go out on the boat as much as possible. White water rafting was amazing this session. I had a lot of fun on the journey back and had some interesting conversations with everyone. I only did one overnight this session which was the wake overnight. It was for sure the best wake overnight in all my time at SMA!
Juan – I think this camp is a great place. I enjoyed this session a lot and made lots of new friends. My favorite activity was white water rafting because everyone in camp does it together. I also liked the talent show because it was cool to see everyone's talents at camp.
Logan E – This session at SMA will most likely be my last session as a camper. I've had a wonderful 3 summers at this camp. I have made friends here that I will stay in contact with for years to come. Many of my core memories were made at this camp and I will look back fondly on them. SMA has definitely been a big part of my life and I will miss it a lot.
Chris – I love SMA because it is really fun. This session I swam a lot at Raystown lake, Freezewood and Whipplesdam. I tried many activities at camp and I loved this session.
Emma – I didn't know what to expect this session at SMA because I had a lot of friends the session prior, and I didn't know who was coming this session. As a 5th year at SMA I knew that I would know a couple of people. However, this session exceeded all of my expectations. I made so many new friends whilst becoming closer with my old friends. This session was exactly what I was looking for when I decided to come this year.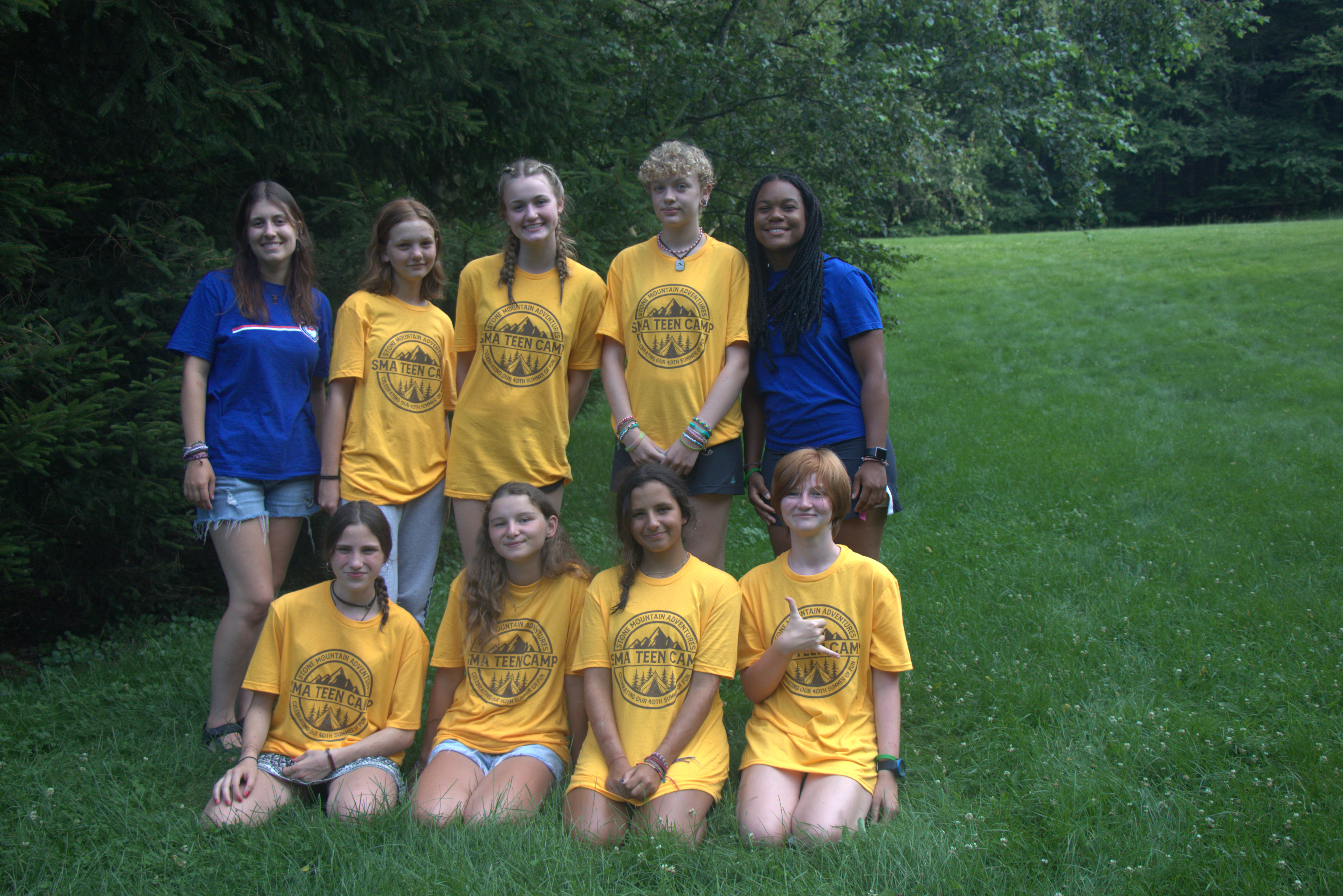 Ben R – This was my 6th session at SMA and my 3rd year. It is probably my last year here so it has been emotional doing all the activities for the last time. I was really happy with everything I got to try this session. My favorite activity was definitely white-water rafting. It was the best trip I've done so far. Overall, it was a great last session at SMA!
Alex P – This session at SMA was really good. I was sad when my first session friends left but I got closer with everyone throughout the last two weeks and I love them all so much! I will miss them all a lot. During the last two weeks I went on my first overnight which was rock climbing and it was amazing.
Caroline – I had a really good time this session. Some highlights of this session were winning the race on Diego's raft during the yough, art studio, sup and sail, and making some new friends. It was great as always to meet new people and also see some people I haven't seen in a while. Since this is my second to last session at SMA it has been bittersweet, but it was very wonderful, and I remembered why I come back year after year to this special place. The second-best night at camp was during bowling when I got snacks, tied for third place and got to spend time with people I haven't hung out with much. Shoutout to Gillian and Estelle for making this session so fun!
Ben Z (Zippy) – This session was an incredible end to my three years at SMA. I love this camp a lot and being able to make so many new friends while having fun with activities like French Revolution and bowling. This camp has changed my life over the past 3 years, and I will always be thankful to the campers and the staff who continuously supported me.
Estelle – I had a great two weeks at SMA. I loved being out on the boat doing wake boat fun, even if I was not really good at it! My favorite moments were all the evening activities like French Revolution, bowling etc. I met a lot of new friends and I'm really sad to leave. I really hope I can come back next year!
Ronan – I'm satisfied with how this session turned out. It felt good to get out of the house and have some social interaction. Of course, I felt nervous returning, but I now see that I didn't need to be as always. I will learn from the experiences I had here the last two weeks and attempt to improve myself based on what I see. I unfortunately might not be able to return next year due to other plans, but I hope to come back for one session. However, one thing I am missing is my Spotify playlist as I have been subjected to too much rap and modern pop these last two weeks. That is all for now.
Lonnie – I had an amazing time here this session. I went on 2 overnights. During that time I bonded with people who I did not know very well and that bond will be there for a lifetime. I also went out on the boat for the wake overnight and had such a fun time wakeboarding. My second overnight was the clkimbi9ng overnight. I had a heck of a lot of fun with my old and new friends!
Ian – This session was a blast. I had a great time. I learned how to wake board, hit new levels at rock climbing and I made a lot of new friends. Just all in all I enjoyed this session a lot. My favorite activities were rock climbing, wake boat fun, mountain biking and sports.
Gillian – This summer at SMA I did a bunch of fun things. I tried wake boarding and failed but I was pretty good on the knee board. I also made some friends and people were nice. I'm excited to go home and surf but overall, I really enjoyed SMA session two and I am leaving this camp on a good note.
Julia B – This summer at SMA I did wake boarding, overnights and lots of fun, chaotic evening activities. I was in 3 talent show acts, but the one I did with the 'Goon Squad' (me and my 5 friends) was the best. We were each a singing monster who joined in on the song and it was hilarious (a very much 'you had to be there moment'). My friends were awesome and I got close with the girls in my cabin as well as my guy friends from last year. All in all, a great session!
Nora – This session at SMA I returned as a 4th year. I'm always excited to come back because I get to spend time with all my friends from other states. At SMA I got to participate in everything from art studio to the 1000 step hike. I got to try all the fun activities that make me feel like a more well-rounded individual.
Noah – Session 2, 2023 was my third year at camp. It was my first year in crow's nest and will be my last year in crows nest regardless of if I come back next year. I had been waiting for 2 years since I got to SMA for the first time to be in crow's nest and I can now say I had an amazing time. I love all the friends I made this session and my time at SMA in general has been great. Shoutout to Chris, Diego and Matthew who were great counsellors.
Benjamin – This summer at SMA I took part in many activities. I hadn't done a lot of these activities before such as white water rafting and wake boat fun but they were all so cool. This was also my first ever summer camp in the USA and I was nervous when I first arrived. But once I settled in and made friends who were all friendly, I didn't feel nervous anymore. I'm so glad I chose this camp because I had so much fun, and I will miss everyone and everything here.
Brynn – It was really fu here at camp this session. I loved the early mornings and all the activities. I love staying here at SMA. It is always a wonderful and magical time.
Hudson – This was a pretty fun session at camp. It was my first and last year in crows nest. I met many new campers and made new friends. I ran mostly everyday besides participating in lots of the activities. I hope I come back next year. Shoutout to Chris, Matthew and Zak who were great counsellors.
Owen – Session two 2023 was my first ever camp session in Crow's Nest and it was pretty good. The last year was a rollercoaster with many ups and downs, but I learned a lot. I just want to say that no matter what I was doing at camp I enjoyed every moment because I will only live each moment once so might as well enjoy it. I live my life with a few rules and this summer at camp I followed these rules, and it was the best summer yet.
Stella – I seriously loved SMA! I felt so welcome here and I loved the dogs and all the counsellors. Jud and Chase are incredibly nice and I won't forget anything I did here like rock climbing, art studio and wake boarding. I loved rock climbing because even though I failed my first few times, Liam the rock-climbing instructor helped me get onto the rocks which I was very grateful for. Wakeboarding was my favorite activity and I hope to do it again next year. I am a SMA camper now!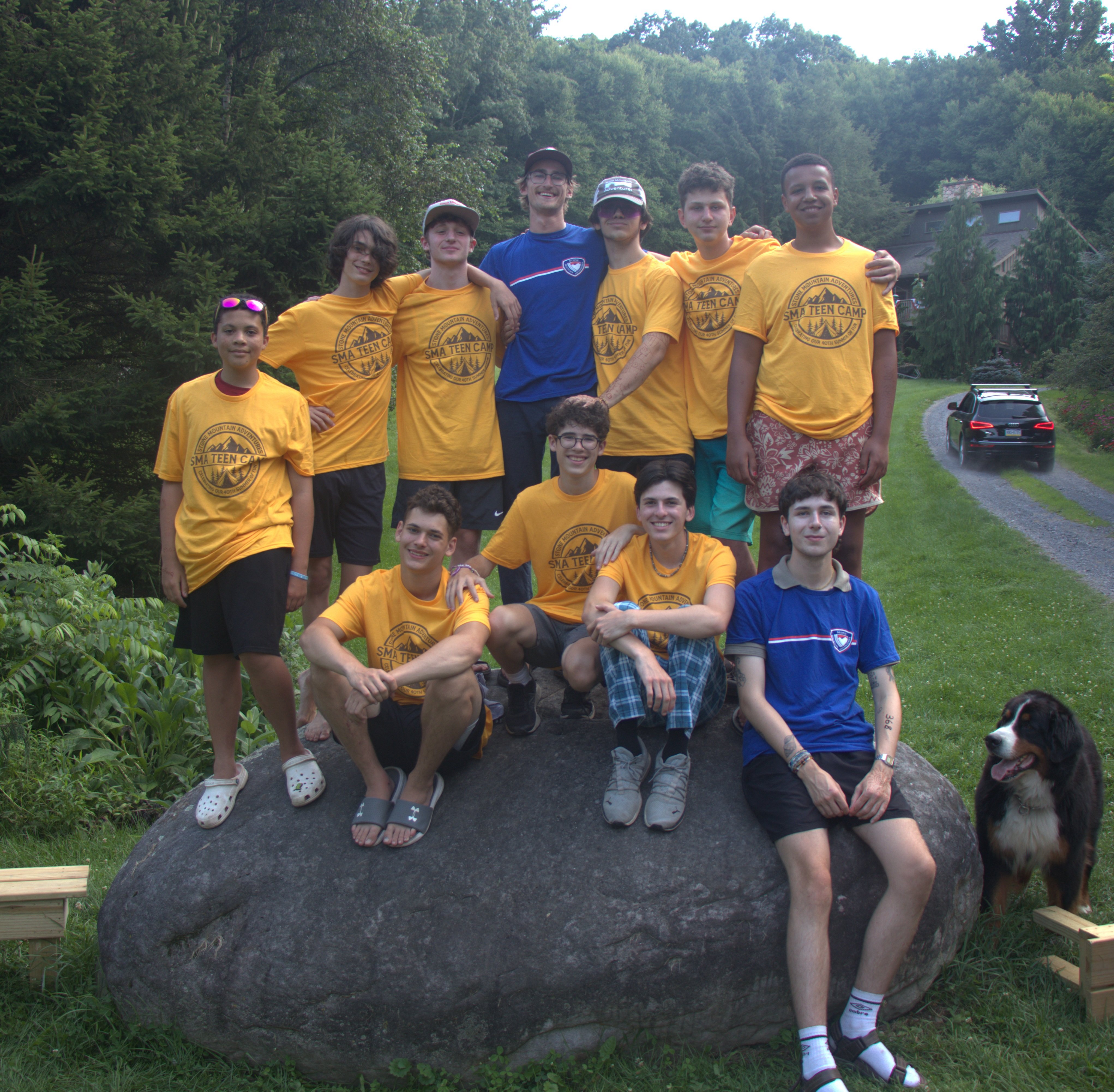 Gavin – I really liked it here at SMA. It was really fun and welcoming, and I felt like I belonged here. The first week I did bike masters and then I did the wake overnight and went wake boarding which was so cool. My favorite thing at SMA was the skill park and knee boarding. I have nothing bad to say because I really enjoyed my two weeks here.
Andre – This session was loads of fun. Arriving at camp I was scared that I wasn't going to have any friends because my friends from last year weren't going to be here. However I made friends pretty easily ad there were some returners from last year that I knew. White water rafting was so much fun. I was scared going into it that I was going to fall off, but I didn't, and I had a great time during it. It was a great session and a great third year here at SMA. I am going to miss this place because it was awesome.
Reed – This summer at SMA session 2 was really good. I went white water rafting which was really cool because I was in the raft with Jud. French Revolution was also so cool. I rally enjoyed my time here this session.
Zeke – These 2 weeks at SMA have definitely been very fun. I got to try so many new and cool things that I don't think I would get to do at any other summer camps. I got to wakeboard, knee board and belly whomp as well as taking care of bunnies and jump mountain bikes. Easily my favorite experience was the wakeboard overnight. I got to wake board a lot and I got a lot closer to everyone there. The counselors here are absolutely amazing and help made my campo experience as good as it was. Matthew, Chris, Yely and Eli were definitely my favorite this session and thanks to them and everyone else I will hopefully be coming back next year.
Alek – At this camp I feel at home. I enjoyed all the activities such as white water rafting and mountain biking. I made many new friends, and I am sad that they are all leaving tomorrow.
Henry – This camp has been the best experience of my life. This camp is a space for everyone and everyone that comes will have so much fun. This is my 5th session and 3rd year at SMA and its changed my life. When you come to SMA you meet some of the best people you will ever meet and make so many life lasting memories. I originally came here for the mountain biking and it is really great. The mountain bike master, Zak, is one of the best mountain bikers I've ridden with. I would 100% recommend coming to SMA, you won't regret it.
Jacob – Session 2 at camp was very fun. I really enjoyed the activities such as rock climbing and being on the boat. White water rafting was so much fun and it was the best yough trip so far. I hope I can come back next year.
Counselor reflections session 2
Diego Lucas
Session 2 was awesome as well I saw many returners campers but also, I met more children which makes me happy since more children can enjoy how wonderful it is to be in SMA. I have good memories of different activities like going mountain biking with all the bike masters who really surprised me, they are all very good which makes the activity fun for everyone. There were a few accidents, but it is normal when you practice a sport like this, there are times when you have to fall to learn to get up and despite that they never gave up and the reward was that they improved their skills as bikers. I had so much fun going to play kickball and football. The rafting day was the best because my team and I won the race at the end which made be so happy because I got second place on the first session which is not bad because we lost by inches lol. I liked session 2 so much because I made new friends but also bc I increased my relationship with the returner campers. I hope I see them next year and I am going to feel sad for those who will not be there next year because this was the last year for them, but I trust that I will see them again either as AOP's or as camp counselors in the future and if not maybe I will see them in Mexico if one day they will visit me there. I love you all guys and enjoy tour time away from camp.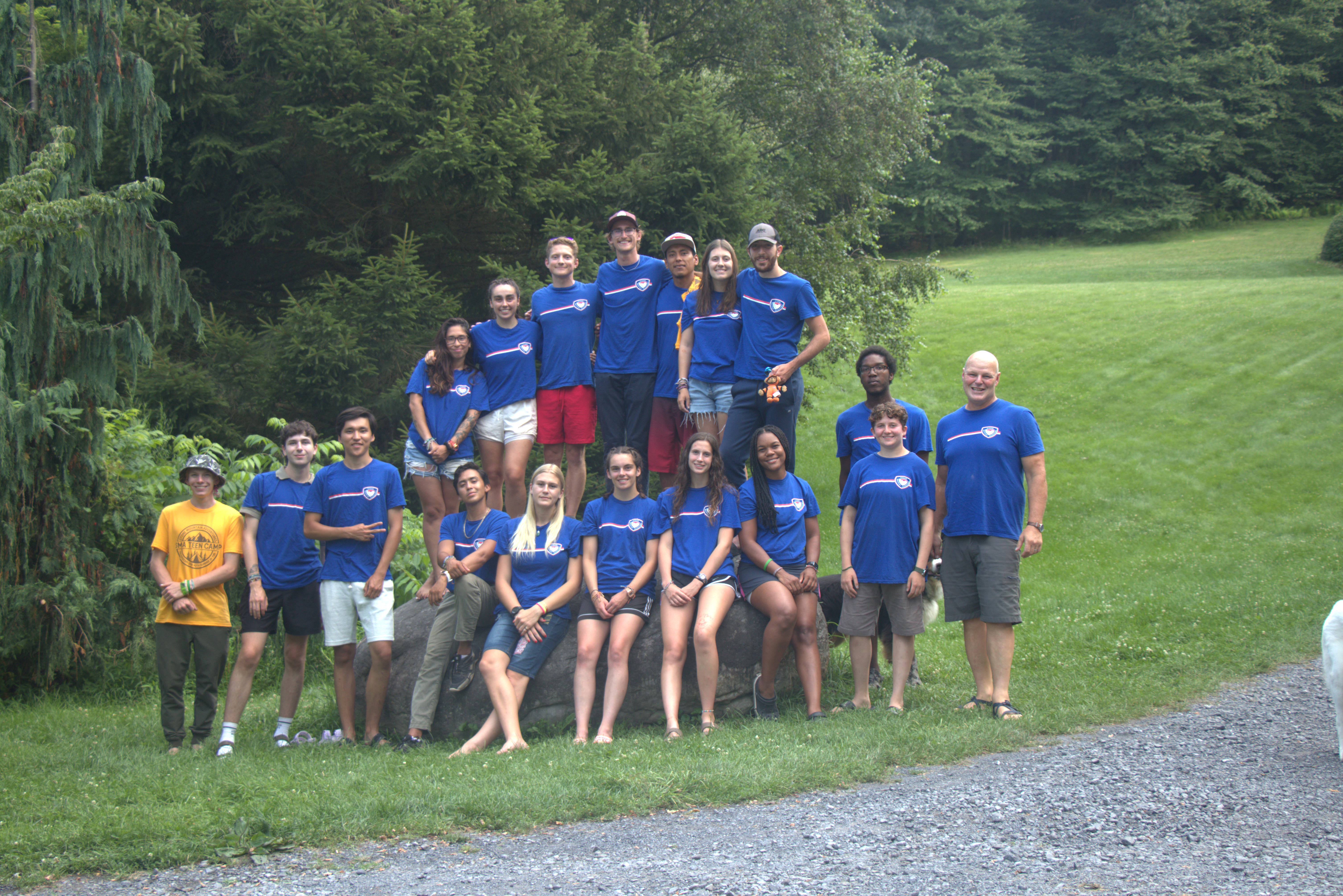 Felicity – Going into camp I was afraid that I would struggle to go from being a camper to an AOP. I knew it would be different, but I was nervous I wouldn't enjoy camp as much. Over the past two weeks I realized that no matter what my role is here at SMA, it will always be just as special and fun. It is the place and the people that make this place so life changing. The number of friends I have made here and stayed in touch with is incredible and I wouldn't trade it for anything. Every activity, conversation, meal, bus ride means so much to me and will be cherished forever. I am so grateful for the opportunity to come back to SMA as an AOP this summer. This place will always hold a special place in my heart.
Eli – this summer at camp was my 5th year and I had the opportunity to come back as an AOP. I knew this would be a challenge and let's say I was right. These past 2 sessions I went behind the action of SMA and helped create the magic that happens here. I learned a lot about how to have fun whilst also holding responsibility. I was able to help those younger than me to enjoy their time and it was so worth it.
Ella Mangan
This session was different from session 1. I felt more confident as a counsellor as I knew more and felt more experienced from session 1. Myself and Yely got to organise and decide a plan for art studio and we came up with some pretty good ideas to improve the art studio which the campers thoroughly enjoyed.
This session I was a bunk captain for mattawanna so it was a different experience from session 1. The girls were older and were mostly all returners, so they didn't need as much guidance from me.
Overall, by the end of session 2 I feel more confident in myself than I did in session 1 and I'm excited to start session 3 more experienced. I still would love to try some new activities such as wake boarding or attempt the rock climbing again but for now I am happy with my progress.
Kim Alina Schnalke
In session 2 I was more confident than in session 1 because I knew how everything works. But I still tried new activities that I hadn't tried in the first session. And even though the schedule was similar to session 1, it was different because of the different kids. The kids really make a difference. But that is the great thing about camp, that you meet so many new people and deal with many different personalities. That's a lot of fun and I really enjoy it. In session 2 it was bit harder for me to bond with the new kids because I talked a lot with the staying kids from session 1, but in the end, I was also bonding with everyone else. And it was easier to learn all the names of the campers in session 2 than in session 1. I feel like I got used to being a counselor in this session and it's easier for me to do counselor things.
I am very excited for session 3 and the new campers. I really enjoy being here and I am very thankful to have the opportunity to drive the boat and be on the lake every day. Thank you Jud for all these experiences!
Liam Brown
During sessions 1 and 2 of SMA I learned many things and overcame many challenges. As a naturally shy and softspoken person when it comes to meeting new people, I had to overcome this and step up as the new campers arrived, as I needed to be the rock for the young campers who were also nervous and shy. As the session went on I gained more confidence and opened up with the kids more.
I naturally and subconsciously avoided the type of kids who i would not have gotten on with when I was their age (the popular athletic guy archetype) and I had to acknowledge this and make an effort to get to know all the campers. Buy by the end of session 1 and throughout session 2 i had grown very close to these kids i was avoiding at first such as Jacob, Business, Ben R and Zippy and they considered me a friend. Im proud I was able to overcome my preconceived judgments based on my own childhood and connect with these kids.
In terms or activities. I now have great confidence with rock climbing and I am comfortable setting up this activity without any assistance. I have also grown to love canoeing and enjoy leading this activity. White water rafting i have found is not for me, as I am not comfortable being in that type of water and It makes me very anxious, but we all have our strengths and weaknesses. I also have enjoyed leading art studio and would like to do this a few more times as it's the best time to talk to the campers. I also enjoy hiking.
I also have enjoyed working on the slideshow as it allows me to apply my skills from my line of work, and it makes me happy when the campers see the slideshow and get to laugh a lot.
Overall I think my leadership, problem solving and independence has improved throughout these two sessions.
Matthew Khamies
How can SMA get better? 2 SESSIONS! I was so sad seeing the kids from session one depart however the people that came in session 2 were insanely cool. I had so much fun wakeboarding and teaching people how to not only have fun and be safe but to also rip it on the Raystown lake. The session was beautiful because there were many occasions where people were learning new things...including myself. I feel that I have grown as a counsellor and I am so happy that I did as this allows me to share my experience and be able to counsel these kids to the best of my abilities. White water rafting was incredible and the swim zone was gnarly, rafting ended with a hail mary from God as it rained epicly as we were racing towards the end. I also found people that were interested in Astrophysics and we planned a physics lesson during power hour.
The ending of session 2 was heartbreaking as many of the kids stayed during intersession which allowed a month of counselling to occur. It was hard saying goodbye but I know everyone will be awesome in the future.
Jordan
Session 2 was a test of everyone's ability as a camp counselor and activity specialist. Like everything there were good times, climbing, hiking, canoe overnights and hard times; people stuck on climbing walls, kids that test your patience and overall tiredness. Despite all of that, we persevered, the kids still had an amazing time and left with smiles on their faces and new friends.
Palma Price
This past month at SMA has been truly incredible. I feel, at the start of this session, like I personally, as well as the staff as a team, have come into our own as counselors. I have made steps towards achieving my personal and professional goals (getting new people excited about the boat, making friendship bracelets (and friends), improving my communication skills and balancing work and play). The most memorable aspect so far though has to be the relationships I've formed with the campers. I used to wonder how much my old counselors really liked us and how much of it was just how they had to act for the job, but I can say I now understand the level of connection I as a counselor can feel with campers. I have felt admiration, pride, concern and compassion for these campers, and I can say oh they've changed me in so many ways. I'm so grateful for such an incredible group to have for the first month, and I'm so excited for the month to come. I am already dreading saying goodbye, which makes it a bit impossible to have a bad day while I'm here. I'm excited to continue to learn more about being a counselor, about the people around me, and about myself, and to leave this place having embraced every opportunity for learning. It's been an amazing month, I'm so pumped for this next one!
Zakary Kane
Now we're getting warmed up! Everyone's feeling the stoke from session 1 and we rode the wave right into session 2! As a mountain bike counselor, I was super excited to see that we had an amazing group of groms ready to shred the trails. Mountain biking is always more fun with friends, and we had 8 masters signed up. Not only did we have fun riding trails. This crew loved making them too! Using shovels and rakes and implements of destruction, we fixed up the jumps and even planned out some lines for the future. With the staff running like a well-turned engine, the summer was well underway.
Akbar Niyazbekov
As I look back on the exhilarating journey that was Session 2 of our SMA, I am filled with a sense of awe and gratitude. These past two weeks have been nothing short of extraordinary, both for the campers and for me as their counselor. The energy and enthusiasm that filled the air from the very beginning set the tone for an unforgettable experience.
From the moment the campers arrived, it was evident that they were eager to make the most out of their time at camp. Over the course of the session, I saw them grow not only in their skills and abilities but also in their confidence and self-assurance.
One of the highlights of Session 2 was the way the campers embraced the spirit of teamwork. Whether they were tackling challenges together during the adventure activities or working collaboratively on creative projects, they demonstrated a strong sense of unity and support for one another.
The activities we offered during this session were diverse and engaging, catering to the interests of every camper. From thrilling outdoor adventures like rock climbing and water rafting to artistic workshops that allowed them to express their creativity, there was something for everyone. Watching their faces light up with joy and enthusiasm during these activities was incredibly rewarding.
As Session 2 came to a close, there was a bittersweet feeling in the air. The bond that had formed among the campers and between them and the staff was undeniable, and saying goodbye was not easy. Yet, it was heartening to see the newfound friendships and memories that they would carry with them beyond camp.
Alexia Macherhammer
Session 2 was a little different, but still just as fun, going out for bowling one of the nights and enjoying it thoroughly. everyone including me enjoyed the canoeing overnights, no injuries occurred, the river was lower than the first 2 overnights, so the water was faster flowing, but also more rocks emerged from the surface of the water. Making these 2 overnights a little more technical. Whitewater rafting was the same. Only one boat flipped but everyone was in good spirits none the less. There were many new kids that were new this session but they adjusted quickly and enjoyed the activities alot. Alot of jokes and pranks were Played plus watergun fights like I've never seen before. The campers leaving in vans after session 2 got me in a few tears for sure.
Alex Ramirez
Session 1 went pretty quick and, with the end of it, a new start arrived.
Session 2 was filled with so many talented kids, specially Mountainbiking wise. As a Mountainbiking instructor I felt blessed to have the opportunity to share the trails and go in an overnight with them. Even when I'm the instructor, I learned so many things from all of our bikers and I'll be forever grateful for that.
This does not only apply to the bikers but for all of our campers and fellow counselors. They made of this session a really special one.
I can't wait to go back to Mexico and apply all the knowledge I gathered in here, from the games, the new biking skills, the crafts and even getting to command a raft during our whitewater rafting trip; I feel a more rounded human and I'm ready to face any new challenges.
A big thank you to everyone who was part of this experience and who helped me asking the way. You're the reason why this place is so magical.
Chase Cloward
Session 2 started by hitting the ground running. With so many kids who stayed over from session 1 it enabled us to pretty much pick where session one finisherd. It was so nice to meet all the fantastic new campers and I had a great time talking and playing chess with everyone. I had an amazing time during session 2.