Dirt Fest Turns Into Mud Fest - DW Swiss Sponsored Teen Ride!
Weather forecasters and meteorologists tend to get a bad rap as it feels like they are wrong about 50% of the time... that was not the case this weekend at Dirt Fest 2016. Their forecasts came to fruition as the weather at Raystown lake was glorious, warm, and sunny on Thursday and Friday. As predicted, the precipitation arrived in the early morning hours of Saturday and rained hard for the rest of the weekend. By the time the Dirt Fest Expo closed on Sunday, afternoon total rainfall hovered somewhere between 2 and 2.5 inches for the weekend!
The great news about the Allegrippis Trails is that they were built and are maintained with drainage in mind and even with all that rain the trails remained open throughout the weekend and help up remarkable well. At the Dirt Fest Expo on Saturday and Sunday it was easy to spot the hearty souls who ventured out on muddy trails compared with those who spent most of the weekend under cover trying to stay dry and warm. Brave riders returning from the trails smiling from ear to ear were wet, happy, covered in mud from head to toe, and looked like they had just won a mud wrestling match. A stark difference from those who chose not to ride who were for the most part still happy, wet but didn't have that special sparkle in their eye that only a true adventure can bring.
Spirits were high at the SMA Teen Summer Camp booth all Dir Fest long. We had three staff in town for Dirtfest: Sarah "FISH" Fisher, Chase Cloward and Rory Bannon and myself Director Jud Millar. I got the first ride of the weekend in on Friday afternoon while Chase and Rory set up the SMA Mountain Biking Teen Camp booth. Later that afternoon it was Rory and Chase's turn as they "Demoed" a pair of super sweet 2016 Cannondale "Lefty" bikes.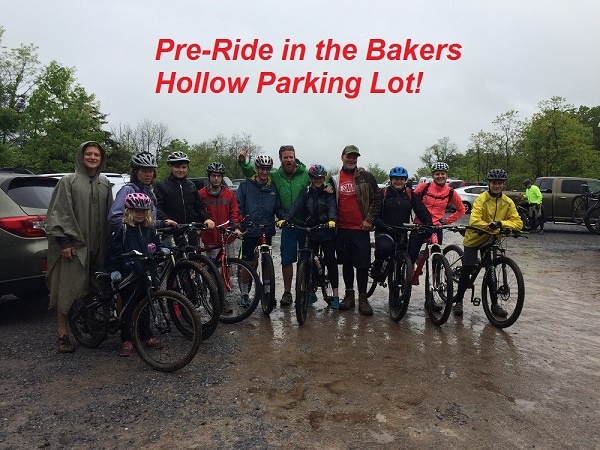 Pre-registration for the Dirtfest Teen Ride was Strong
In the weeks leading up to Dirt Fest we had about 30 folks sign up for the Dirt Fest Kids and Teen Ride sponsored by DW Swiss via the SMA web site. We had the privilege of meeting many of these kids and families throughout the weekend. As the rain continued to fall more and more families informed us that they were headed home early and would not be participating in the ride. When Sunday morning rose still wet and still raining we were all having our doubts about the kids and teen ride - would anyone show up to ride in the Mud and rain?
The answer from those who were in the Bakers Hollow Parking lot dressed and ready to ride by 9.45am was an emphatic YES! We had nine excited riders ranging in age from 10 to 17, two parents, Karl Rosengarth from Dirtrag magazine, and three of us from SMA Teen Summer Camp. It rained throughout the duration of our ride: from the safety talk in the parking lot to wading in Raystown lake at the low spot on Raystown Lake to our final decent into the Expo it rained. It turns out that the wet and mud and rain somehow seemed to lift our spirits.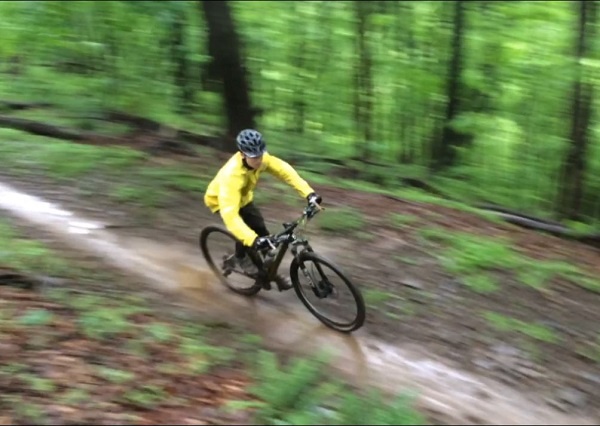 We departed the Bakers Hollow Parking lot in a steady drizzle and took the following route:
Buck Trail to
Fawn Trail to
Osprey Trail to
Hydro Loop to
Eagle Trail to
The Susquhanock access Road to
The Dirt Fest Expo
Seeing our ride written out above does not do the trails or our awesome riders justice. By the time we started our ride the estimated rainfall since early hours of Saturday was about 2 inches. The Allegrippis Trail were designed by professionals and shed water as well as any trails in the United States, however with that much water the ground was saturated and soon we were too.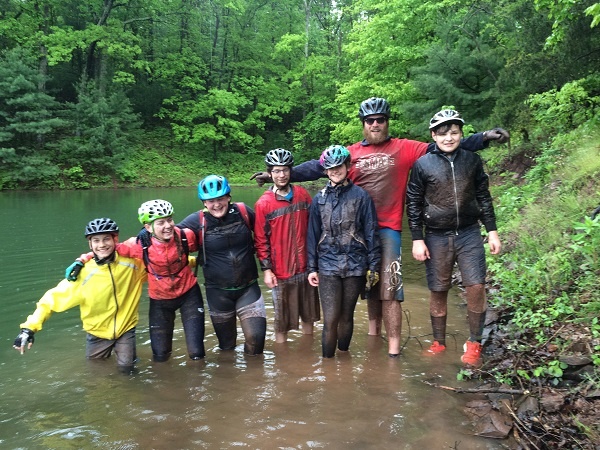 And mud... did I mention mud
Our group (among others) officially deemed this event Mud fest rather than Dirt Fest. We all had mud on our faces, mud in our eyes, mud on our chests, mud on our legs and feet and mud on our backsides. As we rode we stopped at every intersection to regroup. Before dropping down Osprey we reviewed the safety points we discussed in the Bakes Hollow Parking Lot:
Ride at a safe speed within your skill level
Focus on you weight transfer between your front and rear wheels
Give enough space to the rider in front of you
The overall impression I have of our ride was F U N! Everyone was excited to ride. Whoops and Yehaw's were called and returned my riders young and old as we rolled down the muddy trails. We did have a few spills and "slip-outs" but everyone recovered quickly. We even waded into Raystown Lake at the low spot on the Hydro Loop!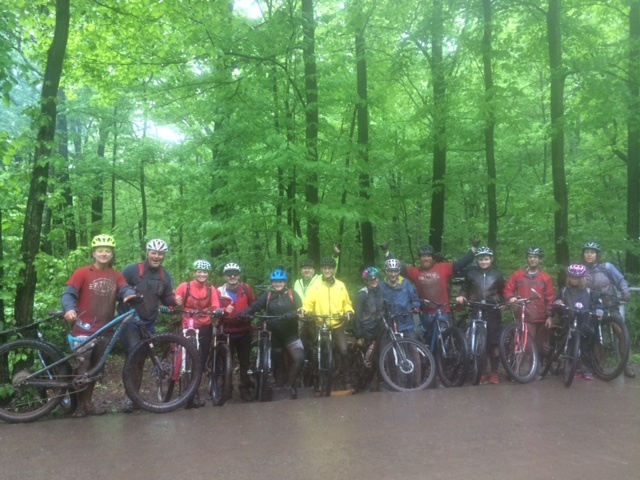 Soon we on the last leg of Eagle then on the Susquhannock access Road and then down to the Dirtfest Expo for one final muddy group shot. That was followed by cleaning our bikes and ourselves at the official Bike Cleaning Station. By the time we rode our "now clean bikes" thought the Expo it was pretty empty as most of the vendors departed a little early in search of dryer places.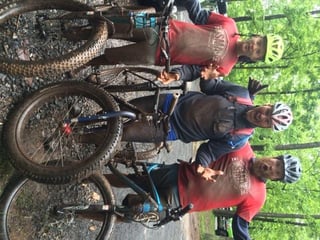 We officially ended the Dirtfest Teen Ride under a large Expo Tent eating warm Doans Boans Wood Fired Pizza while laughing and telling stories of the muddy trail. finally I gave an informative talk about Stone Mountain Adventures (a co-ed overnight camp for teenagers) and gave out t-shirts!
SMA Co-ed Overnight Summer Camp for Teenagers!