The leaves are fall off the trees and the nights are getting colder... fall is finally here in earnest! As the seasons change families start looking ahead to the upcoming wither, spring and even summer. In the weeks and months to come summer plans will start to come into focus and as they do some families and teenagers will start searching for a teen summer camp. Teen summer camps have the potential to provide an amazing, memorable experience in the great outdoors for your child. As a parent, safety is likely your number one concern. You'll be relieved to know most camps require staff to have first aid training and some camps even require staff to have wilderness first aid training. Here are the top reasons why this matters for your child:
Knowledgeable Staff
First aid and wilderness first aid covers skills like wound care, splinting, responding to allergic reactions, and more. With this training, camp staff know how to assess situations, remain calm, and take appropriate action if an injury or illness occurs. Their confidence and competence is reassuring.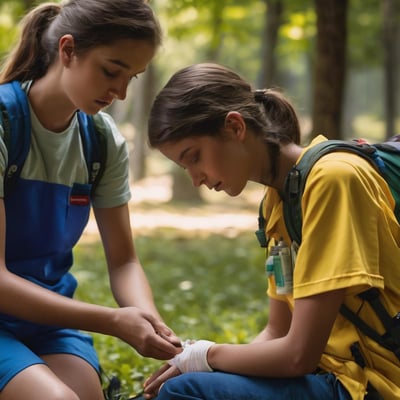 Quick Response
Since camps are often remote, professional medical help can be far away. Staff with first aid skills can provide on-site care immediately and can stabilize a camper until emergency responders arrive. This quick response can be crucial for recovery.
Proper Handling of Injuries
Staff learn how to properly handle both minor injuries like cuts and sprains as well as serious conditions like fractures, hypothermia, heat stroke, and anaphylaxis. They know how to recognize symptoms and stabilize the victim until advanced care is available.
Peace of Mind
Ultimately, knowing camp staff have the knowledge and skills to care for your child if the unpredictable happens will give you great peace of mind. Wilderness first aid training means your teen will be in capable hands this summer.
Ask the camp director about the first aid certifications held by the camp counselors. With proper training, you can feel confident your child is prepared for an amazing outdoor adventure.