Most children love animals. If you grew up with a family pet, you know that they can be cute, fun-loving and oh-so-cuddly. But did you know that having a family pet in your home can benefit children's lives?
Research has demonstrated that having a pet in your home and having daily encounters with pets assists kids with creating positive qualities. A connection with a furry friends can help kids alleviate anxiety, teach responsibility, keep kids active and while making kids happy. They same is true at summer camp. We find that new campers who attend our overnight summer camp and interact with camp pets at least once a day assimilate to live at camp better.
What Animals Do We Have at SMA Teen Summer Camp?
Camp Dogs: Stone Mountain Adventures was founded by Pam and Biff Houldin in the summer of 1983. Currently SMA Teen Camp is run by their son Jud Millar and his wife Anne. Every year of camp SMA has had friendly camp dogs. The current camp dogs include Comet who is a 9 year old White German Shepard and Jack who is a 3 year old Bernese Mountain Dog.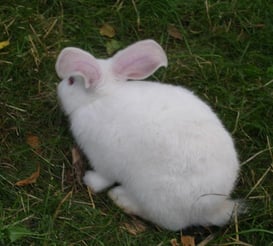 Bunnies: Each summer at SMA Summer Camp for Teens we continue the tradition of giving interested campers the chance to adopt and care for a baby bunny during their time at camp. As bunny "parents," campers are responsible for giving their bunnies food and water, cleaning the cage every few days, and giving them exercise and attention, of course. Campers often hover around the bunny hutches, naming the bunnies and making signs for their cages. The bunnies we adopt are cuddly and cute and will return campers' affection if treated with care and respect. Adopting a bunny at SMA is a great way for new campers to bond over a shared experience and build responsibility. For many campers, adopting a bunny is the highlight of the summer!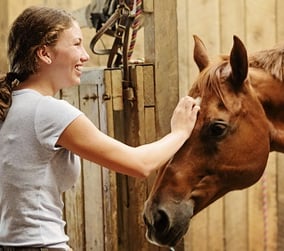 Horses: Stone Mountain Adventures is built around a working horse farm and we have 22 horses year round. In the off season we run a therapeutic riding program for people with disabilities called Horsepower and in the summer, we run camp. Some campers attend SMA as a Horseback Riding Camp for Teens and ride everyday in our Horsemasters Program while other campers just ride once while they are at camp. All campers who interact with our horses are positively impacted.
The Benefits of Pets at Home and at Summer Camp
Teaching Responsibility and Accountability:
At Home: Pets need to be cared for on a daily basis and there is the opportunity for kids and teens to share in this responsibility. Whether it is feeding your cat the best cat food or taking the family dog for a walk, kids and teens can learn responsibility. Parents also have to opportunity to teach kids to be accountable for a living creature.
At Camp: When a camper chooses to adopt a bunny rabbit at camp, she or he must sign a Stone Mountain Adventures (SMA) Bunny Adoption Contract. The contract is simple but important to spell out the responsibilities. The responsibilities that campers have at our 2 week summer camp for teens include:
Water and Feed My Bunny Every Morning and check it every evening

Clean out the cage as needed (the more often you clean, the less mess there will be each time)

Give your bunny lots of love and attention!
It is the role of our camp counselors to hold campers accountable to these responsibilities. Other campers also help to each other responsible.
Pets Provide Comfort and Increases Connection:
At Home: There are few things better then returning from a challenging day at school and be welcomed home by a pet. Pets love unconditionally and can provide the comfort that teens need during this challenging time in life.
At Camp: Leaving home to attend an overnight summer camps for teens like SMA can be a very challenging experience. Interacting with camp dogs, riding a horse or adopting a bunny rabbit helps comfort campers and can reduce anxiety in nervous campers. We also find that when 2 campers spend time together with our camp dogs or their adopted bunny increase their connection which helps lead to a stronger friendship.