SMA Teen Camp Co-Director Anne Millar recently traveled to Portugal with Habitat for Humanty. In this blog post she reflects on how Building Community Matters in Portugal and at home at Stone Mountain Adventures Teen Summer Camp.

Stone Mountain Adventures Teen Summer Camp is a place where young teens can learn more about themselves while having fun with other kids their ages. It's sometimes difficult to put into words what campers will gain from being at an overnight teen summer camp away from their parents and daily peers. Self-confidence, the ability to step outside one's comfort zone, a new found physical skill, lifelong friendships and a newly restored sense of self are just a few of the traits that a camper might acquire after being away at a teen adventure camp. And these positives are found in the many activities campers can choose from at Stone Mountain Adventures overnight teen summer camp such as: rock climbing, mountain biking, canoeing, overnight camping trips, hiking, horseback riding, wake boarding or water skiing, music making, arts and crafts, and even community service. Campers at SMA sleepaway summer camper can choose from several service options – spending time with local folks in nursing homes, trail maintenance, raising money for local charities through lemonade stands, and others as determined by campers, counselors and staff.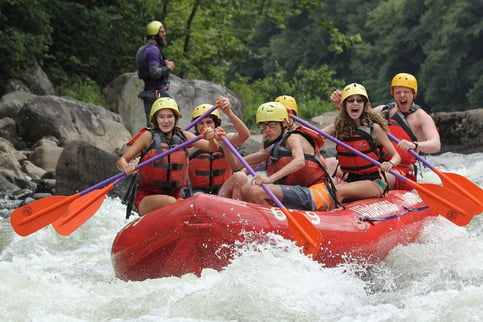 Recently I was fortunate enough to be a part of a group that traveled to Portugal to do service work. While traveling, living, eating, playing and working with 10 other people is something I wasn't overly concerned about, I had no idea how much the experience would exceed my expectations. We laughed, we mixed cement, we ate delicious meals, we learned about another culture, we had minor conflict, and we had many tears at the end. The experience changed my life in a short amount of time. I made lifelong friendships with people near and far. I missed my family at home. I made a difference and I can't wait to be a part of something like that again. Stone Mountain Adventures overnight summer camp has this effect on its participants and that is a big reason why we typically have a camper-return-as-counselor rate so high. Campers "graduate" from Stone Mountain Teen Summer Camp at age 16 and cannot return to be a counselor until they are at least 21. Young twenty-somethings beg to come back so that they can share the magic of teen camp that they felt years ago.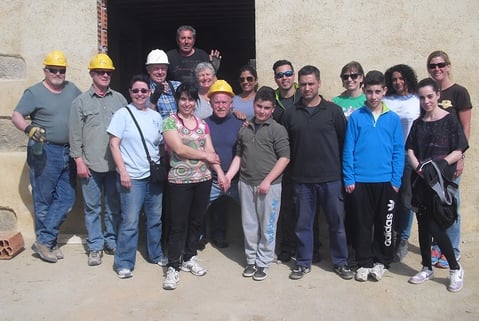 Being a part of a community and helping others is a key focus here at Stone Mountain Adventures 2 Week Summer Camp. In order for 70-80 people to live, eat, play and sleep in the same space for at least two weeks takes effort. While each individual is important to the camp atmosphere, how we come together and gel as a group is just as important. It's what makes the laughter of the day-to-day and brings tears of happiness and caring for one another on the final day. Knowing you've made a difference in others' lives is sometimes what makes the biggest difference in our own.